Lipstick is a day-to-day must for me. I always feel better with a bit of color to brighten things up – especially when there's no time to cover the ever present dark circles. The pursuit of the perfect color is endless but here are my 8 secrets for making your lipstick last all day – or at least until lunch!
How to make lipstick last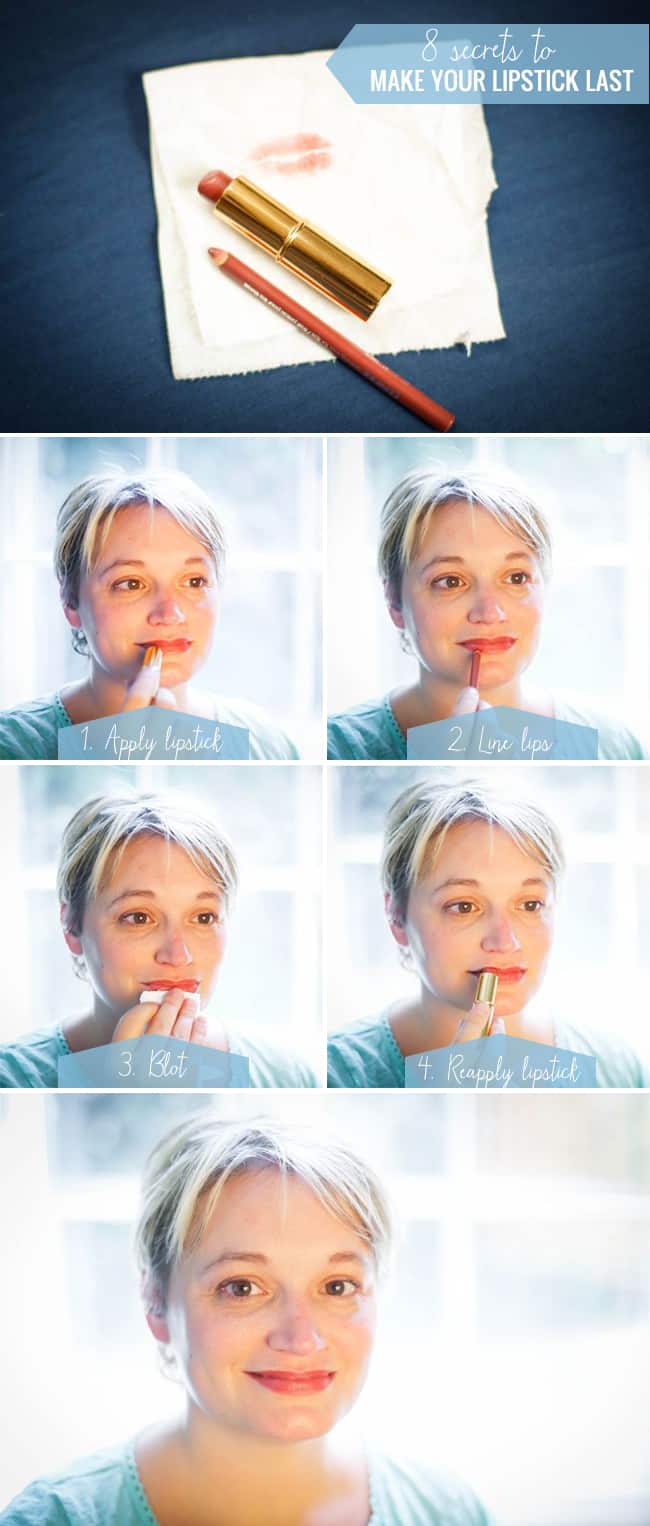 8 Secrets You need to know
Take a moment to recover from looking at the dorky pictures of me! Done laughing? Okay, here we go –
Start with the right lipstick
1. Skip the long-wearing lipsticks. They will suck the moisture out of your lips. And when the color settles into the grooves of your lips it's not a pretty sight.
2. Go for a bright or dark shade. Because they have more pigment they tend to stay on longer than soft colors.
Preparation is key
3. Start with smooth lips. Lipstick stays on best when your lips are smooth. If your lips are flaky, take a minute to exfoliate with a sugar scrub or rub them gently with a damp wash cloth. Don't do this too often or you'll end up with more dryness. Then apply a lip balm and give it a minute to sink in.
4. Skip the primer. The more layers you add on your lips the more likely your lipstick will smear and come off even easier.
Apply like a pro
5. Don't use a brush. You'll get more intense color applying lipstick directly from the tube.
6. Layer with pencil. The additional layer of pigment helps the color last. Choose a color that matches your lipstick (or one shade lighter if your lipstick is dark). Trace the edge of your lips and then fill in the color.
7. Repeat! Blot the liner with a tissue and then add another layer of lipstick on top.
Finish big
8. Finish with powder. If you really want the lipstick to last all day, give your mouth a very light dusting of transparent powder and another layer of lipstick. This can dry your lips so skip this step if needed.
23