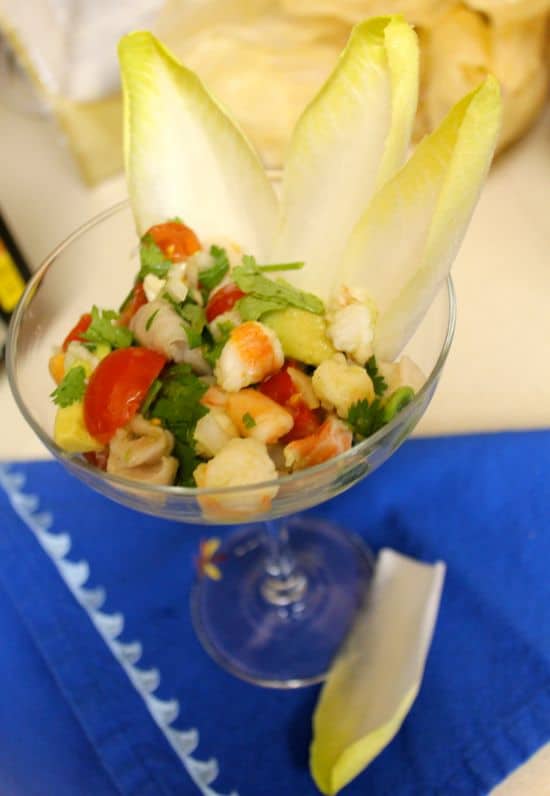 Happy Monday everyone! Man, this was a tough weekend. I think Caroline had a stomach bug – possibly brought on by the massive amounts of grapes and blackberries we ate while berry and peach picking on Saturday. I literally went to bed at 8pm last night – no joke.
To be honest, I was scared of this recipe. It's something I've never made before and there's so magic "ding" to tell you it's done! And if you get it wrong, there's a good chance you'll make someone sick. Awesome.
Good thing it turned out to be EASY!
I got the recipe from my friend Tess (you know, the one with crazy awesome closet) and thought it would be a fun vacation meal.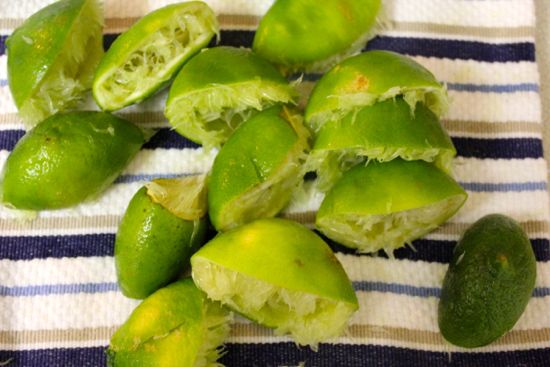 One tricky thing about cooking at the beach – you don't have all the usual tools and equipment. No juicer? I improvised by squeezing with a nutcracker. (Why they had that on hand, I have no idea.)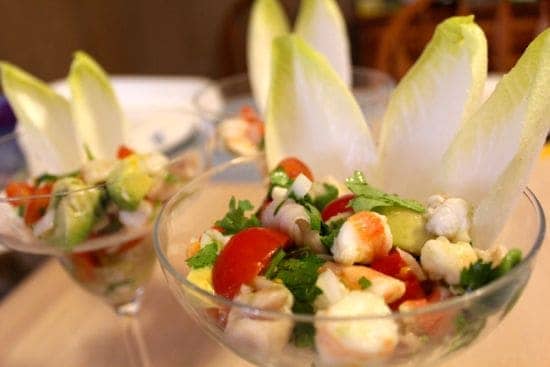 The major key to the recipe is letting it marinate for 12 hours or more. So you have to plan ahead. This is not my specialty. Which is why Mark and I ended up in the kitchen at 10:30pm peeling shrimp. Yep, I peeled my first shrimp – raw. And it was gross. So I highly recommend buying shrimp already peeled.
Mexican Ceviche
Adapted from Food.com and Ceviche Recipe
1 pound of shrimp (diced into ½ inch cube)
1 pound of white fish – I used mahi-mahi (diced into ½ inch cube)
6 large limes juiced – enough to cover the fish
1 small lemon juiced
1 medium diced fresh tomato (I used a bunch of diced grape tomatoes)
½ small white onion, finely chopped
½ small bell pepper, finely chopped (I used yellow)
½ jalapeño pepper, finely chopped
½ bunch of fresh chopped cilantro
1 avocado diced
1 teaspoon of olive oil
salt and pepper to taste
lettuce leaves to line serving bowls (I used endive)
corn chips (optional)
Dice the fish. Marinate fish in the lime juice in the fridge overnight (this step cooks the fish). Stir often. When finishing "cooking," pour off most of the lime juice – leaving it moist. Add remaining ingredients except lettuce. Do this preferably a few hours before serving & refrigerate. Toss well and arrange in individual serving bowls that are lined with the lettuce leaves or serve with chips.
0