Have you ever had socca? Socca (also sometimes called farinata) originated in Italy, but has become a popular street snack in Nice, France and the surrounding areas. The batter is very simple: finely ground chickpea flour, water, salt, and olive oil. The batter is cooked at very high heat and forms a thick crepe-like pancake with irresistibly crisp edges. Are you intrigued yet? It's absolutely delicious!
While socca is traditionally eaten plain or garnished with a sprinkling of herbs or olives, it also makes a great base for pizzas and flatbreads for those of us who are gluten- or grain-free.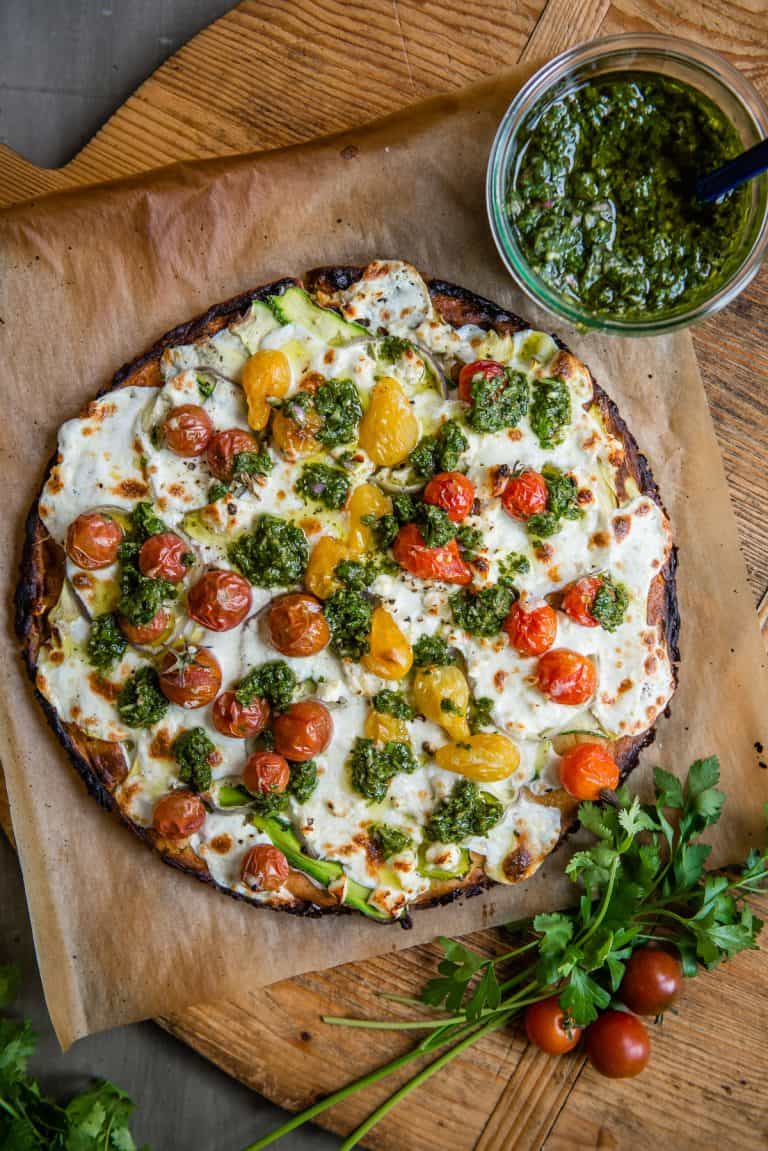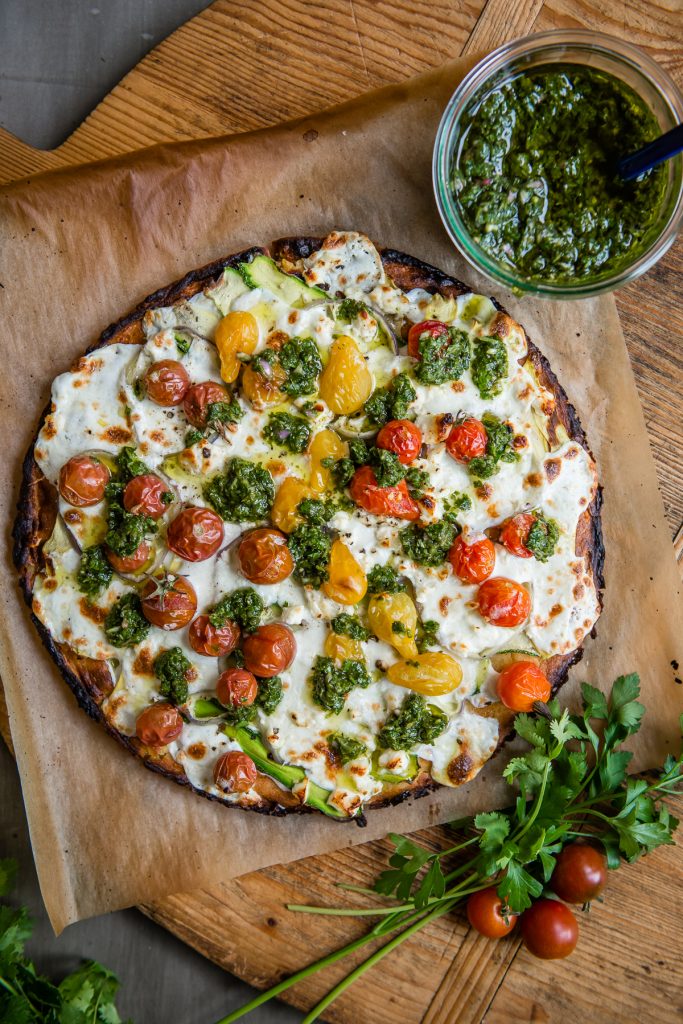 As summer is winding down, we are getting to my favorite part: late summer harvest. Gardens, CSA boxes and farmers markets are brimming with colorful veggies, fruits, herbs, and leafy greens that are bursting with summer flavor. It's hard to recreate those sun-kissed flavors any other time of the year, so "socca" it up while you can! (I'm sorry, I love food puns.)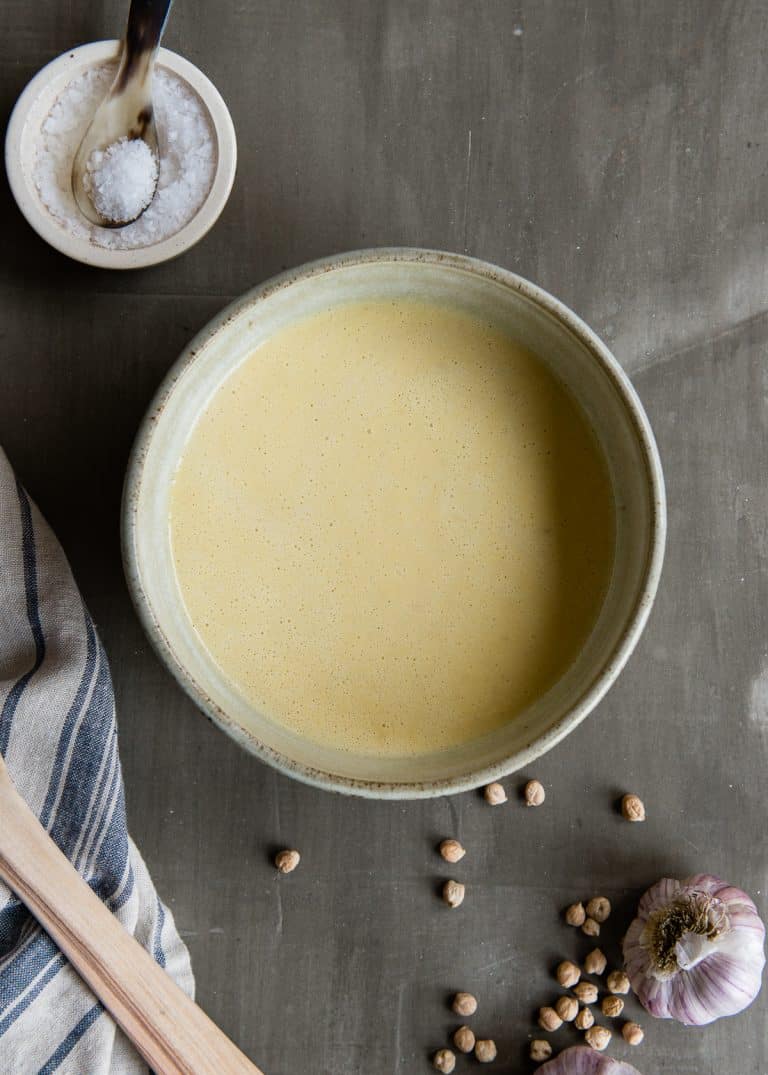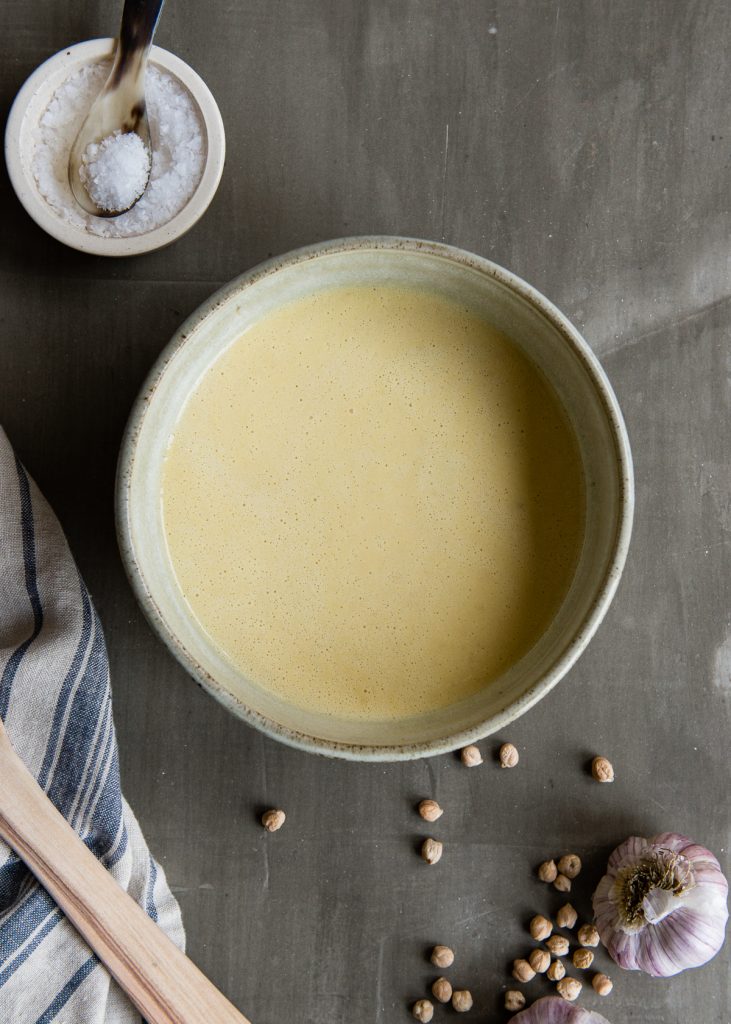 As I said, the batter really is simple. Whisk together chickpea flour with water, salt, and olive oil. I add garlic too, but that's not necessary. If you've never used chickpea flour before, you're in for a treat!
First though, I have to be honest and tell you that it smells strong before cooking, but persevere and you'll be rewarded with delicious results. (Chickpea omelets are so yummy!)
You'll find chickpea flour most places now. It may be labeled as "gram flour." I like to buy mine at my favorite Indian food market where it comes in big bags for a great price.
Otherwise, look for it in the baking section next to other non-wheat flours. You can also make your own if you've got a high speed blender — just place some dried chickpeas into the blender, turn it on, and be patient.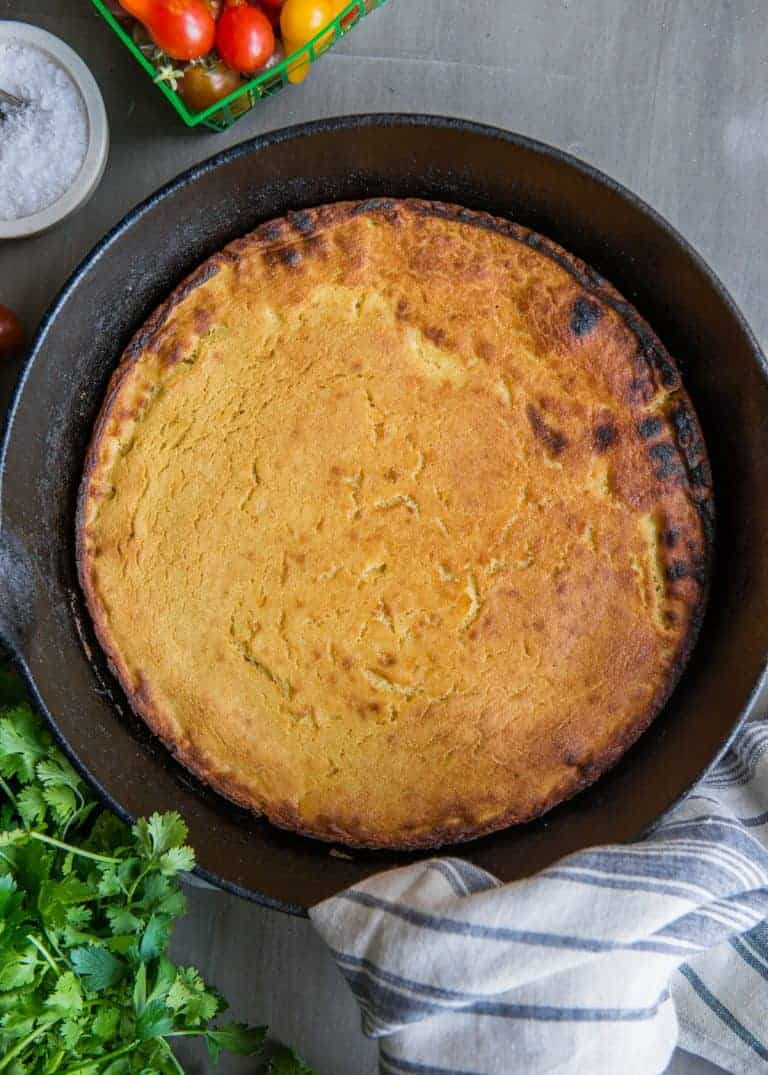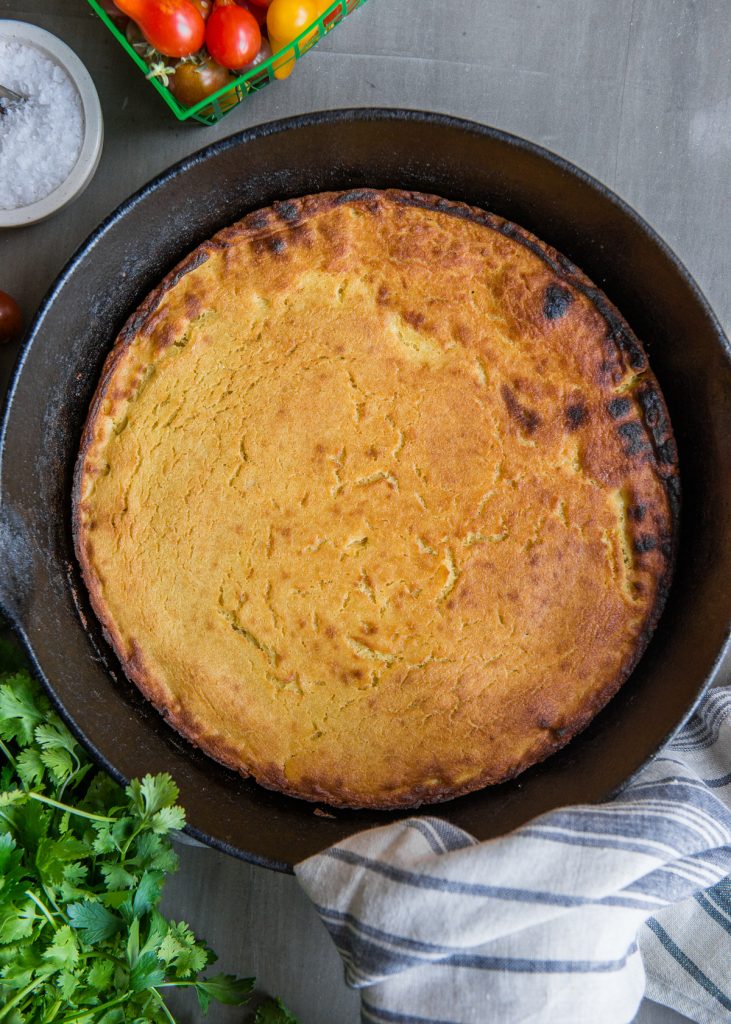 The key to a really good socca is to cook it at a very high temperature. I've seen recipes that instruct the cook to heat the oven to 500°F or use a broiler. I opt for the broiler.
When making a socca pizza, it is baked twice--first with just the batter, then a second bake with the toppings. Getting that pan nice and hot and using plenty of oil yields the best results. I use a large cast-iron skillet because it can withstand the hot broiler and is well-seasoned to prevent the socca from sticking to the pan.
And it's also important to make the batter ahead of time and let it rest for a minimum of 30-60 minutes, preferably several hours or even overnight. I believe the reason behind this is to allow the flour to hydrate properly. The cooked socca has an almost custardy texture in the center with those crisp edges I keep mentioning.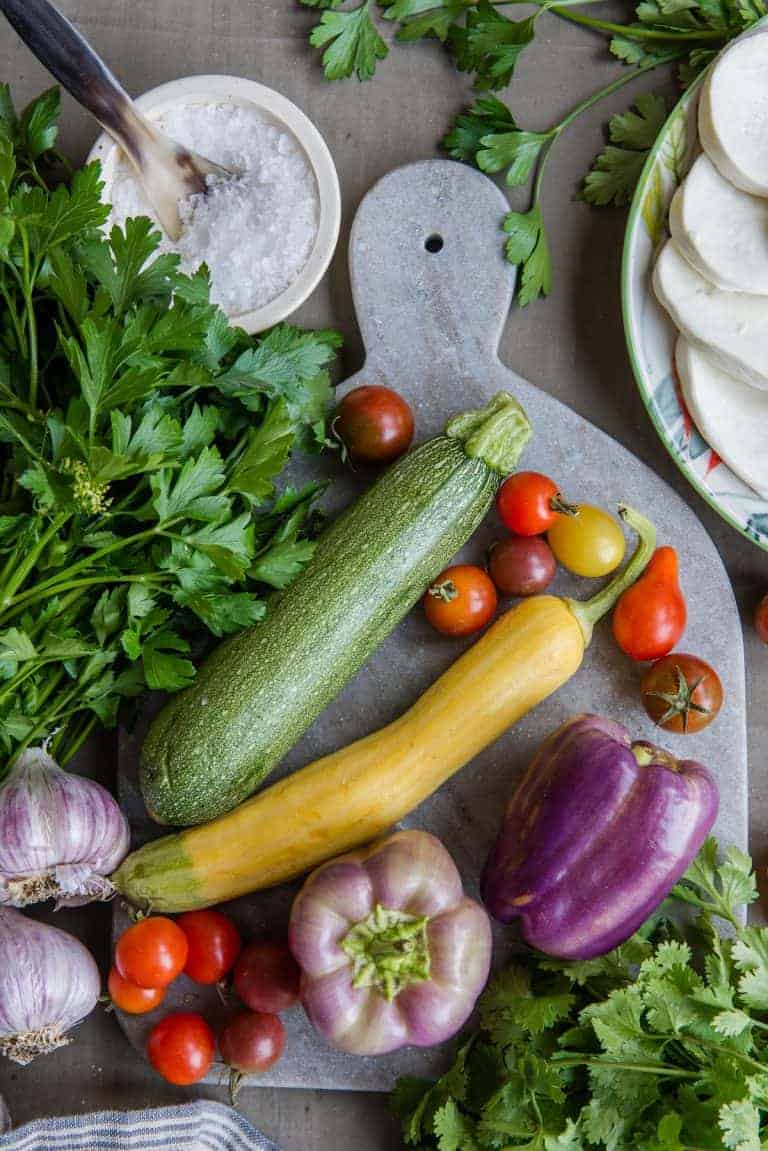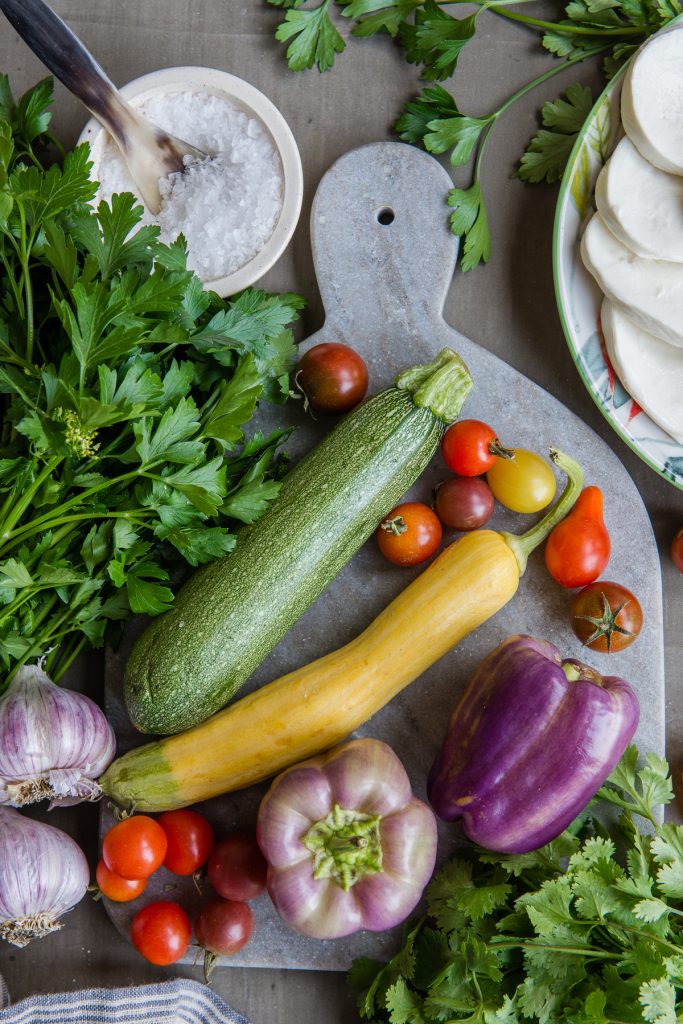 For toppings, use whatever you can find that is garden fresh. I love the combo of summer squash, bell peppers, and cherry tomatoes. Every bite is a burst of summer.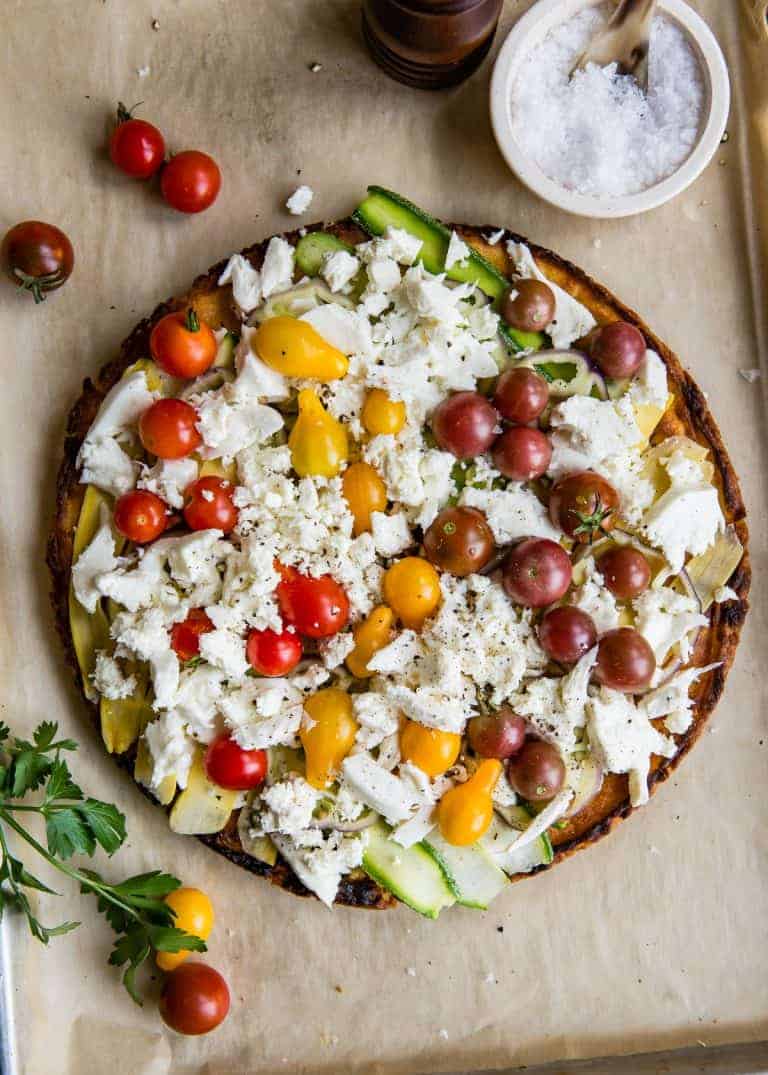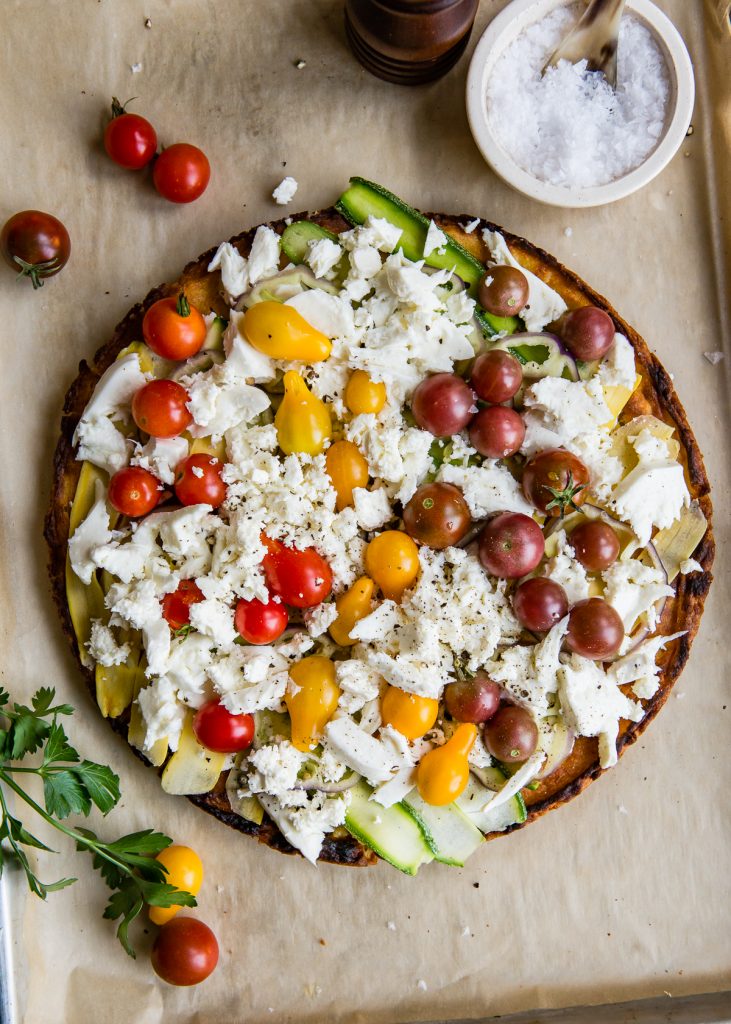 This summer socca can be made without cheese, of course, but it is very good with cheese too. For this recipe I have called for a combination of fresh mozzarella and a smattering of salty feta cheese. And to top it off? Chimichurri, the King of Herb Sauces (imho).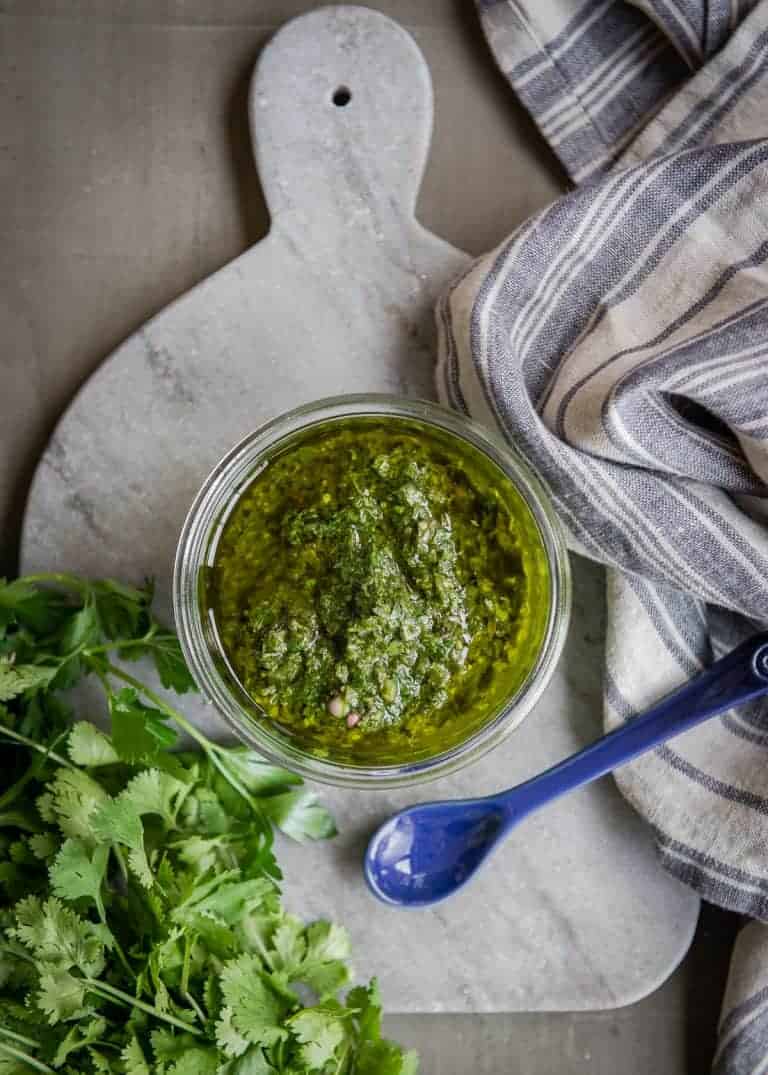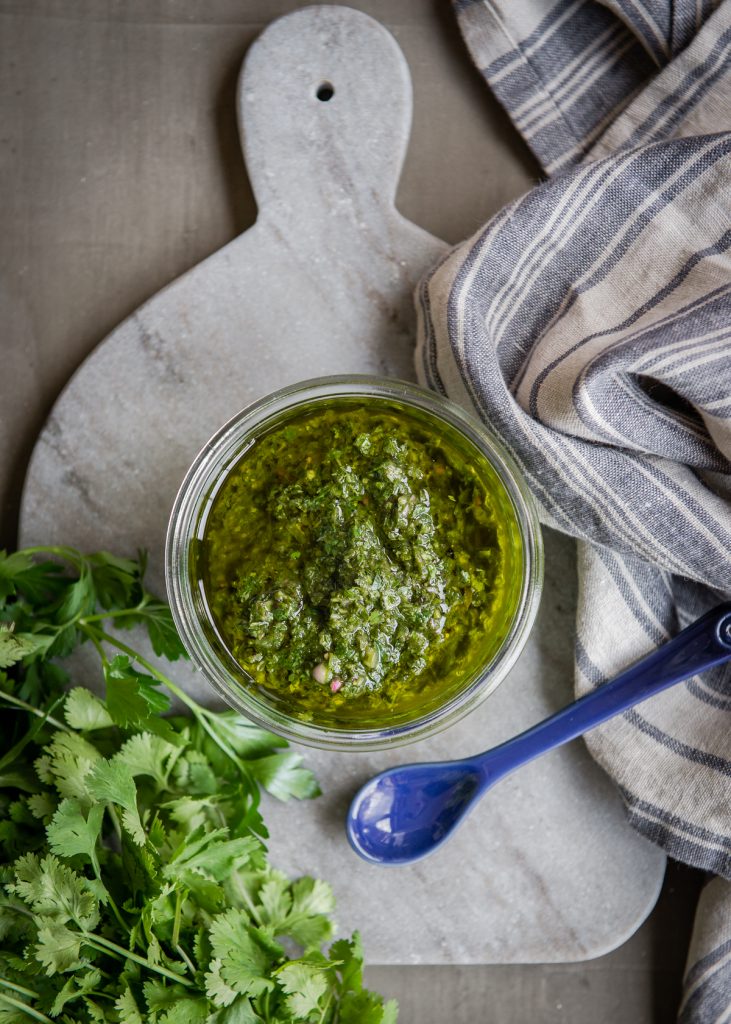 Chimichurri comes from Argentina where it is served with grilled meats and other things. (Empanadas are amazing with chimichurri!) At our house, we eat chimichurri with just about any and everything.
It is my favorite herby condiment. The sharp tang from the vinegar and citrus juice plus the grassy herbs, garlic, and olive oil is magic.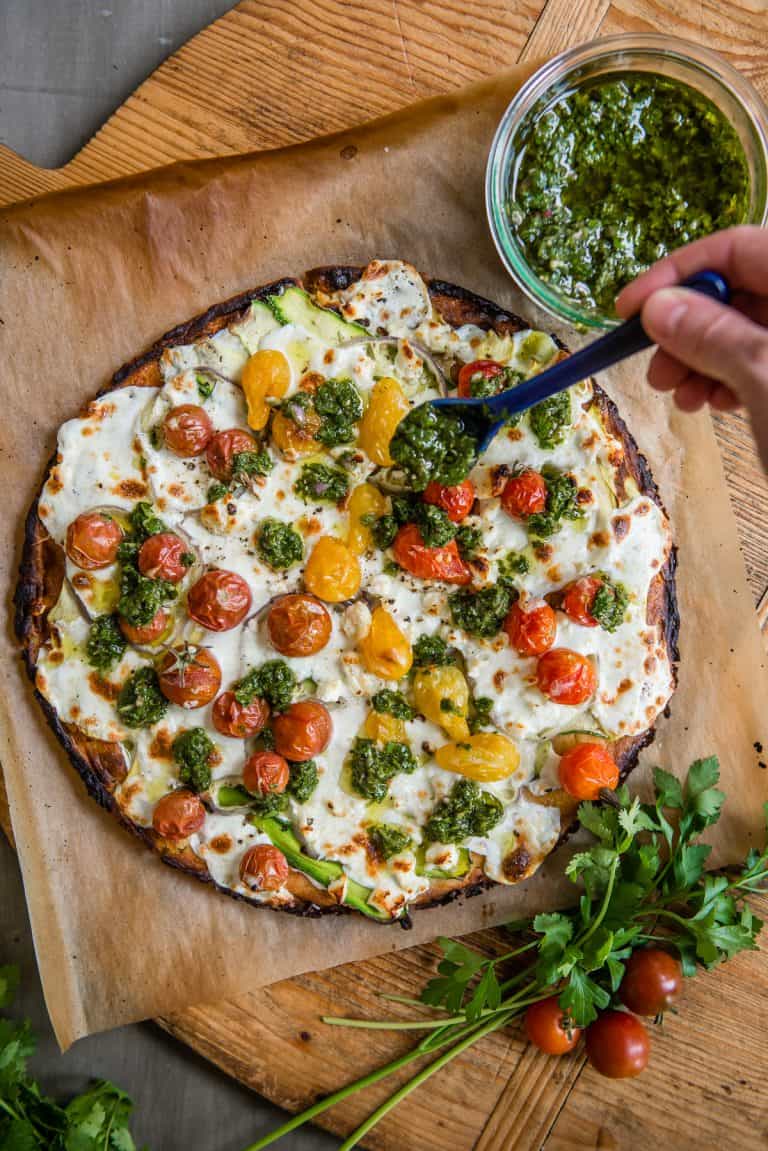 And that's how you make a summer socca to take advantage of the season's bounty and best flavors.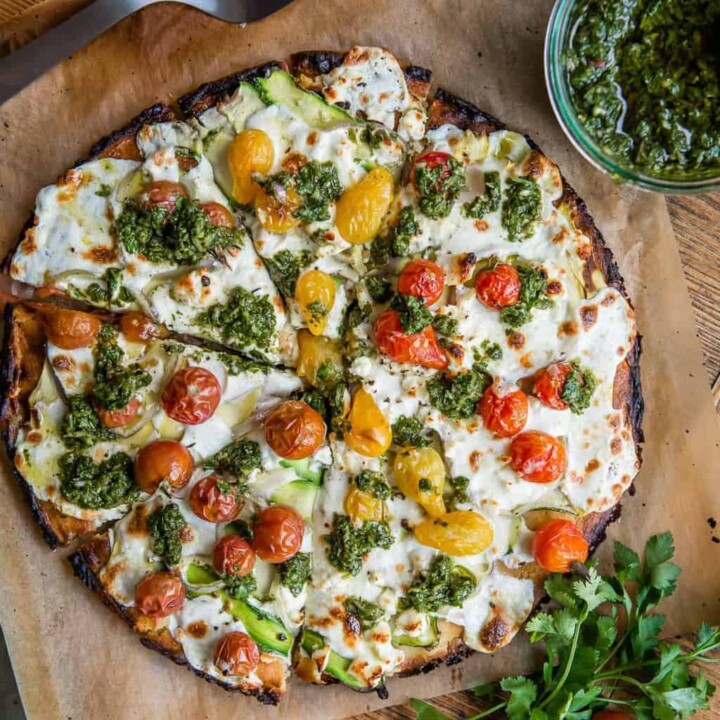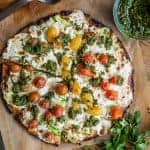 Print Recipe
Summer Socca with Veggies and Chimichurri
Serve up a slice of summer with this socca, topped with garden fresh veggies, mozzarella, a bit of salty feta cheese, and a drizzle of chimichurri sauce.
Ingredients
For the socca:
For the toppings:
½

small zucchini

cut into very thin ribbons

1

baby or ½ small yellow squash

cut into very thin ribbons

1

cup

cherry tomatoes

6

ounces

fresh mozzarella

torn or cubed

2

ounces

feta cheese

crumbled (about ¼ cup)

Sea salt and freshly ground black pepper
Instructions
Prepare socca batter at least 30-60 minutes ahead of time, preferably several hours or overnight. Sift the chickpea flour into a mixing bowl. Add the water, olive oil, garlic, and sea salt. Whisk until smooth. Cover and let sit at room temperature until ready to bake, or refrigerate if preparing the day before.

Prepare chimichurri. Place cilantro, parsley, shallot, and garlic into a food processor and pulse until the finely chopped. Alternatively, chop the herbs, shallot, and garlic with a chef's knife. Transfer the herbs to a bowl. Stir in 6 tablespoons olive oil, lemon juice, vinegar, sea salt, and red pepper flakes. Taste and adjust seasonings as needed. If the chimichurri is too thick, add the extra olive oil. Cover and refrigerate until ready to serve.

To cook the socca, remove the batter from fridge and bring to room temperature. Place oven rack about 5" from the broiler and preheat broiler for 10 minutes. Place a well-seasoned cast-iron skillet or two 8-inch round metal cake pans into the oven. Let heat for 5 minutes. Open oven door and slide rack out. Add 2 tablespoons olive oil to the cast-iron skillet. Swirl gently, being careful because the pan will be fiery hot. Pour the batter into the pan and tilt so the batter fills the pan to the edges. Place in oven and broil for 6-8 minutes, or until the edges are crispy, the center is set, and the top is golden.

Meanwhile, line a baking sheet with parchment paper and get the toppings ready. When the socca has baked, remove it from the pan and place it on the baking sheet. Adjust oven temperature to 425°F. Sprinkle a little of the fresh mozzarella evenly over the socca, followed by the squash, and tomatoes. Top with remaining mozzarella, crumbled feta, and a good sprinkle of freshly ground black pepper and sea salt. Place pan in oven and bake for 15-20 minutes, or until the cheese is golden and melty. (If you want the top to be extra toasty, place the socca back under the broiler for a minute or two, watching carefully so it doesn't burn.)

Before serving, drizzle with chimichurri, and cut into wedges. Serve warm or at room temperature.
Notes
Note: this socca is best served the day it is made, but will last several days in the refrigerator. The crust will become a little soggy, but it will still taste great.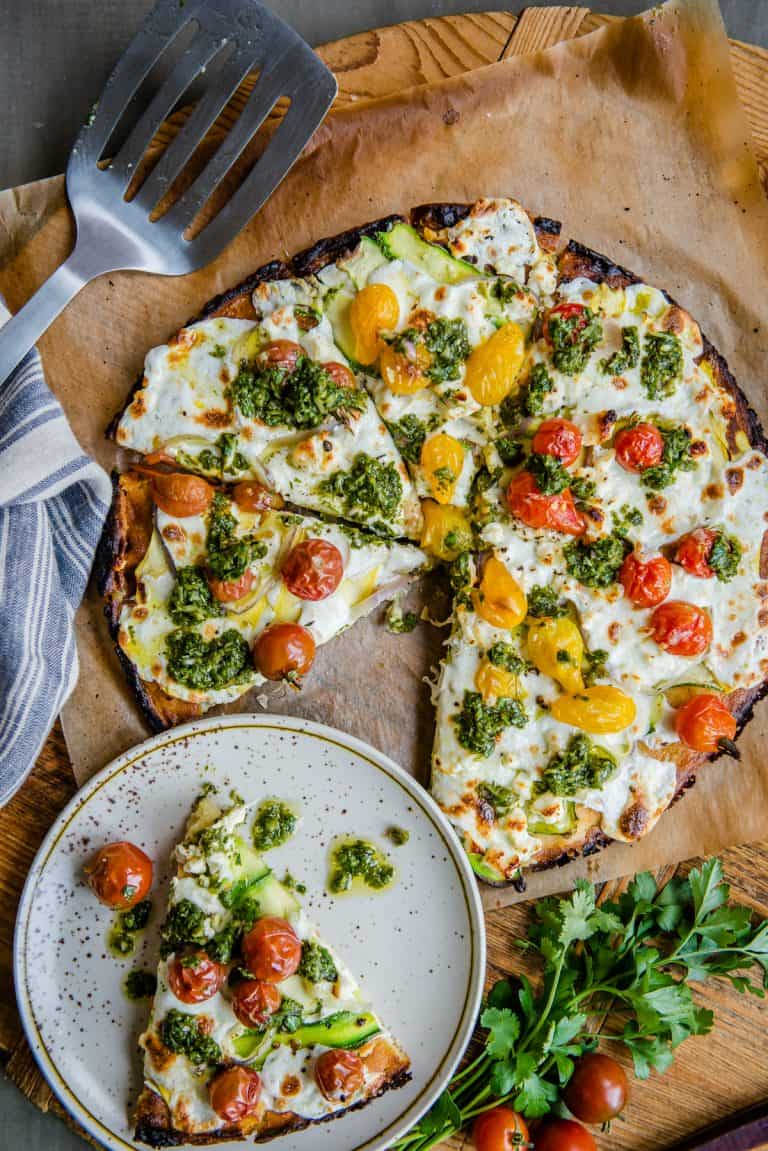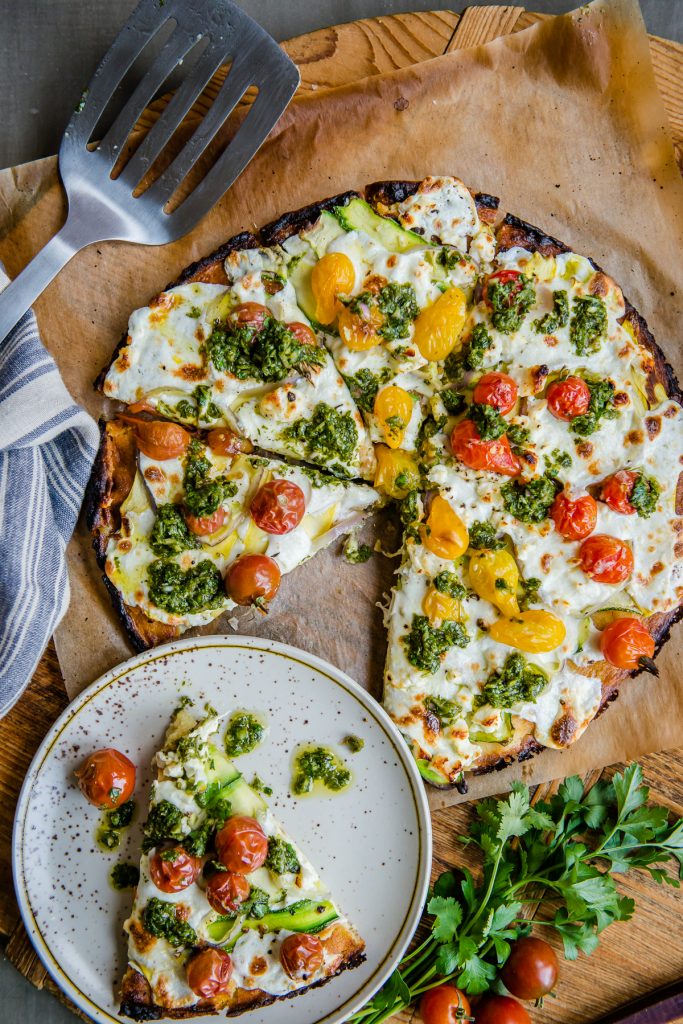 7