Soaking in a hot tub of bubbles is one of life's ultimate luxuries. Maybe I'm a weirdo, but bubble baths play a role in almost every good memory I have from early childhood. And honestly, not much has changed, seeing as how bubble baths (plus a glass of wine and a good book) play a role in 99% of my good memories from adulthood as well (quick shout out to my fellow introverts!)
But store-bought bubble bath is usually loaded with all sorts of gross stuff—that's how you get the bubbles, after all. Which is why I highly recommend making your own.
Despite what the haters say, it is possible to make your own bubble bath that actually bubbles and won't irritate your skin or cause breakouts. Read on and we'll show you how to make bubble bath for sensitive skin.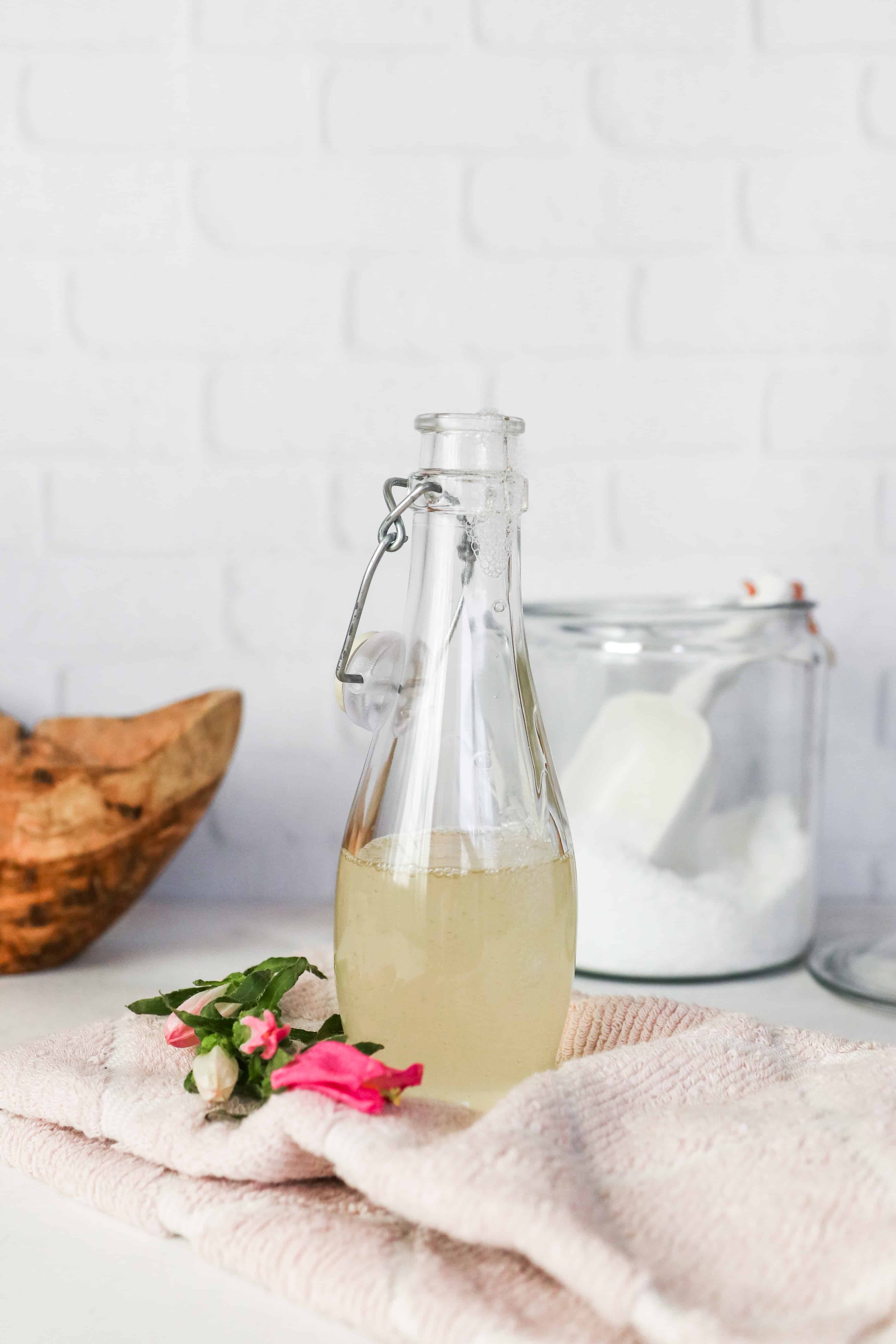 Make Your Own Bubble Bath for Sensitive Skin
Homemade bubble bath is a pretty divisive topic.
Some people say you can't make it while others swear you can. And of those folks that say homemade bubble bath is doable, most recommend Castile soap as a base. But here's the thing: anyone who has ever used castile soap knows that it makes for a really lackluster bubble bath.
The stuff doesn't bubble!
At best, you might get a thin layer of puny bubbles, but more than likely you won't get any bubbles at all. So to make real bubble bath, you need to use traditional soap as a base. Dish soap could work in a pinch but I prefer to use body wash made especially for sensitive skin for mine.
First off, natural body wash is made for skin so you can rest easy knowing it doesn't have anything super harsh in it. Second, there are tons of brands to choose from so you're guaranteed to find something that works for you.
I like Honest Shampoo + Body Wash (not sponsored or anything—I'm just a fan) because it bubbles beautifully and doesn't have any scary ingredients. But the brand isn't really important. Just make sure whatever you choose works for your skin.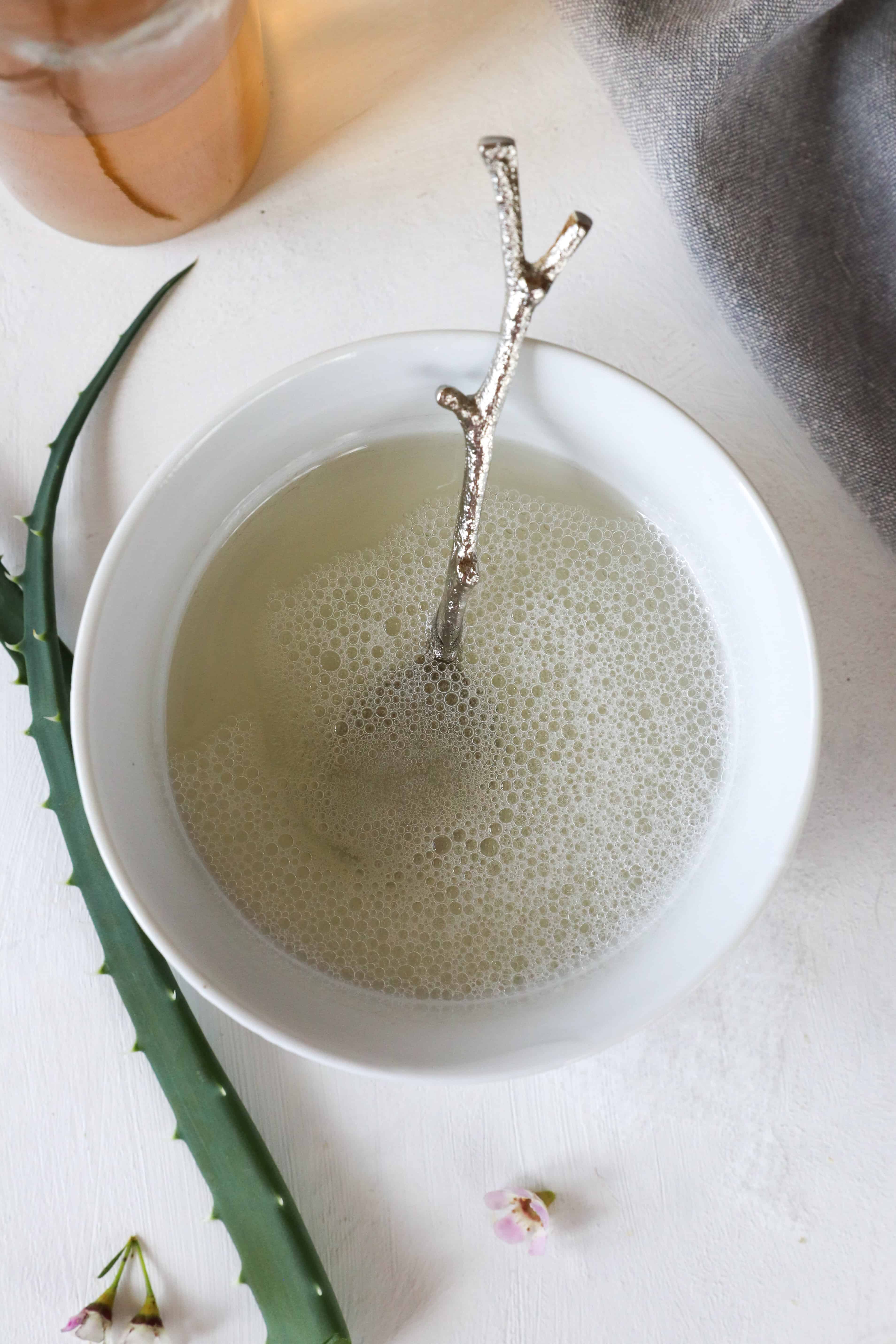 From there, you'll want to add ingredients that soothe skin and calm inflammation.
Aloe vera
Aloe vera is a skin-healing powerhouse. It's been shown to encourage wound healing, reduce the fragility of skin, and soothe inflammation [source]. While you can always use fresh aloe for this recipe, the fresh stuff tends to go bad within a couple of days, so it's best to make it in smaller batches. If you'd like to make a large batch of bubble bath ahead of time, stick with natural aloe vera gel, which has a longer shelf life.
Essential oils
We put essential oils in practically everything. And for good reason: they work! While you can choose any oils you like, chamomile, lavender and frankincense are notoriously hydrating and healing, making them perfect for irritated skin.
Raw honey
Honey has long been used to treat skin disorders, especially slow-healing wounds and infections. While all raw honey has healing properties, Manuka honey is particularly good at treating skin conditions thanks to its antimicrobial and immune-modulating properties [source].
Vitamin E
A potent antioxidant, vitamin E helps reduce the effects of oxidative stress and inflammation in the skin [source]. It's not vital to this recipe, but I've noticed that it helps my skin feel softer and less itchy, so I always make sure to add some to my bubble baths.
But feel free to tailor this bubble bath for sensitive skin based on your own needs and preferences. When it comes to ingredients you can add, the sky's the limit.
Sensitive Skin Bubble Bath FAQ
What else can I use as bubble bath if I don't have body wash?
Most natural shampoos will also work, but I recommend sticking with something made specifically for the body (like body wash or shampoo). I would avoid dish soap because it can be incredibly hard on the skin, but that's just me. Feel free to experiment with different kinds of soap to find something you like.
How do you make tear-free bubble bath?
Try using tear-free shampoo. While shampoo might not foam quite like body wash, you should get some suds.
Can I use this bubble bath for babies?
Honey and some essential oils aren't safe for babies, so either leave them out or consult your pediatrician before using them in homemade bubble bath. And always choose a body wash, shampoo or other soap made specifically for babies as the base of your bubble bath.
Do you need to rinse after bubble baths?
That's up to you. The ingredients used in this bubble bath should actually nourish skin and boost moisture, so you don't have to rinse. But if you find soap irritating, then go ahead and rinse off after your bath.
Can I still use this bubble bath as a body wash?
Yes, in fact I highly recommend using the leftovers as body wash. It will only stay fresh for 1-2 months, so use it quickly to keep it from spoiling.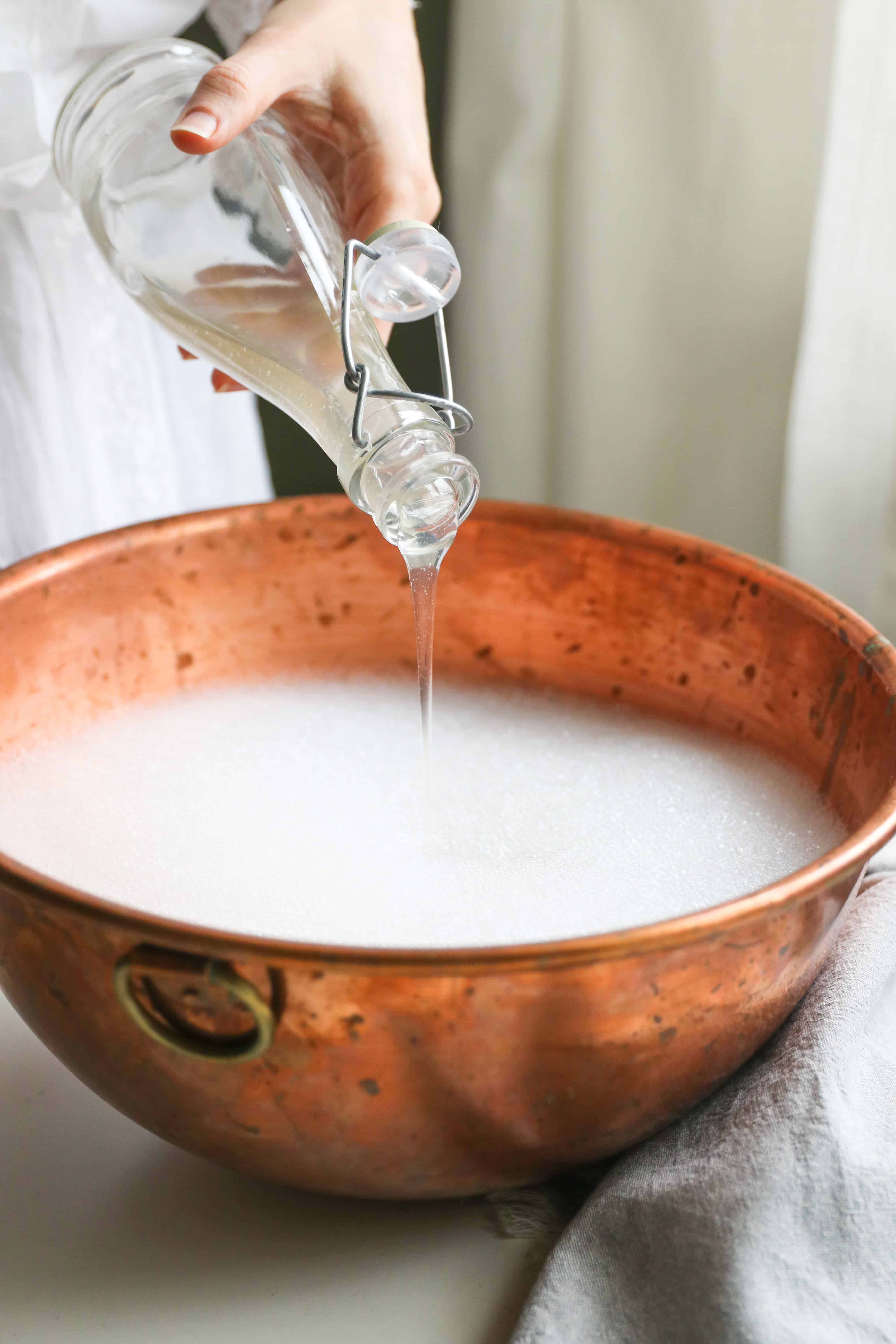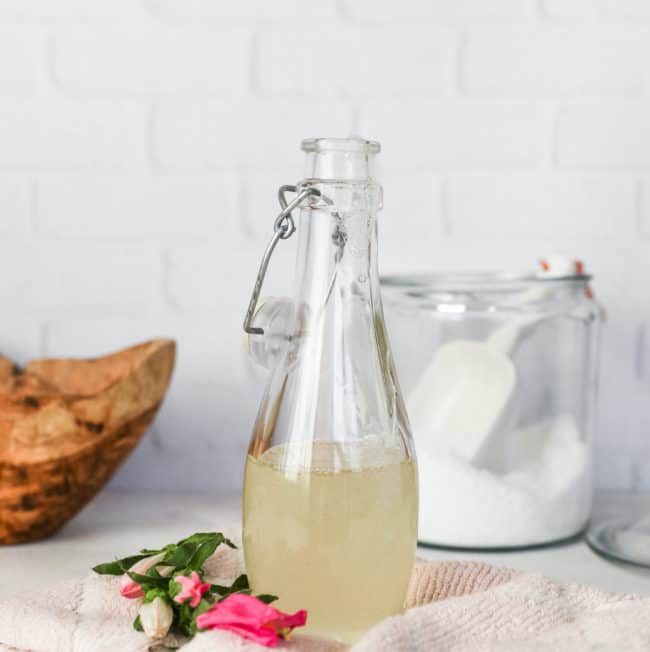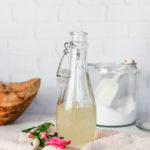 Print
Bubble Bath for Sensitive Skin
Learn how to make your own bubble bath for sensitive skin. Yes, it actually makes bubbles! And won't irritate your skin or cause breakouts.
Instructions
Combine all ingredients in a small bowl and slowly stir with a spoon (you want to gently fold in the tea so as not to create too many bubbles).

Transfer the mixture to a lidded glass bottle.
Notes
The brand of body wash isn't really important for this recipe. Just make sure to choose something that works for your skin.
To use, pour 1/4 cup bubble bath under the running faucet while the tub fills with water.
Store bubble bath in the refrigerator and use within 1-2 months. 
This post was medically reviewed by Dr. Rina Mary Allawh, M.D., a dermatologist who performs adult and pediatric medical dermatology, skin cancer treatment and cosmetic dermatology. Learn more about Hello Glow's medical reviewers here. As always, this is not personal medical advice and we recommend that you talk with your doctor.
127