Even though I have never had to wear corrective glasses, I still wear sunglasses most days and use blue light blocking glasses to save my eyes from that ever-present computer light. I am proof that the compulsive need to wipe any and all smudges from lenses remains if you have 20/20 vision.
Instead of carrying single-use lens wipes, I take a small spray bottle of DIY eyeglass cleaner spray and a microfiber cloth. This combo is stored easily in my purse, the glove compartment in my car, or on my desk at home and eliminates any need for more wasteful, individually wrapped wipes.
How to make your own eyeglass cleaner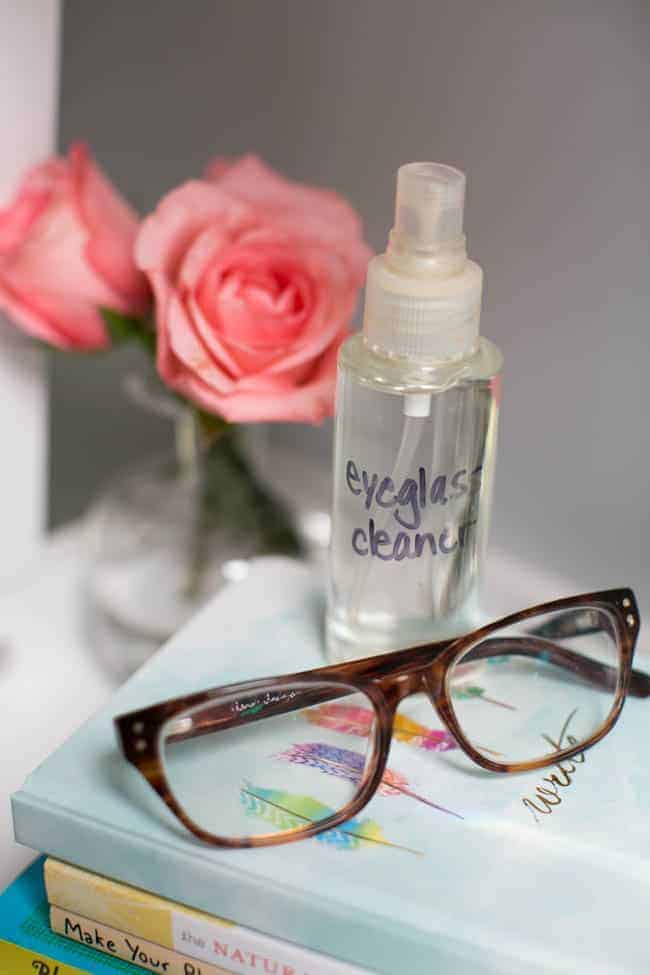 This eyeglass lens cleaner is extremely simple to make and calls for inexpensive ingredients you are very likely to already have on hand!
Ingredients:
– 3 parts isopropyl alcohol
– 1 part water (distilled or filtered is preferred)
– 1–2 drops dish soap
Supplies:
– Small (2 oz) spray bottle
– Small microfiber cloth (I store mine in my glasses case!)

Instructions:
Combine all of your ingredients in the small spray bottle.
Do not spray this directly onto your lenses! Instead, spray on your microfiber cloth first, then use the damp cloth to wipe away smudges from your eyeglass lenses.
Use the rest of your bottle of isopropyl alcohol in recipes like: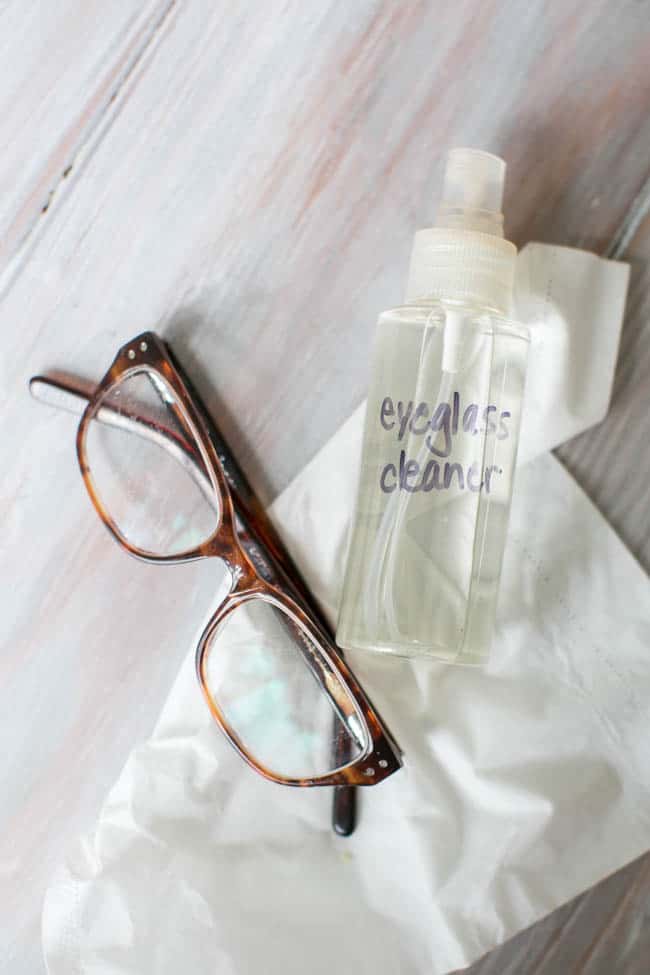 Keeping Your Microfiber Cloth Clean
Microfiber cloths are particularly great at attracting dirt and debris, which means they can get dirty quickly, so you'll want to wash them regularly. But you'll have to take care when doing so.
Microfiber should be laundered separately from other fabrics. Because it is formulated to grab onto lint and dirt if it is laundered with other linty fabrics, your microfiber cloth will be full of lint after washing.
Additionally, if you choose to machine dry your microfiber cloth, do so on a low or no-heat setting. Microfiber is made from synthetic materials that might melt or be damaged in a hot dryer.
Lastly, when drying in a dryer, do not use dryer sheets or dryer balls. Both of these items will reduce static cling, which is great for clothes and towels but not ideal when it comes to your microfiber cloths.
With microfiber, you want to keep all of that static cling! That is what makes them such effective cleaning tools, so save dryer sheets and dryer balls for all other laundry loads.
DIY Eyeglass Cleaner FAQ
What kind of dish soap should I use to clean my glasses?
Choose a dish soap that is gentle, and ensure that it is free of any lotions or moisturizers that could cause smudging.
How can I avoid scratching the lenses of my glasses while cleaning them?
Before you clean your glasses or wipe them with a microfiber cloth, inspect the lenses for any dust or debris. Blowing off any dust particles before cleaning or wiping down the lenses can help prevent scratching. Do not use any paper products like paper towels or tissues to clean your glasses, as the fibers in them can be abrasive and cause scratches.
Can I use this DIY eyeglass cleaner if my glasses have a special coating?
If your lenses have an anti-reflective coating, it's best to check with your optometrist or optician about what eyeglass cleaners and ingredients are approved for use with your lenses.
602