The world of natural remedies can be overwhelming. There are approximately one million herbs and teas that are all perfect for something. So this list of supplies for your natural medicine cabinet is a guide to get you started.
Make a couple of purchases and start using them. Maybe buy a natural remedies book; Rosemary Gladstar is a good place to start.
And yes, it feels weird reaching for your own first aid cream instead of store-bought for the first time. But you'll soon be on your way to soothing poison ivy with an oatmeal bath, diffusing eucalyptus for congestion, and drawing out splinters with activated charcoal.
Here are my favorite ingredients and a few ways to use them for common everyday ailments.
Stocking Your Natural Medicine Cabinet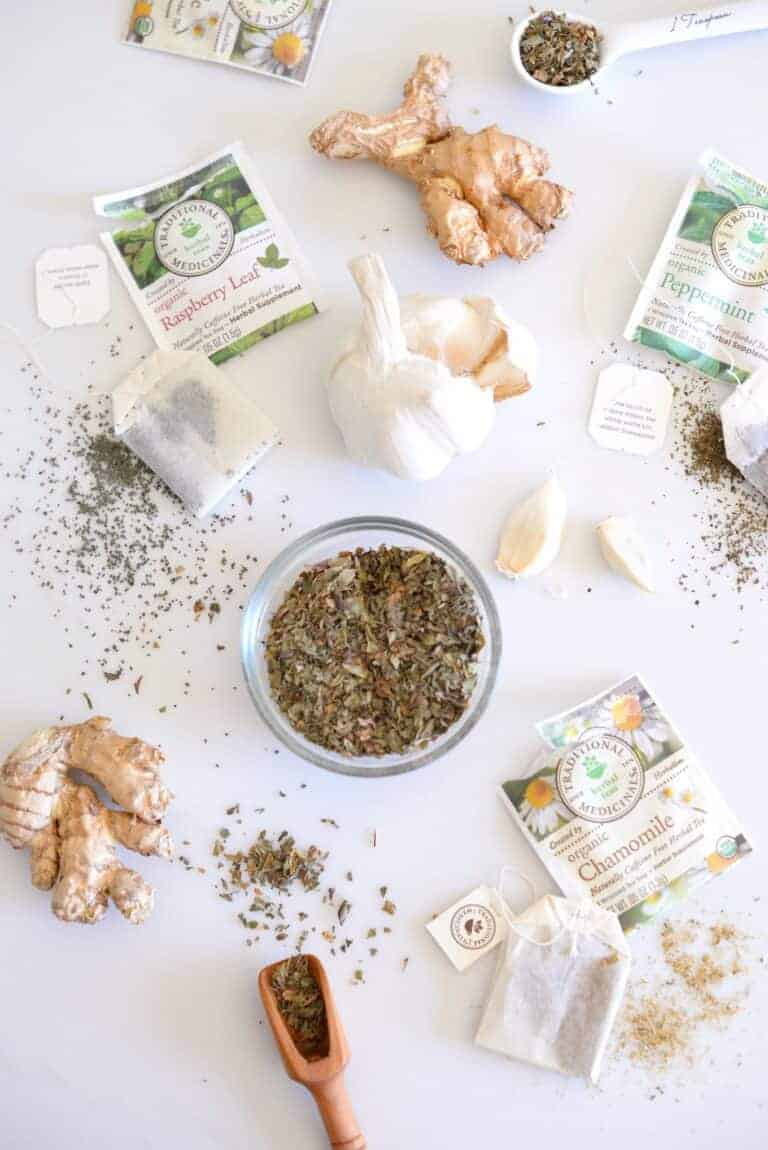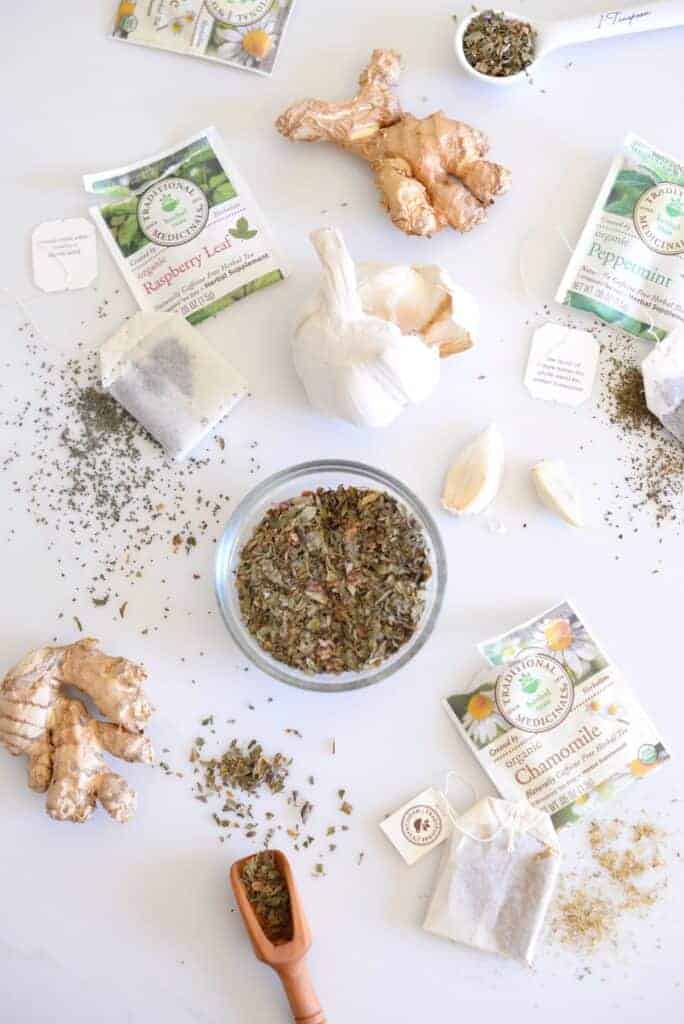 1
.
Herbs
&
Teas
Garlic: Forget about catching colds every time the season changes. Garlic is best consumed raw, but I'm not yet brave enough to munch on cloves and deal with the aftermath. This immune-boosting garlic shot will strengthen your system and fight against pathogens the natural way [source].
Ginger: My favorite feel-better beverage is a soothing tea made with a few slices of ginger and lemon and sweetened with honey. As a natural antimicrobial and anti-inflammatory [source], ginger makes an excellent sore throat tea with turmeric and cinnamon.
It's also great for heartburn and upset tummies. Try it in a belly-soothing lemonade to fire up your digestion.
Chamomile: Chamomile tea is perfect when you're stressed out [source], need to unwind after a long day, and can't sleep [source]. The essential oil can also be added to a bath or massage oil to relieve insomnia, stress, and anxiety.
Peppermint: Mint is definitely a multitasker. It helps with digestive distress [source], nausea [source], headaches [source], cough [source], and fatigue [source], just to name a few things. Stomach-soothing mint tea is effective for tummy aches [source].
Red raspberry leaf: This one is a PMS life-saver and has been used for menstrual problems and in pregnancy [source]. Vitamin B has long been recommended to ease PMS symptoms, and red raspberry leaf just happens to be a rich source of B-complex vitamins. We like The Republic of Tea's Organic Raspberry Leaf Superherb Tea. The tannins in the tea also have potent antioxidant properties and have been reported to lower blood pressure [source].

2
.
Essential Oils
Eucalyptus: The sinus-opening scent of eucalyptus is anti-inflammatory, antiseptic, and antiviral [source]. Breathe in eucalyptus via an inhaler or a steam to relieve stuffy noses from allergies and colds. You can also add it to a bath to ease cold congestion.
Lavender: Grab your lavender essential oil for one of the simplest remedies for mild, superficial burns [source]. Not only has it been shown to assist in wound healing [source], but it also helps with pain and inflammation [source]. Apply 1 or 2 drops of oil directly to the burn to ease pain and prevent scarring. The calming scent also makes it an excellent companion when you're frazzled at the end of the day [source].
Peppermint: Peppermint is a must-have for relieving tension and headaches [source]. Not only is its cool, invigorating scent refreshing, but peppermint also contains a menthol constituent for clear, deep breathing.
To give yourself a quick head massage and ease tension, combine 5 drops of peppermint with 1 tablespoon of carrier oil, like coconut or almond, and massage into the temples and the base of your neck.
Tea tree: This is a must-have oil that's amazing for just about any skin condition, including cold sores, acne, minor cuts, eczema, and fungal infections [source]. Dilute 6 drops of tea tree with 1 tablespoon of carrier oil and apply to skin with a cotton-tipped swab.


3
.
Oils
,
Syrups
+
Sprays
Calendula oil: Renowned for its skin-healing properties, calendula oil helps heal damaged skin, reduces scarring, and generally keeps skin happy and calm [source]. Buy calendula oil (or infuse your own) and use it as a body oil or in homemade first-aid salves and diaper creams.
Elderberry syrup: Elderberry syrup is a great thing to keep in your fridge during cold and flu season. If taken as soon as flu symptoms appear, it can shorten the duration of the flu by 3 to 4 days [source]. You can also make your own.
Manuka honey: This stuff is not cheap, but keeping a small jar in the medicine cabinet is worth the investment. Excellent for wound healing [source], manuka honey is perfect for dabbing on scrapes and burns (and the occasional face mask).
Witch hazel: You might think of witch hazel more for its beauty uses, but it also fights bacteria [source] and reduces inflammation [source]. It gives a cool, tingling sensation that feels so good on sore legs, bug bites, and other itchy spots. Combine it with aloe vera to make a natural hand sanitizer or antiseptic spray.

4
.
Powders, Salt
+
Salves
Activated charcoal: Charcoal has long ago shown its excellence for helping tummy troubles—from bloating and gas [source] to diarrhea. It's easiest to take in capsule form, but you can hide the powder in smoothies or applesauce for kids.
Keep this black salve on hand, or break open a capsule and mix a bit of the powder with water to draw out the sting of bug bites, skin rashes, and splinters.
Epsom salts: I'm a big believer that a bath helps almost any ailment. So I draw a bath when there's a cut or scrape, sore muscles, colds and infections, headaches, or congested sinuses to contend with.
Dissolve 1 to 2 cups of Epsom salts in the warm water and soak away.
Bentonite clay: Clay is another useful ingredient for drawing out impurities [source]. It makes a simple homemade calamine lotion and a natural antifungal powder for athlete's foot.
And it's another great bath ingredient for skin irritation and detoxing. Mix 1/2 cup of bentonite clay in 1/2 cup of warm water, and stir until the clay is dissolved.
Egyptian Magic: An all-purpose salve made with olive oil, bee pollen, honey, and propolis—all helpful healing ingredients [source]—can be useful on everything from sunburns to chapped lips and dry elbows. You can also make your own.
Arnica gel: This is a homeopathic product made from plants that works wonders on bruises! Rub on for pain relief of sore muscles, swelling, stiffness, and bruising [source].

5
.
Tools
Small jars: Start collecting empty jam and jelly jars because they are the perfect size for making and storing recipes and ingredients. I love these small Ball jars. Having a few bottles with droppers is helpful, too, when mixing essential oils.
Cool mist humidifier: This is an essential tool during dry winter months—or whenever we're dealing with runny noses and congestion (which seems to be year-round).
Essential oil diffuser: Diffusers are an easy way to disperse essential oils into the air, making them especially helpful for insomnia, stress, anxiety, and congestion.
Cotton balls, cotton swabs, and Bandaids: These are helpful for so many different uses. But a friend gave me some advice that has saved me a ton of money: just get the plain Bandaids instead of the fun character ones, so your kids don't go through them like candy.
Tweezers: I've used my tweezers more this year than any other for ticks and splinters, so I'm giving them an honorable mention!
Stocking Your Natural Medicine Cabinet FAQs
Where can I get bottles and small jars
?
We get asked this question a lot! Check out our roundup of favorite containers for storing DIY projects.
What other ingredients should I keep on hand to make DIY beauty products at home
?
Check out our list of must-have beauty DIY ingredients to stock your DIY beauty pantry. Most of the items on this list have a long shelf life and are easy to combine with fresh kitchen beauty ingredients like avocado, lemon, and yogurt.
Once you load up on this handful of essential items, you'll be prepared to whip up virtually any soap, lotion, hair treatment, or skin remedy whenever the mood or need strikes.
Now that I've stocked my medicine cabinet
,
what's the best way to make my DIY recipes last
?
When answering this question, there are so many variables that range from how you make each DIY, what ingredients are included, how it's stored, and so on that it can be hard to give a precise answer on how long DIY products will last.
That being said, there is a lot you can do to get the most out of your recipes and avoid the biggest DIY spoilers. We've put together some general guidelines for recipe storage and shelf life for oils, balms, and other beauty potions.
This article was medically reviewed by Dr. Gina Jansheski, a licensed, board-certified physician with over 20 years of experience in practice. Learn more about Hello Glow's medical reviewers here. As always, this is not personal medical advice, and we recommend that you talk with your doctor before using this recipe to determine what's best for you.
16