Drinking water is one of those things we all know we need to do, and it sounds simple enough, but in day-to-day life can be the first thing to fall by the wayside. Here are 11 easy hacks to keep you hydrated and happy all day long!
11 Easy Ways to Drink More Water
1. Keep a dedicated water pitcher in the fridge—at home and at work
This could be a Brita-type filter pitcher, or just a large glass bottle you refill as needed. Sure, you'll have to walk to the kitchen or break room a lot, but you'll always have a supply of refreshing, cold water at the ready—and if you work at a desk, you're better off getting up for short breaks throughout the day. You're probably going to be needing to visit the bathroom more anyway!
I'm a fan of my 41-ounce glass pitcher with a handle; it's large enough that I don't have to refill it often, but small enough that I don't feel like I'm going to drop it when it's full. You can also buy a countertop model for your office, or if you have a lot of water drinkers at home. Just be sure to wash it out every few days.
2. Start Every Day with At Least One Glass
Make drinking water one of the first things you do, and it will become habit in no time. Try starting your day with a tall glass with a little lemon juice added to balance your pH, or mix up a cleanse water for extra detox benefits.
3. Add Flavor and Detox Power
Add tasty detox ingredients like cucumber, lemon and ginger to ensure that you keep drinking, and that what you do drink counts even more. Make sure to wash all produce you add in, cut off skins or peels if necessary, and buy organic if at all possible (you don't want to drink pesticide-infused water). Here's an infused water tutorial to get you started.
4. Try an Infuser Pitcher
If you're not a fan of straining or picking out mint leaves or chunks of cantaloupe every time you pour a glass, look for a glass (or BPA-free plastic) infuser pitcher that keeps the infusing agents contained. There are also countertop versions of these.
5. Buy the right travel bottle
Because you won't drink enough if you don't bring water with you! I couldn't tell you how many reusable water bottles I've bought or received that end up in my garage sales, or worse yet in a box in the basement missing a lid or a straw. Make sure to buy one that you'll actually use, that fits in your car cup holder, and that isn't a pain (or too ugly) to lug around with you. You'll avoid spending money on (and being exposed to the chemicals in) bottled water.
Glass is ideal for water bottles, however BPA-free plastic is alright if you're worried about breakage. Full Circle's Daytripper glass bottle is a sleek glass version (they also make a travel-sized infuser bottle with a built-in citrus reamer). LifeFactory's glass bottles have a silicone cover to protect them. If you're a fan of the Brita filter, they make a travel version; the CamelBak bottle is a great choice for those who just need to have a straw. Make sure to wash your water bottle with a brush often!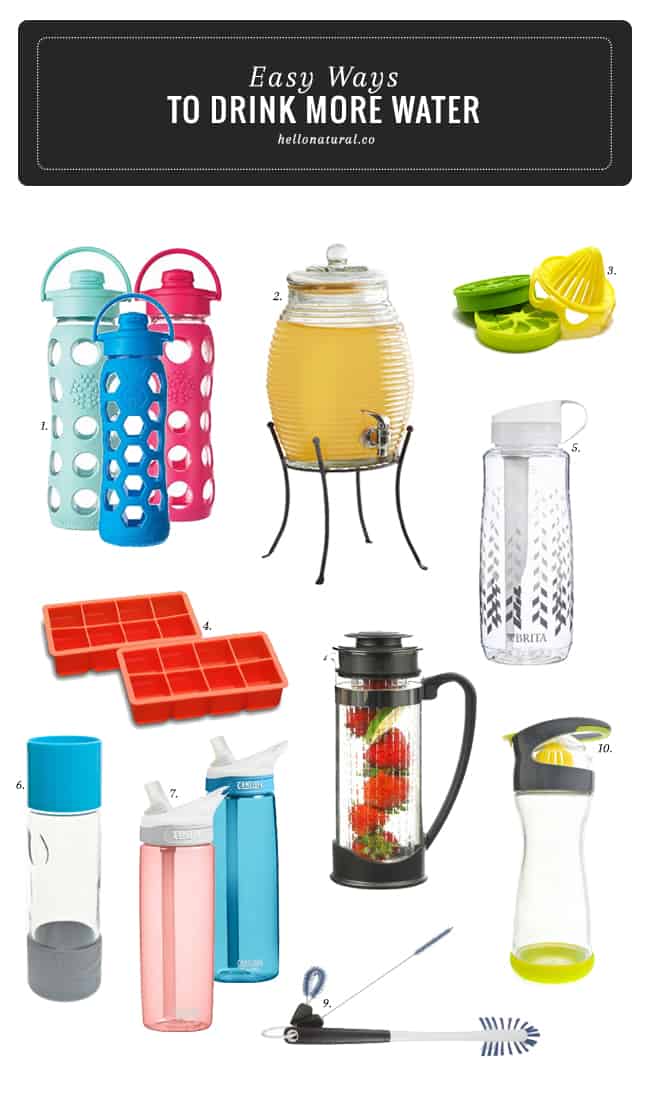 1. Glass bottles 2. Countertop Pitcher 3. Citrus Ice Infuser Set 4. Silicone ice cube trays 5. Brita travel version 6. Daytripper glass bottle 7. CamelBak bottle 8. Infuser pitcher 9. Bottle brush 10. Travel-sized infuser bottle with a built-in citrus reamer
6. Eat foods with high water content
Cucumbers, tomatoes, romaine lettuce and melons all contain a large percentage of water. Double up and infuse your water with cucumber and/or melon.
7. Chase every coffee, juice, soda and tea with water
For every non-water beverage you drink throughout the day, make sure to follow it with a glass or two of water in order to dilute and flush out sugar, caffeine and any preservatives or chemicals ASAP.
8. Fancy up your ice cubes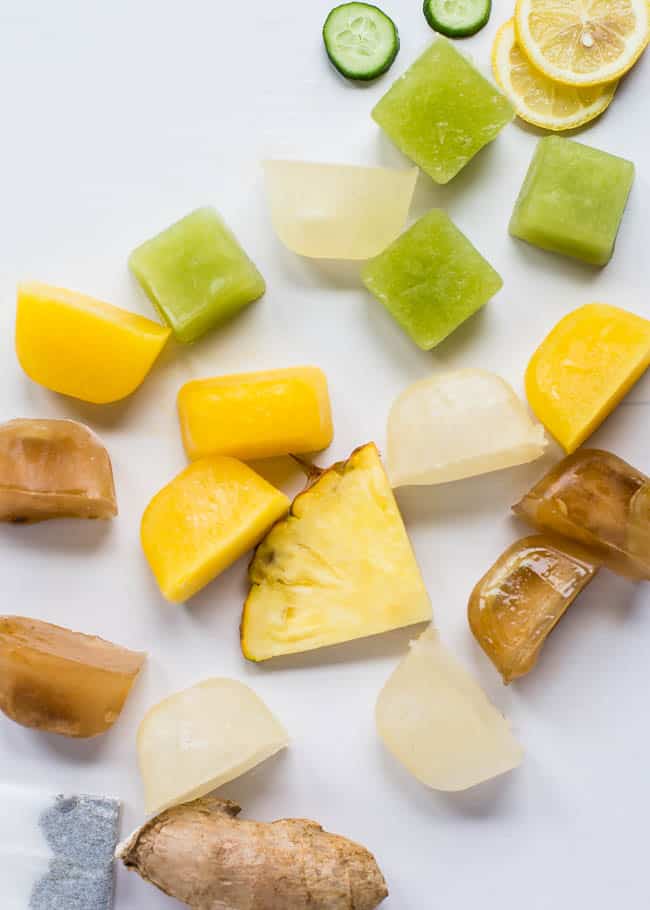 Use ingredients like cucumber, ginger and pineapple in infused ice cubes and you'll not only add flavor to a glass of water—you'll detox, alkalize and beat bloat. You can also use them topically to treat puffy eyes and soothe sunburn. Buy larger silicone ice cube trays for easier filling and removal.
9. Drink water every time you send an email, go to the bathroom or finish a phone call
Not just then, of course—but if you make a routine of associating other tasks with drinking water, it will be more likely to become habit. This is weird, but when something annoys me, I like to drink a bunch of water to pretend I'm flushing out the bad vibes :)
10. Drink sparkling water and herbal tea
Hydration doesn't have to just mean still water. Sparkling water or non-caffeinated teas will still keep you hydrated, as will tasty waters like coconut water, watermelon water or maple water. (The latter group does contain sugar, though, so drink it in moderation.)
11. Set Goals + Keep track
Set a goal for the day (most experts recommend half of your body weight in ounces) and track it in a notebook or download an app like Waterlogged to make sure you're reaching that goal. It will make drinking water feel like more of an accomplishment, especially if you're competitive by nature!
How do you stay hydrated?
88