Sometimes we love a product so much, we can't keep it to ourselves. You know that feeling, right? Here are a few things that are so essential, we just need to share: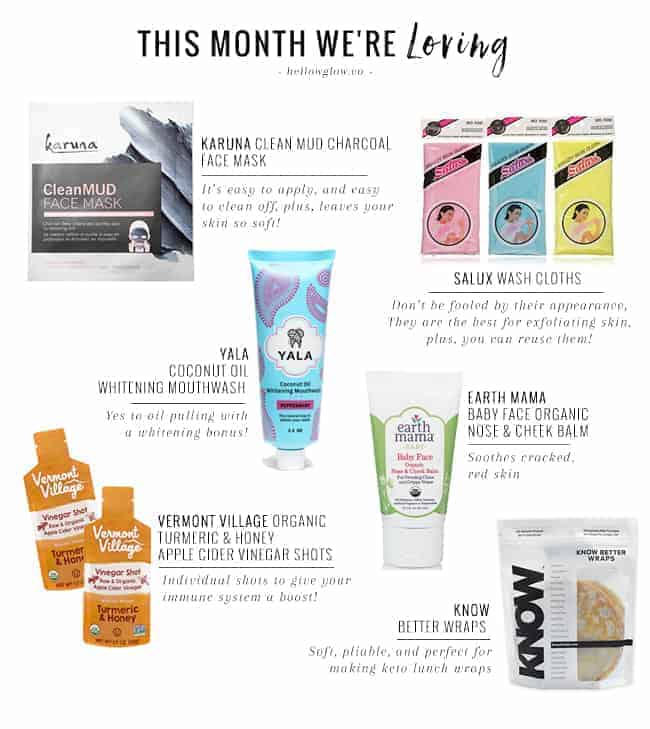 Karuna CleanMud Charcoal Face Mask // I can't do traditional mud and clay masks because I hate the mess. It squicks me out in that nails-on-a-chalkboard, chewing-on-foil kind of way. But this mud mask is different—it's like a mud mask/sheet mask hybrid and it's easy to apply, easy to clean off, and my skin feels so soft afterwards.
Salux Wash Cloths // Don't let their humble appearance and cheap price fool you—these cloths have a cult following for a reason. My friend turned me onto them and I'm totally a convert. They are the best for exfoliating skin and unlike loofahs, you can throw them in the wash.
YALA Coconut Oil Whitening Mouthwash // It's oil pulling with a whitening bonus! I love the peppermint flavor because you can't go wrong with that classic minty feeling, but when it runs out, I'm going to pick up a tube of lemon.
Earth Mama Baby Face Organic Nose & Cheek Balm // Winter has been brutal on my daughter's poor cheeks and this balm has been essential for soothing her cracked, red skin. (PS – We're giving away a tube of balm and a $100 gift card to Earth Mama right now. Go enter!)
Vermont Village Organic Turmeric & Honey Apple Cider Vinegar Shot // These individual vinegar shots give your immune system the boost you need to get through cold season. (And if you're not a fan of vinegar, pour them into a glass of sparkling water!)
KNOW Better Wraps // If you look at the reviews for these on Amazon, people either love them or hate them, but I'm firmly in the "love them" camp. I pop them in the freezer after I get them and take one out when I need it. They're soft and pliable, perfect for making keto lunch wraps, and they make cute little mini quesadillas too.
Disclosure: Some of these products were sent to Hello Glow to review, others are things we've bought ourselves, but everything here is something we totally love.
0