Warm ginger lemon tea is definitely a must when a cold breaks past our immune barrier, but how about a warming drink to actually prevent that from happening in the first place?
Key ingredient? Infused apple cider vinegar!
Maybe it's strange to think of a warm, comforting drink made with ACV, but with the right combination of ingredients and with a reasonable amount of raw honey, you will start loving it!
I love ACV because it wakes up not only the taste buds, but also the immune system. Made from fermented raw apples, apple cider vinegar actually reduces acidity; it also contains pectin which improves digestion and binds with toxins and old estrogen in the colon, helping the body remove them and prevent the accumulation of waste.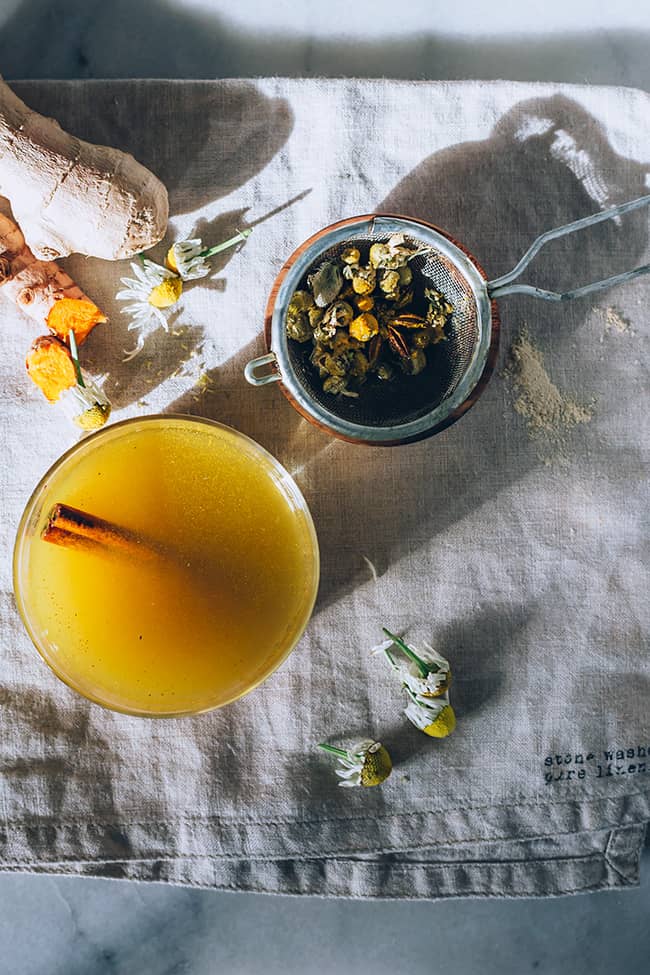 Pectin nourishes the microbiome within the colon, and encourages good bacteria to flourish. The microbiome is responsible for a strong immune system response to viruses and increases the vitality of the whole body. Vitality doesn't mean high energy levels, but it is a measure of how quickly you can resolve illnesses naturally without the use of drugs.
Vitality is strongly related to a low level of inflammation, and this why it is important to combine immune boosting ingredients like ACV with anti-inflammatory ones like turmeric and ginger. These roots contain high amounts of both anti-inflammatory and antioxidant compounds to help support the liver's natural detoxification processes.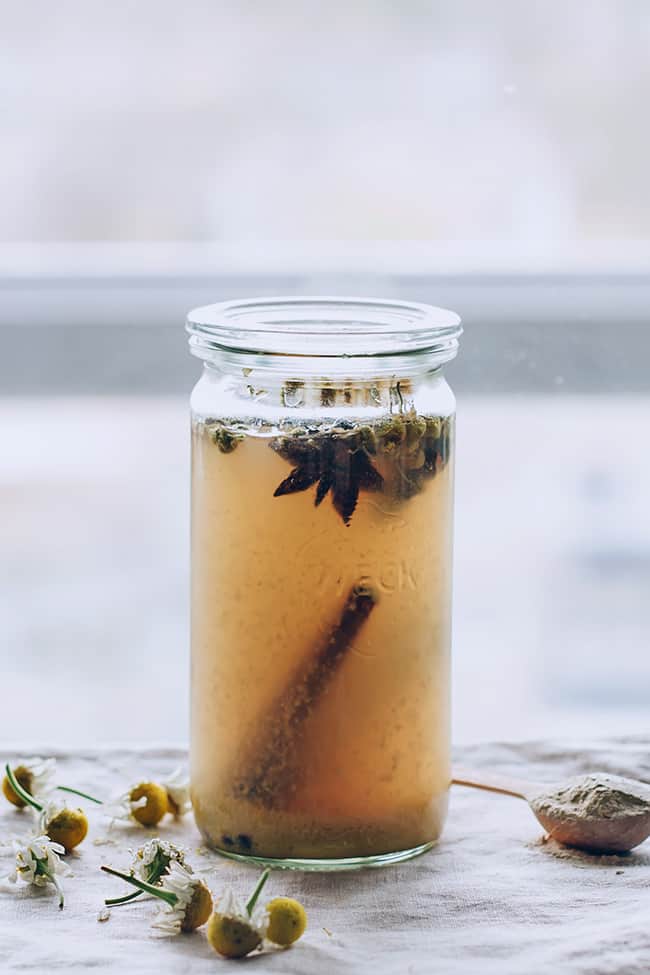 I recently experimented with infusing apple cider vinegar with healing ingredients like cinnamon, chamomile, calendula and adaptogens. While it's true that it takes some time (up to two weeks!) to obtain a lovely flavored ACV with a boost of healing herbs, it's worth it for a simple home remedy to keep on hand for cold season.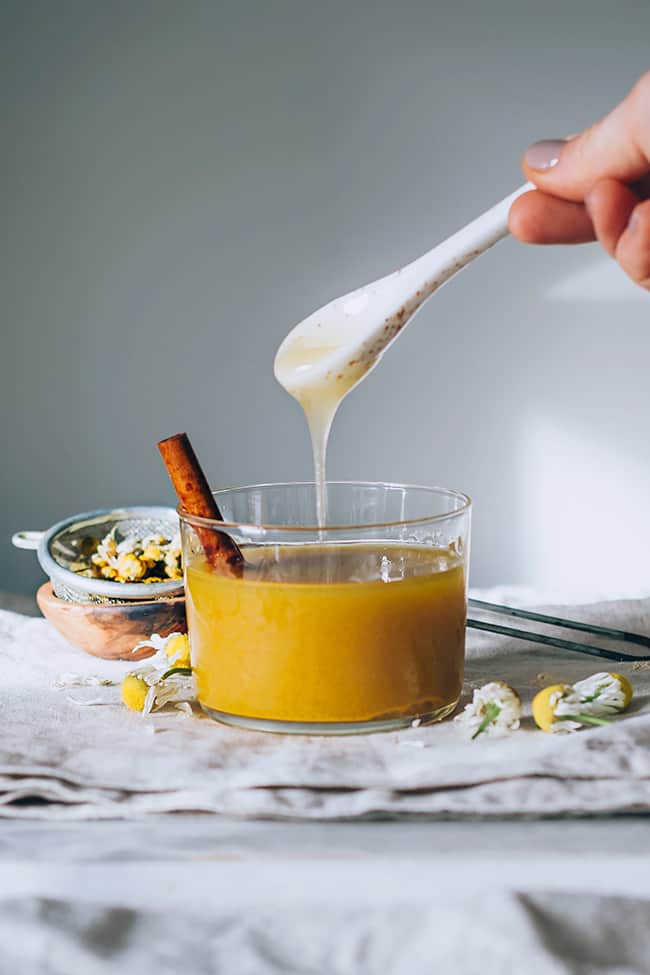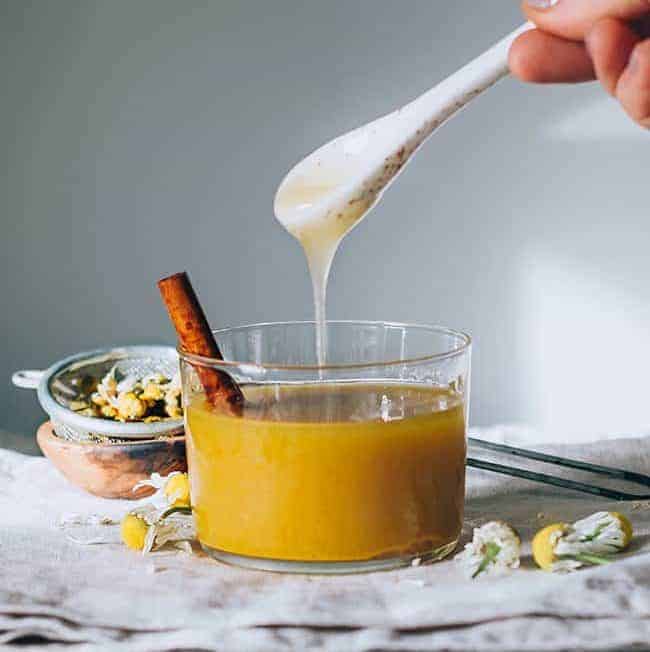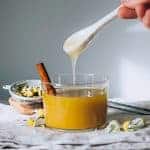 Print Recipe
Cold-Fighting Elixir + Chamomile-Infused Apple Cider Vinegar
An immune-boosting drink with infused ACV that prevents winter colds while toning the digestive system and lowering inflammation.
Ingredients
For the Infused Apple Cider Vinegar:
3

cups

unfiltered apple cider vinegar

3

cinnamon sticks

1

teaspoon

cloves

2

anise stars

1

tablespoon

dried chamomile
For the Healing Elixir:
2

tablespoons

infused apple cider vinegar

1

small turmeric root

peeled and grated

1/2-

inch

ginger piece

peeled and grated

Juice from 1 lemon

2

tablespoons

organic raw honey

2

crushed black peppercorns

3

cups

purified warm water

not boiling, to avoid killing the good bacteria
Instructions
Place the apple cider vinegar and the healing ingredients in a Mason jar, cover and shake to combine, then let infuse at room temperature for 2 weeks.

Strain and transfer into a glass bottle with lid.

To prepare the healing drink, mix the honey with the turmeric, ginger, lemon juice, infused ACV and crushed black pepper in a small bowl.

Divide the mixture into 2 mugs, then pour the warm water over it.

Mix and drink warm.
Notes
Store leftover infused ACV in the refrigerator for up to 2 months.
Drink 1-2 times a day until you're feeling better.
133