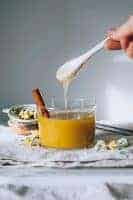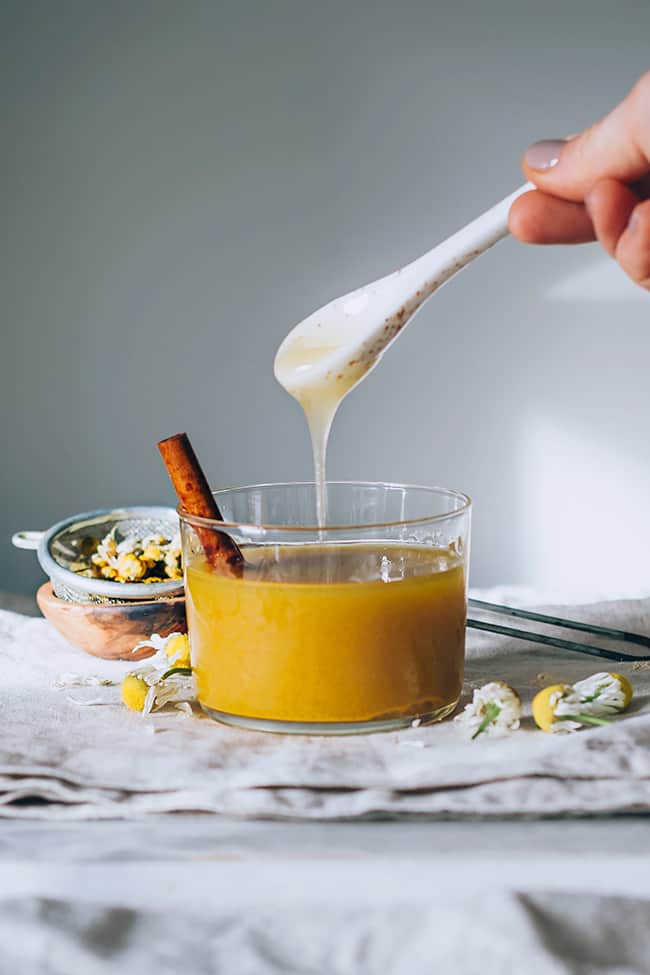 Cold-Fighting Elixir + Chamomile-Infused Apple Cider Vinegar
Yield 2 servings
An immune-boosting drink with infused ACV that prevents winter colds while toning the digestive system and lowering inflammation.
Ingredients
For the Infused Apple Cider Vinegar:
3 cups unfiltered apple cider vinegar
3 cinnamon sticks
1 teaspoon cloves
2 anise stars
1 tablespoon dried chamomile
For the Healing Elixir:
2 tablespoons infused apple cider vinegar
1 small turmeric root, peeled and grated
1/2-inch ginger piece, peeled and grated
Juice from 1 lemon
2 tablespoons organic raw honey
2 crushed black peppercorns
3 cups purified warm water (not boiling, to avoid killing the good bacteria)
Instructions
Place the apple cider vinegar and the healing ingredients in a Mason jar, cover and shake to combine, then let infuse at room temperature for 2 weeks.
Strain and transfer into a glass bottle with lid.
To prepare the healing drink, mix the honey with the turmeric, ginger, lemon juice, infused ACV and crushed black pepper in a small bowl.
Divide the mixture into 2 mugs, then pour the warm water over it.
Mix and drink warm.
Courses Drinks
Recipe by Hello Glow at https://helloglow.co/infused-apple-cider-vinegar-healing-elixir/