Whether you're eating it or applying it, oatmeal is one of my favorite gentle, nourishing beauty ingredients. Oatmeal might seem plain – boring even – but it's a wellness and skin superstar inside and out. You can't go wrong starting the day with a steamy bowl of oatmeal and ending it with a soothing oatmeal soak in the tub.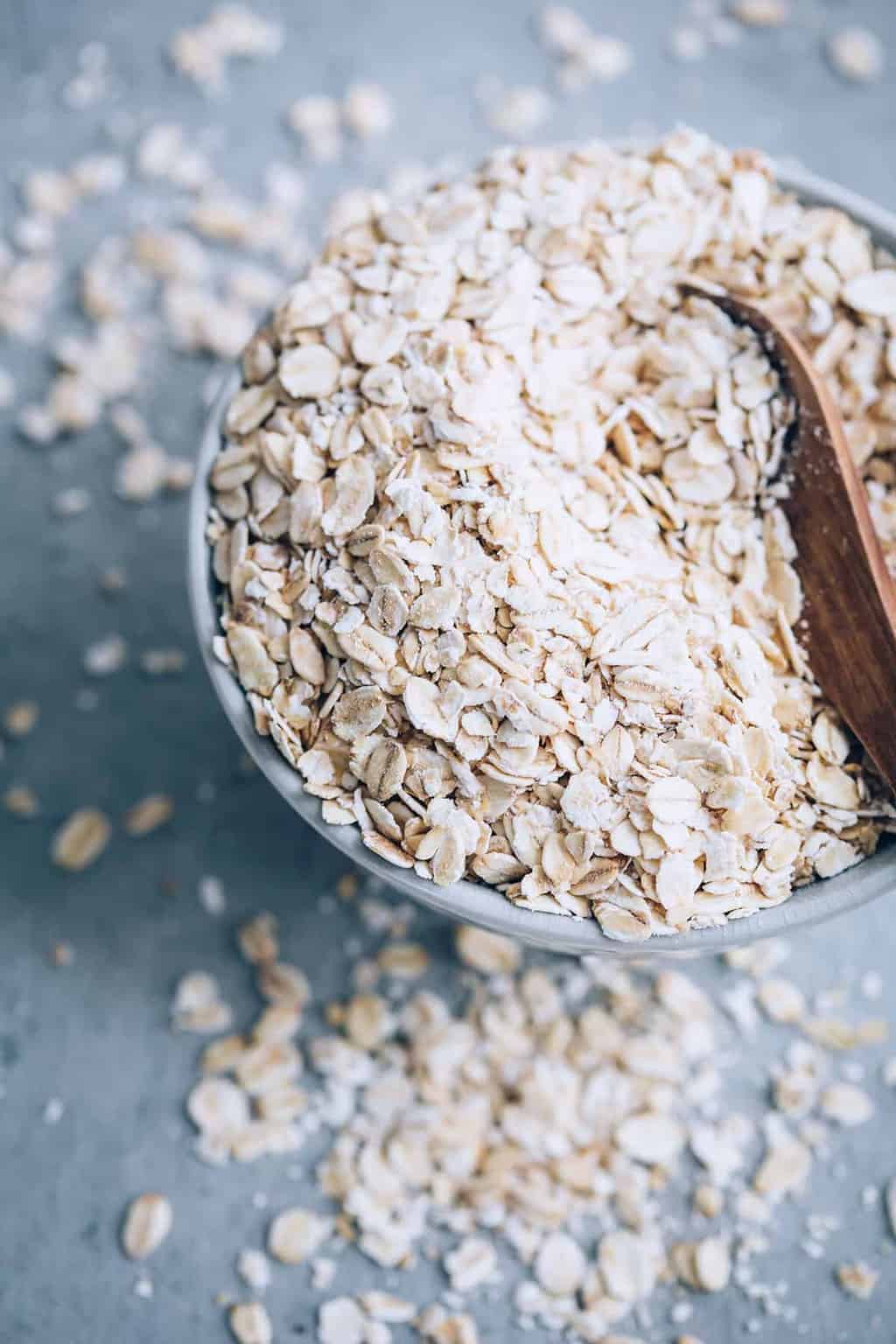 Inside: Overnight Oats with Quick Apple Compote
Did you know that oats contain more soluble fiber than any other grain? That's why it keeps you feeling full till lunch – all that fiber takes time to digest! And one type of fiber it contains, beta-glucan, has been shown to lower bad cholesterol levels and help regulate insulin levels. Oats have the additional benefit of being easy to digest, unlike other grains with gluten.
This digestion-friendly breakfast recipe is loaded with fiber, folate and potassium to keep your tummy full, your heart happy and your energy levels stable all morning.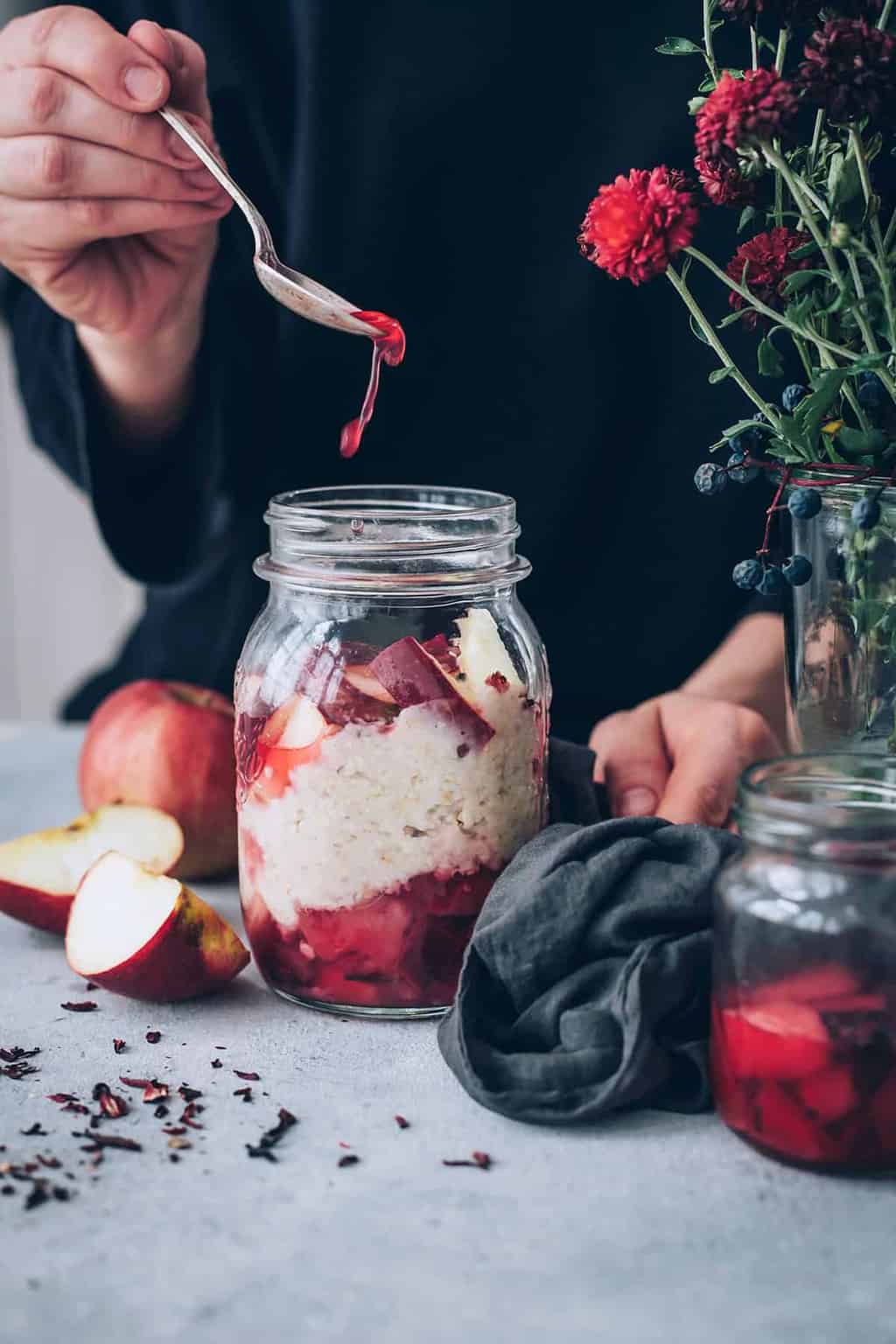 Outside: Oatmeal Bath Soak
When seasons change you will naturally notice shifts in your skin as well. Cooler temperatures, increased wind, and lower humidity can lead to red, parched, irritated skin. Turning up the heat indoors turns down the moisture in the air, resulting in dry patches and an uneven complexion.
Increasing your water intake, adjusting your winter skincare routine, increasing skin hydration, and extra exfoliation are highly beneficial during the cooler months. But if you're losing the battle on seasonal dry skin or have a sensitive complexion, oatmeal is the ideal skin soother.
Oatmeal baths have long been used on skin problems like sunburns or allergic reactions. Adding oatmeal to your soak helps balance the skin's pH levels and acts as a natural anti-inflammatory to relieve redness and itchiness.
Plus, oats make an effective gentle scrub to remove dead skin cells while their natural saponins cleanse and absorb dirt and oil.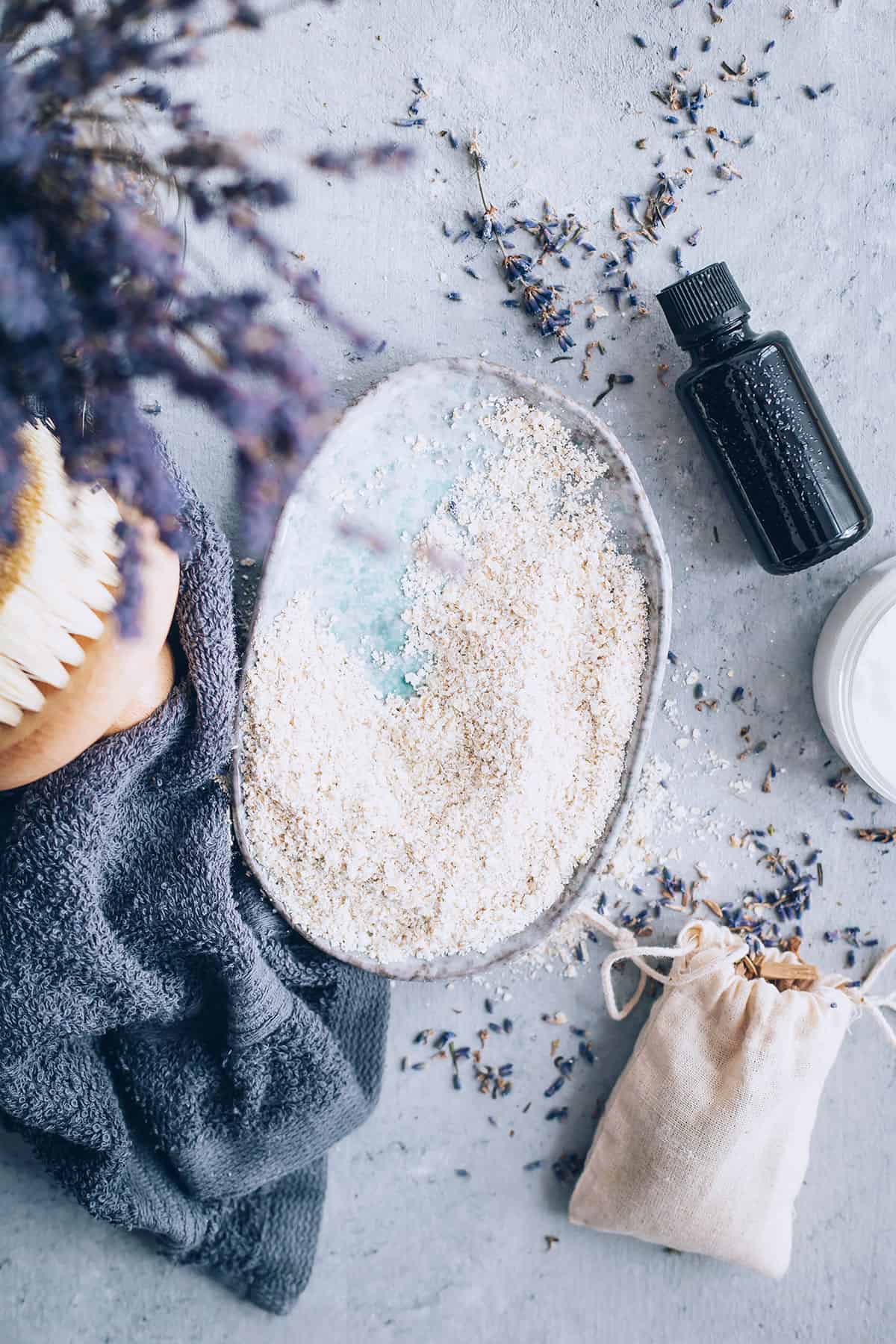 Oatmeal Lavender Bath Soak
Try this simple soak to moisturize and reduce skin inflammation and irritation – add a dash of calming lavender scent for extra relaxation.
In a blender, pulse 1 cup of oats until finely ground into powder. Add baking soda and stir in the lavender essential oil. Pour into a warm bath then climb in and soak.
If you're worried about cleanup you can put the mixture in a cloth bath or tie a pair of panty hose into a bath float. Submerge the bag in water and squeeze to release the milky oat liquid.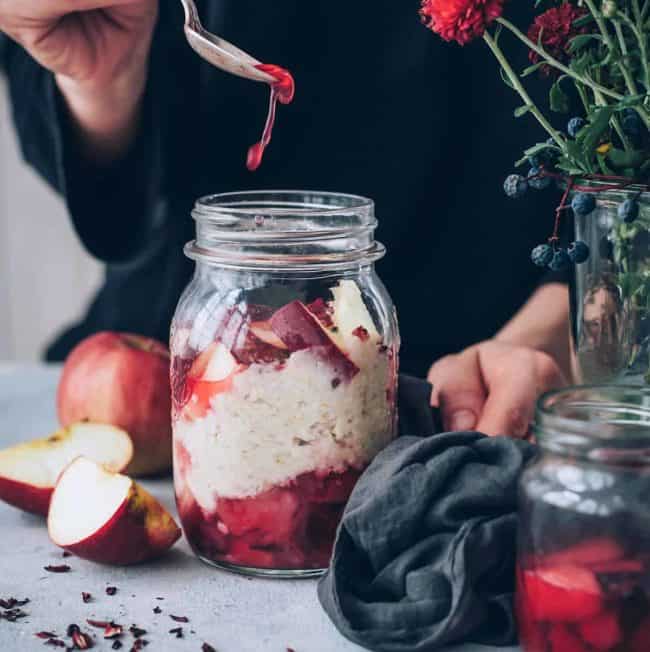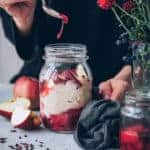 Print Recipe
Overnight Oats with Quick Apple Compote
Comforting, creamy and loaded with fiber, our overnight oats are made with almond butter and bathed in quick and antioxidant-rich apple compote for a delicious flavor. 
Equipment
Medium bowl

Refrigerator

Saucepan or stock pot
Ingredients
For the Oats
3/4

cup

steel-cut oats

1 1/2

cups

unsweetened almond milk

warm

1

tablespoon

almond butter
For the Compote
2

red apples

core and cut into cubes

1

tablespoon

fresh lemon juice

1

hibiscus tea bag

1

tsp

freshly ground ginger

1

anise star

1

cinnamon stick

1

cup

purified water

To serve: raw honey or maple syrup
Instructions
In a medium bowl, mix the almond milk with the almond butter until combined.

Add the oats and mix to soak well.

Cover the bowl and refrigerate overnight.

In the morning add the apples (save some cubes to garnish), hibiscus tea bag, lemon juice, spices and water into a medium pot and bring to boil.

Simmer for 5 minutes, then turn off the heat and cover the pot with a lid.

Remove the tea bag, anise and cinnamon stick, and divide the compote into the serving jars, saving some 2 tbsp liquid.

Evenly divide the overnight oats into the jars, top with fresh apple cubes, add the remaining compote liquid, drizzle the honey or maple syrup and serve.
Notes
This digestion-friendly breakfast recipe is loaded with fiber, folate and potassium to keep your tummy full, your heart happy and your energy levels stable all morning.
Store leftovers in the refrigerator for up to 2-3 days.
Nutrition
Calories:
348
kcal
|
Carbohydrates:
64
g
|
Protein:
7
g
|
Fat:
10
g
|
Sodium:
145
mg
|
Potassium:
580
mg
|
Fiber:
10
g
|
Sugar:
32
g
|
Calcium:
250
mg
|
Iron:
4
mg
This post was medically reviewed by Dr. Jennifer Haley, a board-certified dermatologist with extensive experience in medical, cosmetic and surgical dermatology. Learn more about Hello Glow's medical reviewers here. As always, this is not personal medical advice and we recommend that you talk with your doctor.
20