Yes, it's that time of year when pumpkin spice is everywhere. I used to love the Starbucks pumpkin spice latte, but now I just can't do the overwhelming sweetness. Good thing it's easy to make your own—and this version is dairy-free and spiked with hormone-balancing adaptogens.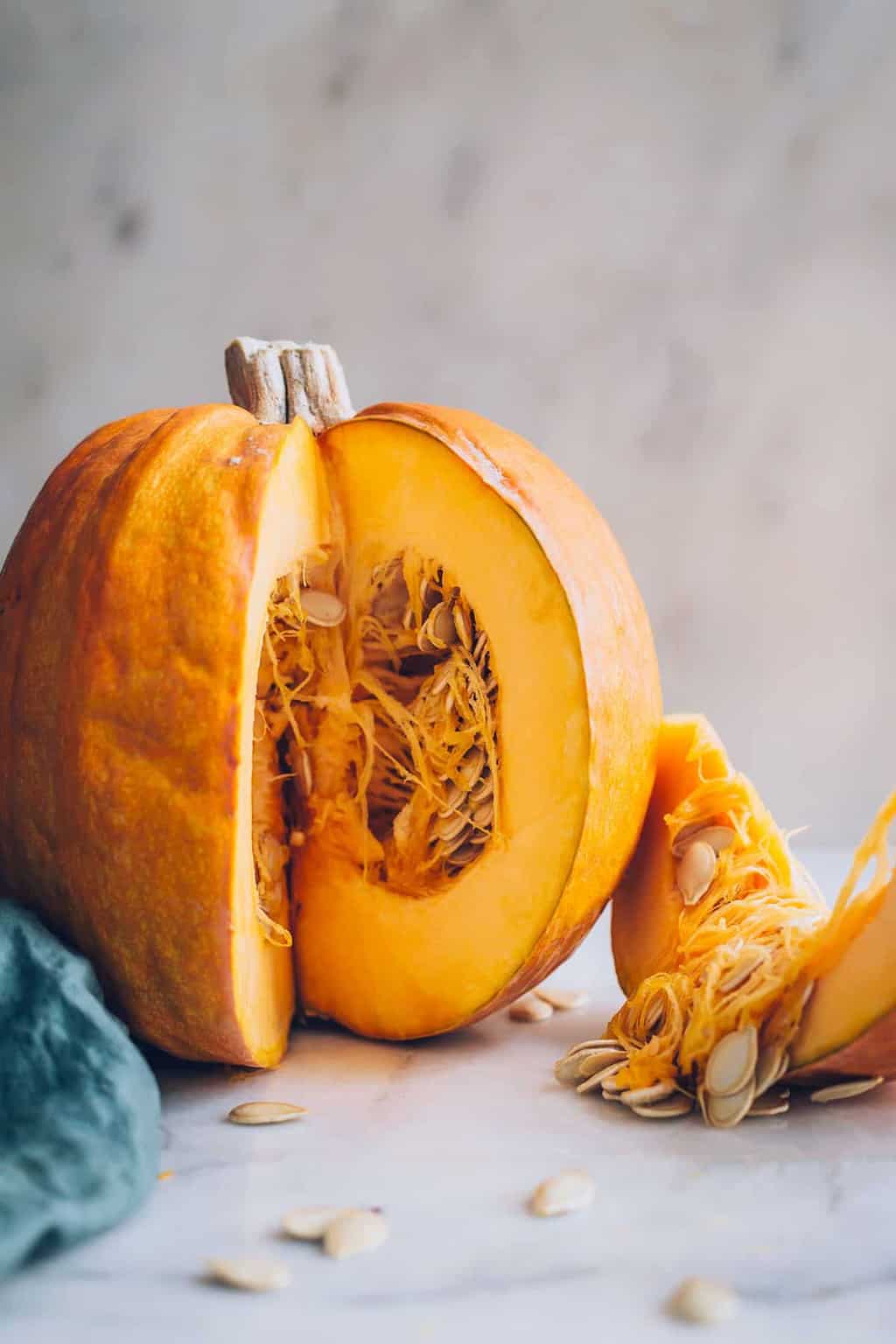 Why We Love Pumpkin
Pumpkins not only taste sweet and delicious, but they'll also give you an internal boost of vitamins, minerals, and antioxidants. They are especially high in beta-carotene, a carotenoid that gives pumpkins their orange color [source]. The body converts beta-carotene into vitamin A, which protects against the effects of aging on the inside just as much as it does on the skin [source].
Another group of highly beneficial phytochemicals contained in pumpkin are the polyphenols. These powerhouses have numerous health effects, including antioxidant and anti-inflammatory actions, blood vessel protective capacity, and a role in the prevention of chronic diseases [source].
Pumpkin also contains significant amounts of vitamin E [source]. Both beta-carotene and vitamin E are fat-soluble, meaning their absorption is enhanced if eaten with fats. These vitamins, polyphenols, and the many other carotenoid compounds in pumpkin have extraordinary antioxidant powers, fighting unstable free radicals that lead to tissue inflammation and organ damage.
People often think of bananas when looking to add potassium in their diets. Yet out of all minerals contained in pumpkin, potassium is the most abundant [source].
On the macronutrient level, pumpkins contain eight amino acids [source], lots of healthy fiber, and are high in energy potential but relatively low in calories.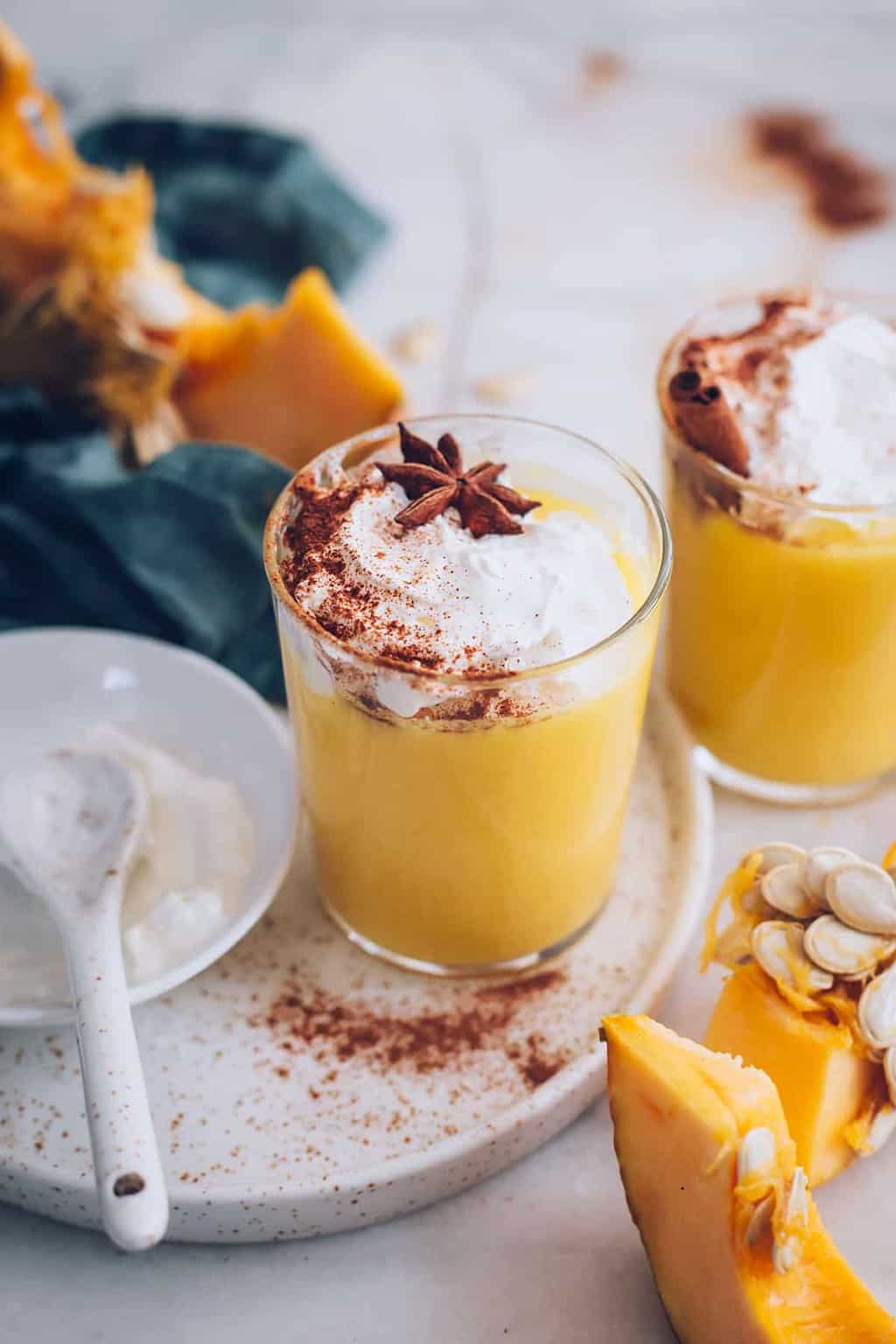 How Eating Pumpkin Boosts Your Health
Strengthens immunity
Pumpkin puree is packed with precursors to vitamin A [source], a nutrient that stimulates the production of infection-fighting cells. It is also high in vitamin C [source], another immune booster.
Animal research shows that eating pumpkin has a direct immune-cell enhancing effect on mice [source]. Who knew that eating pumpkins could help reduce sick days and help you recover faster if you do catch a bug?
Induces a healthy metabolism
In animal studies on their effects on metabolism, pumpkin extracts were shown to lower blood sugar [source] and prevent increases in body weight and cholesterol when mice were fed a high-fat diet [source].
Eases aches and pains
Making pumpkin a diet staple can help reduce body stiffness and pain due to the plant compound beta-cryptoxanthin that soothes joint inflammation [source]. And its potent antioxidant effects prevent cell damage and promote healing [source].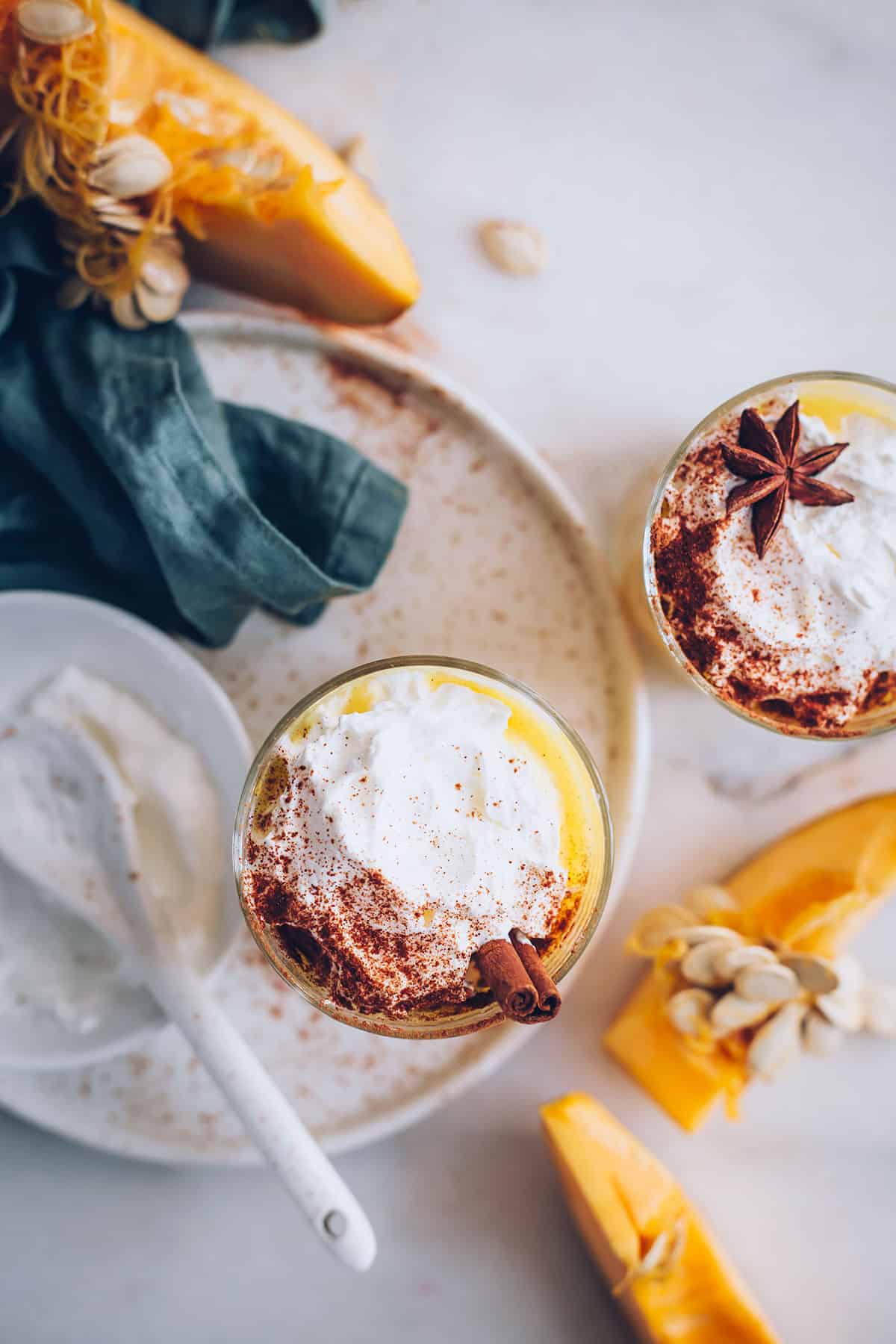 Want more pumpkin?
Try this protein-packed pumpkin smoothie or the creamy pumpkin quinoa risotto. And if you're looking to add pumpkin to your beauty routine, check out this pumpkin spice face scrub or these face mask recipes. And while we're talking hormone balance, this green smoothie is the perfect PMS drink.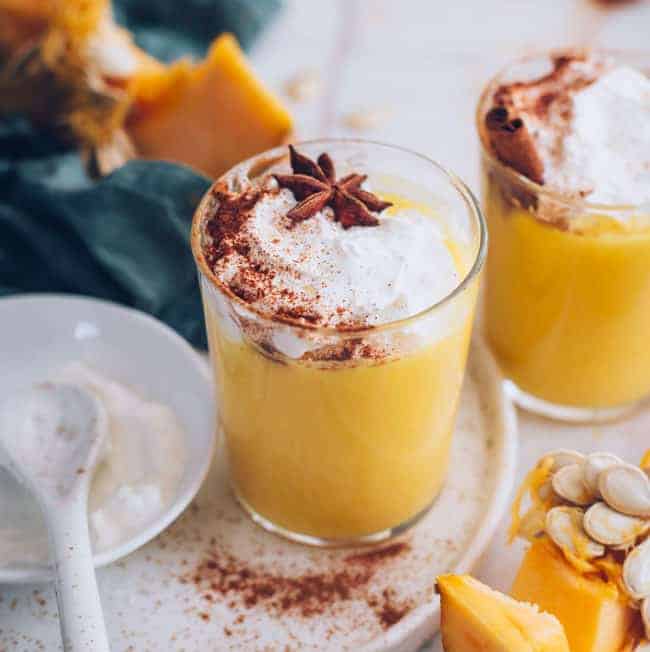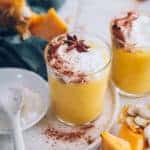 Print Recipe
Pumpkin Spice Latte
Embrace the season with a soothing plant-based latte, loaded with healthy fats and antioxidants.
Ingredients
1/2

cup

pureed pumpkin

1

teaspoon

pumpkin spice plus extra for garnishing

2

cups

unsweetened almond milk, warmed

2

teaspoon

almond butter

1

teaspoon

maple syrup

2

teaspoons

maca powder

1/4

cup

full-fat coconut milk, chilled

*Optional: 2 espresso shots
Instructions
Transfer the chilled coconut milk into a bowl, remove any liquid, and use a hand mixer to obtain a cream.

Add the pumpkin, espresso (if using), pumpkin spice, almond milk, almond butter, maple syrup, and maca into the blender and process to obtain a smooth, creamy liquid.

Divide into serving cups or glasses, top with coconut milk whipped cream, sprinkle with pumpkin spice, and serve warm.
Notes
Not only does pumpkin brighten dull skin, it also fades sun spots and smoothes fine lines and wrinkles. And when eaten regularly, it helps balance hormones and nourishes the intestines.
Store leftover face mask and/or latte in the refrigerator for up to 2 days.
This article was medically reviewed by Dr. Gina Jansheski, a licensed, board-certified physician who has been practicing for more than 20 years. Learn more about Hello Glow's medical reviewers here. As always, this is not personal medical advice and we recommend that you talk with your doctor.
Photos and Recipe by Ana Stanciu
34