Seaweed, a member of the algae family, touts extraordinary health and beauty benefits. It's no coincidence that the long living Okinawans of Japan use this sea vegetable as a staple in their daily diet. The most commonly found type of seaweed is brown seaweed, however other types also include green and red, with many varieties among these three kinds. The rich iodine content in seaweed promotes thyroid health and can help with a whole slew of related hormone irregularities.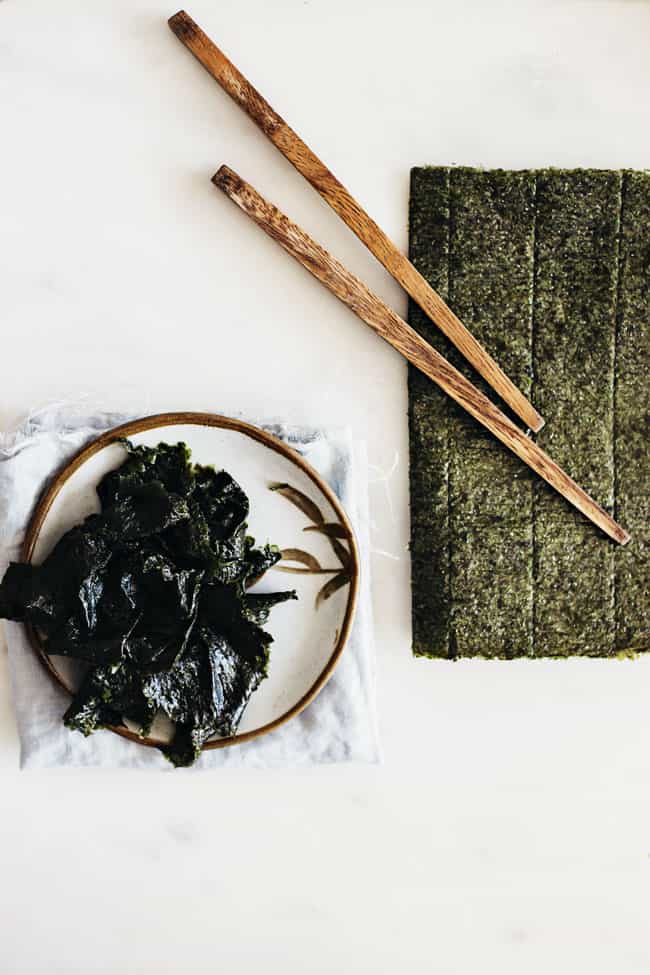 But the benefits are not only deep beneath the surface of the skin. Seaweed also has properties that can benefit the health of the skin.
Seaweed Beauty Benefits
Contains antioxidants
High in vitamins A & C
Anti-inflammatory
Natural exfoliant
Draws impurities from the skin
Nourishes scalp
Strengthens hair
Alleviates symptoms of rosacea
Seaweed Sheet Mask
Seaweed's anti-inflammatory and natural exfoliant properties make it a perfect choice for those suffering from acne or rosacea. The vitamins found in seaweed can help ease the swelling and redness often associated with breakouts and the pooling of blood beneath the skin for those with rosacea.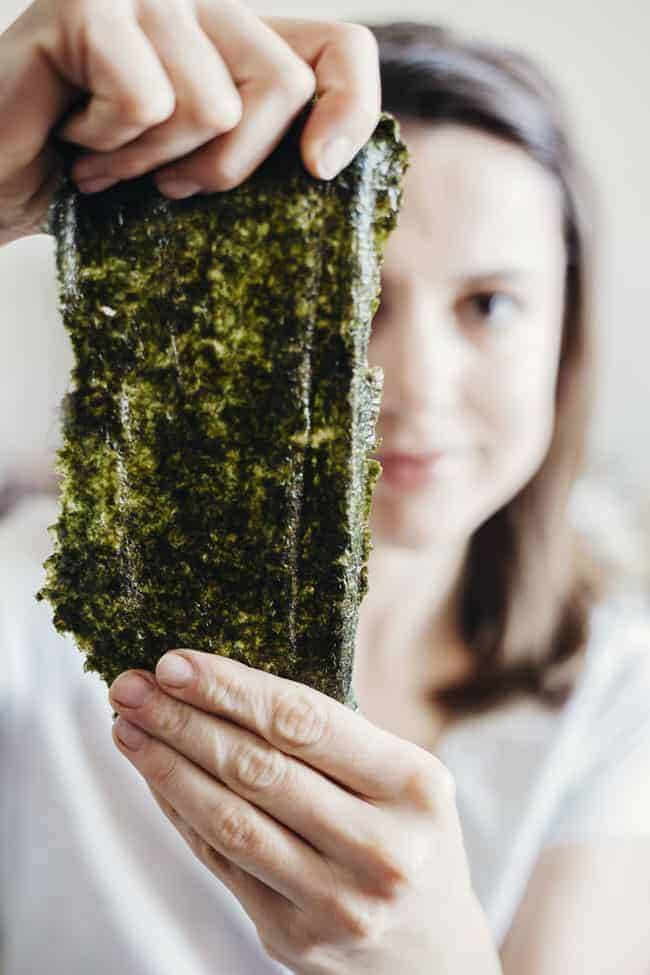 Seaweed sheet masks are easy and inexpensive to use, and the ingredients can be found at your local health food store.
A few sheets of organic Nori seaweed
Filtered water or green tea if you'd like to focus on anti-aging benefits
Place filtered water in a plate that has a small lip so nothing spills over. For just a second or two, dip the seaweed in the water to moisten. You also can substitute green tea for the filtered water if you would like a more anti-oxidant/anti-aging focused mask. Place the moistened sheets all over your face, you'll need about 3-5 sheets depending on the size of the seaweed, and several more if you are including your neck.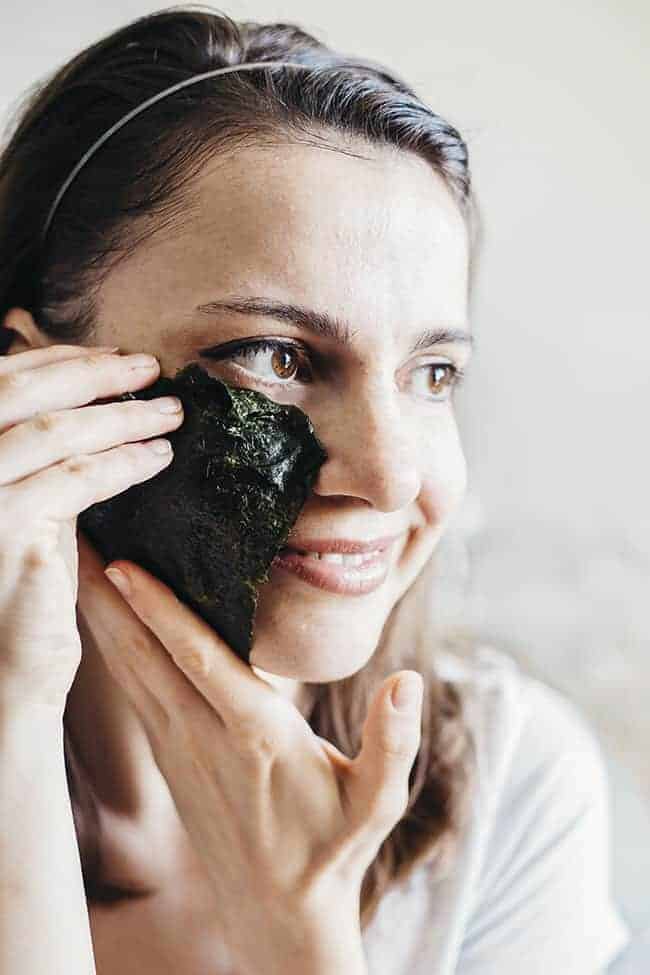 You can tear them into smaller pieces for the areas around your nose and mouth. Leave the sheet mask on for 10-15 minutes and then peel off, rinse and follow with a moisturizer.
Seaweed Health Benefits
The health benefits of seaweed are not to be ignored, and over the years Asian cultures have been studied for their low rates of cholesterol and cancer, not to mention their long lives. Their diet is often attributed to their healthy lifestyle and bodies. Adding seaweed to soups, salads, and snacks are a great way to benefit from the plethora of health benefits seaweed can provide. This algae has a high mineral content of iodine, calcium, and iron, all benefiting thyroid function, digestive health, and metabolism.
increases digestive health and good bacteria in the gut
helps you feel fuller longer
detoxifying
reduces swelling
contains calcium, vitamin A, B & C
healthy level of iodine
helps regulate hormone levels
promotes thyroid health and healthy metabolism
Deconstructed Vegan Sushi Bowl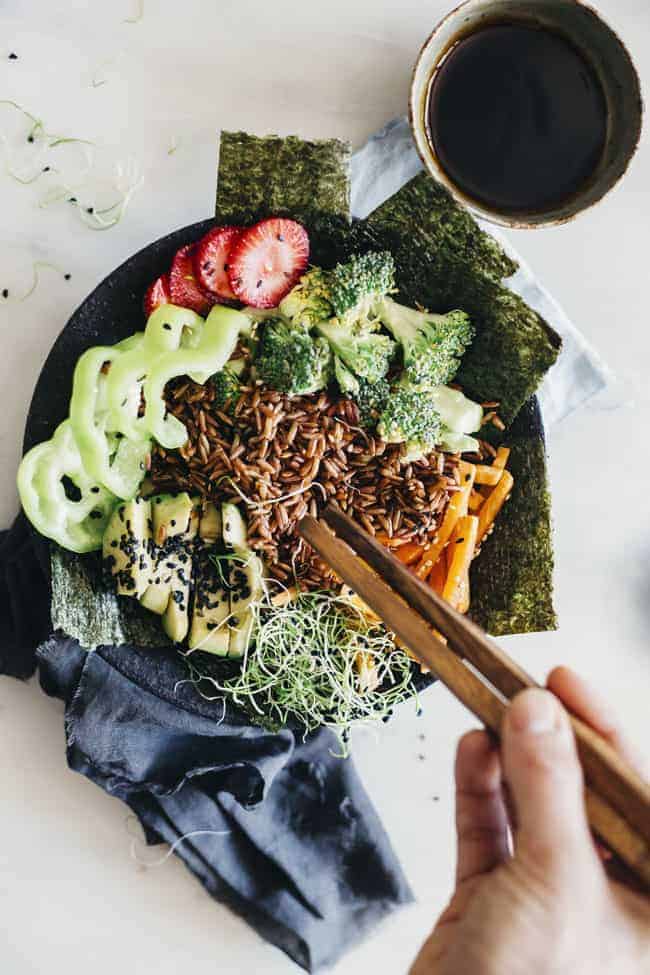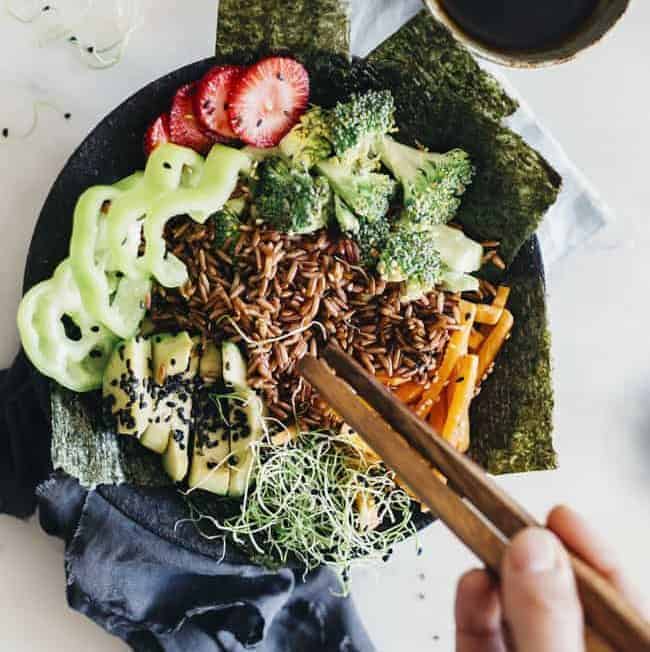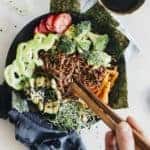 Print Recipe
Deconstructed Vegan Sushi Bowl
Fresh, filled with raw veggies and antioxidants from the nori sheets, this meal brings all sushi elements in a nourishing vegan bowl.
Ingredients
2

nori sheets

chopped

1

&1/2 cup red rice

any kind of rice works well

1

ripe avocado

peeled and cut into slices

1

cup

broccoli florets

steamed

Handful red onion sprouts

1

carrot

peeled and cut into thin slices

1

green pepper

sliced

4

strawberries

sliced

2

tsp

rice vinegar

2

tsp

low-sodium tamari sauce

Black and white sesame

to garnish
Instructions
Arrange all the ingredients into a bowl, add the rice vinegar and tamari sauce and toss to combine.

Garnish with sesame seeds and serve.
Recipe + photos by Ana Stanciu
15