Sometimes we love a product so much, we can't keep it to ourselves. You know that feeling, right? Here are a few things that are so essential, we just need to share: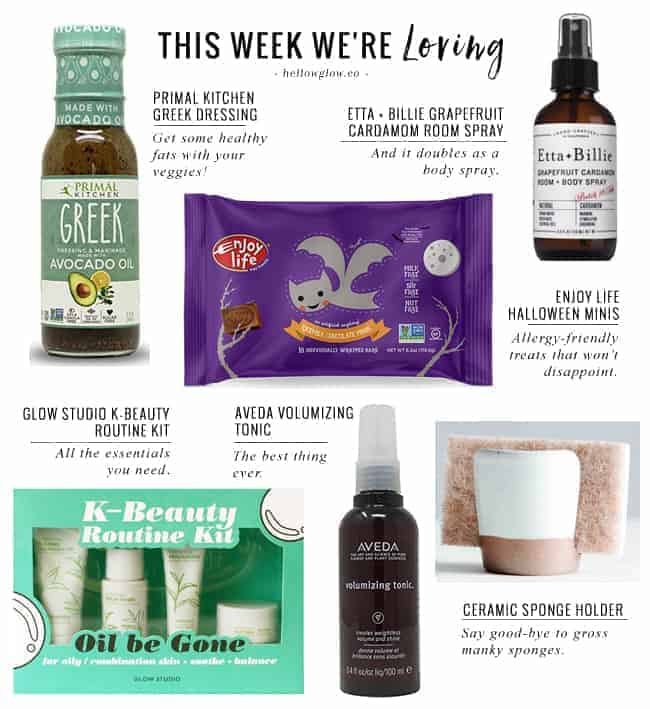 Primal Kitchen Greek Dressing & Marinade // THIS DRESSING, you guys. I actually don't use it as a dressing; instead, it's my go-to dipping sauce for every vegetable. It's tangy and herby and full of healthy fat, which I love since I try to eat as much fat as I can.
Etta + Billie Grapefruit Cardamom Spray // Cardamom! It's one of the best, most under-rated spices, IMHO, and it always makes me think of fall. It pairs so well with citrus in this energizing room spray—and bonus: you can use it as a body spray too.
Enjoy Life Allergy-Friendly Halloween Chocolate Minis // I agonize over Halloween treats every year because I want to hand out something that's not junk, but a lot of the more virtuous treats are a total yawn—and I don't want to hand out cheap spider rings and tchotchkes that are going to end up in the trash. This chocolate is the answer! It's fun and it's tasty, so kids will love it, and it's also gluten-free, dairy-free, and nut-free.
Target K-Beauty Routine Kits // Hello, K-beauty addict here. I was so excited to be shopping at Target over the weekend and see these kits from Glow Studio in the cosmetics section. If you want to get into a K-beauty routine and don't know where to start: this is where to start!
Aveda Volumizing Tonic // Stephanie says: I chopped off all of my hair during my home remodel because I just couldn't deal. So I spritz on this stuff and let it air dry. It's the best thing ever.
Sawyer Ceramics Sponge Holder // You didn't know you need this, but you totally do. This sponge holder keeps sponges upright so they're not sitting in dampness all day. No more manky sponges! Is it crazy that this is probably one of my favorite purchases of the year?
Disclosure: Some of these products were sent to Hello Glow to review, others are things we've bought ourselves, but everything here is something we totally love.
0