I've mentioned before that for the past year I've been following a keto-ish diet—high fat, low carb, but not quite keto because I'm a vegetarian and I can't fathom parting with my beloved chickpea flour (hello, socca!), lentils, and hummus. But a good 90% of the time, the way I eat qualifies as keto.
When I first started eating this way, I eliminated all sweeteners—even the ones considered acceptable for keto—and all keto-friendly remake foods. I made every meal from scratch and while I did really well for a few months, I started to slip up for two reasons: first, it was so much work!
And second, I realized that I was falling out of ketosis too often by having occasional miel lattes and weekend cupcakes—if I started using stevia and erythritol, I could have sweets and remain in ketosis.
The keto essentials below were what I needed to get my new way of eating to fully click—and then I added a few additional items recommended by friends who've also transitioned to the keto lifestyle. If you're giving your pantry a keto overhaul, this is where to start!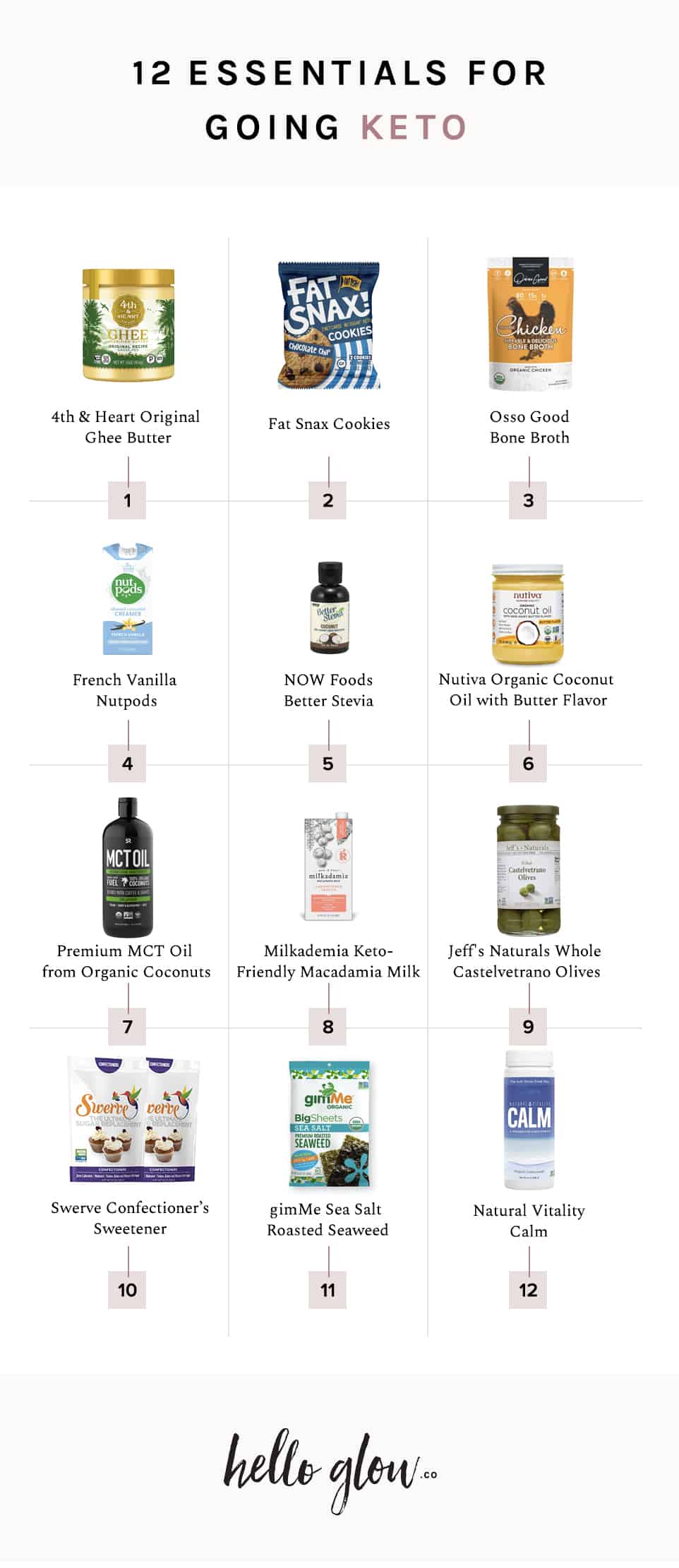 12 Essentials for Going Keto
4th & Heart Original Ghee Butter // If you're a coffee drinker, you need this in your life. A tablespoon in your cup makes reaching your fat macros much easier. You can also try infusing your own with vanilla for a change.
Fat Snax Cookies // There are a lot of recipes for keto treats floating around the internet, but I like keeping these on hand for when I can't be bothered to make something myself. Shocker: they actually taste good!
Osso Good Bone Broth // Our contributor Stephanie says this broth is even better than homemade! You can even get a subscription and get it delivered straight to your door. Sip it as-is to get your fix of collagen and fat or add some zoodles and a protein to make it a meal.
French Vanilla Nutpods // When you go keto, it can be really easy to start overloading on dairy in the form of heavy cream and cheese, so I like using Nutpods as a creamer—and I love that it doesn't have any added sweeteners.
NOW Coconut Better Stevia // NOW makes unflavored stevia, but I'm partial to the flavored ones for stirring into coffee, homemade whipped cream (so good for pairing with berries!), and fat bombs. This one is perfect for making homemade coconut lattes with coconut oil and cream.
Nutiva Organic Coconut Oil with Butter Flavor // This! Is! A! Thing! I love sautéing veggies in this coconut oil for an easy side dish.
MCT Oil // We've already written about the benefits of adding MCT oil to your diet; I add this to my morning coffee and chai along with the 4th & Heart ghee.
Unsweetened Milkadamia // I pretty much need this in the fridge at all times. The vanilla flavor makes the best base for turmeric lattes.
Jeff's Naturals Castelvetrano Olives // Is it possible for olives to be buttery? Because these totally are. Sometimes for lunch I do a little tapas spread with cheeses, keto crackers, nuts, and these olives.
Swerve Confectioners Sweetener // The best way to sweeten homemade fat bombs and freezer fudge.
gimMe Sea Salt Roasted Seaweed // Crispy seaweed is a great low carb snack, but my favorite way to use it is to make veggie-packed wraps for a quick lunch.
Natural Calm // When you're transitioning to a low carb diet, it can throw off your electrolytes and cause the dreaded keto flu. Some swear by drinking pickle juice and sipping on bone broth, but one of my favorite remedies is Natural Calm, which replenishes your magnesium. (It helps you sleep better too!)
84