This is a sponsored conversation written by me on behalf of Lonolife. The opinions and text are all mine.
Snacks are life, amiright? My husband, the foodie that he is, takes his snacks very seriously (He likes variety, salty over sweet, and healthy but not too healthy, in case you were wondering.) I on the other hand tend to eat whatever's in front of me without giving it too much thought, which is probably why me and my waistband are having a moment. To get back on track before the holidays, I decided to do a short stint on the keto diet to curb my sugar cravings and burn a little fat without focusing on calories. It's easy and effective, but it's also thrown my normal snack habit into chaos—especially when it comes to those grab-and-go snacks I'm used to. What's a girl to do?
By stocking your pantry with high fat, low carb options like fat bombs, beef jerky, LonoLife Keto Broth sticks, and spiced nuts, you can get your snack fix on the go without busting your diet or caving on the carbs. It's all about preparation. Here's how to overhaul your snack game so you can stay in ketosis and get back in your waistband's good graces.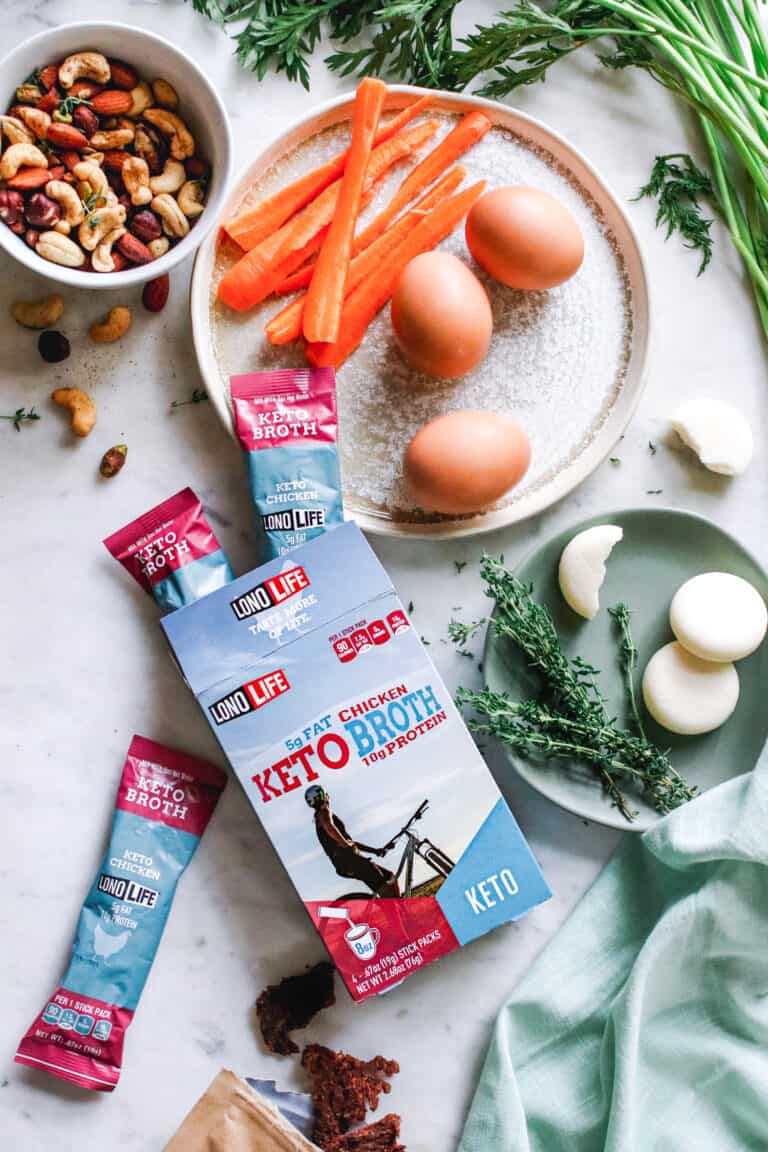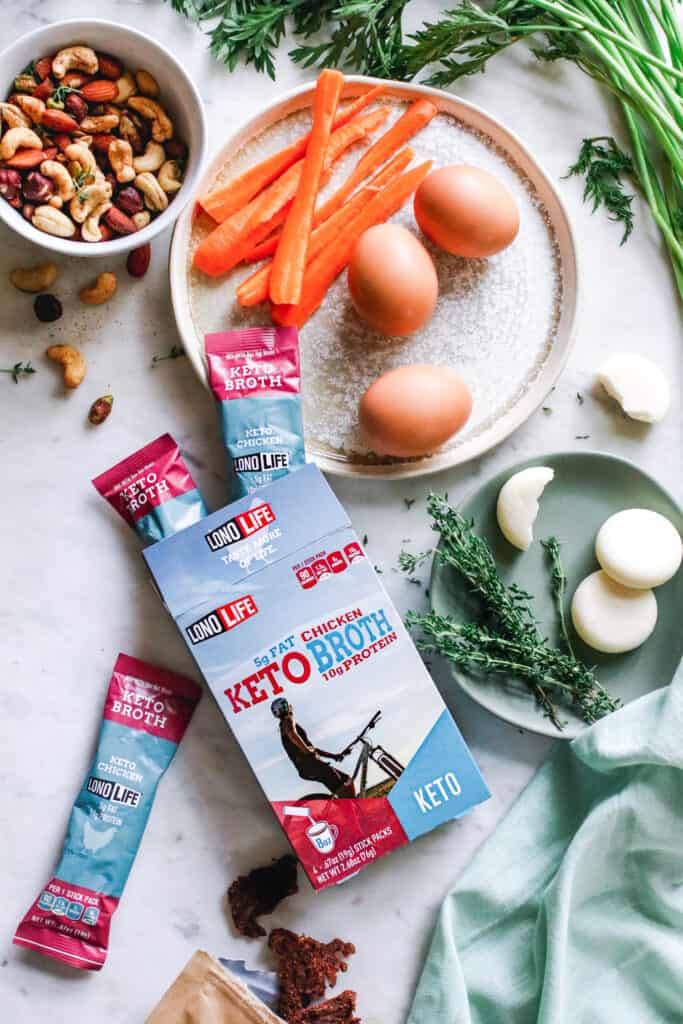 Choosing the Right Keto Snacks
If you're new to keto, in short, a ketogenic diet typically requires you to limit carbohydrates to 20-50 grams a day. Unlike other low-carb diets, keto mainly focuses on net carbs, which is calculated as the number of grams of carbohydrates minus the grams of fiber in a food (i.e., if a food contains 5 grams carbohydrates and 3 grams fiber, your net carbs would be 2 grams). With carbohydrates that low, your body enters what's called "nutritional ketosis" whereby it burns ketones (from fat) instead of glucose for energy.
While it's not for everybody, I've found that switching my body's fuel source from glucose to fat, at least temporarily, gives me more energy, helps me feel better in body and makes my clothes fit better. But it can be a tough diet to stick to if you're not prepared, especially in the snack department.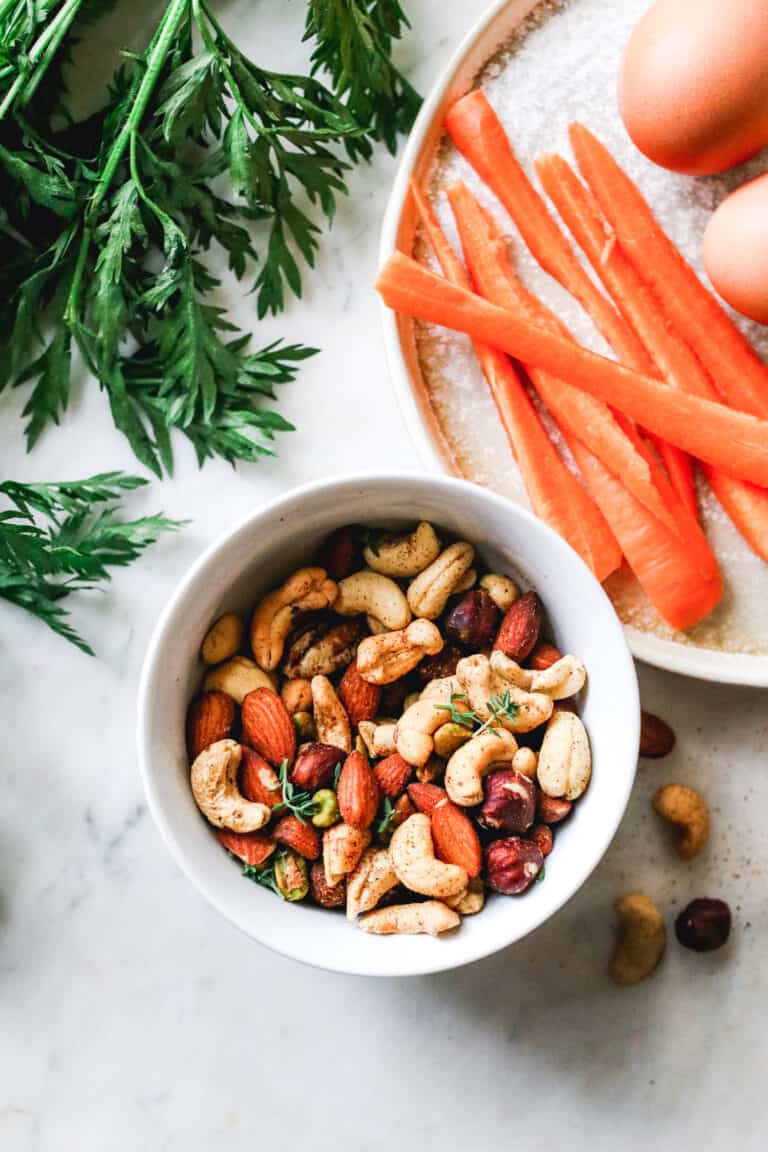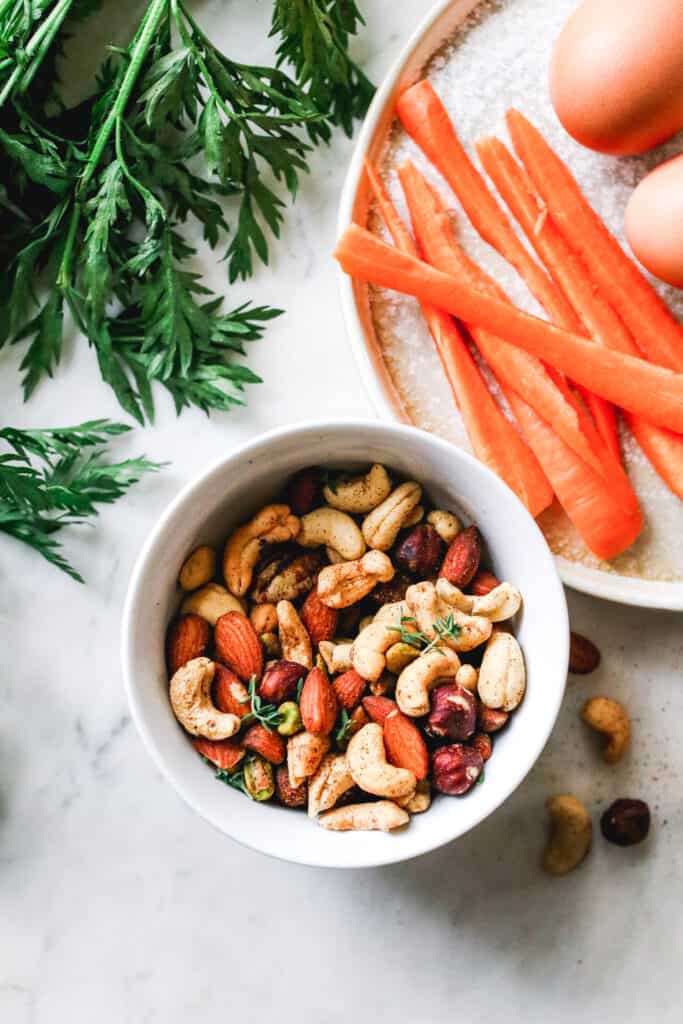 When it comes to healthy keto snacks, fat and protein are king. That's because:
Protein is satiating. It keeps you satisfied in a way that you wouldn't be if you snacked solely on simple carbohydrates like crackers.
Protein helps keep blood sugar stable by slowing digestion and moderating the uptake of sugars into the bloodstream.
Healthy fats like avocados, nuts, and seeds provide calories that may be hard to find in a strictly meat and veggie diet.
But non-starchy vegetables are also allowed since they're high in fiber and often low in net carbs low—so stock up!
Here are 7 of my favorite keto-friendly snacks to keep your appetite in check on the go.
7 Keto Snacks You Can Eat on the Go
1. Kale Chips
When doing keto, one of the things I miss most is the salty crunch you get from traditional snack foods. While they don't pass for traditional chips, kale chips help trick my brain into thinking I'm eating something much less healthy than I really am. They're salty, spicy and dehydrated until perfectly crispy, plus they only contain about 2.5 grams of net carbs in a serving.
2. Bone Broth Powder
Protein-rich instant bone broth from LonoLife is as convenient as it gets. Packed with collagen and amino acids, Lonolife Keto Chicken Bone Broth Sticks help curb cravings, aid digestion and support muscle health. Each packet contains 10 grams protein, 5 grams fat and 0 carbs, making it a high protein, low carbohydrate solution for keto diets (as well as paleo and Whole30 if that's more your speed).
They also have two other options—Lonolife Beef Bone Broth Sticks and Lonolife Chicken Bone Broth Sticks—which aren't made specifically for keto diets, but still provide high protein, low carb, and added collagen benefits on the go.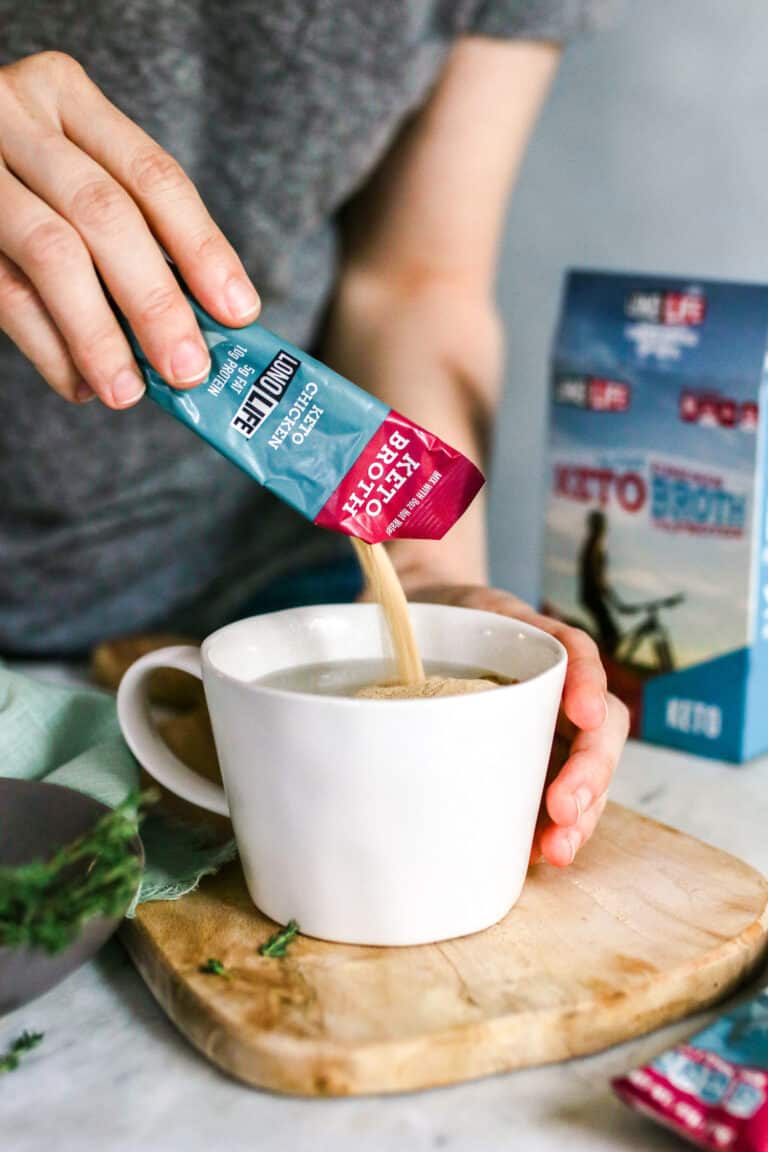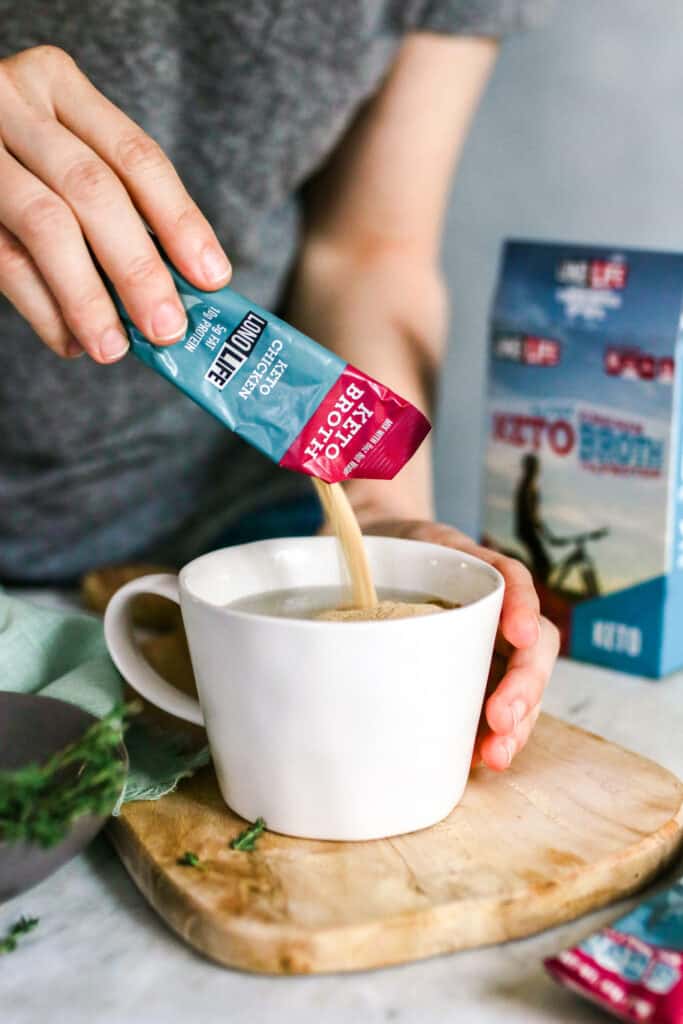 I love that you can simply toss one in your purse or gym bag as you head out the door and pour the powder into an 8-ounce glass of warm water whenever you get hungry. It's that easy! And with temps getting cooler, warm, filling bone broth is a satisfying way to curb cravings and stick to your diet.
You can find all three varieties in the soup aisle at Publix. And from 10/26/19 – 11/8/19, you can even save $1.00 on purchase of any 1 (ONE) 4 pack of Lonolife Bone Broth Sticks at Publix.
3. Hard Boiled Eggs
Nature's portable protein, hard boiled eggs are one of my favorite keto snacks. Boil a few at the beginning of the week and keep them in fridge until you're ready to eat them. They should last for a week if un-cracked.
4. Cheese
Individually wrapped cheese is another great snack option. Whether it be string cheese or something fancier, make sure to choose the full fat variety for a quick hit of protein and healthy fat.
5. Veggie Sticks
Just because you're cutting carbs doesn't mean you need to cut vegetables out of your diet. I like to eat as much low-starch veggies as I can in a day to make sure I'm still getting adequate amounts of vitamins and minerals. Carrots, celery sticks (with individual almond butter packs!), and green bell peppers are great portable options.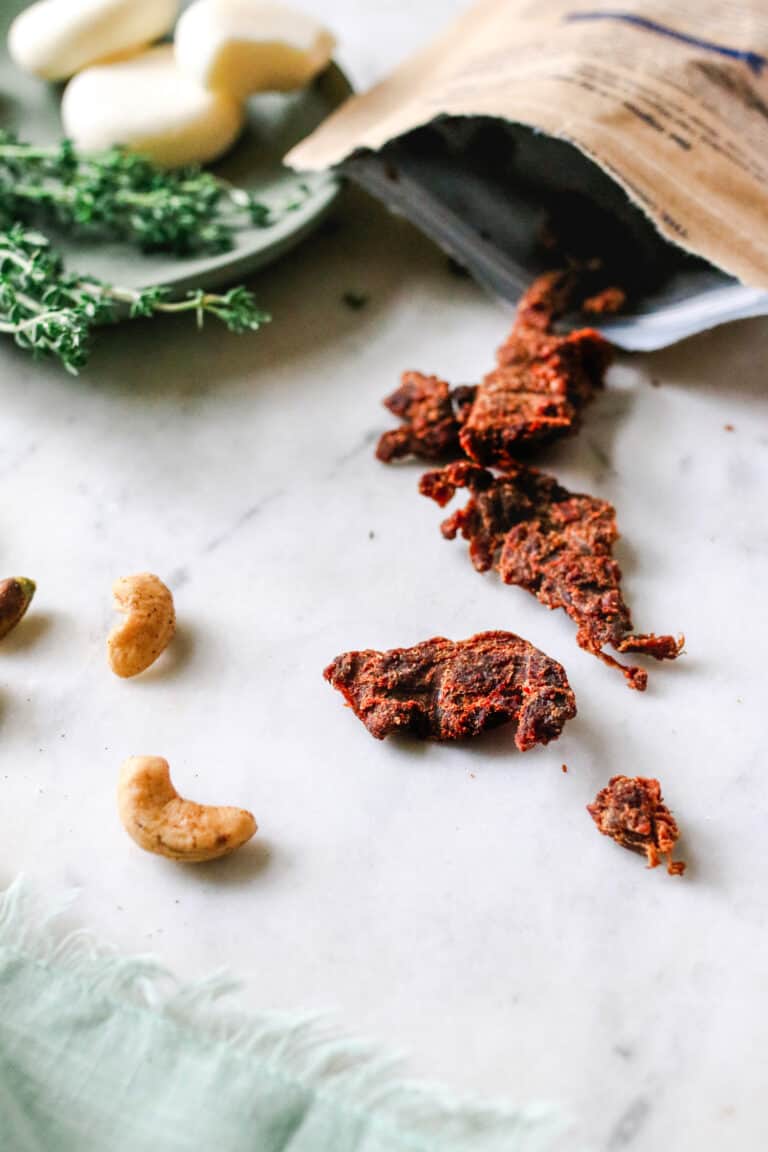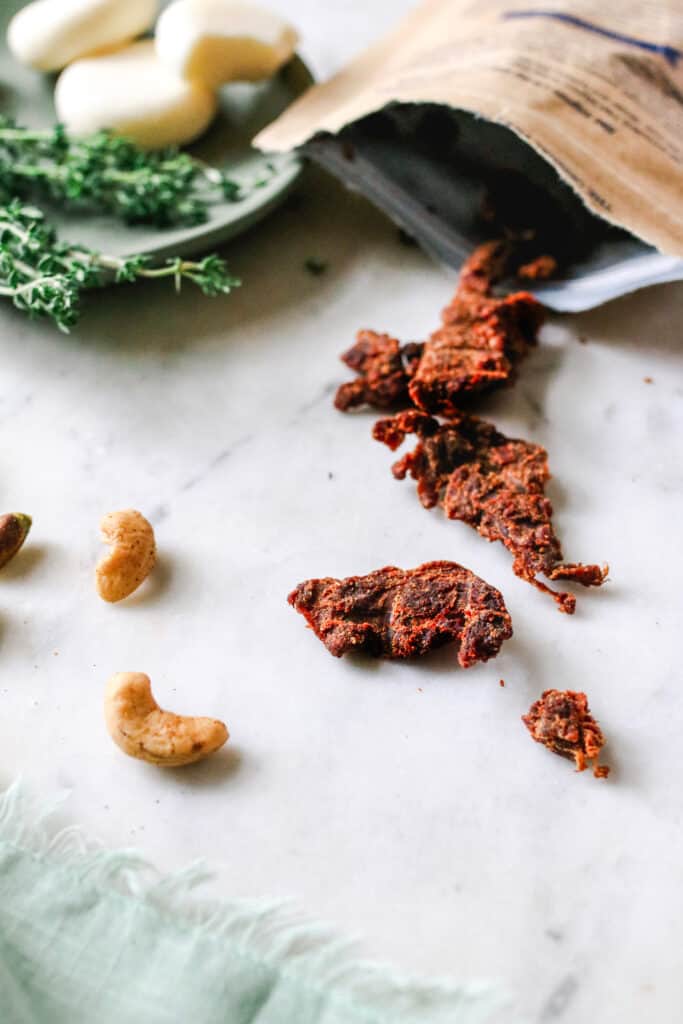 6. Jerky
Jerky is a staple in most keto pantries because it's high in protein, has zero carbs and takes no prep work. If you can, look for organic jerky from small batch companies to make sure you're getting the highest quality.
7. Spiced Nuts
Mixed nuts are another way to satisfy your need for a crunchy snack while still keeping carbs low. This spiced nut recipe is one of my favorites because it has added healthy fats and enough flavor to make you feel like you're cheating, even when you're not.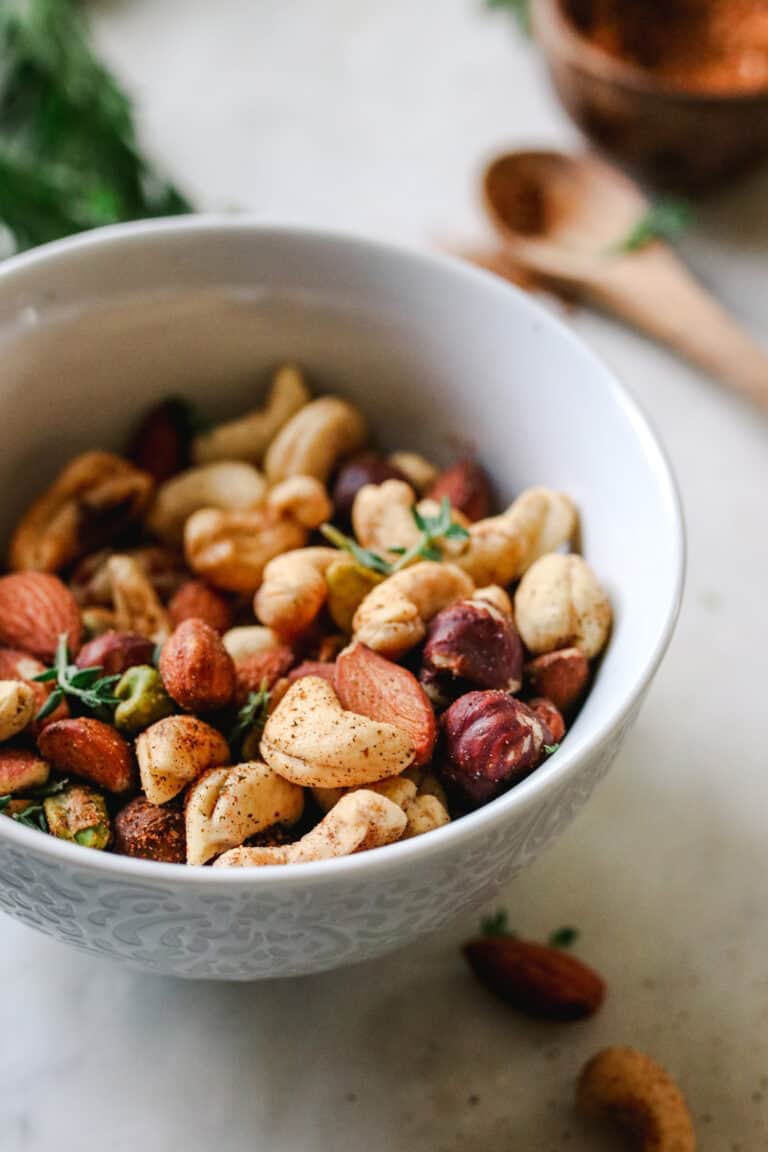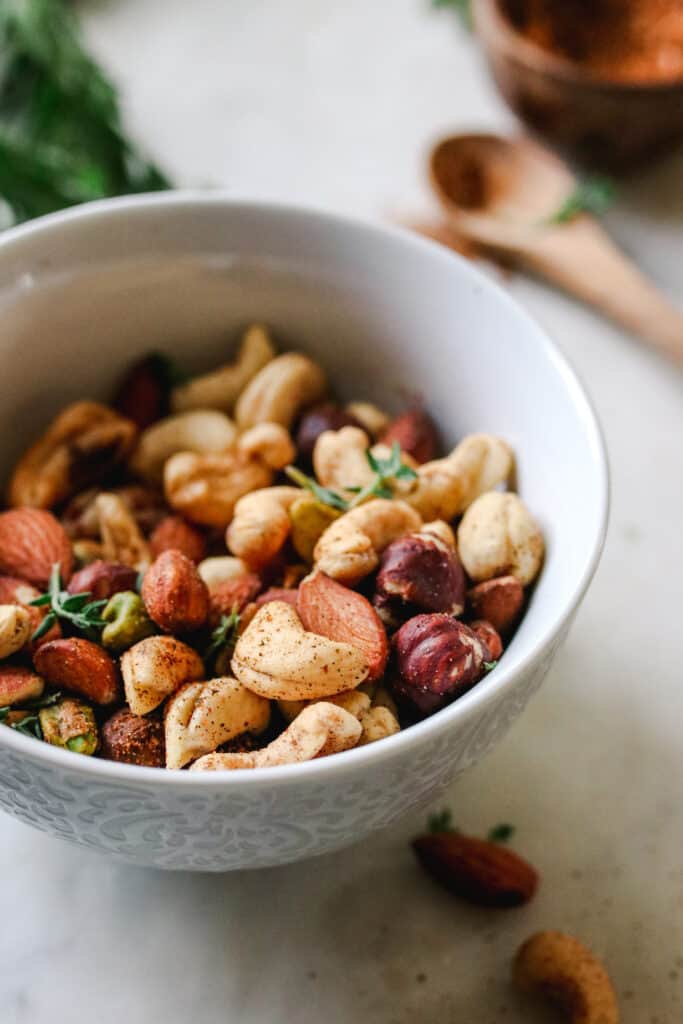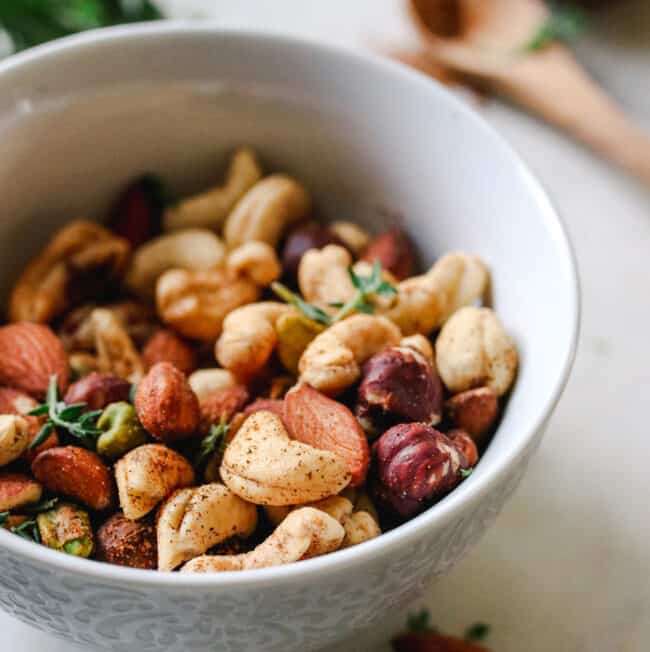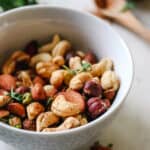 Print Recipe
Keto-Approved Spiced Nuts Recipe
A crunchy snack with good fats and flavor that keeps carbs low.
Ingredients
2

cups

raw mixed nuts (one without peanuts is best)

2

tablespoons

avocado oil

1/2

teaspoon

garlic powder

1/2

teaspoon

chili powder

1/2

teaspoon

onion powder

1/2

teaspoon

paprika

1/2

teaspoon

salt

1

tablespoon

fresh rosemary or thyme
Instructions
Preheat oven to 350 degrees Fahrenheit.

Combine all ingredients, except nuts, in a small bowl. Spread nuts on a parchment lined baking sheet, pour spice mix over nuts and toss to combine.

Roast nuts for 15 minutes until slightly toasty. Store leftovers in airtight containers at room temperature for 3 to 4 days.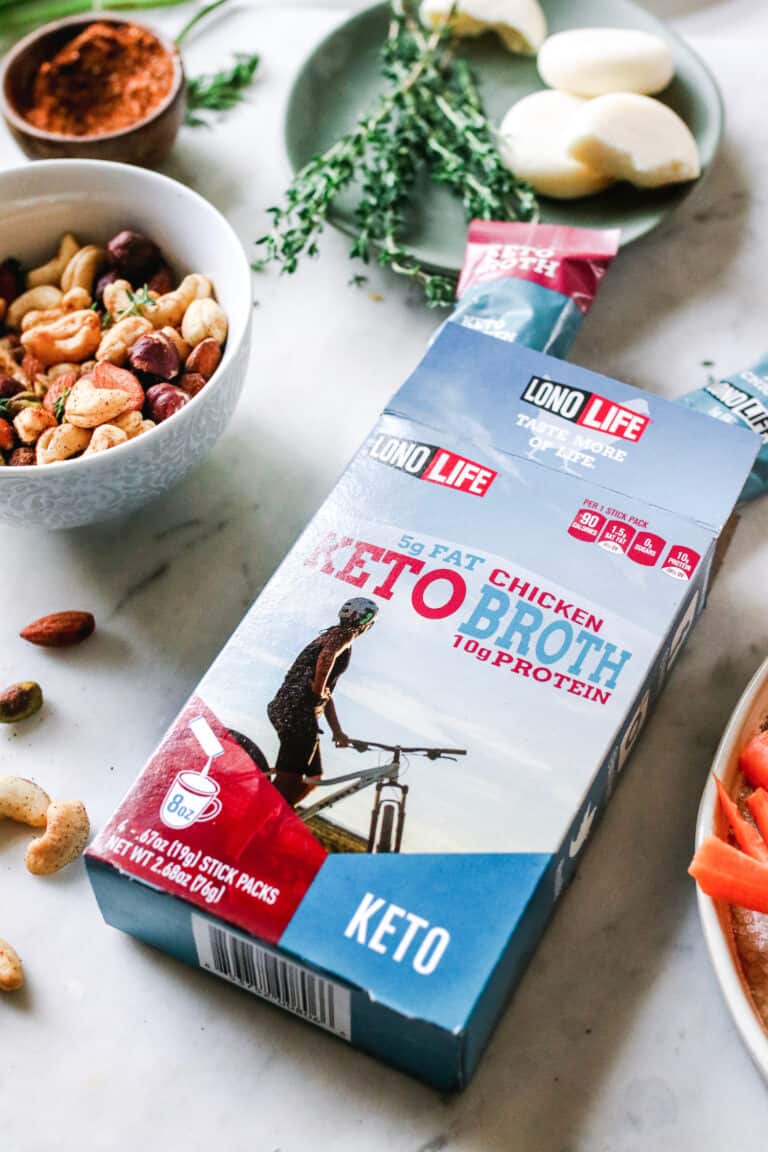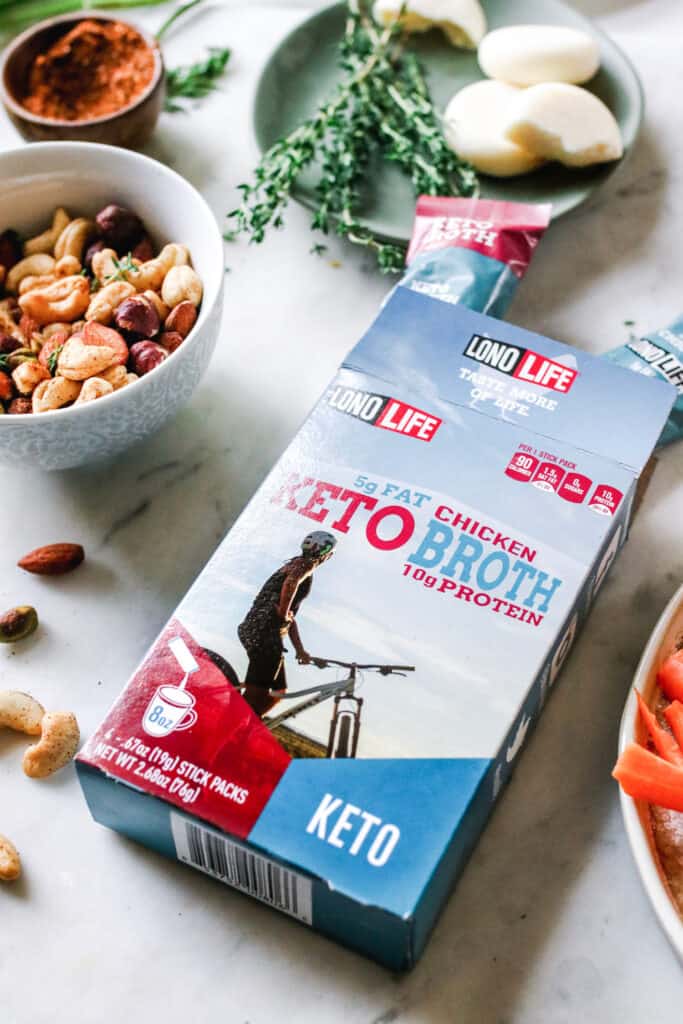 32