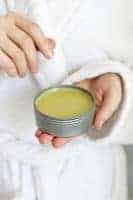 Kokum Butter Hand and Cuticle Balm
Yield 2 4 ounce containers
Instructions
Combine all the ingredients except the essential oils in a small microwave safe dish.
Microwave in 30-second intervals until completely melted (about 2 minutes) and stir well to combine.
Add the essential oils and stir again.
Pour into your containers and let harden. If stored in a cool dry place, it should keep for several months.
Recipe by Hello Glow at https://helloglow.co/kokum-butter-hand-balm/