Lemon essential oil, with its bright, citrusy aroma, is beneficial in a number of ways. It's antimicrobial, great for skin care, and it improves your mood. It's frequently used to boost cleaning products, deodorize stinky areas, and even combat greasy skin. Plus, the aroma can have a positive effect on your mental outlook. Read on as our aromatherapist shares many benefits of lemon essential oil!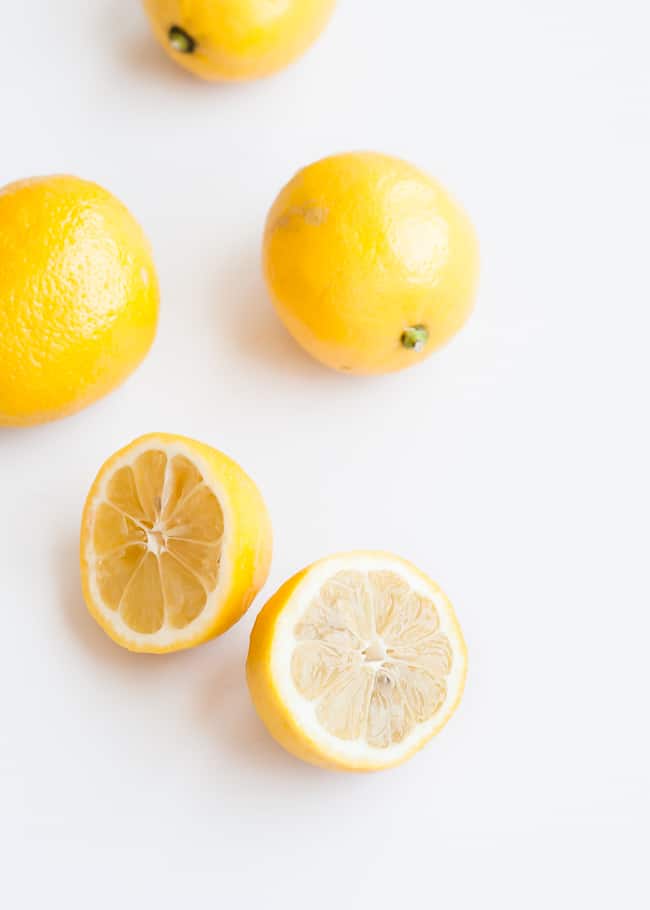 What Is Lemon Essential Oil?
Lemon essential oil is pressed from the peel of the fruit. And since the rinds of citrus fruits are rich in essential oils, it's easy to see why lemon, grapefruit, and lime essential oils are both plentiful and affordable.
The scent is often described as crisp, clean, and bright, and the invigorating essential oil (EO) can be used for just about anything. If someone in the house is sick, diffuse lemon EO. When you're feeling a bit sluggish and need to perk up, get that lemon EO into the diffuser. If you want to ramp up your skincare routine, try applying some lemon EO.
Seriously, it really is a powerhouse of an oil and if you don't already own a bottle, it's time to get one—it will quickly become one of your most used EOs!
Lemon Essential Oil Benefits
1. Kills germs
Lemon helps freshen up the air when someone in the house is sick. Add it to your diffuser to help clear out any lingering microbes. A study published in 2019 found that lemon essential oil was active against several different types of bacteria [source].
2. Reduces nausea
Most people turn to peppermint essential oil when dealing with nausea, but did you know that the scent of lemon can also help? A 2014 scientific study found that pregnant women who inhaled lemon essential oil reported reduced nausea and vomiting [source]. So next time your stomach is feeling upset, you might try sniffing a drop of lemon essential oil!
3. Helps combat anxiety
The aroma of lemon essential oil may also help reduce feelings of anxiety for some people. A study published in 2015 found that patients with fractures who inhaled lemon essential oil for half an hour after surgery reported significantly reduced levels of anxiety compared to those who did not.
4. Aids mental clarity
While the scent of lemon may be calming, research suggests it may also help with mental clarity. A small study in an elementary school found that students who were exposed to the aroma of lemon EO during lessons had significantly better test scores [source].
5. Lifts moods
Studies have shown that lemon and other citrus essential oils have antidepressant effects [source]. In general, lemon is a cheerful scent that's energizing for those busy days when you need a mental boost. Its fresh scent invigorates the senses and clears the mind.
6. Cleans and deodorizes
The scent of lemon has long been associated with cleaning, so no surprise that diffusing the essential oil helps deodorize the air. Its natural antiseptic properties make it perfect for natural cleaning recipes.
Lemon is often used to cut through stubborn grease, remove sticky residue, clean surfaces, and condition wood (in combination with olive oil). In fact, there are tons of cleaning uses for lemon EO!
Lemon Essential Oil Skin Benefits
7. Treats skin conditions
Lemon essential oil has a number of benefits for the skin. In fact, a 2017 review of the use of EOs in skin diseases reported that lemon essential oil is used in dermatology for quite a few conditions, including acne, viral infections, fungal infections, warts, insect bites, and wounds [source].
8. Fights free radicals
Lemon EO's antioxidant properties are another reason to add it to your skincare routine. One study found that lemon oil has the ability to scavenge free radicals [source] that cause oxidative stress and contribute to the visible signs of aging. With these qualities, it's no wonder lemon is used for skincare!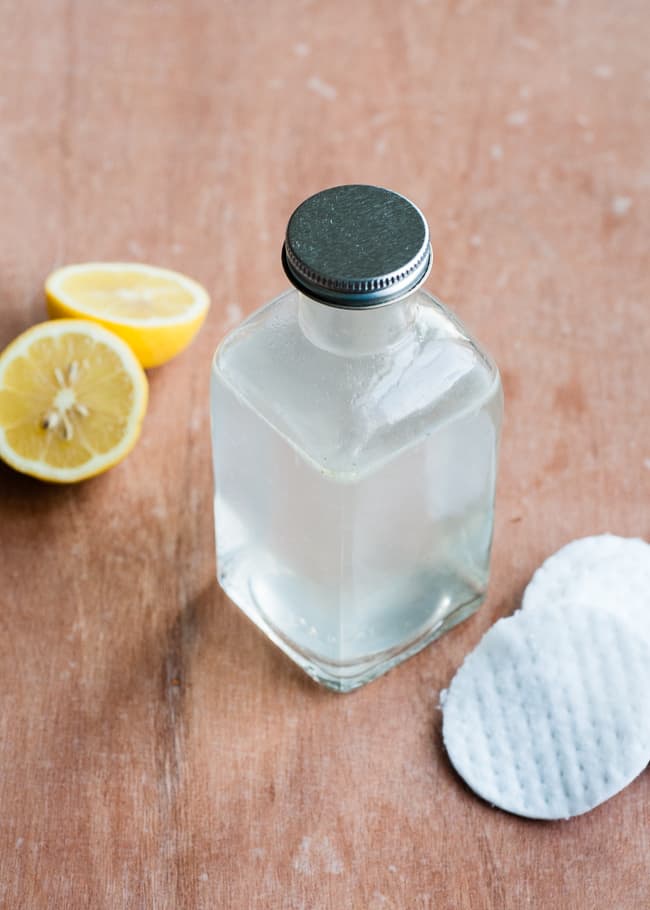 9. Combats oily skin
Lemon is a natural skin astringent that can dry up oil and tighten skin. Lemon EO has been shown to inhibit the skin bacteria that is associated with acne [source]. Its degreasing power and natural antiseptic qualities make it ideal for treating oily skin and acne so it's a perfect addition to a witch hazel toner.

10 Tones skin
The essential oil is said to be a natural diuretic that helps release trapped fluid to reduce the appearance of cellulite, puffiness, and wrinkles.
11. Conditions hair
Lemon juice is often used to naturally lighten hair color, but the essential oil can also be used in a hair rinse to fight flakes, remove excess scalp oil, and cut through product buildup to restore shine to your strands.
How To Use Lemon Oil for Skin
Lemon EO has many applications for use on the skin and can absolutely be used topically. For topical application, we recommend a 2% dilution rate, which would be 3 drops of essential oil per 1 teaspoon of carrier oil. Always perform a skin patch test when using a new EO topically, especially if you have other skin sensitivities.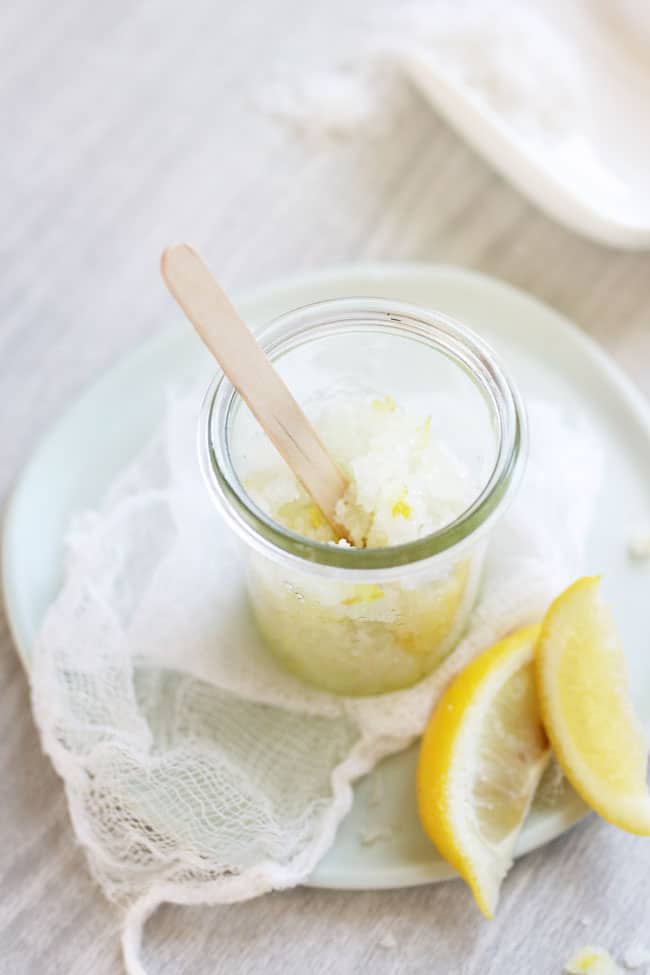 Homemade scrubs are cheap and easy to make, and your skin will love them! Make this scrub in small batches so that it stays super fresh. It's so simple to make that you can whip it up in about five minutes. So next time you need to exfoliate, give this recipe a try!
—½ cup organic white sugar
—¼ cup oil such as coconut, sweet almond, jojoba, rosehip, argan, or even a combination!
—10–12 drops lemon essential oil
—3 drops vanilla essential oil
Combine the sugar and carrier oil and then add the essential oils. Store your scrub in a glass jar, and use it once or twice a week as needed.
2. Body-Toning Massage Oil
—1-ounce glass bottle
—Slightly less than 1 ounce of carrier oil (sweet almond, grapeseed, etc.)
—18 drops of essential oil (a 2% dilution)
Add the essential oil drops to a glass bottle, then fill it the rest of the way with a carrier oil. Replace the cap and shake to combine.
Apply the oil to the skin by using it as a massage oil or while dry brushing. You can also add a few drops of the diluted essential oil mixture to a bathtub of water. Rub any floating oil droplets into the skin as you soak.
3. Clarifying Hair Rinse
—2 tablespoons organic apple cider vinegar
—8 tablespoons water
—8 drops rosemary essential oil
—6 drops lemon essential oil
Combine these ingredients in a squeezable bottle and shake to mix them well. Apply the solution to wet hair and leave on for 1 to 2 minutes. Rinse your hair and dry it as usual. Repeat twice a week.
Want more lemon beauty uses? Try adding lemon essential oil to a facial steam, facial oil, or foot soak.
Diffusing Lemon Essential Oil
Here are a few simple recipe ideas to help you get more use out of your lemon EO:
1. Fresh Air Diffuser Blend
Diffuse lemon to help combat germs in the air. This blend freshens up the air in the house or for use when someone is sick.
—5 drops lemon oil
—3 drops eucalyptus oil
—3 drops lavender oil
2. Goodbye Stress Diffuser Blend
If you've been feeling tense or anxious, try this simple diffusion and enjoy the gorgeous aroma!
—4 drops lemon oil
—3 drops clary sage oil
—3 drops vetiver oil
3. Time to Concentrate Diffuser Blend
If you've got a big presentation or project coming up, diffuse this blend while you work or study. I promise it'll make the task more enjoyable!
—5 drops lemon oil
—3 drops rosemary oil
—1 drop peppermint oil
—1 drop orange oil
Lemon Oil FAQs
Can I add lemon essential oil to water and drink it
?
Essential oils are very potent and can be dangerous if not used correctly. We do not give recommendations for ingestion as the body can safely absorb essential oils by topical application or diffusion. It's quite safe to cut up a fresh lemon and add it to your water, so that's what we recommend.
Is lemon essential oil phototoxic
?
Yes, cold-pressed lemon essential oil is phototoxic [source]. (If you use a steam-distilled version, you don't have to worry about phototoxicity, but it is harder to find.) For this reason, when applying it topically, it's always a good idea to use lemon EO in very low dilutions (2% or less) and to wait 12 hours before exposing your skin to the sun.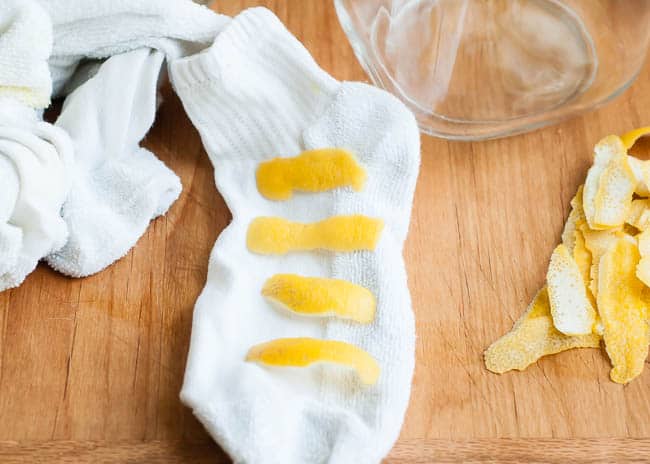 How do I use lemon essential oil in cleaning
?
Here are a few cleaning ideas to get you started:
—Put a few drops on cotton balls and place them in a cup holder for an easy car diffuser.

—Mix it with baking soda and sprinkle the powder mixture onto the carpet. Let it sit for an hour, and then vacuum.
—Mix it with alcohol (like vodka) and put it in a spray bottle. Spray the mixture into the air, on sheets, or anywhere you would like to freshen the scent.
—Make your own air freshener to place in your drawers or closet using felt and lemon EO.
—Mix it with olive oil to make furniture polish.
25