The benefits of gluten-free and keto diets are definitely worth a study, and while we advocate for a diet that suits best to your own body and while our oven is still baking goods with wheat flour, we like to keep it low carb every now and then, to control weight, reduce the digestive burden and preserve a healthy microbiome. This low carb pumpkin bread with coconut flour is such a delight – moist, healthy, sugar and gluten-free.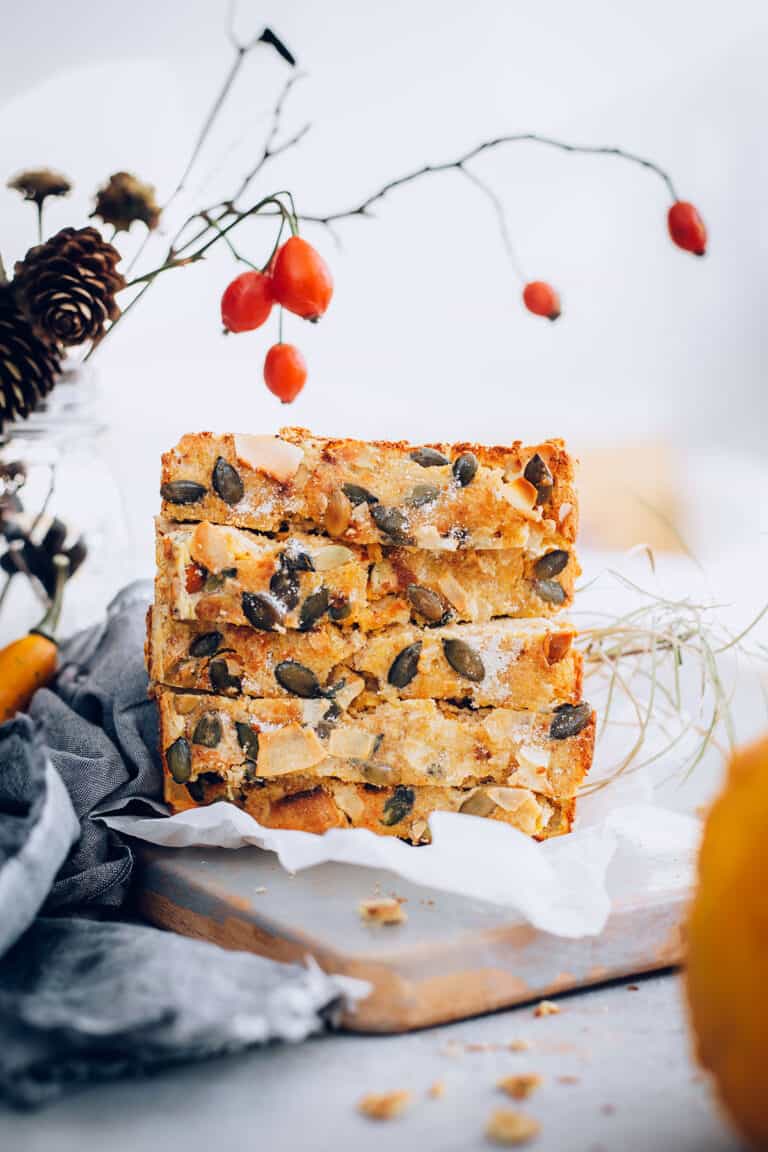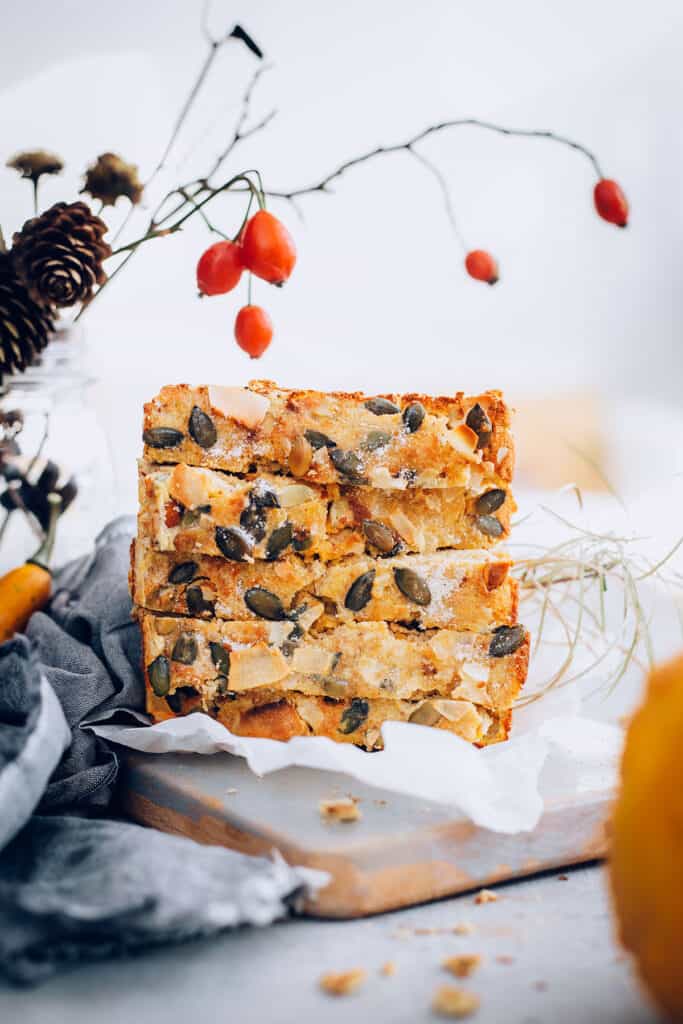 How to make flourless keto pumpkin bread

The whole idea behind baking low carb goodies is to find a way to successfully replace the all-purpose/whole wheat flour with a low carb version. The most usual replacement is an almond and coconut flour combo.
While almond flour gives the keto flourless pumpkin bread a delicious taste, the coconut flour absorbs the excess liquid, is packed with fiber and low in carbs, making the ideal alternative to gluten flours. When choosing the almond flour, make sure you go for a finely ground one rather than a chunky almond meal. We usually make our own almond flour simply by adding the raw almonds into the food processor or high speed blender.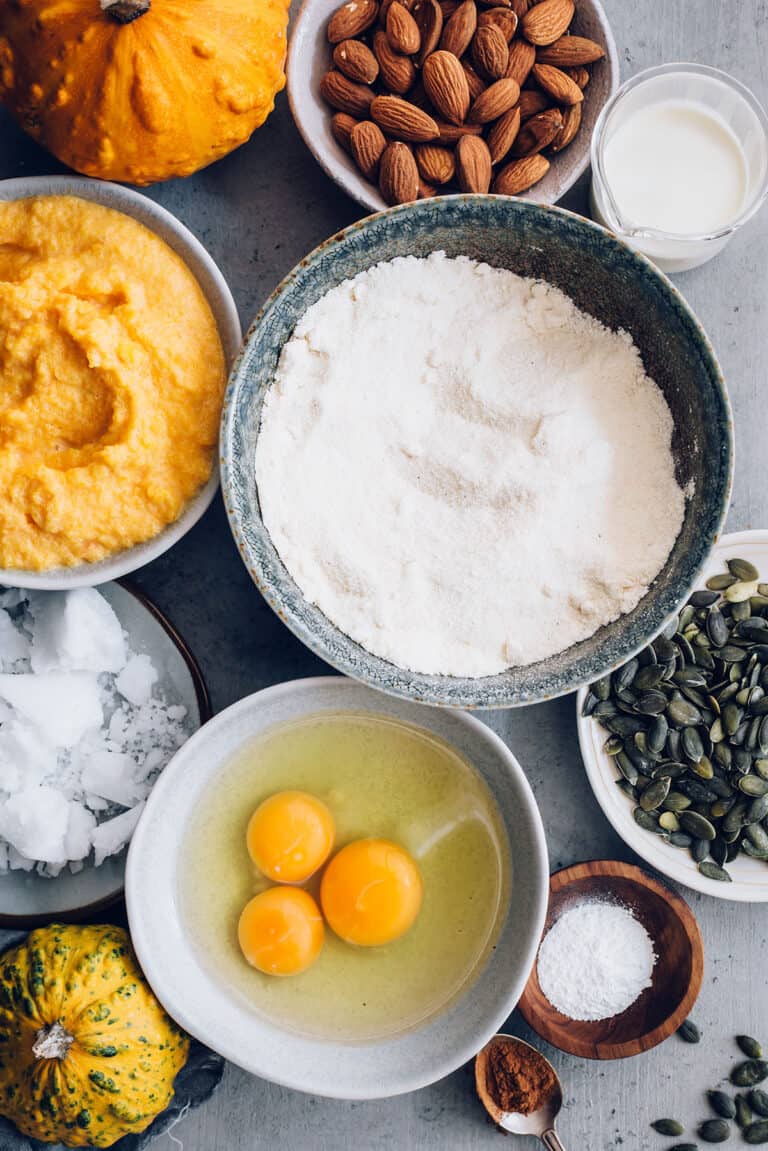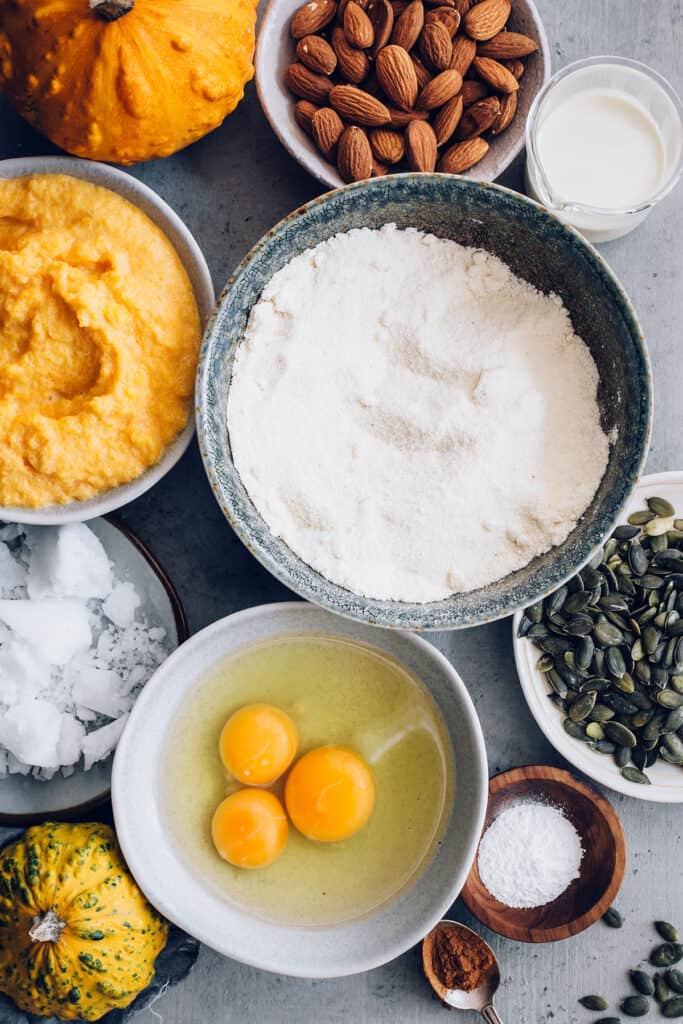 Best ingredients for a low carb pumpkin bread:
Eggs – are nutritious, keto approved and the best way to keep everything together when baking flourless. If you are looking for a vegan version, replace each egg with one flax egg (1 tbsp flax seeds soaked into water).
Fat – fats are key when it comes to keto dieting, and butter, nut butter, ghee or coconut oil are a great addition when making the pumpkin bread batter. We went for the coconut oil this time.
Pumpkin puree – if not using canned and rather make your own from roasted pumpkin, make sur the puree is well drained because you wouldn't want a mushy texture that doesn't stay together.
Sweetener – we used erythritol for sweetening our low carb pumpkin bread, but liquid stevia also works. The pumpkin puree is natural sugar-loaded, so adding extra sweetener is just a matter of taste.
Low carb flours – these flours work best together for creating a batter that resembles best to the classic version – almond flour, coconut flour, ground golden flax and psyllium husk. Using coconut and almond flour is also a great option.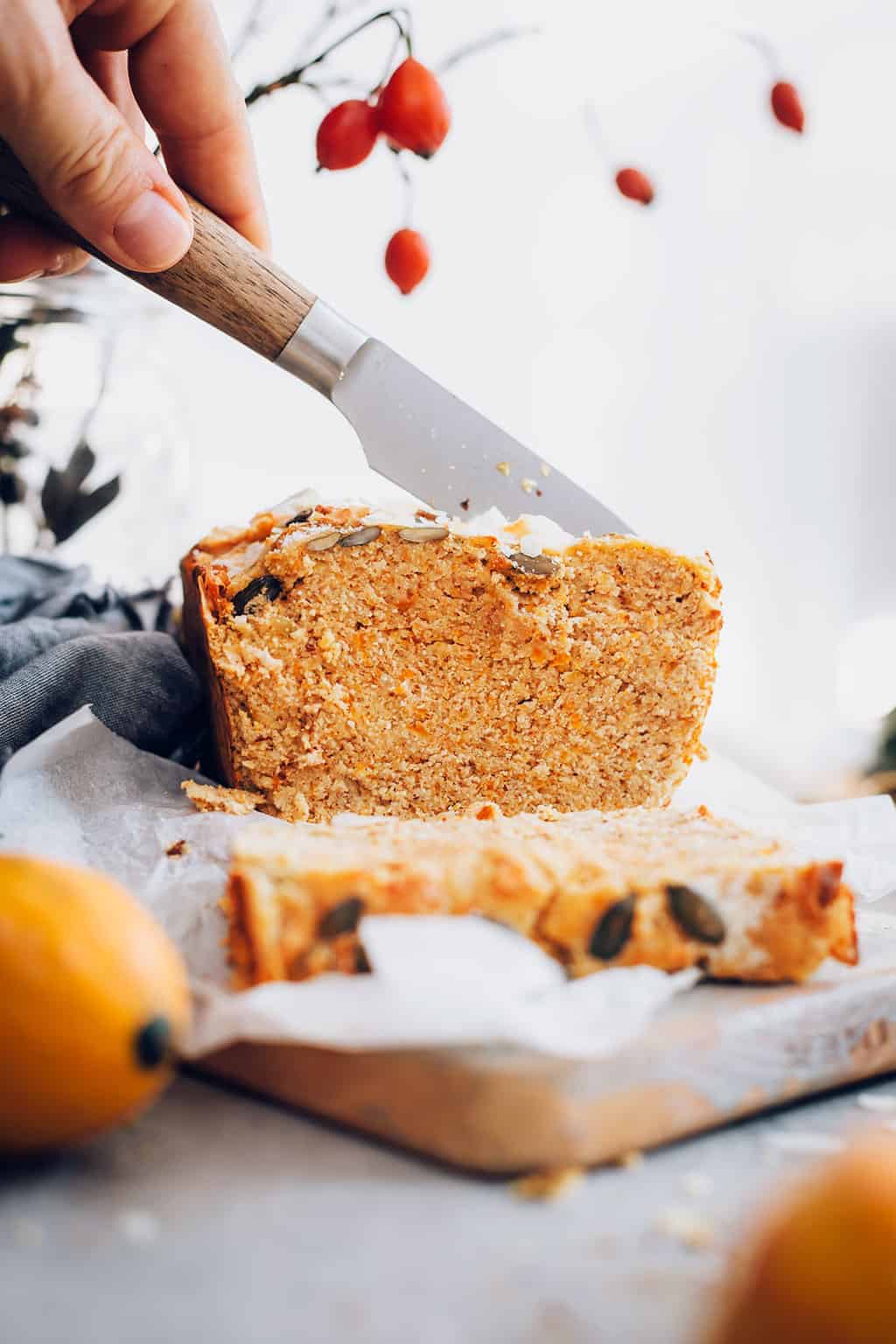 How to prevent flourless pumpkin bread from falling apart
While the first impulse would be to slice the bread immediately after removed from the oven, the key to get a sliceable loaf is actually patience! Let the flourless bread cool completely after removing it from the oven, and actually refrigerate it until the next day for the best slicing results.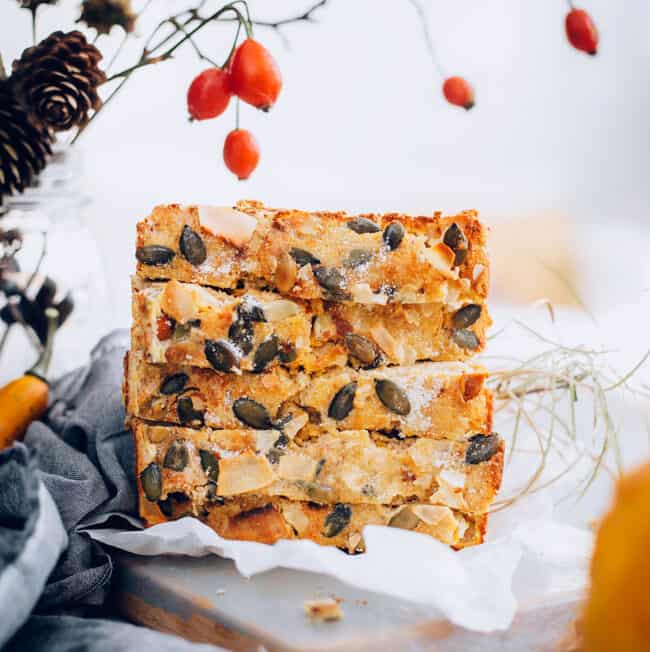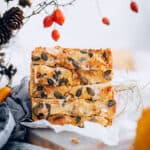 Print Recipe
Low Carb Pumpkin Bread
Made with whole ingredients, flourless and gluten-free, this low carb pumpkin bread is a great keto alternative to the classic version.
Ingredients
1

cup

coconut flour

1

cup

almond flour

4

tbsp

coconut oil

1

cup

pumpkin puree

3

eggs

1

tbsp

erythritol

2/3

cup

almond milk

1

tsp

baking soda

1

tsp

baking powder

1

tbsp

apple cider vinegar

1

tsp

pumpkin spice

1

tbsp

pumpkin seeds

1/2

cup

coconut flakes
Instructions
Preheat the oven to 200C/400F.

Line a bread pan with parchment paper and set aside.

In a large bowl mix the flours, erythritol, baking soda and baking powder and pumpkin spice.

Add the beaten eggs, coconut oil, pumpkin puree, almond milk and apple cider vinegar.

Mix to obtain a sticky batter and set aside for 10 minutes to allow the mixture to be absorbed.

Transfer the mixture into the baking pan and top with the pumpkin seeds and coconut flakes.

Cover the pan with aluminium foil to avoid the quick browning of the loaf.

Bake for 20 minutes, remove the aluminium foil and bake for 10 minutes more.

Remove from the oven and let cool completely.

Refrigerate overnight and slice it the next day.
4