This post is sponsored by Danone North America. The opinions and text are all mine.
This time of year can be busy. So busy, in fact, that meal planning and eating well often go out the window completely if I'm not prepared. Between work, school, kids, and everything in between, eating better-for-you foods can feel like a luxury that I just don't have time for.
When things get hectic, if I don't have 5-minute meals and snacks at the ready, I often won't eat at all. And I think we all know that hangry is not a productive place to be.
But the beauty of it all is that eating well is possible – and you don't need much time to do it.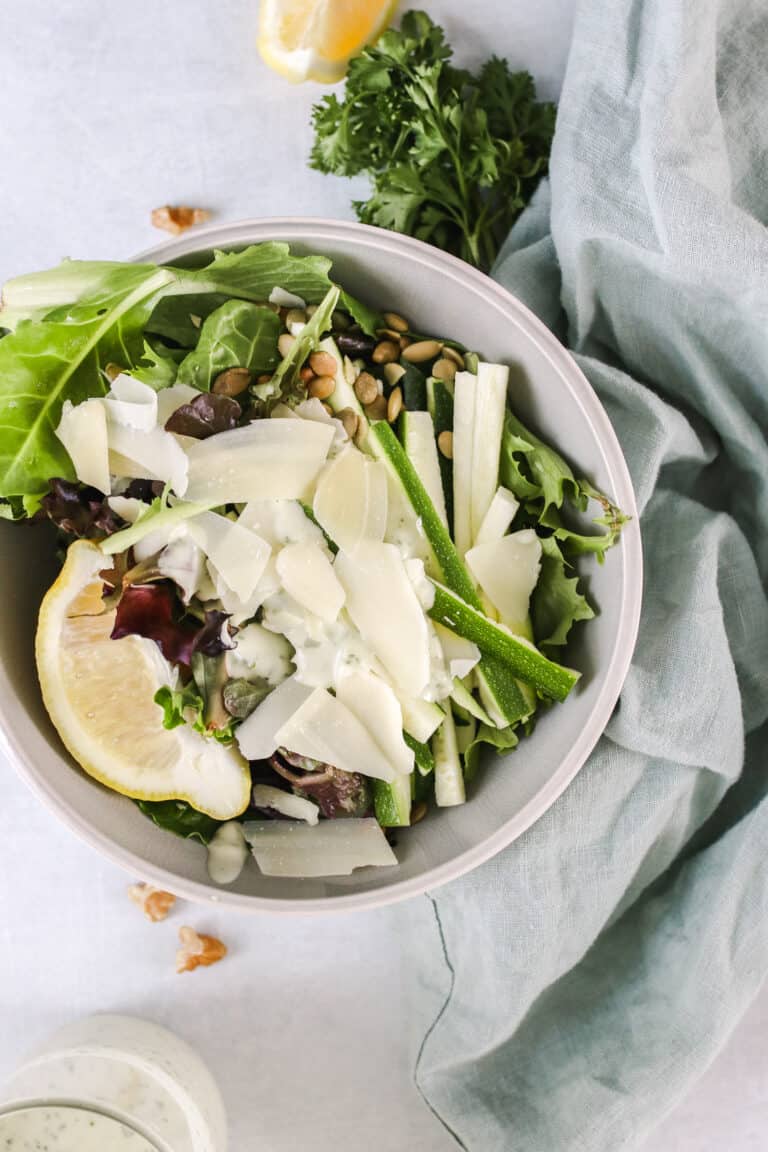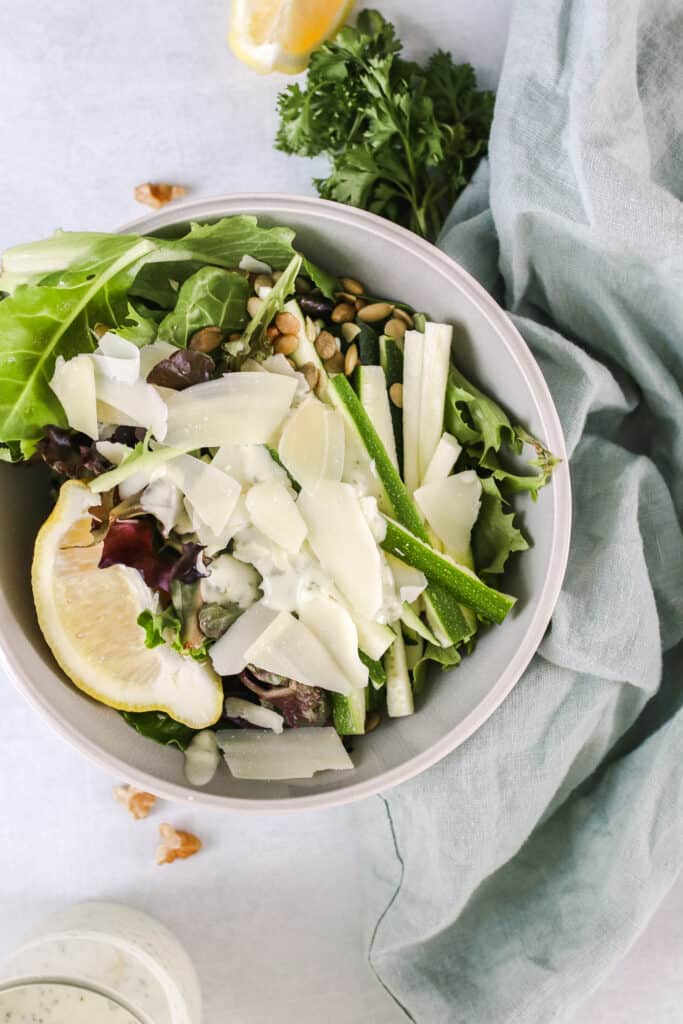 One secret is stocking your fridge with nutritious foods that require little, if any, prep. Then when you get hungry you can just grab something and toss it in the blender or a bowl and be on your way. Here are 3 of my favorite low-prep meal solutions using my favorite Danone® products to help you make smart choices throughout the entire day when time is of the essence. These products truly Save the Day!
3 Make Ahead Meal Solutions for When You're Busier than Usual
No matter how well you meal plan, emergencies happen to the best of us. Whether you're feeling under the weather or running on too little sleep, there's nothing more frustrating than opening the refrigerator and realizing you have nothing to eat. Rather than creating a detailed meal plan, I try to stock my fridge with healthy, flexible foods I can grab whenever hunger strikes. And for me that means always having grab-and-go Danone foods on hand.
Dannon® Activia® yogurt adds probiotics to my morning smoothie packs. High protein Oikos® yogurt combines deliciously with chia seeds and fresh fruit for a midday pick me up at the office. And a large batch of vegan Silk® Cashewmilk dressing freshens up my 4-ingredient green salad after a long day at work. Danone products are easy to incorporate into your meal routine for all-day options without adding to your to-do list. And they're tasty, too.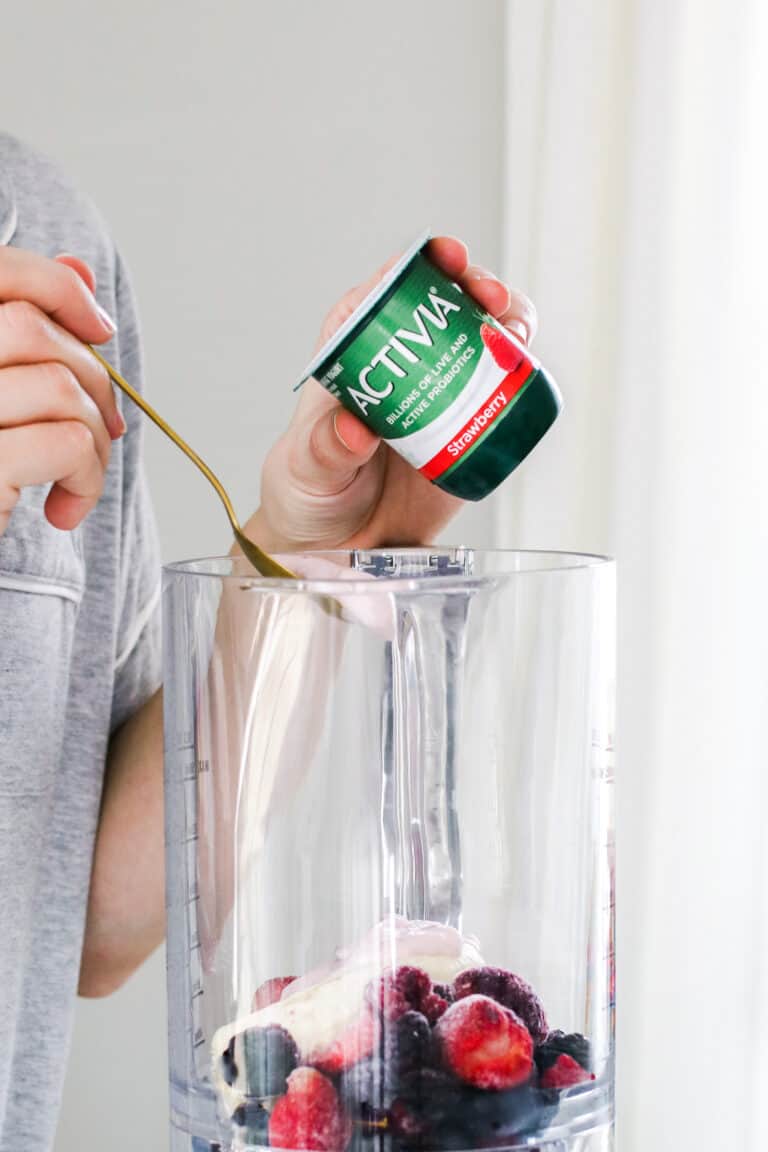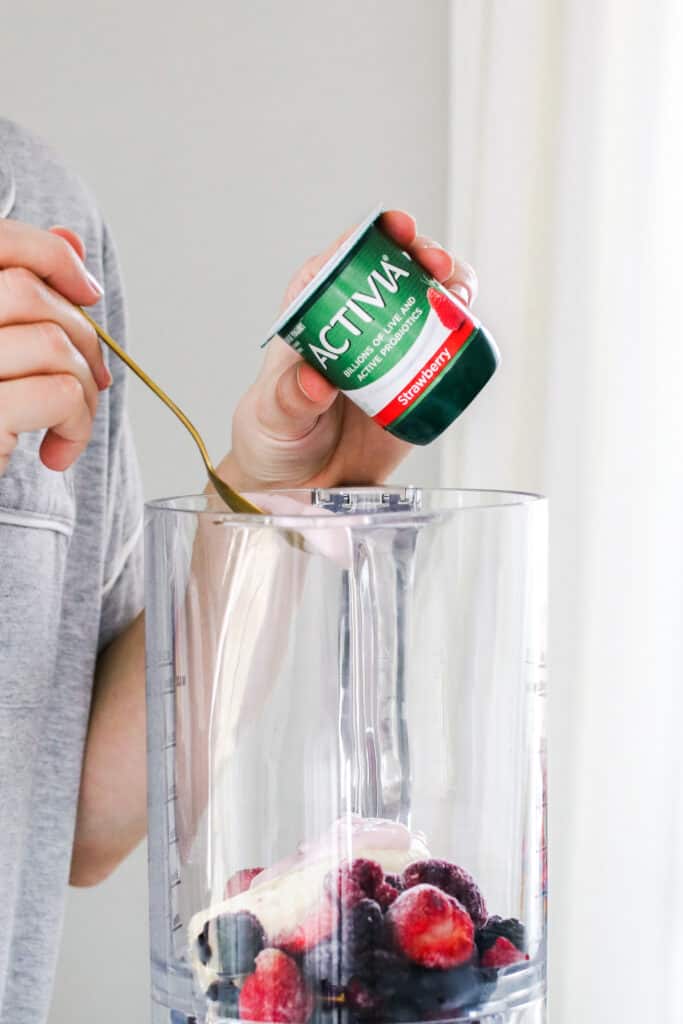 From now until February 28, simply swing by your local Publix and stock up on $20 worth of Danone Products to receive a $5 Publix Gift Card and a chance to win a Grand Prize Vitamix Blender. Then whip up some of my favorite low-prep meal options to stock your fridge for when you get hungry. Check out the offer HERE!
1. Easy & Delicious 5-Minute Berry Smoothie
Since the first thing to go when I get busy is the fruits and veggies, I always try to start my day with a smoothie. Pre-made smoothie packs are a great way to keep prep time to a minimum while still ensuring you get much-needed nutrients in your diet.
Simply chop your fruit and veggies ahead of time, place them in plastic baggies and store them in the freezer until you're ready to use 'em. At mealtime, pop them in a blender with some yogurt and your choice of nut milk for an easy smoothie.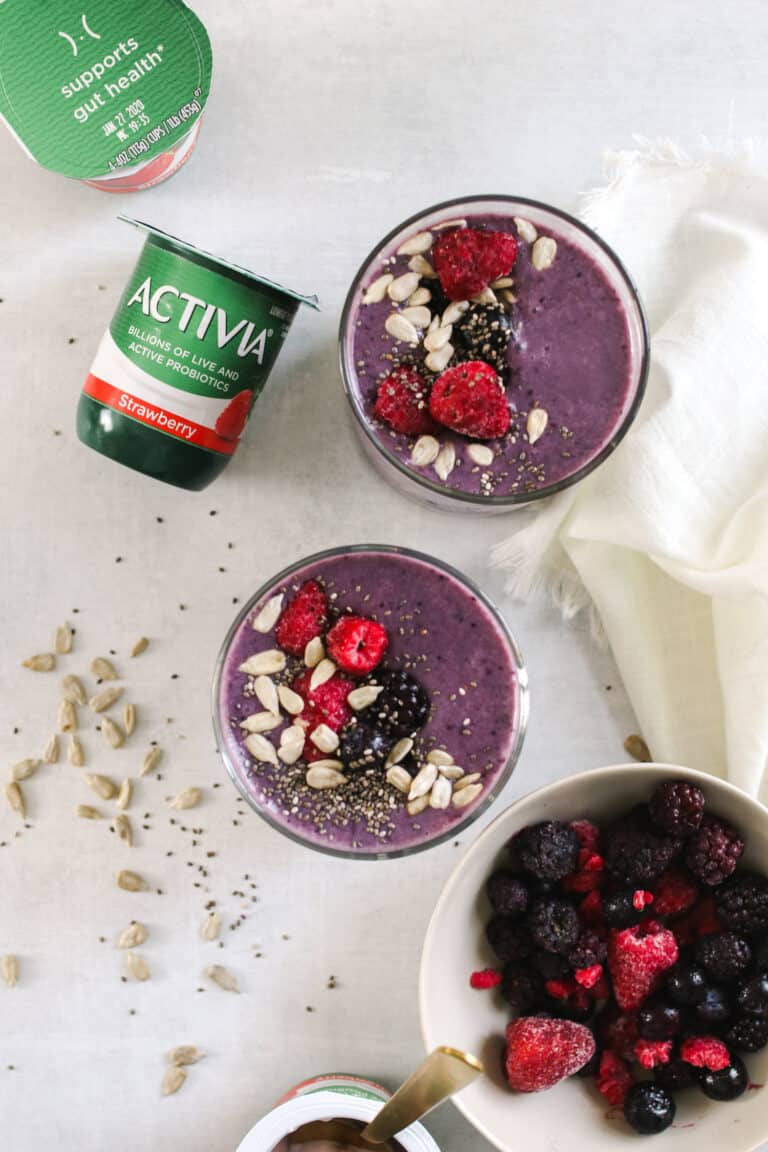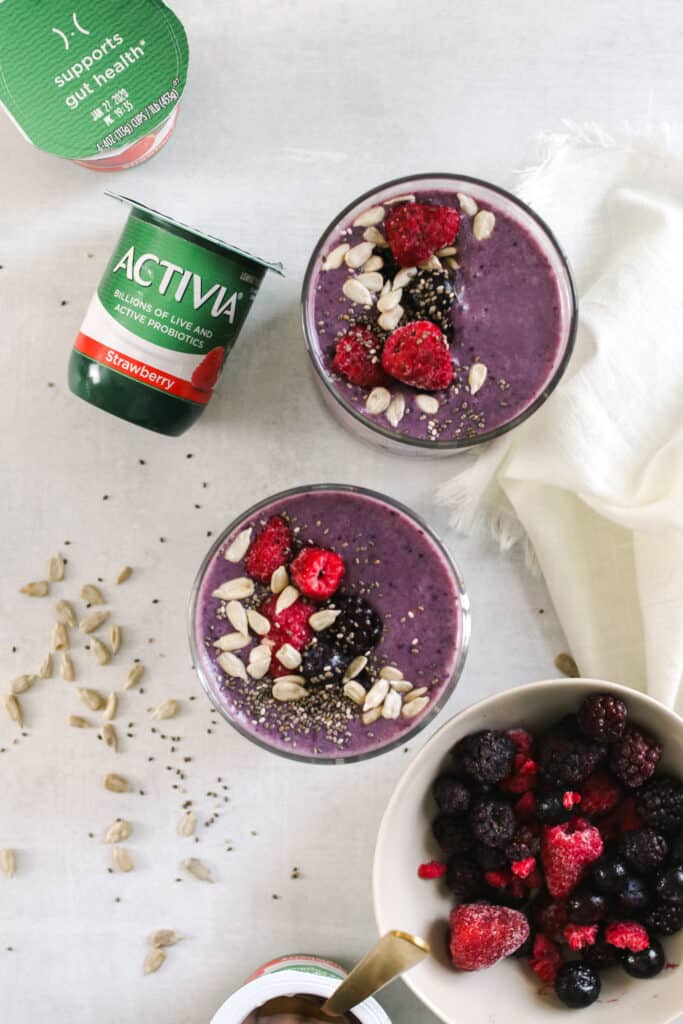 When I do my weekly grocery shopping at Publix, I always stock up a ton of fresh berries, a couple bananas and Dannon Activia Strawberry Probiotic Yogurt. Each 4-ounce cup of Activia contains 4 grams of protein and is a good source of calcium. Plus, it's loaded with billions of probiotics to support gut health*.
*Activia® may help reduce the frequency of minor digestive discomfort. Consume twice a day for two weeks as part of a balanced diet and healthy lifestyle. Minor digestive discomfort includes bloating, gas, abdominal discomfort & rumbling.
And if you need more greens in your diet, feel free to add a handful of spinach or kale for added nutrition.
Ingredients
Instructions
Combine all ingredients in a blender and puree until smooth. Add extra nut milk, if needed, until you reach the right consistency.
Pour into glass and garnish with seeds and extra fruit.
2. Grab and Go Greek Yogurt Cup
I don't know about you, but I find that lunch is the hardest meal to navigate if I don't have a plan. I don't need a lot of food, just something as a small pick me up. These grab-and-go chia seed yogurt cups make a great midday meal or snack during a crazy day.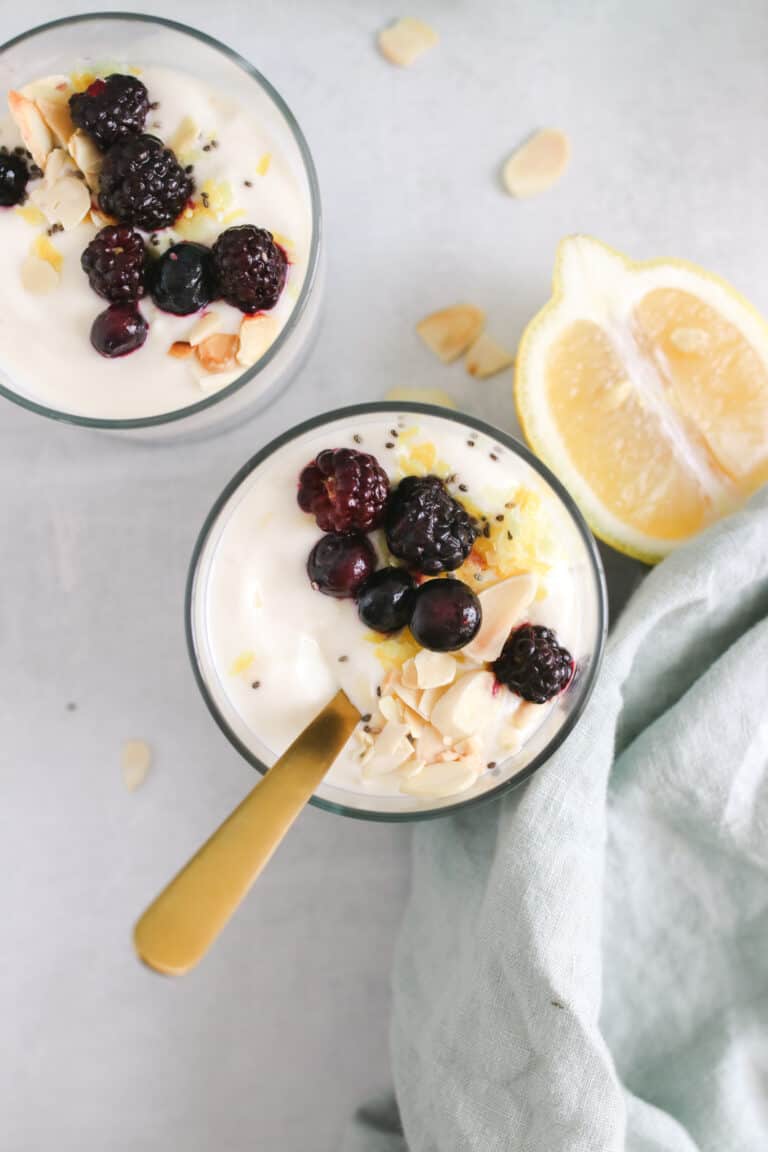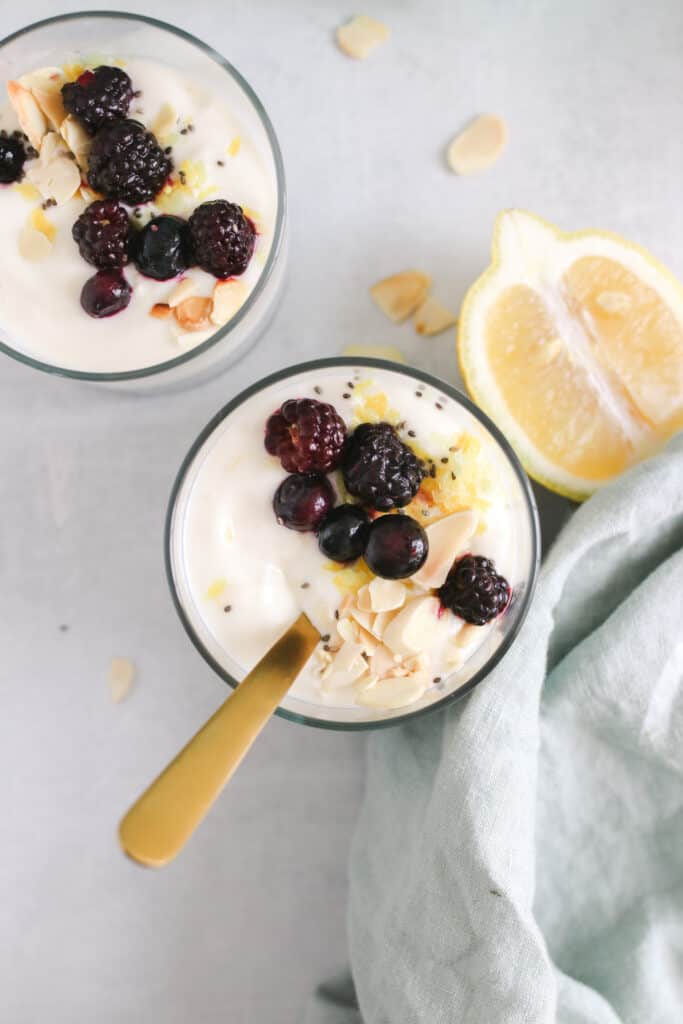 High protein Oikos Vanilla Greek Yogurt is mixed with lemon and layered with chia pudding for a delicious meal on the go. While you can use any kind of yogurt you like, I prefer Greek yogurt like Oikos because it is just so tasty!
And thanks to their straining process, Oikos is thicker than regular yogurts, so you can add your own flavors (in this case lemon juice and zest) without watering it down.
Plus, chia seeds are chock full of omega 3 fatty acid, ALA, and can help you feel full. To make it smooth and creamy, I combine the chia seeds with Silk Original Coconutmilk and let it soak in overnight.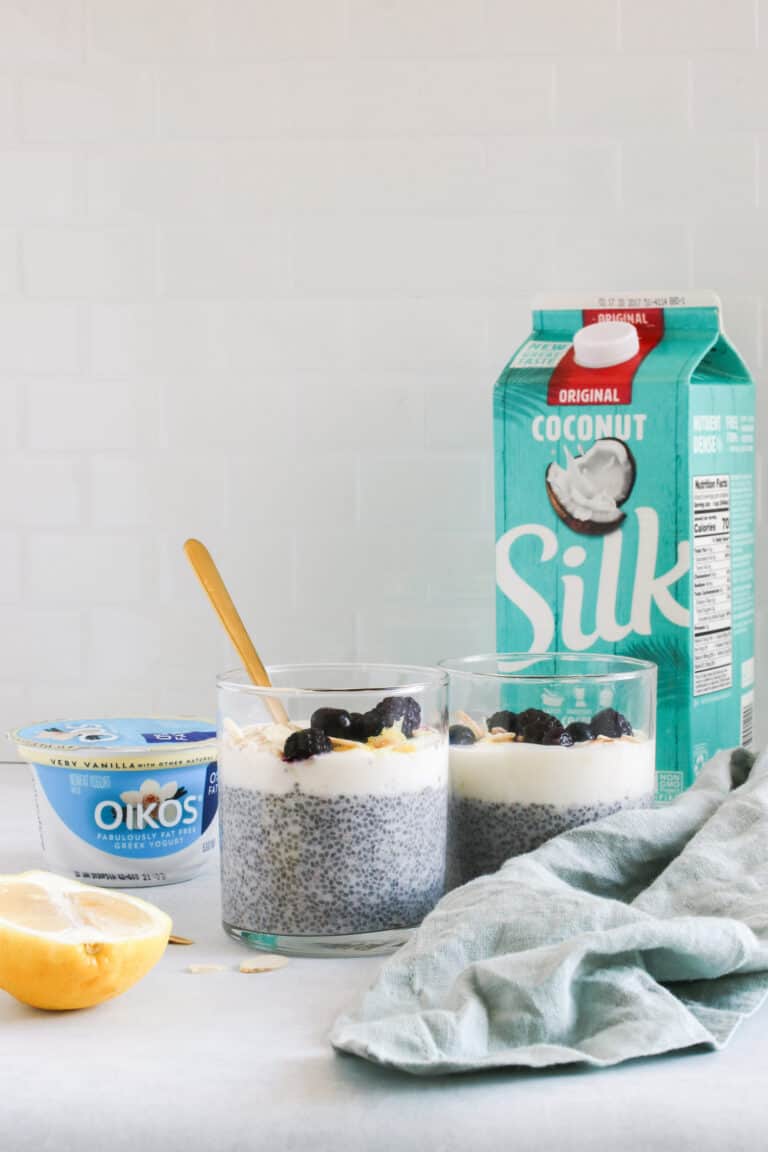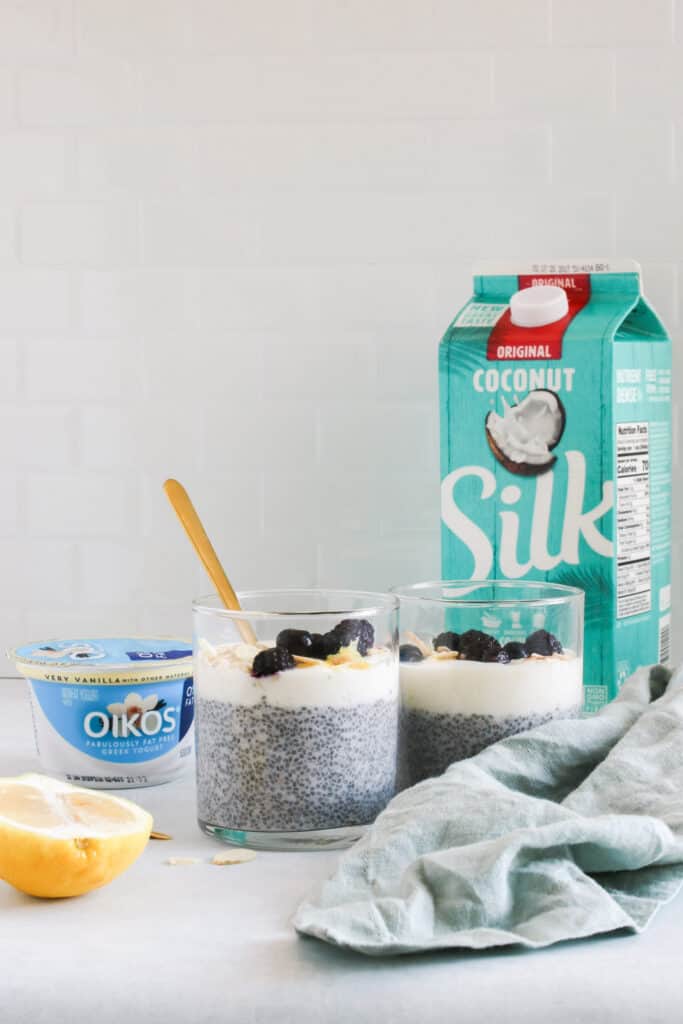 Ingredients
Instructions
Combine chia seeds, Silk Coconutmilk and vanilla extract in a bowl. Stir well. Cover and refrigerate for at least 5 hours (I usually just make it the night before) so the seeds have time to create a gel.
When you're ready to put the cups together, combine the Oikos yogurt with lemon juice and zest. Stir well.
Divide the chia pudding between 8-ounce glasses or jars. Top with yogurt and garnish with fresh berries, shaved almonds and extra lemon zest.
3. Make Ahead Green Salad with Creamy Nut Milk Dressing
Lastly, I round out busy days with a simple salad and a creamy, homemade dressing. This walnut dressing made thick and creamy with Silk Cashewmilk (I'm not shy about mixing different types of nuts, but if you'd prefer, you can make this dressing with cashews instead!) is loaded with extra greens and good fats.
Thanks to Silk Cashewmilk, this dressing is free of dairy, soy, lactose, gluten, casein, egg and MSG. Add herbs like dill and parsley for a tangy, herby punch, great for salads or dipping fresh veggies when you need a snack.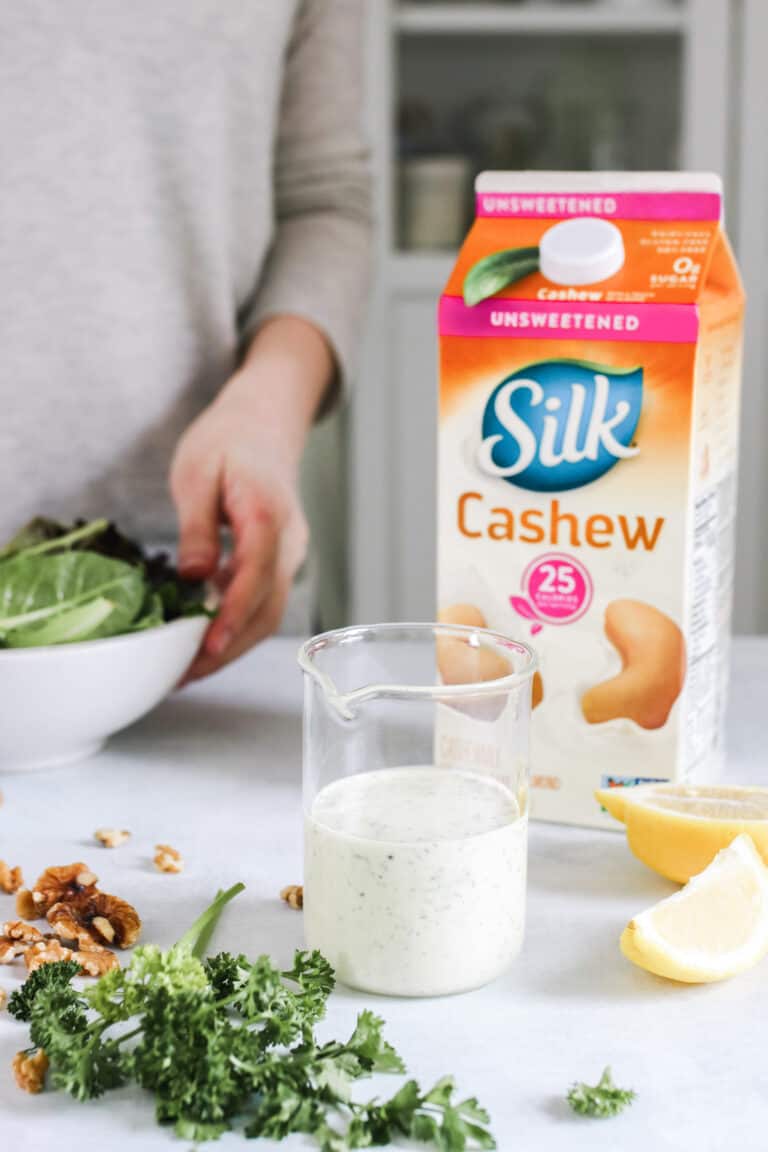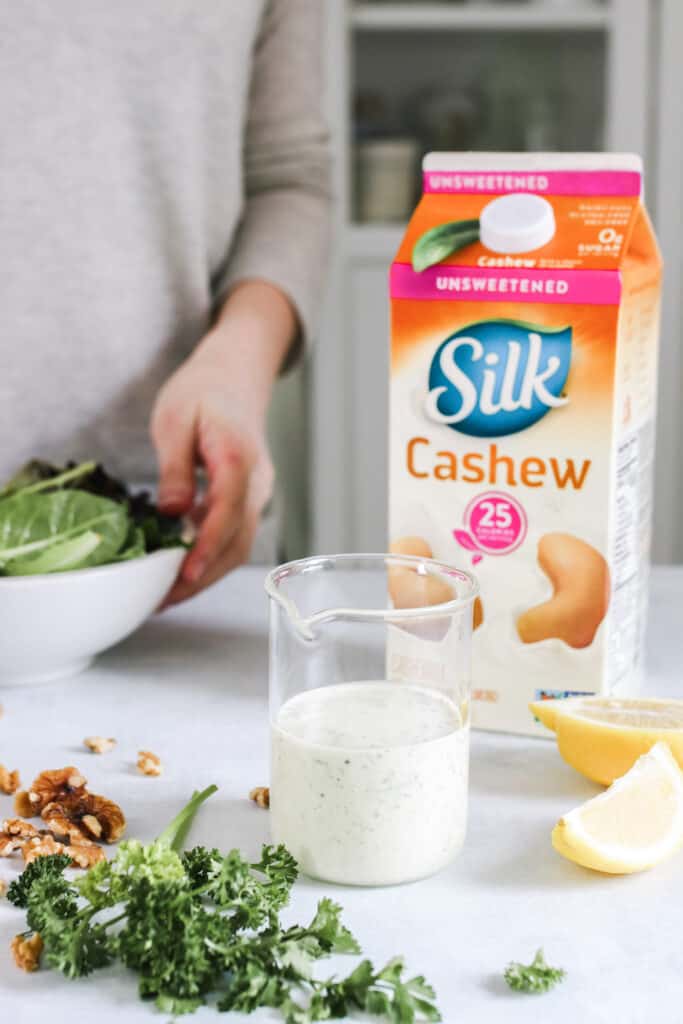 For the Dressing
1 cup soaked walnuts (can substitute soaked cashews instead)
2 teaspoons apple cider vinegar
1 teaspoon onion powder
1 teaspoon garlic powder
½ teaspoon salt
1/4 cup fresh parsley
1 Tablespoon dill
2 Tablespoons green onions
1/2 lemon, juiced
Combine all ingredients in a blender or food processor and puree until smooth.
For the Salad
2 cups mixed baby greens
1/2 zucchini, cut into small matchsticks
2 Tablespoons pepitas, roasted
1-ounce shaved parmesan cheese, optional
Layer the salad ingredients in a bowl and finish with a drizzle of salad dressing.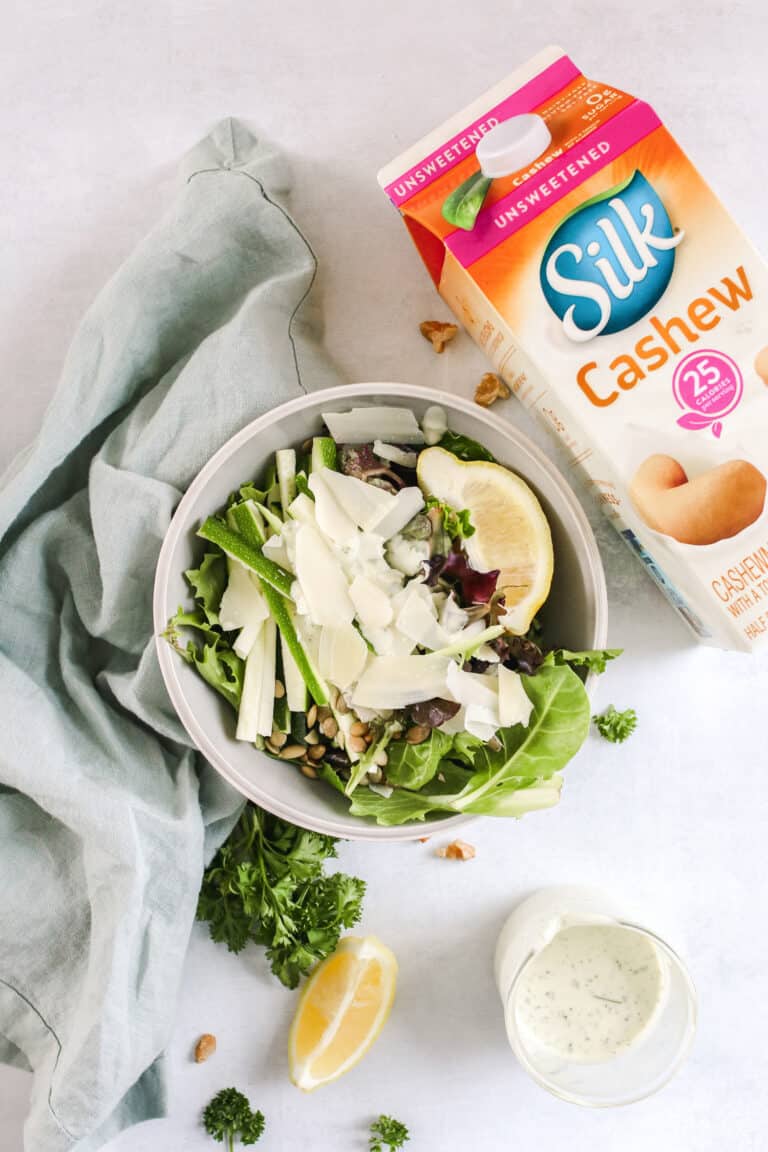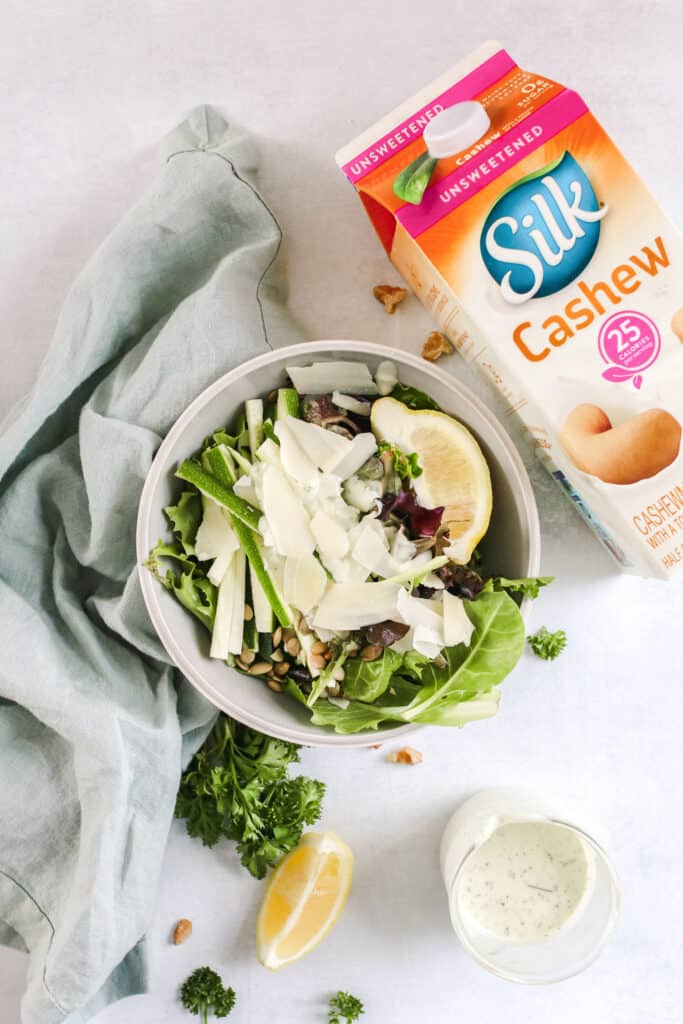 23