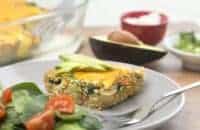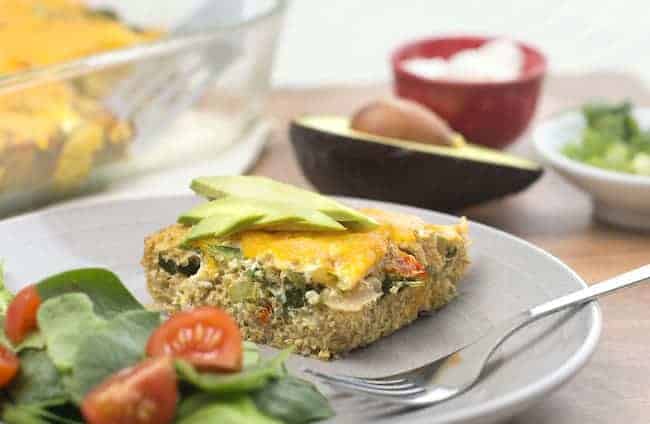 Southwestern Quinoa Egg Bake
Yield 9 pieces
Egg bake gets a protein boost from quinoa—and some spice from cumin and chili powder. Garnish with avocado, plain Greek yogurt or salsa.
Ingredients
For egg bake:
1 tbsp + 1 tsp olive oil, butter or buttery spread like I Can't Believe It's Not Butter
1 1/2 cups cooked quinoa (warm, or cooled leftovers)
1 1/2 cups chopped kale
1 cup chopped bell peppers (any color)
1/2 cup fresh or frozen corn
1/2 cup chopped onion
1 clove garlic, chopped
1/2 jalapeño pepper, chopped (optional)
6 eggs
1 tbsp milk or unsweetened plain nondairy milk (optional)
1 tsp chili powder
2 tsp cumin
1/2 tsp black pepper
1/4 tsp salt
1/3 cup cheddar cheese or queso fresco
For garnish:
Avocado slices
Chopped green onions
Plain Greek yogurt
Salsa and/or hot sauce
Sprigs of cilantro
Instructions
Preheat oven to 350°.
Grease 8"x8" baking dish with 1 tsp oil, buttery spread or butter. Place quinoa evenly in bottom of dish. Set aside.
In large skillet, heat/melt remaining 1 tbsp of oil, butter or buttery spread.
Add onions, garlic and peppers to skillet and saute about 3 minutes, until just tender. Add in kale and cook another 2 to 3 minutes, just until kale starts to wilt. Set mixture aside.
In a large bowl, whisk eggs, salt and pepper, cumin and chili powder. Add in 1 tbsp milk or nondairy milk if desired.
Layer cooked vegetables on top of quinoa, then pour egg mixture over the vegetables. Some of the egg mixture will sink, but there should be a relatively even layer on the top.
If desired, layer cheese on top of egg mixture.
Bake 30-35 minutes, checking after 20. When cooked through, eggs should be solid.
Cool 2 to 3 minutes before slicing. Edges will pull back from pan after the bake cools.
Serve immediately, or package in foil or containers for later. Can be refrigerated up to 5 days.
Courses Casserole
Cuisine American
Recipe by Hello Glow at https://helloglow.co/make-ahead-meal-southwestern-quinoa-egg-bake/