Pancakes can seem more like a weekend kind of breakfast – maybe too involved for a busy weekday morning. Putting together a make-ahead pancake mix makes it so much faster, easier and healthier.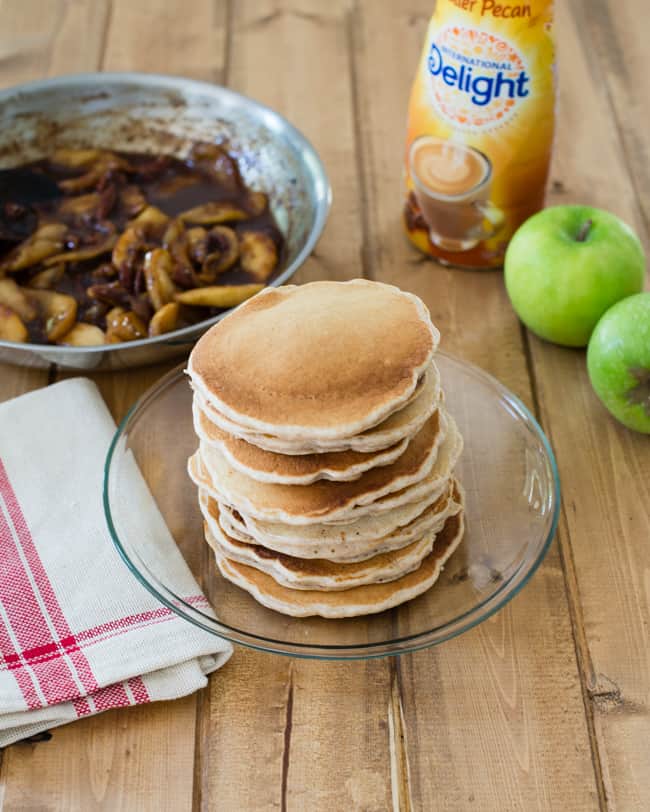 Apple Butter Pecan Pancakes
The premade mix uses mostly whole wheat flour to make the pancakes extra hearty and filling, plus it adds extra fiber and other nutrients. An Apple Butter Pecan Topping is just the thing to add some fall flair.
Bonus: if you reuse an International Delight coffee cream bottle, you can mix and pour from the same container. Simply add all your ingredients to the container and give it a good shake so that lumps dissolve and the batter looks smooth. Then use the bottle as a batter dispenser – it's that easy!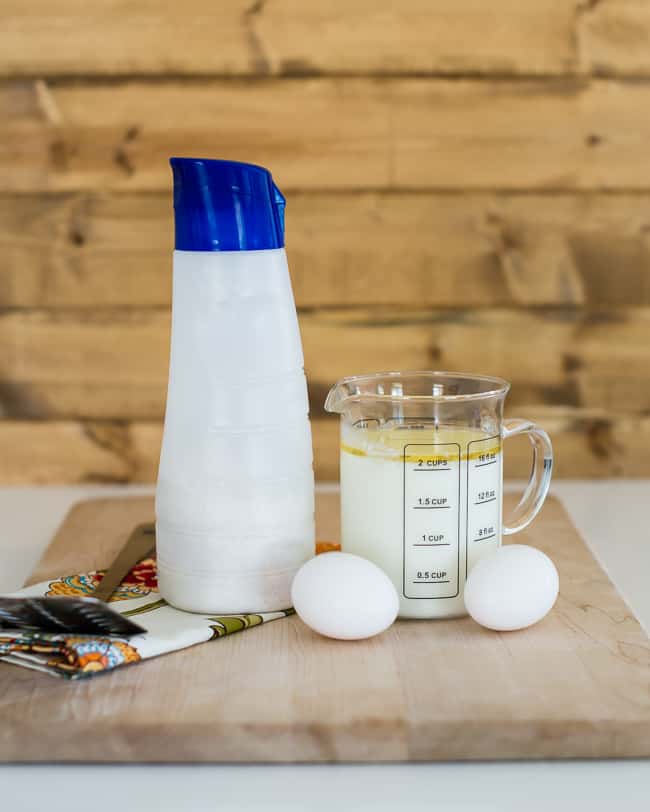 Make Ahead Whole Wheat Pancake Mix
Ingredients:
1 cup whole wheat flour
1/2 cup all-purpose flour
2 teaspoons cane sugar
1 1/2 teaspoons baking powder
1/2 teaspoon salt
To mix up:
2 cups milk
1 large egg
2 tablespoons oil or melted butter
Instructions:
Have a clean, dry 32-ounce coffee creamer bottle ready.
Whisk or sift together the dry ingredients. Use a funnel to place the dry ingredients into the bottle. Store in a cool, dry place until ready to use.
To make pancakes – preheat a non-stick griddle. Whisk together milk, oil, and egg. Pour about half of the mixture into the bottle and place the lid on top and gently shake a few times. Open and add the remaining liquid. Shake vigorously for 30-60 seconds. (If there are any spots that aren't mixing up, you can stick the end of a wooden spoon into the bottle to break it up.) The batter should be pretty smooth with a few remaining lumps. If it's too lumpy, shake for another 30 seconds.
Working in batches, pour batter out onto griddle in 4-inch rounds. Let cook for a few minutes. When the edges look cooked and the top is full of bubbles, it's time to turn them. Let cook on the other side until cooked through, a few more minutes. Repeat with remaining batter. Keep warm until ready to serve.
Yield: 8-10 pancakes, 4 servings
Prep time: 15 minutes
Cook time: 20 minutes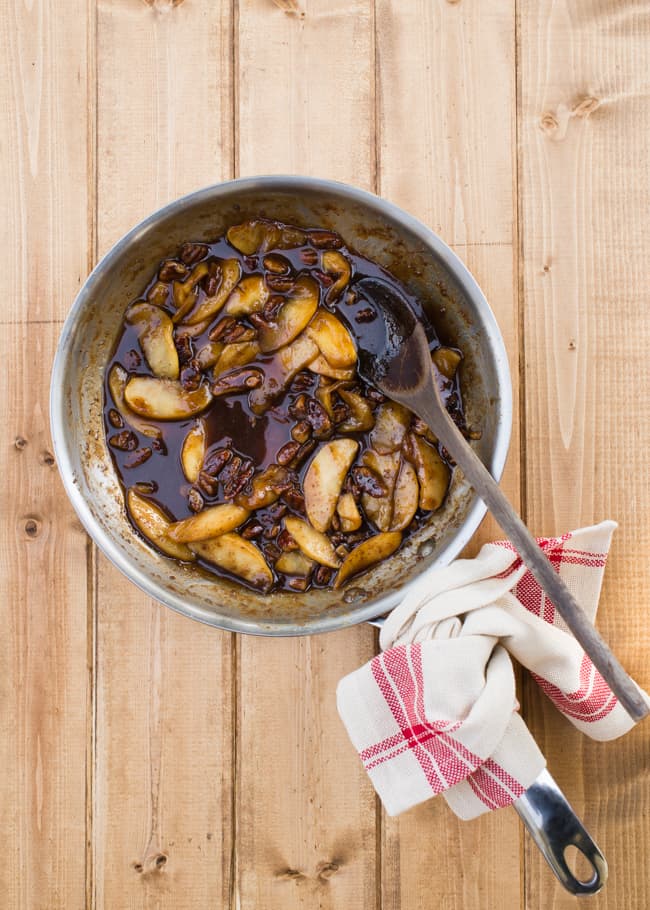 Apple Butter Pecan Pancake Topping
Ingredients:
2 Tablespoons butter
1/2 cup chopped pecans
1/2 cup cane sugar
3 medium apples, peeled, cored and sliced
1/4 cup International Delight Southern Butter Pecan coffee creamer
1 teaspoon vanilla extract
1/2 teaspoon ground cinnamon
Instructions:
Heat a large skillet over medium-high heat. Add the butter and let it melt. Next add the pecans. Cook, stirring constantly, until the nuts are toasted and have absorbed about half of the butter. Add the sugar and let it melt, then add the apples. Cook, stirring occasionally, until apples soften and start to release their juices and the liquid becomes syrupy and thick. Add the creamer, vanilla and ground cinnamon. Simmer on low for a few more minutes. Turn off heat, but keep warm until ready to serve.
Yield: 4-6 servings
Prep time: 15 minutes
Cook time: 25 minutes
This is a sponsored conversation written by me on behalf of International Delight. The opinions and text are all mine.
0