For as long as I've been cooking, I've also been a vegetarian, so meatless cooking is second nature to me. One of my favorite ways to switch up our meals is to take recipes made with meat and turn them into something vegetarian. It's easy to get in a rut–no matter what your diet is!–and this is something that helps me break out of that pasta-meal bowl-stir fry rotation.
The other reason why it's handy to know how to make any recipe vegetarian is that it allows you to recreate your favorite dishes from before you stopped eating meat. Even though I've been a vegetarian since I was 12, there are still certain foods I'm nostalgic for–some of my mom's hamburger/canned soup/cheese-based casseroles (I'm a Midwesterner through and through!) and my grandma's chicken noodle soup are two that come to mind.
I've broken down some of my go-to whole food meat substitutes below, along with how I use them and a few recipe ideas to give you some examples of them being used in place of meat.
1. Jackfruit
Jackfruit is everywhere lately. It's commonly used as a pork substitute–think pulled pork and carnitas–and despite being a fruit, it's actually a decent source of protein, calcium, and iron. When ripe, jackfruit is sweet, but it's starchy unripe jackfruit that can be used as a meat substitute thanks to its neutral flavor and stringy texture.
You can buy fresh jackfruit from Asian markets and even some mainstream grocery stores; it's also fairly easy to find canned. But my favorite source is Upton's Naturals. You can purchase it plain to use ounce-for-ounce as a meat substitute in recipes (or without a recipe at all–we usually just heat it in a skillet with a good barbecue sauce in our house) or buy one of their flavored varieties.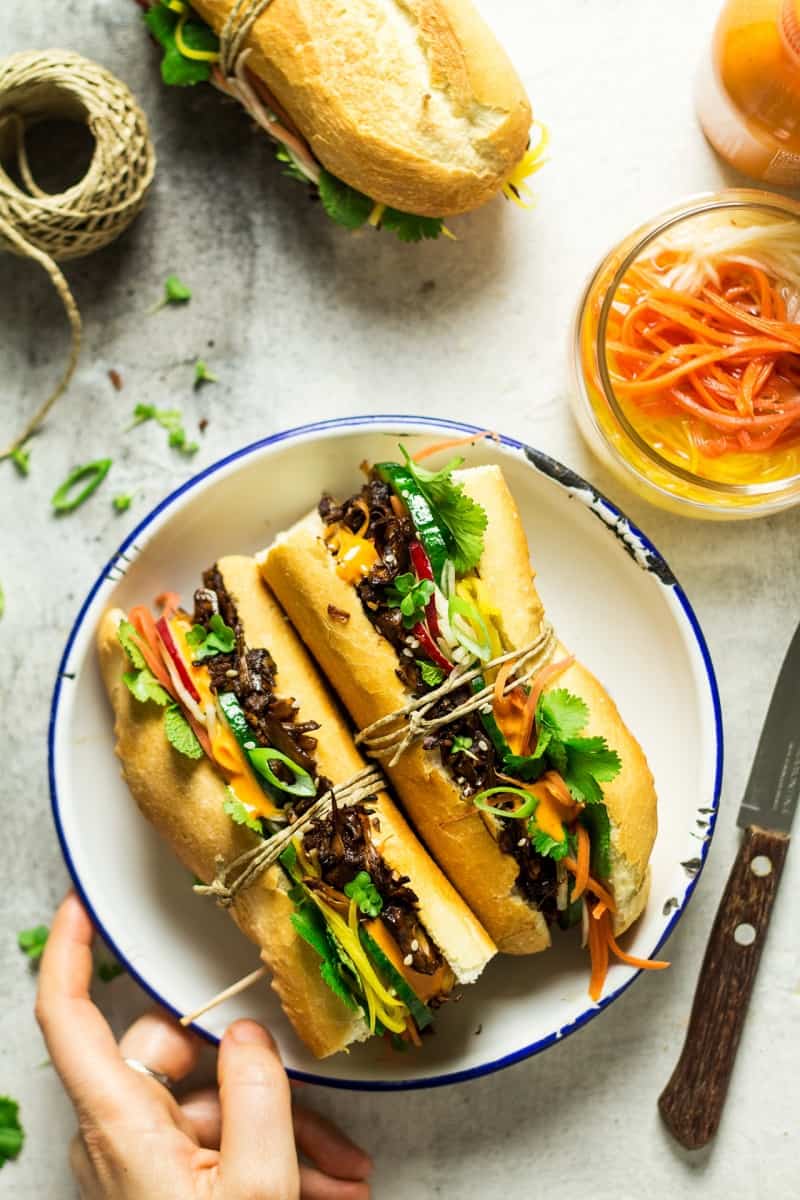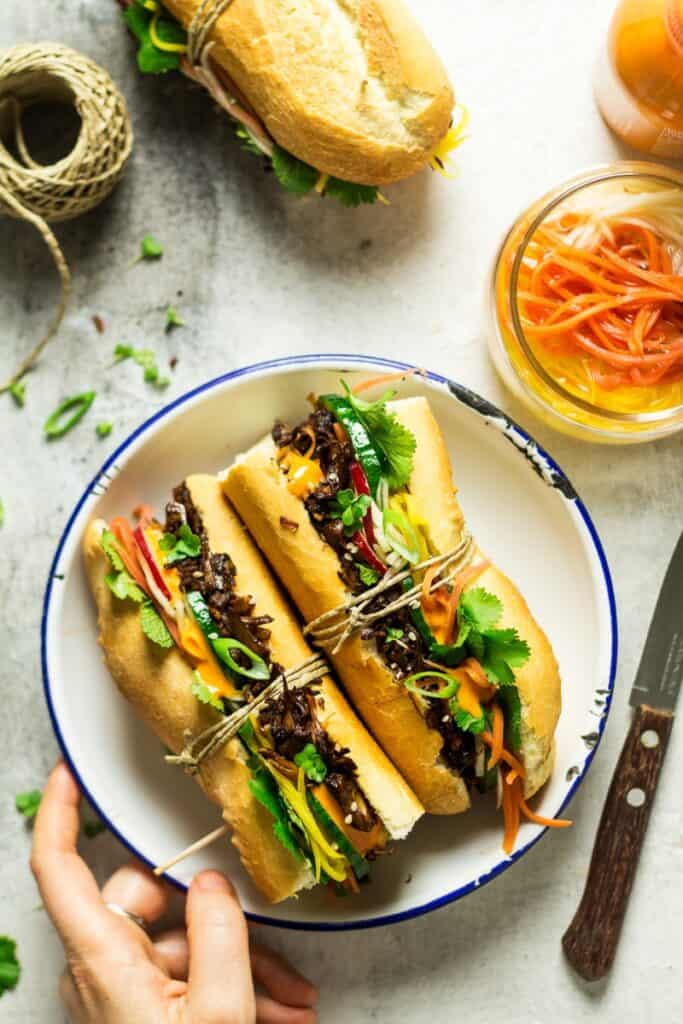 5 Recipes That Swap Jackfruit for Meat:
Vegan Pulled Pork Banh Mi from Lazy Cat Kitchen (pictured)
Maple Buffalo Pulled Jackfruit Sandwiches from Connoisseurus Veg
Vegan Taquitos with Jackfruit and Salsa Verde from My Darling Vegan
Vegan Jackfruit & Mushroom Gyros with Tzatziki from I Love Vegan
2. Mushrooms
Portobello mushrooms are constantly compared to steak; sliced into strips, they make a great substitute for beef in a stir fry or fajitas.
But beyond that, mushrooms are one of my favorite meat substitutes–I coarsely chop portobellos, cremini, or even plain white mushrooms in my food processor to make a quick substitute for ground beef. It'll cook down significantly, so I usually use double the amount of mushrooms to meat.
Alternatively, combining the mushrooms with cooked lentils and chopping those in the food processor, then browning in a tablespoon or two of olive oil, yields one of my go-to ground beef substitutes for making meatballs.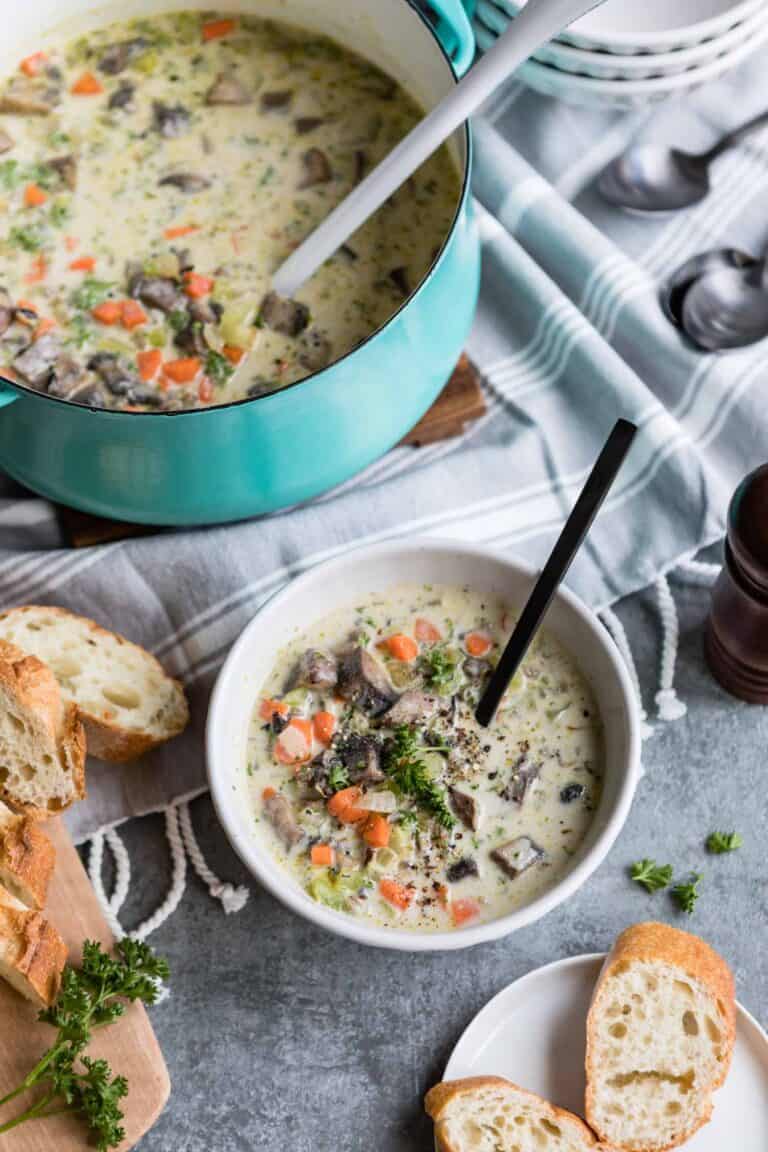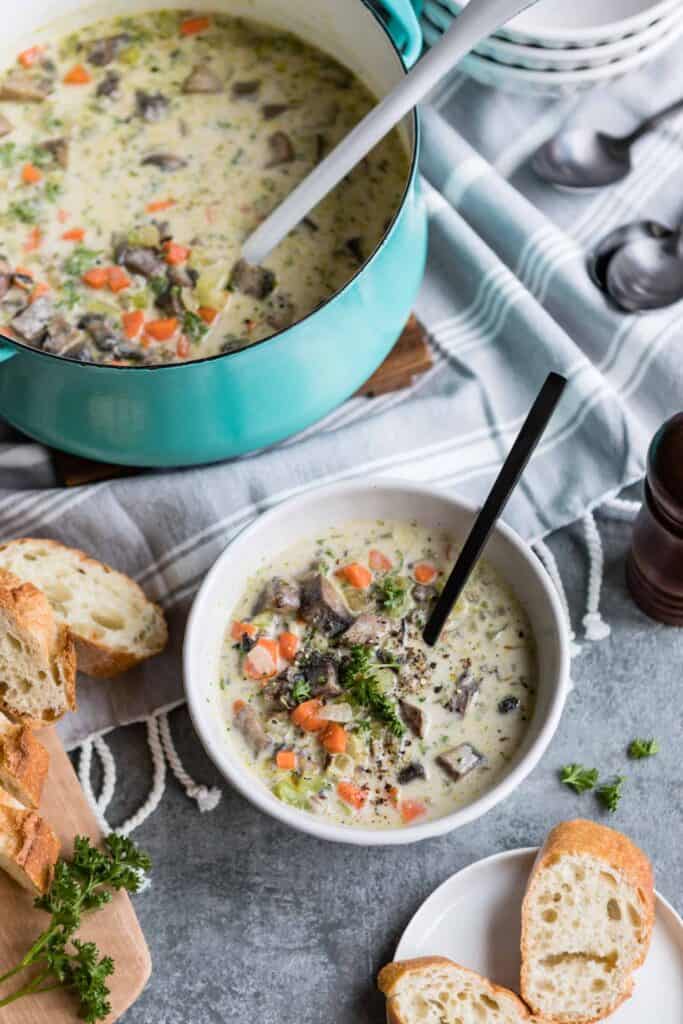 5 Recipes That Swap Mushrooms for Meat:
Creamy Wild Rice and Portobello Soup from Hello Veggie (pictured)
Blackened King Oyster Mushroom Scallops & Grits with Greens from Connoisseurus Veg
Vegan Pulled Mushroom Tacos from Lazy Cat Kitchen
Weeknight Mushroom Stroganoff from Pickles & Honey
Simple Savory Mushroom Burgers from Spabettie
3. Lentils + Beans
Cooked brown lentils are a really terrific substitute for ground beef–either combined with mushrooms (see above) or coarsely chopped in a food processor. If you're not looking to replicate the texture of ground beef, you can even use whole lentils.
If you're just looking for something to swap in for the meat to replace the protein in a dish–i.e., you're not too worried about replicating the taste or texture of meat–beans are a good choice. Chickpeas are great in chicken noodle soup, black beans and kidney beans are a natural in chili, and white beans go well with pasta dishes.
Of course, you'll need to cook them differently–beans in a chili will go in with the liquid rather than being browned at the beginning of cooking, for example.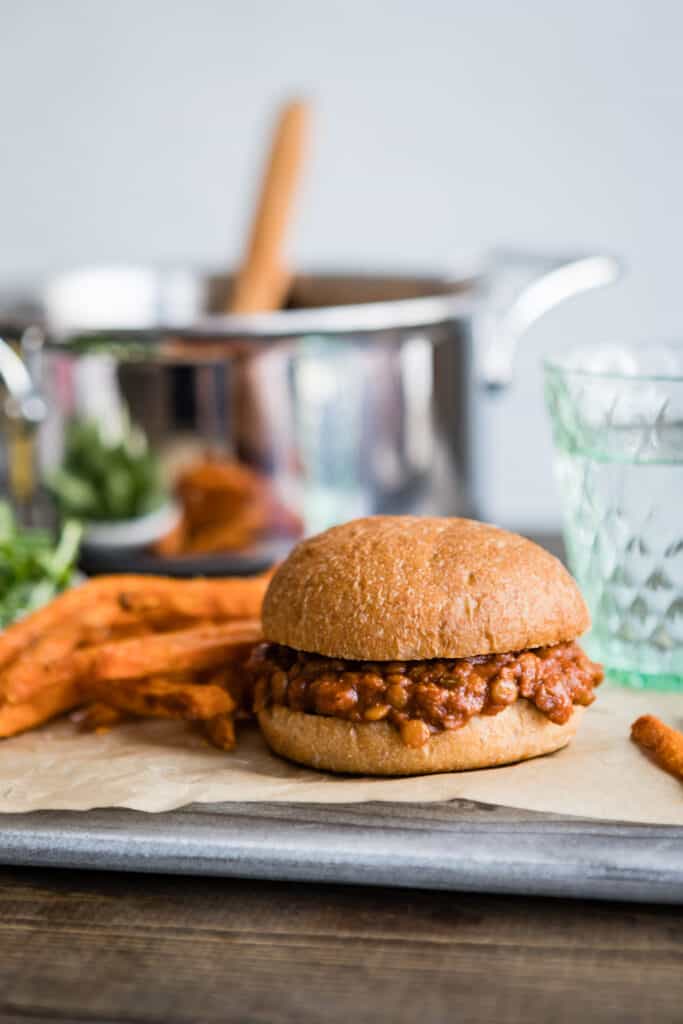 5 Recipes That Swap Legumes for Meat:
Lentil Sloppy Joes from Hello Nest (pictured)
Quick Chickpea Stir Fry from Hello Nest
Chickpea Cucumber Salad from Hello Glow
Lentil Walnut Vegan Taco Salad from Connoisseurus Veg
Blackberry Vegan Chickpea Salad Sandwich with Basil from Food Faith Fitness
4. Tempeh
Tempeh is a total champ when it comes to meat substitutes. When crumbled, it is the best substitute for ground beef–swap it into a recipe ounce-for-ounce. Because it doesn't have much natural fat, you'll have to add some to brown it.
While it doesn't taste like beef, the texture is a fantastic substitute and unlike the mushroom/lentil mixture described above (which I do love!), it will work in virtually any recipe that calls for ground beef.
I also use sliced or cubed tempeh in place of chicken in stir fries, curries, and Indian dishes. Again, use it ounce-for-ounce and add some oil. Tempeh bacon is also a thing! You can make your own or buy it.
Note that it's not really great for recipes, though–it tends to crumble, so while it's good in a sandwich, if you're stirring it into something, it's going to break apart. While it has the smoky flavor of bacon, the texture is different.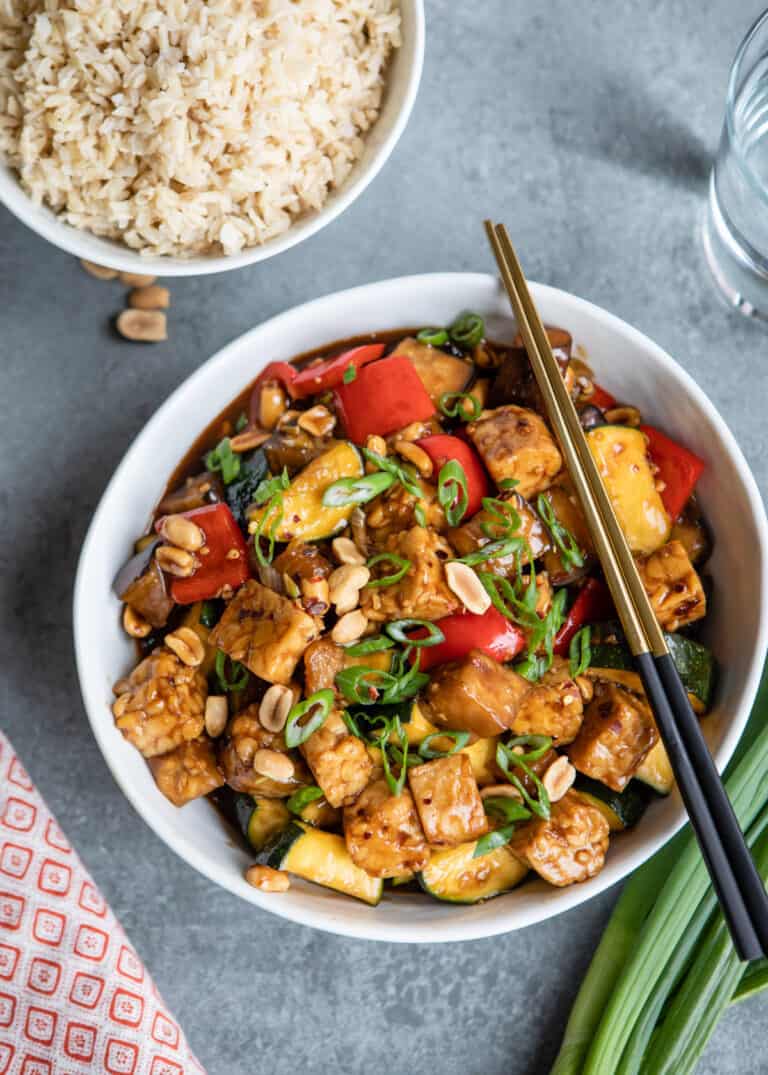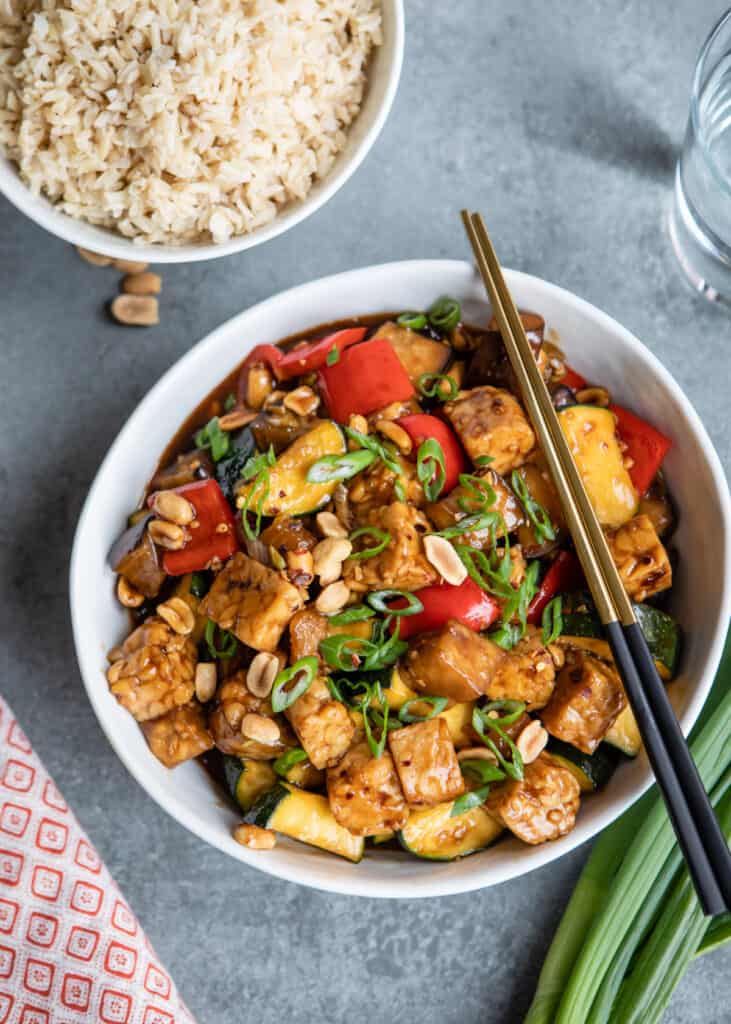 5 Recipes That Swap Tempeh for Meat:
Kung Pao Tempeh from Hello Nest (pictured)
Tempeh Chili from Connoisseurus Veg
Smoked & Grilled Tempeh Bacon from Full of Plants
Al Pastor Tempeh with Cilantro Lime Cauliflower Rice from Well Vegan
Vegan Tempeh Tuna Salad from My Darling Vegan
5. Tofu
I use tofu as an ounce-for-ounce meat substitute in a variety of recipes; although it's good for soaking up sauces, it's really not a great substitute for texture or taste, but it's a simple protein swap that works in a variety of dishes.
Cubed extra-firm tofu can be swapped in for chicken in soups; it's naturally great in stir-fries and curries, and I've even crumbled it and used it as a swap for ground beef a few times. (Read my guide to cooking with tofu.)
Cut into slabs, tofu can be breaded and fried like chicken; cut even thinner, you can make it into a chewy vegan jerky.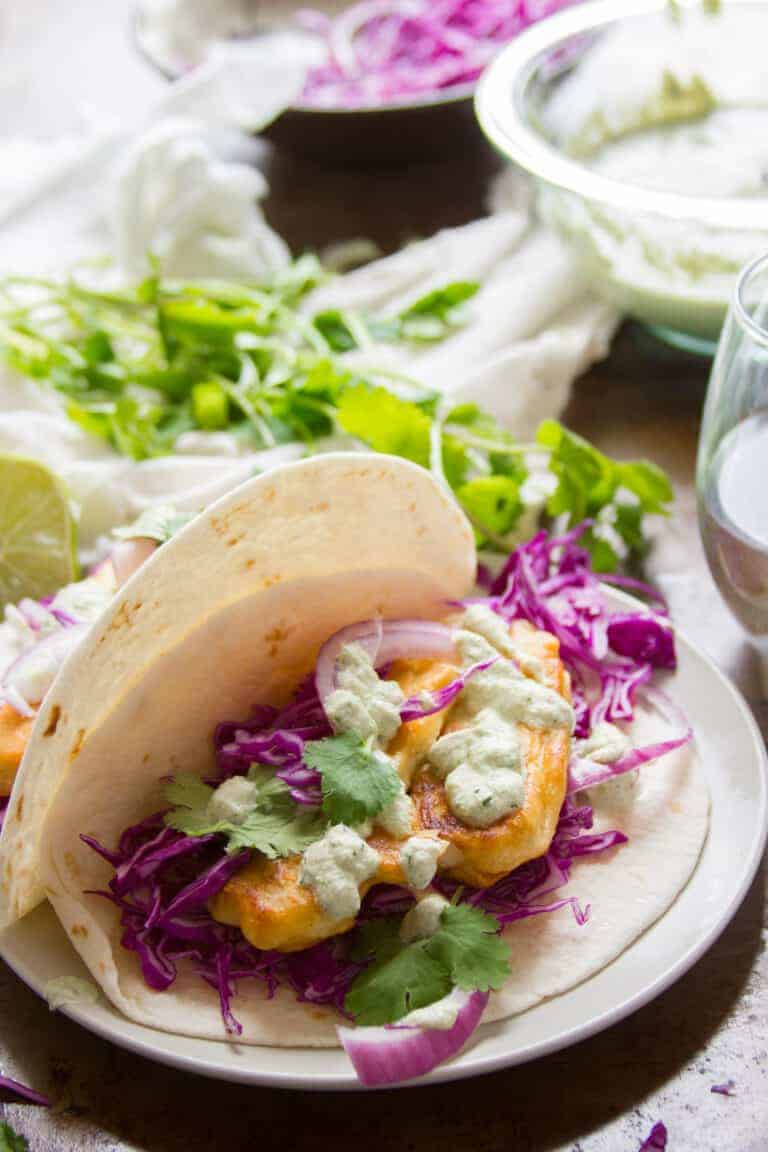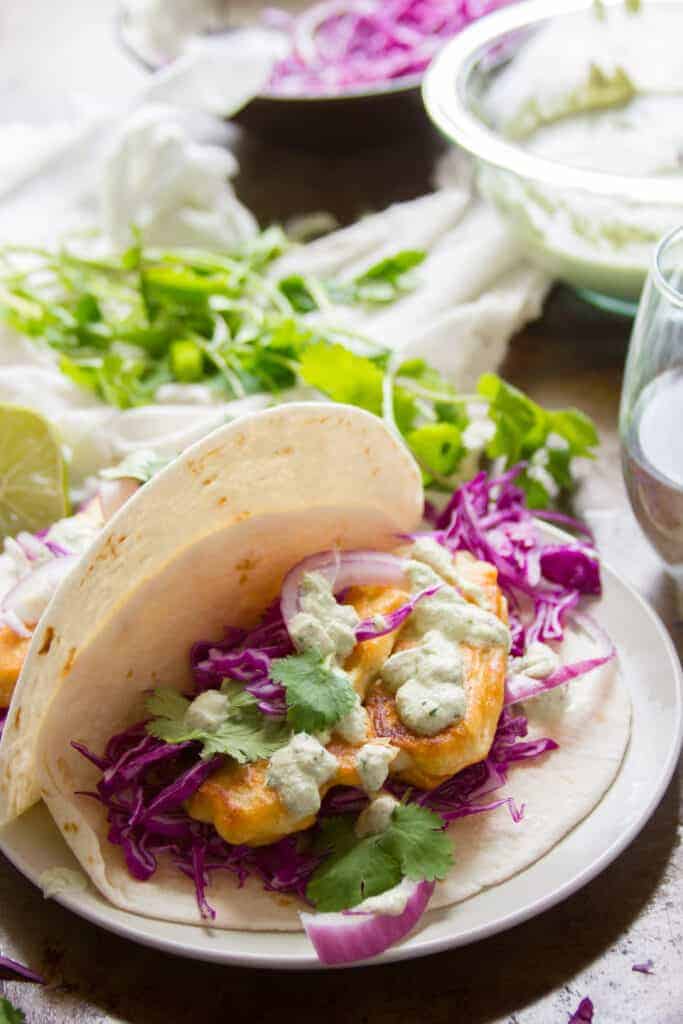 5 Recipes That Swap Tofu for Meat:
Crispy Beer-Battered Tofu Tacos from Hello Glow (pictured)
Smoky Tofu, Lettuce, and Tomato Sandwiches from Kitchen Treaty
Crispy Baked Tofu Nuggets from Connoisseurus Veg
Easy Tofu Vegan Meatballs from Mindful Avocado
Vegan Fish Finger Sandwich from Lazy Cat Kitchen
6. Seitan
I think the fact that seitan is straight-up gluten–and so many people think gluten is inherently bad–makes it less popular as a meat substitute. But don't overlook it! It's really one of my favorite swaps for meat, particularly chicken.
I use it ounce-for-ounce in soups, stir fries, and even things like (not) chicken cacciatore and General Tso's (faux) chicken. It often comes broken up into small pieces, so there's no prep required–just dump the package into a skillet coated with oil, cook it until it's browned, and use it in a recipe. The chewy texture and umami flavor really make it stand out compared to other whole food meat subs.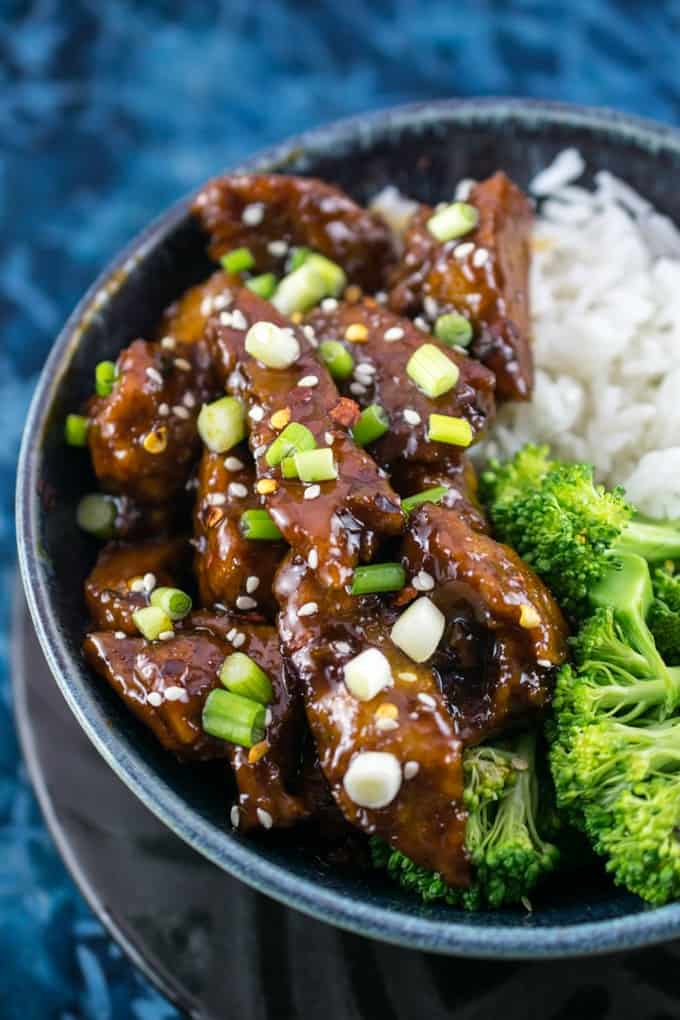 5 Recipes That Swap Seitan for Meat:
Mongolian Seitan from Yup, It's Vegan (pictured)
Vegan Seitan and Mushroom Reubens from Connoisseurus Veg
Vegan Thai Carb Lettuce Wraps from Delish Knowledge
Chicken-Style Seitan Cutlets from Pasta-Based
Loaded Vegan Chicken Noodle Soup from From My Bowl
7. Vegetarian Meats
Is it totally cheating to just go out and buy a meat substitute? Perhaps. But when a recipe calls for sausage, for example, picking up a package from the store is a lot easier than making it yourself.
In general, I'm not a big fan of store-bought meat substitutes–many of them are made with ingredients I try to avoid, like highly processed soy, and I'm also not into things that are supposed to taste exactly like the real thing. It kind of grosses me out. But I'm a huge fan of vegetarian sausage–I'll always stan for Field Roast and Upton's Italian Seitan is so good to replicate the taste of sausage on a pizza.
Store-bought bacons are quite good too–again, Upton's makes a great one, and Lightlife tempeh bacon is delicious too, although texturally quite different. If you're using the bacon in a recipe, I suggest going with Upton's because tempeh bacon is likely to crumble.
5