How nice would it be to receive a lovely peppermint- or cinnamon-scented holiday card in the mail? (Answer: very nice, indeed) In recent years, I've received several handmade cards from friends made using hand-carved woodblock stamps (um, hello? What kind of magic is that?) This year I decided to try making stamped aromatherapy greeting cards to send to friends and family. I'm not a whizz with a hammer and chisel, so I infused stationary with essential oils and used veggie and fruit stamps instead of carved wooden blocks. All in all, I just love how they turned out–no chisel required.
DIY Aromatherapy Holiday Cards

Since you don't want to have to run out mid-way through your stamping project, start by gathering all your supplies.
Materials
blank cards and envelopes
acrylic craft paint
pieces of vegetables and fruit
water, for thinning paint
essential oils
resealable bags
cotton balls
How To Infuse Paper with Essential Oils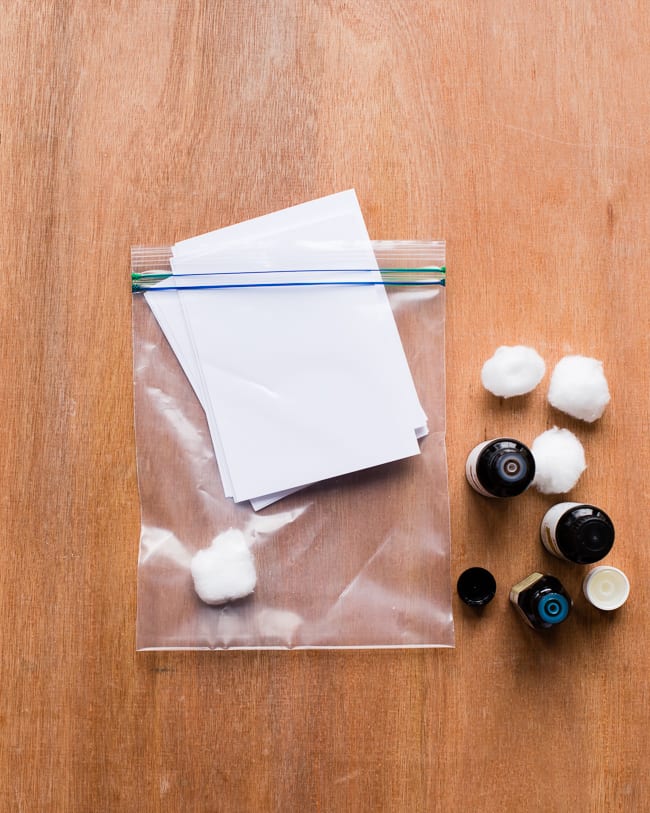 Place the cards into a large resealable plastic bag. Add a 10-15 drops of the desired essential oils to a cotton ball (make sure it's not wet enough to rub off on your paper and stain it) and place it into the bag. Seal tightly and let sit for one to two days. Remove the paper from the bag and give it a good sniff to see if it has absorbed the scent. If not, let sit for another couple of days. Remove from the bag and they are ready to be stamped.
I mixed and matched different essential oils – clove and frankincense, peppermint and balsam fir were two of my favorite blends. Other wintery oils that work well – citrus, juniper, and cinnamon. Use oils that you like or ones you already have on hand. Don't feel like you need to rush out and buy scents specifically for this project.
HOW TO MAKE VEGGIE + FRUIT STAMPS
I'll be honest, I've never been great at carving potato stamps, so I decided to go a different route for these cards. The cut-end of a bunch of celery looks like a rose. I used pineapple to make a Christmas tree. The orange worked well for a wreath. In effect, I let the fruits and veggies tell me what they want to be.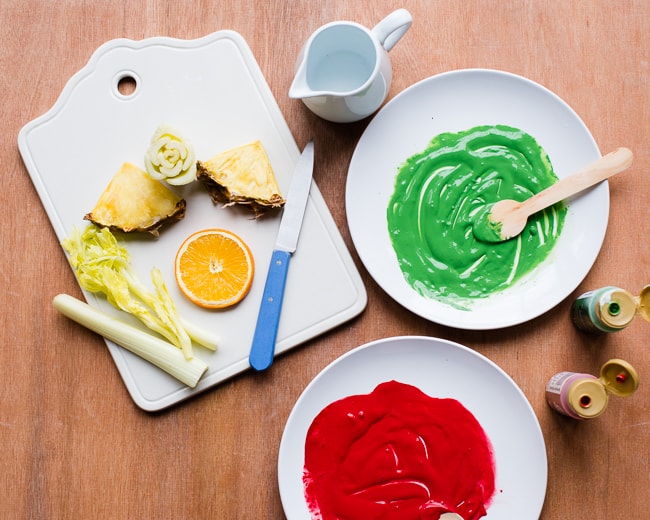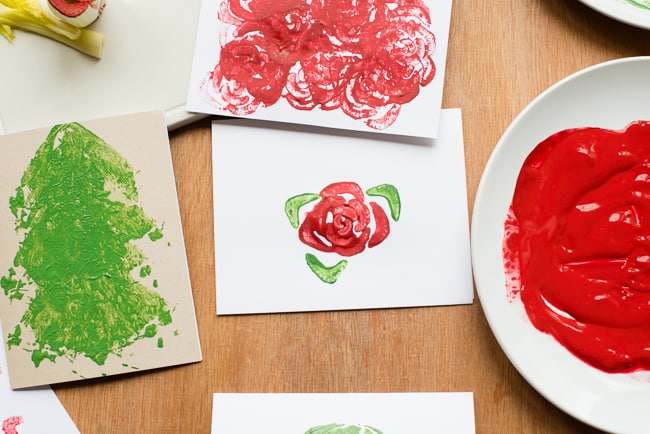 Quick tips – let the cut fruit and veggies sit out for a bit to dry out on the surface. When I didn't do that, the natural fruit juices made the paint a little too watery and the stamp smeared. Also, it's best to have a piece of scratch paper on hand to stamp a few times to remove excess paint before stamping the cards.
Let the cards dry completely. To add extra details like snow, tree trunk, and candy cane stripes, I used white and brown Sharpies.
And that's it!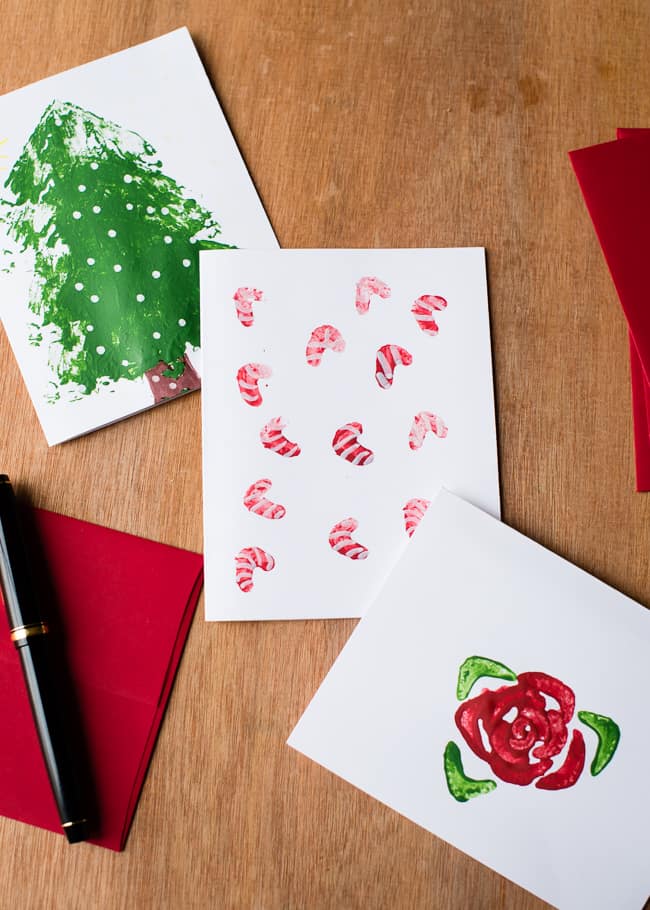 They were really fun to make. And I'm already thinking about other fruits and veggies I can use. Besides the infusing and drying time, it took me about 15 minutes to create some fun new aromatherapy cards to send for the holidays.
2