Happy Monday! How was your weekend? I survived my 7 solo days with the kiddos –  we actually had a really good time going to the park,  hanging out at the pool and seeing Cousin Sofia. I'm exhausted for sure. And super glad Mark is home. And truly thankful that camp starts today.
My one accomplishment last week during a few hours of babysitting? I shopped for new bras and organized my underwear drawer. I figured it was time to pack up the nursing bras since I weaned Henry, oh, two months ago.  :)
My unmentionables drawer was in serious bad shape. Is this photo a dramatic recreation or the scary honest truth? You decide.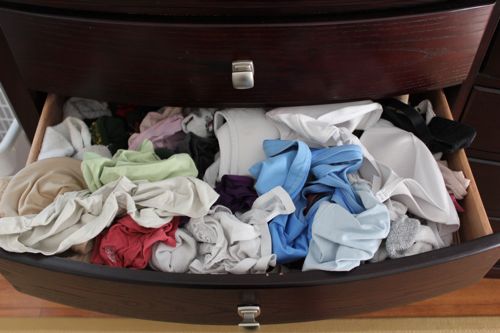 I blame my therapist. After Henry was born I visited a post-partum therapist a couple of times,  and she urged me to let go of some of my perfectionism. Her advice:  "You're not still folding your underwear,  are you?"
And given permission,  I stopped folding and started shoving. But digging through a mess first thing everyday was getting me down. As was putting on less-than-supportive nursing bras. Why in the world did I own 10 of them?
It was time to figure out how to organize your underwear drawer. I bought a simple set of containers similar to these. Mine were purple. This was a less annoying option than this where every panty and bra has a separate container.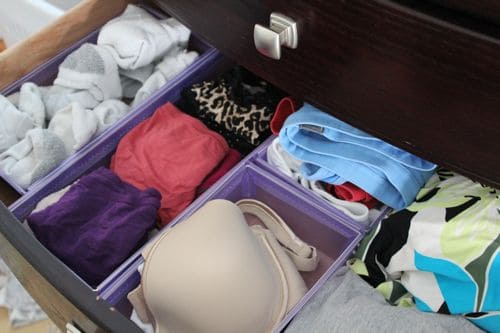 Isn't this spectacular? (Sorry for the close up.) Boy did it feel good to pitch the ugly stuff. And since I now own some not-fancy-but-still-fabulous new bras, here are my 5 bra-buying tips:
Get a bra fitting. I first got measured after Oprah preached this and found it life changing. My size has varied so much with pregnancy,  breast feeding,  and weaning that it was time for an update. Don't be embarrassed;  you don't even have to strip down.
Chat up the saleslady. Ask her what styles are most popular,  most comfortable,  most affordable,  etc. With a gazillion different bras,  they can help you quickly sort through the endless rows.  Plus,  you'll get great stories (like the one mine told me about the woman who tucked her boobs into her pants!).
Try on a ton of bras. This is tedious,  but you'll narrow down what works and feels best on you. I discovered that I'm a fan of nude colors,  underwire,  and light padding.
Find cheaper options. Bras are expensive! Now that I know my size and what I like,  it's easier to shop places like TJ Maxx or Target or stock up during sales.
And don't buy a bunch of new bras when you're 4 months pregnant. I made this mistake when pregnant with Caroline –  not realizing the girls would just keep getting bigger!
As for underwear,  my advice is simple:  Don't buy your panties at Costco. Ugh. I love that store but,  man,  is that unsexy or what? Every time I put them on I thought of warehouse grocery shopping –  not a good association. I like Target's Gilligan &  O'Malley. Fun colors,  really comfortable,  great price. Plus they make nursing tanks that were hands down my best baby purchase.
Where do you guys shop? Any affordable store or brand recommendations?
6