Facial mists can nourish your skin and address multiple issues – working double and triple duty most of the time. They should be a part of your twice-daily beauty routine but can be used more often any time of day. Since it can become costly to reach for that retail-sized bottle again and again, we've put together a few simple and effective facial mist recipes for different skin needs. Read on to get the recipes!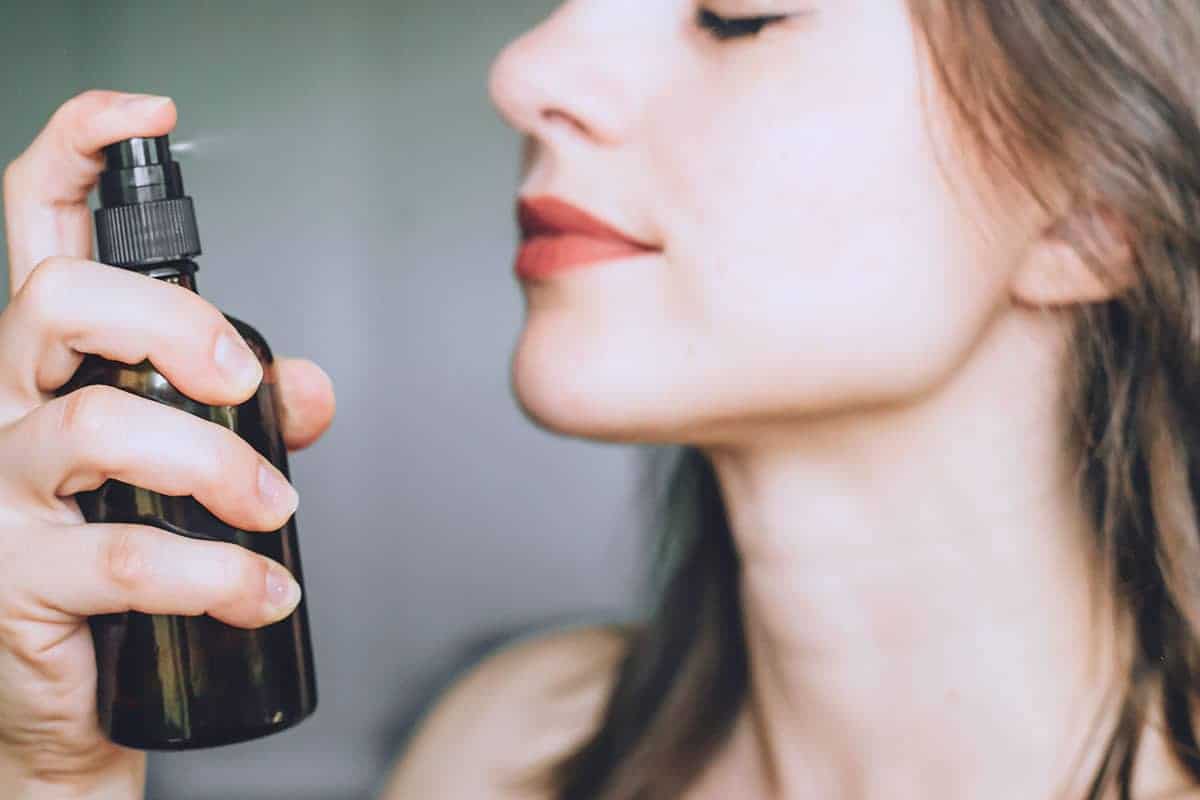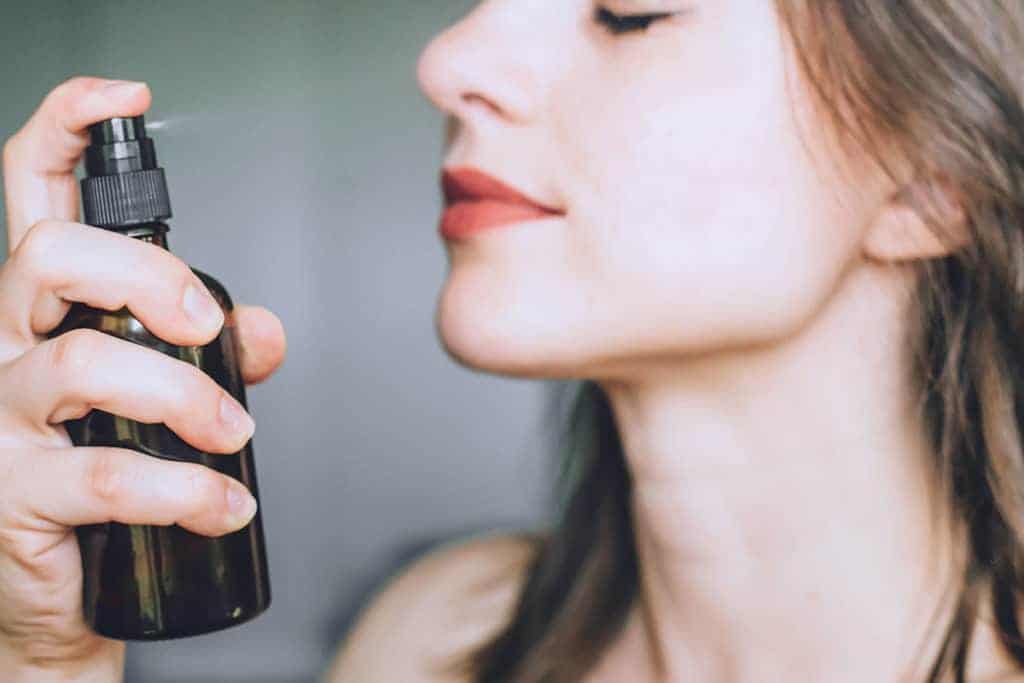 5 Ways to Make a Homemade Face Mist
My skincare routine only changes slightly in the summer months—my heavy winter moisturizer gets swapped out for something lighter and I break out my bottles of face mist, one of my favorite skincare multi-taskers. Face mists are amazing because:
If you're ready to add a few face mists to your arsenal, I've rounded up some of my favorites below.
Balancing Facial Mist
Often cleansers are alkaline to soften the skin and help dissolve makeup. This can wreak havoc on your skin and damage the precious skin barrier, which usually has a pH of approximately 5.5. When you make your own facial mist, you can help rebalance this problem by introducing slightly acidic properties back into the skin.
Add raw ACV to the bottle and fill remainder with distilled water. Refrigerate and shake before each use. Feel free to add a couple drops of your favorite high quality essential oil.
Anti-Aging Facial Mist
Adding vitamin C to your morning beauty lineup is a wonderful defense against damaging free radicals. This facial mist fights sun damage and pollution simultaneously.
Bring six ounces of water to boil, turn off heat, and add three organic hibiscus tea bags. Steep covered for 20 minutes.
Remove tea bags and add one ounce of alcohol-free witch hazel and 1/2 teaspoon of vitamin C powder. Transfer to a small spray bottle.
Keep in a cool, dry spot and use within 2 weeks; refrigerate for a longer shelf life. Apply a bit to the neck to make sure you don't have any sensitivity, then use each morning after cleansing.
Toning Facial Mist for Oily Skin
Contrary to popular belief, all skin types need a toner. This mist addresses hydration for oily skin without clogging, and tightens pores thanks to the witch hazel.
Add a little less than 1/8 cup of witch hazel to glass bottle, leaving just enough room for the 1 teaspoon of aloe vera. Shake before each use to combine.
Facial Mist for Dehydrated/Sensitive Skin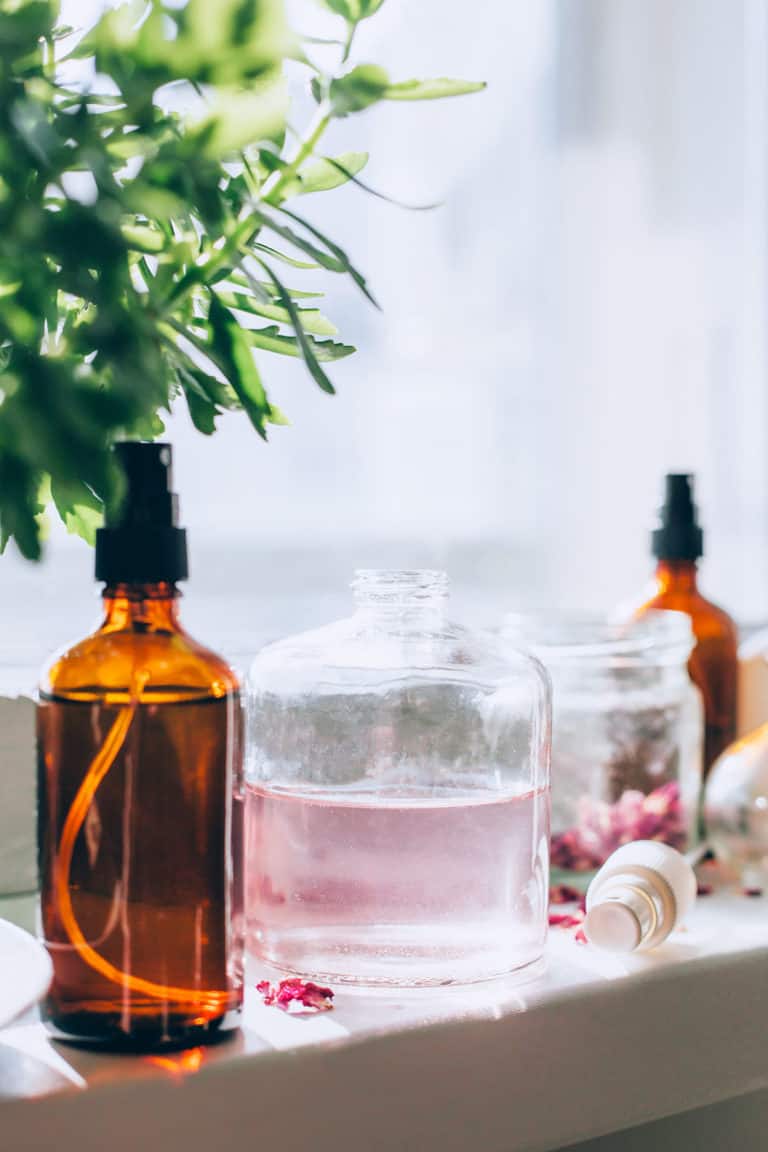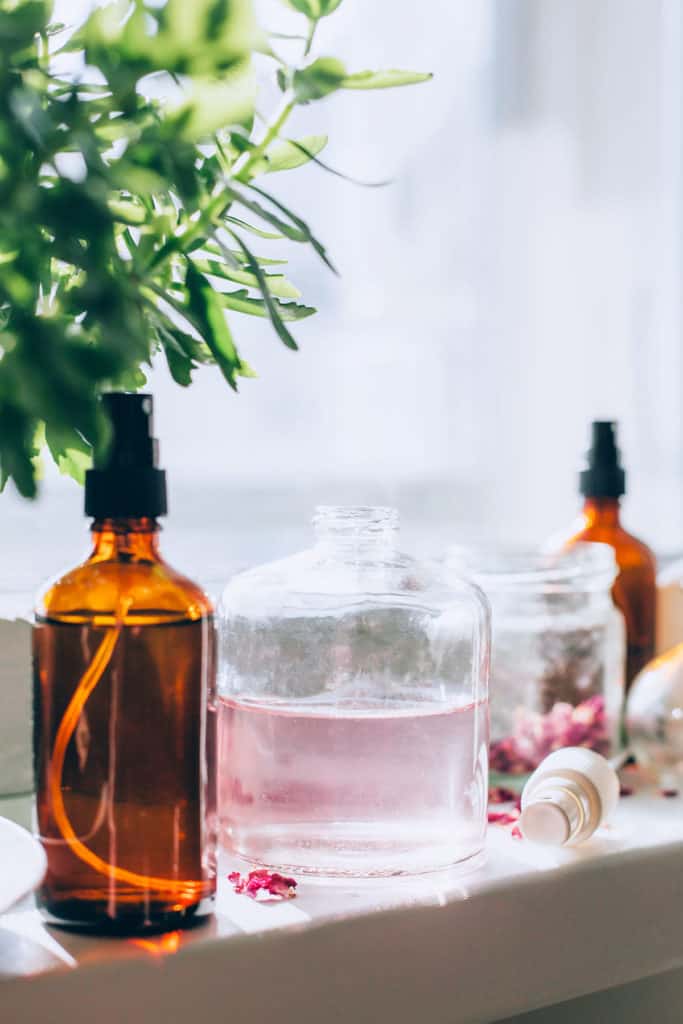 Rosewater both soothes and hydrates skin, making it ideal for dehydrated or dry skin types. The anti-inflammatory properties also help ease morning puffiness. For dry skin that is coupled with irritation or redness, add the optional chamomile essential oil to work double duty.
Remove the petals from your roses, separating them from the stem and shaking out any stamen that might have gotten caught up in the petals.
Place a brick, heavy bowl, or cup filled with kitchen weights in the bottom of your pan. Then place a wide mouth bowl on top of the brick or weighted bowl.
Add the petals to the pot around the bowl. Then pour 6 cups of distilled water around the sides of the bowl and lightly submerge the flower petals.
Place the lid on top of the pot, upside down, and pile a handful of ice cubes in the center of the upturned lid. Keep replenishing the ice as it melts.
Simmer on medium-low for 15-20 minutes until the petals begin to lose their color.
Remove the collection bowl from the pot with tongs and then, using a funnel or measuring cup, pour the collected rosewater into a jar with a lid.
This is an especially great facial infusion mist for traveling and boosting your skin when on the go.
Facial Mist for Every Skin Type
If you're unsure which mist is right for you, you can't go wrong with this green tea toner that is anti-inflammatory, acne fighting, and high in antioxidants. It is so simple to make!
Steep one tea bag in a cup of boiling water for 4-5 minutes. Remove tea bag and move cup to fridge for chilling. To increase hydration, add 2-3 drops vitamin E oil. Add chilled tea to glass spray bottle and store in fridge. Use twice daily after cleansing.
Not ready to DIY? Here are some of our natural mist favorites: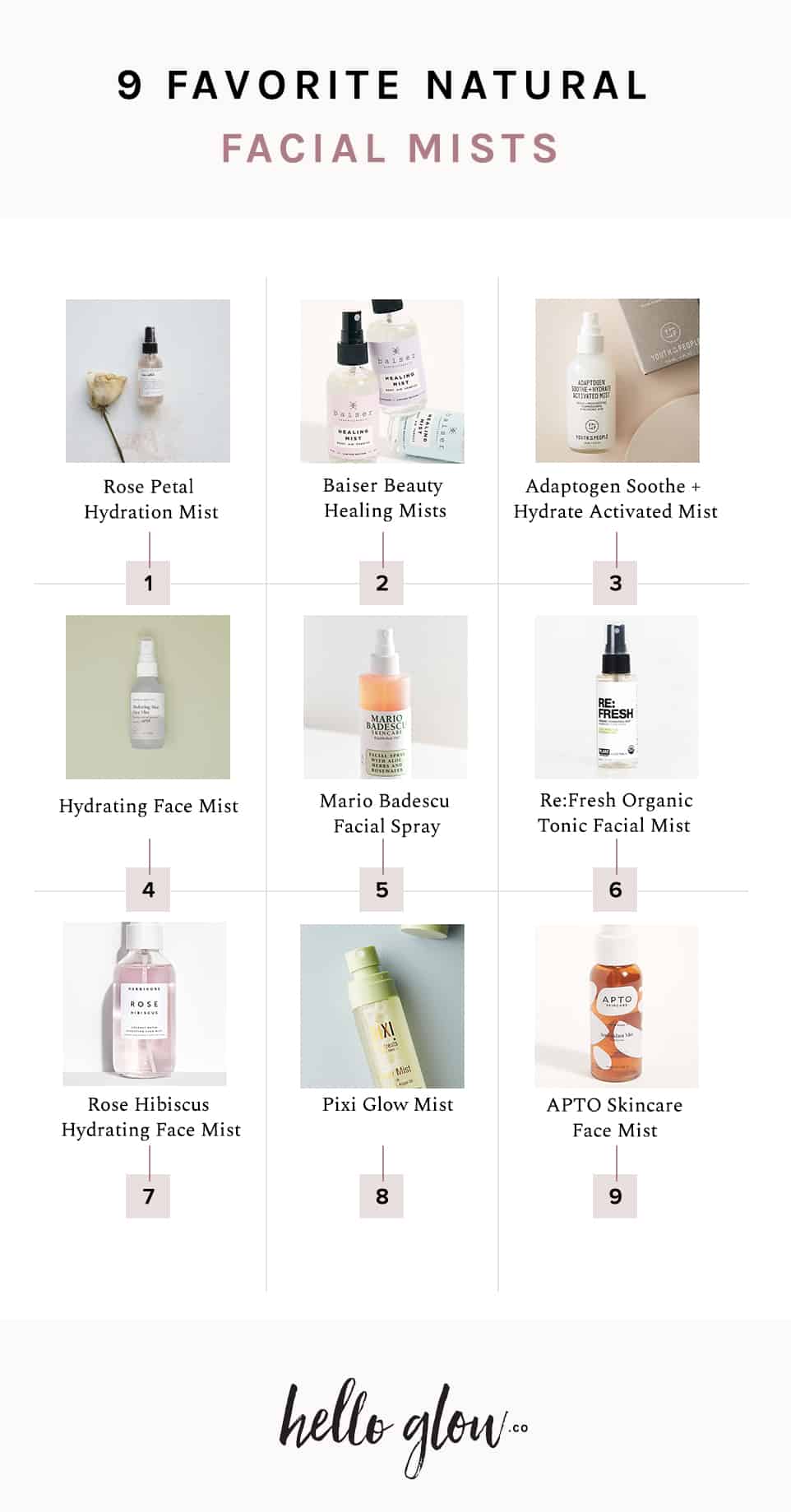 This post was medically reviewed by Dr. Jennifer Haley, a board-certified dermatologist with extensive experience in medical, cosmetic and surgical dermatology. Learn more about Hello Glow's medical review board here. As always, this is not personal medical advice and we recommend that you talk with your doctor.
713