Whether you have pets or like to cook a lot or just don't get around to taking out the trash as often as you should (hey! it happens!), sometimes our homes can start to smell a little bit…off. Luckily, there are lots of easy fixes for that. Like taking out the trash! And also: candles, diffusers, room sprays, and incense.
We've rounded up some of our favorite ways to make your home smell amazing—solutions you can buy and solutions you can DIY.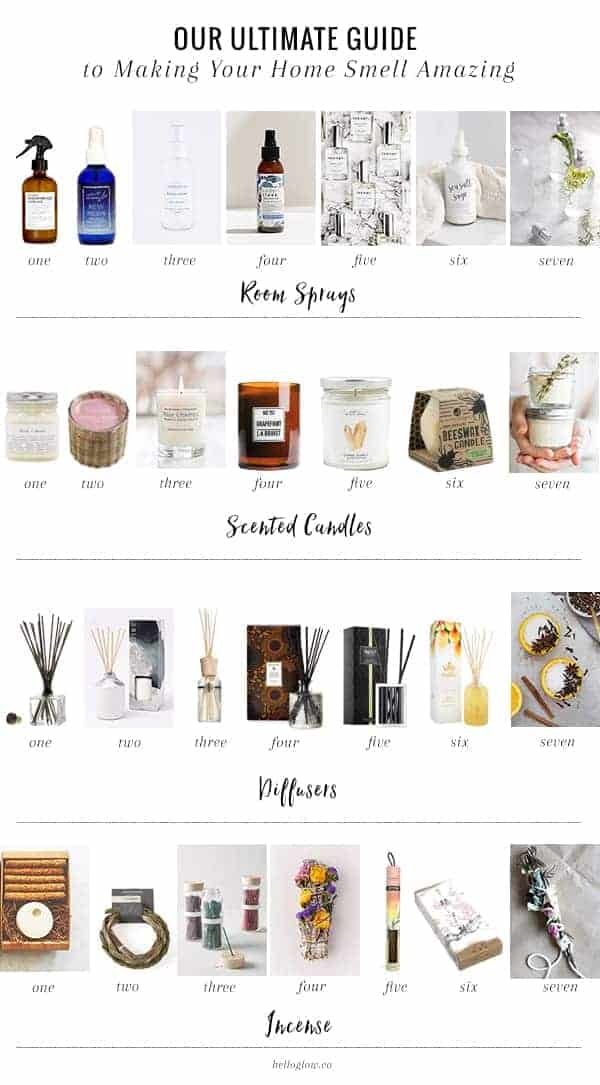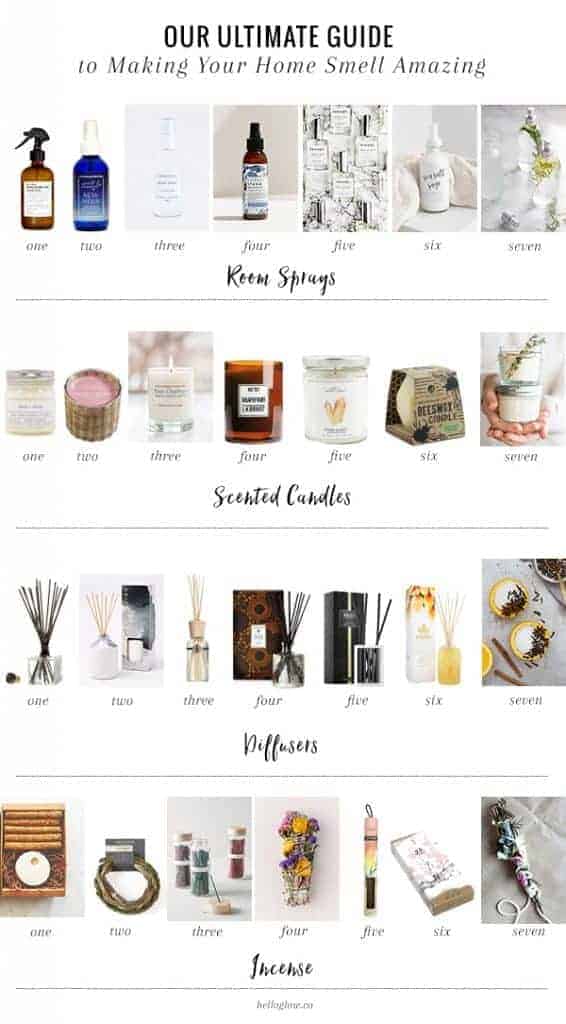 Room Sprays
1. FIG+YARROW Atmosphere Mist // FIG+YARROW mists come in a variety of natural scents, but herbaceous LAVENDER+THYME is our fave—it makes a lovely, calming linen spray for bedding too.
2. Captain Blankenship New Moon Smokeless Smudge Spray // This smoky, herbal mist is perfect for apartment dwellers who want to smudge their space without setting off smoke alarms.
3. Hopscotch Rose + Bergamot Room Spray // This multitasker can be used as a room or linen spray, a body mist, or even a toner.
4. Cedar + Stone Dream State Mist // Formulated with zyzyphus, this mist helps you get a deeper, calmer sleep with more vivid dreams.
5. Goodnight Darling Co. Lounge Ginger Mint Room Spray // This energizing spray combines ginger and mint to scent your space and help you focus.
6. Hensley Asher Co. Sea Salt Sage Room Mist // If you have a weakness for beachy fragrances, you'll love this phthalate-free room spray.
7. DIY: 3 Mood-Boosting Room Sprays // These uplifting scents are made with blends of essential oils, distilled water, and vodka.
Scented Candles
1. Brooklyn Candle Studio Fern + Moss Mason Jar Candle // You love woodsy scents, but you don't want your house to smell like a cheap imitation of a Christmas tree? This is the candle for you.
2. Field + Fleur Peony Blush Handwoven Candle // Peony season is fleeting, but you can enjoy the scent year-round with these pretty double-wick candles.
3. Peacesake Blue Champa Candle // With a blend of nag champa, sandalwood, and citrus, this is the perfect candle for your meditation space or bedroom. (And you don't even have to light it for it to scent your space!)
4. L:A Bruket Grapefruit Scented Candle // The energizing scent of grapefruit is ideal for burning in your home office or kitchen—and we love the sleek minimalist styling of the jar too.
5. JaxKelly Citrine Quartz Candle // Each JaxKelly crystal candle has a real crystal embedded inside. Citrine Quartz radiates positivity and success, or choose crystals for spiritual growth, serenity, balance, and more.
6. Northern Lights Lavender and Honey Beeswax Candle // Beeswax candles are great for purifying your space and these gorgeous candles look as good as they smell.
7. DIY: How to Make Candles in a Slow Cooker // Want to try making candles yourself? It doesn't get much easier than this slow cooker method.
Diffusers
1. kai Reed Diffuser // If, like us, you love the bright, floral scent of kai, you'll be happy to know it comes in the form of a reed diffuser too!
2. Perle Noire Marbled Diffuser // This beautifully marbled diffuser scents your home with a deep, spicy scent with floral and citrus notes.
3. Archipelago Botanicals Verbena Basil Diffuser // This uplifting herbal scent works well in the kitchen.
4. Voluspa Baltic Amber Mini Diffuser // We adore this gorgeous Japan-inspired diffuser from one of our favorite home fragrance lines, Voluspa.
5. NEST Grapefruit Liquidless Diffuser // If you have kids or pets, you'll love that this diffuser works without any liquid to spill.
6. Malie Organics Island Ambience Mango Nectar Reed Diffuser // Tropical, fruity, and all-around delicious, this diffuser is a great addition to any room of the house.
7. DIY: Citrus Rind Diffusers // Who knew you could make beautiful diffusers using citrus rinds, essential oils, and sea salt?!
Incense
1. Rituals Palo Santo Incense Sticks // Complete with a little stand for holding the incense as it burns, this set makes a lovely housewarming gift.
2. Juniper Ridge Sweet Grass Braid // Sweet grass has a beautiful, vanilla-like scent that makes it ideal for smudging your space.
3. Skeem Black Fig Bottled Incense Sticks // The scents of honey and amber combine for a fresh fragrance you'll love.
4. Catherine Rising X UO Floral Sage Incense Bundle // These handcrafted incense bundles are almost too pretty to burn!
5. Juniper Ridge White Sage Campfire Incense // For the scent of sage without actually burning sage leaves, this is about as close as you can get!
6. Shoyeido Plum Blossom Incense // If regular incense overpowers you or you're not a fan of all the smoke, give Japanese incense a try—because it doesn't have a wood core, it burns cleaner and the scent is more subtle too.
7. DIY: How to Make Your Own Rosemary Sage Smudge Sticks // Herbs and flowers from the garden and cotton twine are all you need to make your own smudge sticks at home.
8