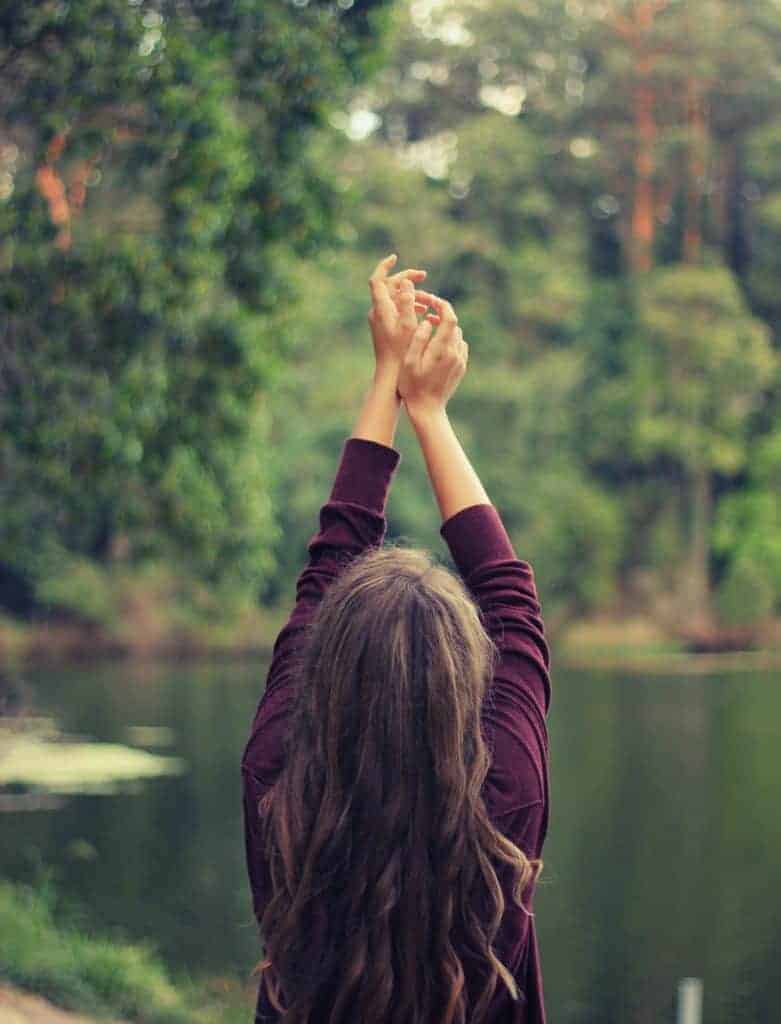 As someone who has experienced many different forms of anxiety over the years, it was of great service to my mental health when I was introduced to some innovative ways to work with it.
Sometimes anxiety can show up as a slow and sneaky thing—we may worry a lot about something, feel exhausted or uncomfortable, or notice a heaviness in the belly. Other times, it might show up as a wild and energized thing—a panic attack (sweating, shaking), a jittery body, the urge to flee, or even a collapse from the stress.
While intense or chronic anxiety can be a serious concern best assisted by medical professionals and/or medication, there is also the kind of anxiety that most of us feel when life throws intense challenges or upsets our way–that's the kind of anxiety we're addressing here.
We may already incorporate some helpful rituals of self-care during those times: having a bath with epsom salts, using essential oils such as lavender or ylang ylang, drinking tulsi tea, or booking a massage. These methods can definitely relieve tension in the body and mind, but there are some other lesser-known techniques to help manage anxiety that are very effective in bringing us back into balance.
1. Lengthen your exhalations
When a person is in a heightened state of stress, they often breathe quickly and shallowly. Only when the stress is reduced is there a sigh—a long exhalation and release. This extended exhalation is the nervous system reflecting that we are safe and free to let go of the build-up of tension. It also works the other way around: if you want to send a message to your brain to relax, breathe as if you're already at ease by lengthening your exhalations.
Inhale to the count of four through your nose; hold your breath for the count of two; exhale through slightly pursed lips to the count of eight. Keep breathing in this pattern until you notice your heart-rate slowing down, and the grip of anxiety loosening. It can be practiced for as long as needed, so give it a bit of time if you don't notice the shift right away.
2. Tapping
Tapping is like a fingertip-based acupuncture/acupressure session. It works according to a similar philosophy, that energy pulses throughout the body via a complex network of channels, and by stimulating them in a particular way, we can find greater relaxation.
While tapping traditionally uses a specific pattern and sequence (you can read more about this method online), some quick and light fingertip taps at the very top of the head and then around the eye sockets—above the eyebrows, along the sides of the eyes, and on the bone beneath the eyes—is simple but effective. Try tapping these areas, left and right side simultaneously, for approximately 30 seconds at each spot.
3. Busy the brain
Another technique that regulates the nervous system is to busy the brain with multitasking. When we give ourselves two different but relatively simple challenges to perform at once, we are switching on the prefrontal cortex, which is the highly-evolved control center of the brain.
When this area is activated, the brain is high-functioning and focussed, and less likely to be lost in its more reptilian response of anxiety. Try balancing on one leg (tree pose is a great option) while also opening and closing your arms across your chest like a hug.
In general, you can combine many different tasks to achieve similar results. If you are in the car, at your desk, or anywhere else where balancing might not be possible, try focusing on your breath and counting your inhalations and exhalations until you get up to ten, then reversing your count all the way back down. Keep one hand on your belly or chest, feeling the way the body moves as you breathe.
4. Hug yourself
Research has shown that self-compassion (self-love) is a key ingredient to optimal mental health. In moments of anxiety, we may be harder on ourselves and default to negative self-talk.
When we wrap our arms around ourselves, hugging the shoulders and protecting the chest, a message is sent to the brain that we are being held, and that we are receiving support and affection.
If you're feeling stressed, take a little time-out—a few quiet moments to tune in and embrace yourself may be what you need to feel more grounded and regulated.
5. Go for a dive (or fake it!)
Humans and other mammals have a set of reflexes that naturally occur when we dive into cold water, one of them being a slowing-down of the heart rate. When we are feeling stressed, it's not always possible to go for a chilly swim, but we can stimulate a similar response simply by placing a cold, wet cloth over the face. Or, if you are at home and find yourself in a stressed or agitated state, try filling a bowl with very cold water, holding your breath, and placing your face into the water for 30 seconds. Taking advantage of this natural diving reflex will help to bring about near immediate results. (Individuals with pre-existing heart conditions may want to clear this with their doctors first.)
It is overwhelming to be caught in a state of anxiety, and when we lack the necessary tools to deal with it, feelings of helplessness can intensify the experience. Adding these tips into your anxiety-busting tool kit can help to ensure that you have what you need to feel capable and supported when stress builds up.
This post was medically reviewed by Dr. Susanna Quasem, M.D., a child, adolescent, and adult psychiatrist in Nashville, Tennessee. Learn more about Hello Glow's medical review board here. As always, this is not personal medical advice and we recommend that you talk with your doctor.
Photo by Christopher Campbell on Unsplash
8