Ugh, chapped lips are the worst, especially in cold, winter months. Keep your lips smooth and luscious during dry winter days with this moisturizing matcha vegan lip balm. We've made green tea lotion before so why not use matcha for your lips?
How to make lip balm with matcha
We used Jade Leaf Matcha, a high quality source for farm-direct, organic Japanese matcha. You can use either Barista Grade Matcha or Culinary Grade Matcha. Or splurge on ceremonial grade matcha for the highest quality.
This DIY makes 16 (!) tubes of lip balm so you can knock out a bunch of stocking stuffers or gifts all at once. And, if you're feeling extra creative, add a few drops of your favorite essential oil — try lavender to soothe sensitive lips or peppermint to keep up with the holiday vibes!
If you want to keep your lip balm vegan, you can omit the honey. But for extra healing oomph, you can't go wrong with adding Manuka honey.
Does the matcha lip balm taste like matcha?
No it doesn't taste like matcha. This recipe wasn't intended for the matcha flavor to come through, instead the matcha adds a beautiful green hue to your lip balm. If you want your lip balms to taste like matcha, you can add another teaspoon or two to your mixture.
Proceed with caution though, if you decide to add more matcha… just know that your lips may be left with a green tint. If that's the look you're going for, you'll be happy. Do you!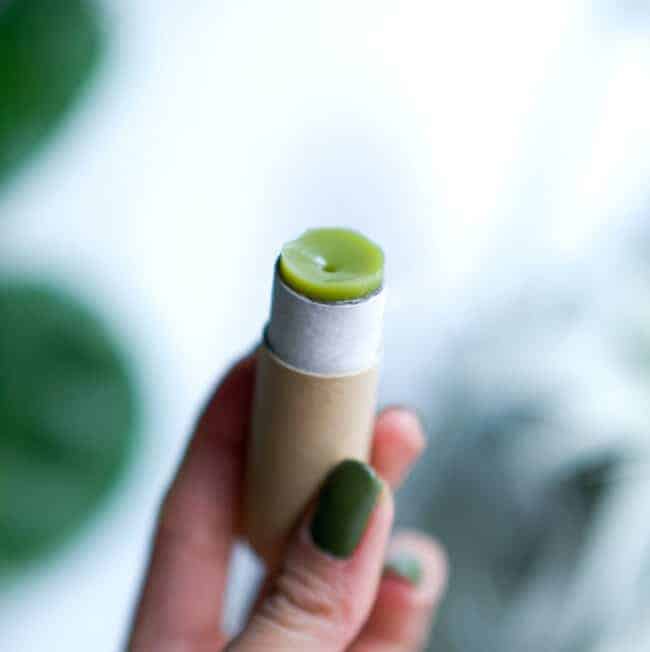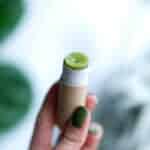 Print
DIY Vegan Lip Balm with Matcha
Keep your lips smooth and supple during dry winter days with this moisturizing plant-based matcha lip balm.
Equipment
Lip balm tubes, tins, or glass containers

Glass pipettes
Instructions
Place an inch of water into the bottom pan of your double boiler and turn on medium heat.

Place all ingredients (except your essential oils - if you're adding them) into the top pan or glass of your double boiler. Allow melt for a few minutes. Be sure not to get any water in your mixture.

When all ingredients are melted, stir well and remove from heat. Keep your top pan or glass on top of your double boiler. Sift matcha into your mixture. Mix for 2-3 minutes until you break up all of the tiny matcha clumps. Note: sifting your matcha is an important step to avoid having large clumps of matcha in your mixture.

Use a glass dropper or pipette to quickly fill your containers. Fill each lip balm tube/container to the top. This part needs to be done quickly to avoid your mixture solidifying inside of your glass dropper or pipette. If your mixture solidifies in your double boiler, simply place it back on the heat and melt for a few minutes.

Let the containers cool off for a few hours. Place the tops back on.
Notes
Feel free to adjust the ratio of ingredients however you like. As long as there are more hard oils (shea butter, coconut oil, candelilla wax, cocoa butter) to soft oils (avocado oil, essential oil), it will harden at room temperature.
And if you definitely want to keep your lip balm vegan, omit the honey entirely. But for extra healing oomph, you can't go wrong with adding Manuka honey.
This post was medically reviewed by Dr. Jennifer Haley, a board-certified dermatologist with extensive experience in medical, cosmetic and surgical dermatology. Learn more about Hello Glow's medical review board here. As always, this is not personal medical advice and we recommend that you talk with your doctor.
25