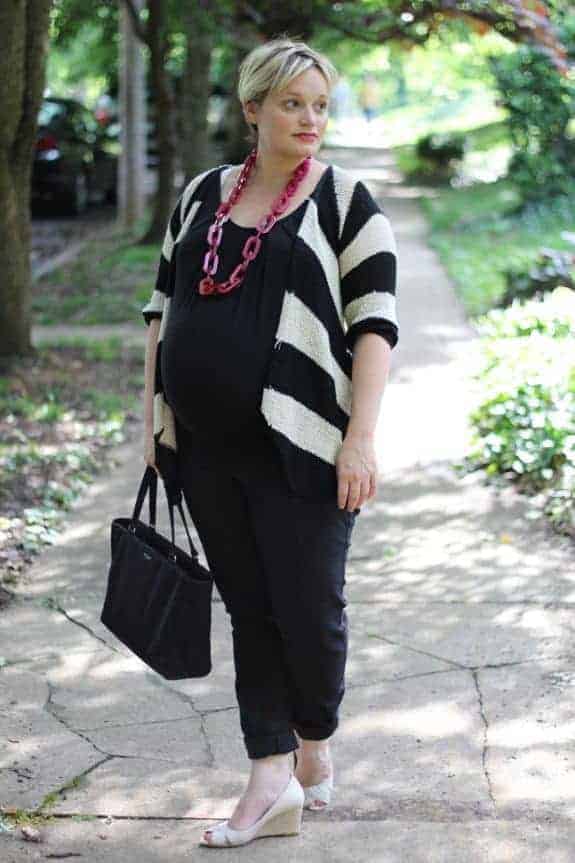 I know, is everyone feeling like this pregnancy is NEVER going to end? I know I sure am! But I could not end my pregnancy fashion run looking like a watermelon. Mark was kind enough to snap a few photos this weekend of my current favorite outfit – stripes & pink!
A few last month of pregnancy style tips:
Black is your friend. If you're like me, you get a little tired of hearing, "You must be due any day!" Even if this happens to be true, it's still annoying. A black tank top with black summer pants makes it harder to judge the depth of the belly. But I am short and tend to have 9 lb babies so your belly may differ.
Statement jewelry is your friend. I picked up this hot pink necklace recently and have been wearing it with everything. A piece of statement jewelry gives folks something to look at / comment on other than the belly.
Cardigans are your friend. I know, it's hot, and layers are not necessarily your friend. (My "glow" above is due to more than just hormones!) But when you lead with your belly it's nice to have something to wrap around it.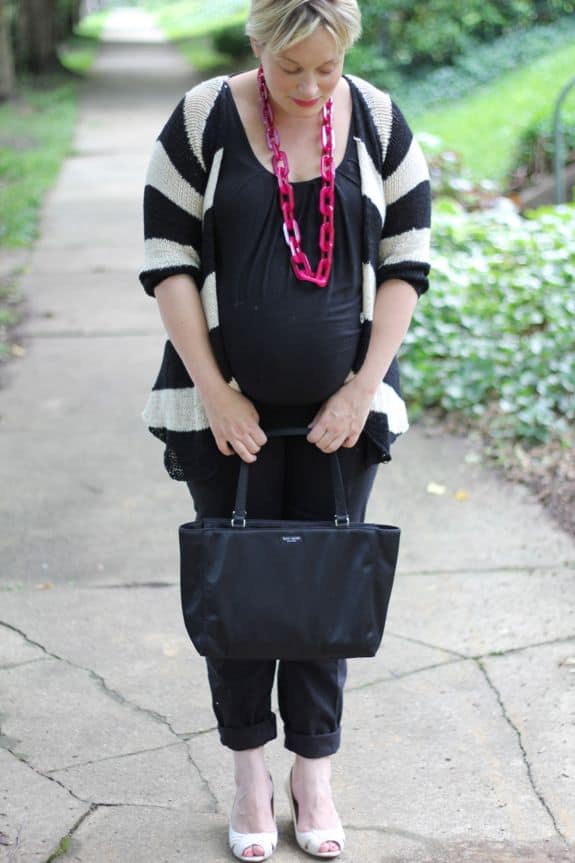 I literally cannot see my feet!
Who is excited to see What to Expect When You're Expecting? I think seeing a movie about pregnant ladies when you ARE pregnant is especially fun. Can't wait to see this movie with the hubby (hopefully the laughter will put me into labor!).

Inspired by the perennial New York Times bestseller of the same name and the first book in a series that has sold over 32 million copies worldwide, WHAT TO EXPECT WHEN YOU'RE EXPECTING is a hilarious and heartfelt big screen comedy about five couples whose intertwined lives are turned upside down by the challenges of impending parenthood. The cast includes huge stars like Cameron Diaz, Jennifer Lopez, Elizabeth Banks, Chace Crawford, Brooklyn Decker, and more!
Trophy wife Skyler (Brooklyn Decker), and her NASCAR superstar husband are expecting twins! Despite working the double duty pregnancy, Skyler can still keep herself looking and feeling stylish. Check out this kaleidoscopic comedy, coming to a theater near you May 18th.
Disclosure: Compensation was provided by Lionsgate via Glam Media.  The opinions expressed herein are those of the author and are not indicative of the opinions or positions of Lionsgate.
0