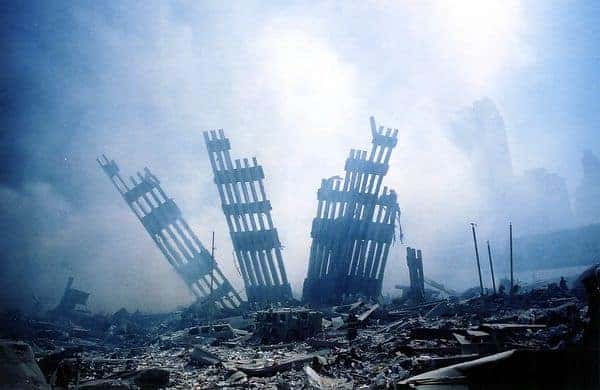 It's 10 o'clock, late (for us anyway). I've been asking Mark all weekend to share his story from 9/11 – he lived in Manhattan at the time and I can't imagine having been so close. We just watched an incredibly moving NY Fire Department documentary, and I finally talked him into sharing a few memories. ~Stephanie
I have many memories from September 11, 2001:
It was a beautiful day. Somehow the news that there had been a terrorist attack didn't fit with the backdrop of a sunny late summer day.
I worked 50 blocks from the World Trade Center, just over two miles. I was running late for work because I had voted on the way in.
At our office, we all clustered around the TV someone had stashed under their desk.
Outside, all we could see was smoke. Plumes of smoke where the towers had been.
We left work to go to the hospital to donate blood. Everyone's thoughts were "how can we help?" No one wanted to sit by idly.
There were streams of people on the sidewalk. Everyone was walking, heading North.
Cell phones were down. We couldn't communicate with our families to let them know we were safe.
I kept thinking of how I used the World Trade Center to get my bearing whenever I was walking. How could these buildings be gone?
But I am thankful. The distance between my office and Ground Zero was gigantic, much larger than the mere 2 miles on a map. We were safe.
And I thank those who rushed into the inferno, admire their bravery, and mourn for all those who did not return from work that day.
Photo: National Geographic
0