Hey there! We're back with 10 more metabolism boosting snacks that I hope you'll love. (And if you missed our first post of metabolism boosting snack ideas, you can read it here.)
As a reminder, a snack is a small amount of food eaten between meals. A snack should bridge the gap between full meals and provide small bursts of energy, but it shouldn't fill you up to the point that you're not hungry for your next meal.
When choosing healthy snacks, I like to aim for a combination of produce and protein. Here's why:
Protein is satiating. It sticks to your ribs and keeps you satisfied in a way that you wouldn't be if you snacked solely on simple carbohydrates like crackers.
Protein helps keep blood sugar stable by slowing digestion and moderating the uptake of sugars into the bloodstream.
Produce is packed with nutritious vitamins, minerals, and antioxidants.
The dietary fiber in fresh fruits and vegetables also helps to keep blood sugar stable, similarly to protein.
It's also a good idea to mix things up with healthy fats like avocados, nuts, and seeds, and some complex whole-grain carbohydrates–particularly if you're going to be fueling a workout with your snack.
Remember when you're choosing snacks to go for one to two snack-sized portions of proteins and healthy fats, one to two servings of veggies or fruit, and if needed, one snack-sized portion of a healthy wholegrain carb.
We're in (or heading into, depending on where you live) the best produce season of the year! So here's a list of 10 metabolism-boosting snack ideas that celebrate spring and summer produce. All of these snack suggestions are around 100 calories, give or take.
Metabolism Boosting Snack Ideas for Summer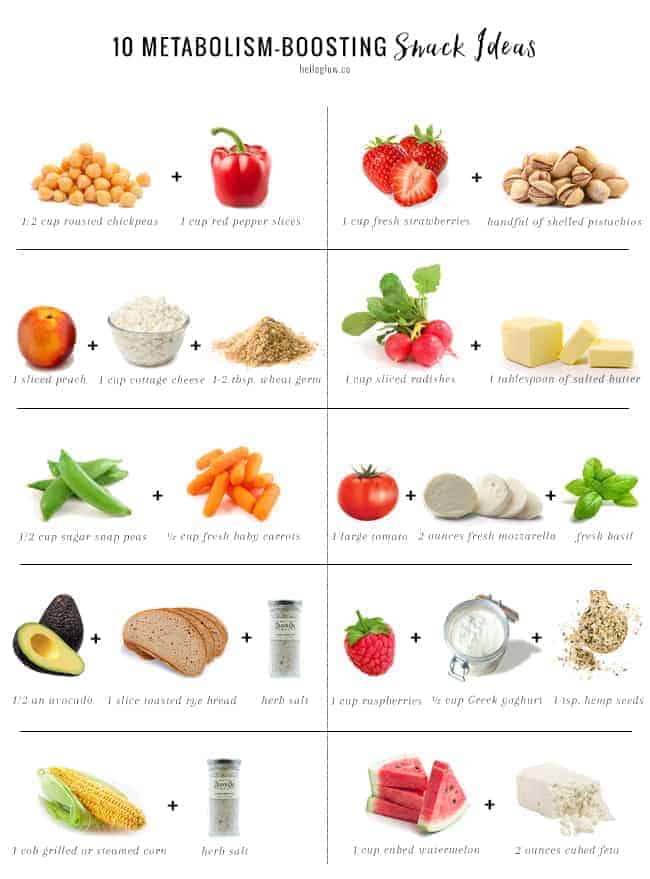 -1/2 cup roasted chickpeas with 1 cup red pepper slices
-1 cup sliced fresh strawberries with a small handful of shelled pistachios
-1 sliced peach with 1 cup cottage cheese and 1-2 tablespoons of toasted wheat germ
-1 cup sliced radishes with 1 tablespoon of salted butter
-1/2 cup sugar snap peas with ½ cup fresh baby carrots
-1 large tomato, sliced, with 2 ounces fresh mozzarella and a few fresh basil leaves
-1/2 an avocado on 1 slice toasted rye bread sprinkled with a bit of herb salt
-1 cup fresh raspberries with ½ cup Greek yogurt sprinkled with 1 teaspoon hemp seeds
-1 cob grilled or steamed corn, sprinkled with herb salt
-1 cup cubed watermelon with 2 ounces cubed feta
27