This is a sponsored conversation written by me on behalf of AmLactin. The opinions and text are all mine.
As someone who suffers from perpetually dry skin, it comes as no surprise that I'm always looking for ways to soothe my skin and lock in a little extra moisture. Contrary to popular belief, it's not just the cold winter months that wreak havoc on skin. Summer can be equally drying and irritating, especially after spending countless hours at the pool or beach soaking up the sun.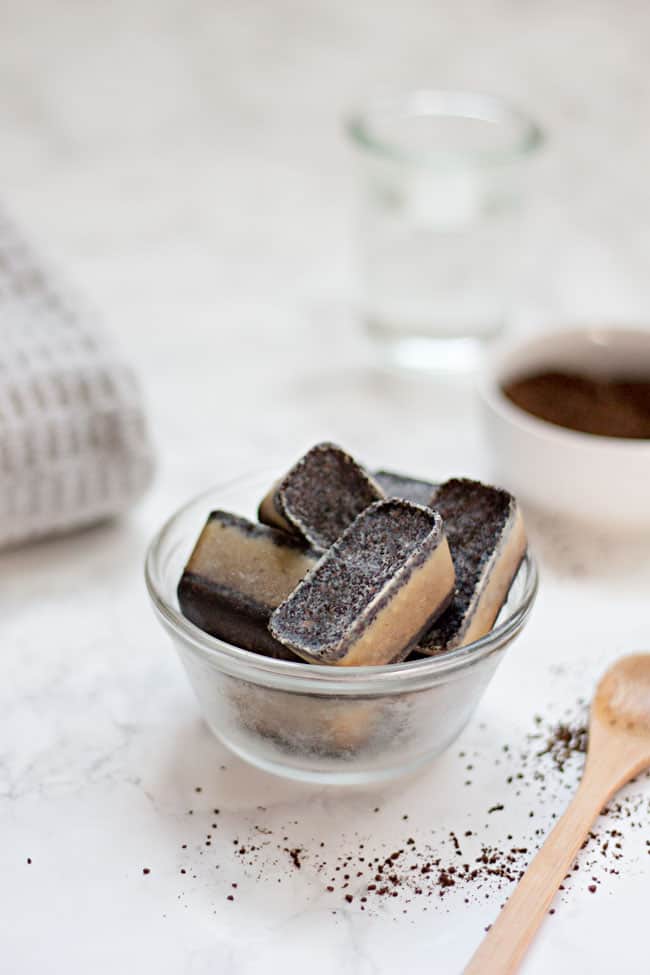 As I get older, I find that it gets harder and harder to keep dry skin at bay, and it appears that I'm hardly alone. According to data from a 2015 national online survey of over one thousand U.S. women over the age of 18, nearly two-thirds report that the older they get, the more difficult it is to keep skin moisturized. And as if that isn't enough, women feel an average of six years older when their skin is dry and dull. Sound familiar?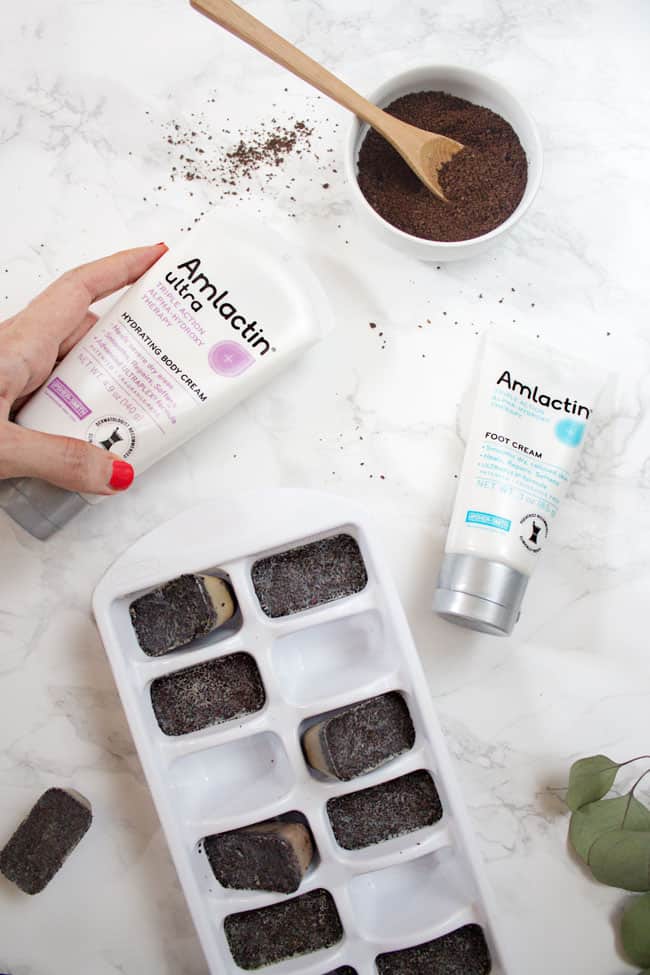 That's where an awesome body scrub combined with a therapeutic moisturizer come in.
These DIY body scrub cubes are loaded with skin-soothing ingredients like coconut oil, green tea and ginger to help cleanse and rejuvenate your skin soaking in so much summer sun. And because they're stored in the freezer, they pack a little extra cooling action to calm your tired skin and encourage healing. They also make use of freshly ground coffee to exfoliate without the harshness of sugar, which can sometimes make redness and irritation worse.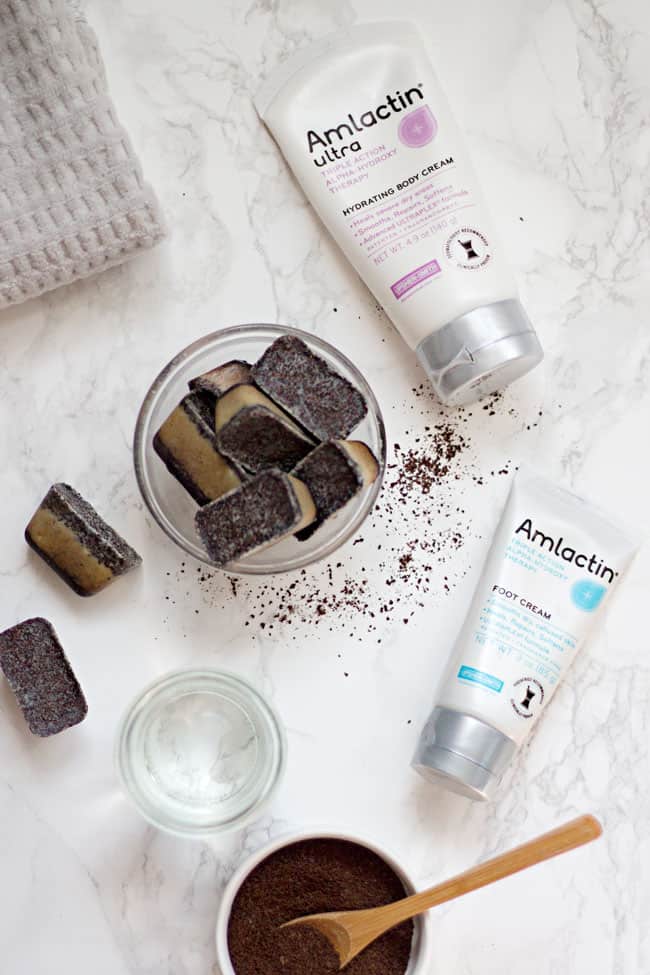 To lock in extra moisture, follow up your scrub with AmLactin Ultra Hydrating Body Cream, which is perfect for severely, persistently dry skin areas. Or give your feet a little TLC with AmLactin Alpha Hydroxy Therapy Foot Cream, which is formulated with a special blend of emollient and humectant ingredients that help heal dry, callused feet.
Unlike other lotions, AmLactin is chock full of alpha-hydroxy acids which help dissolve the "glue" that holds dead skin cells together, making them easier to remove and leaving you with clean, healthy looking skin.
In this video I'll show you how to get rid of dry skin for good with these green tea body scrub cubes and AmLactin Ultra Hydrating Body Cream.
Body Scrub Cubes with Green Tea and Ginger
½ cup coconut oil
2 tablespoons loose green tea
½ cup fresh (un-brewed) coffee grounds
2 teaspoons ground ginger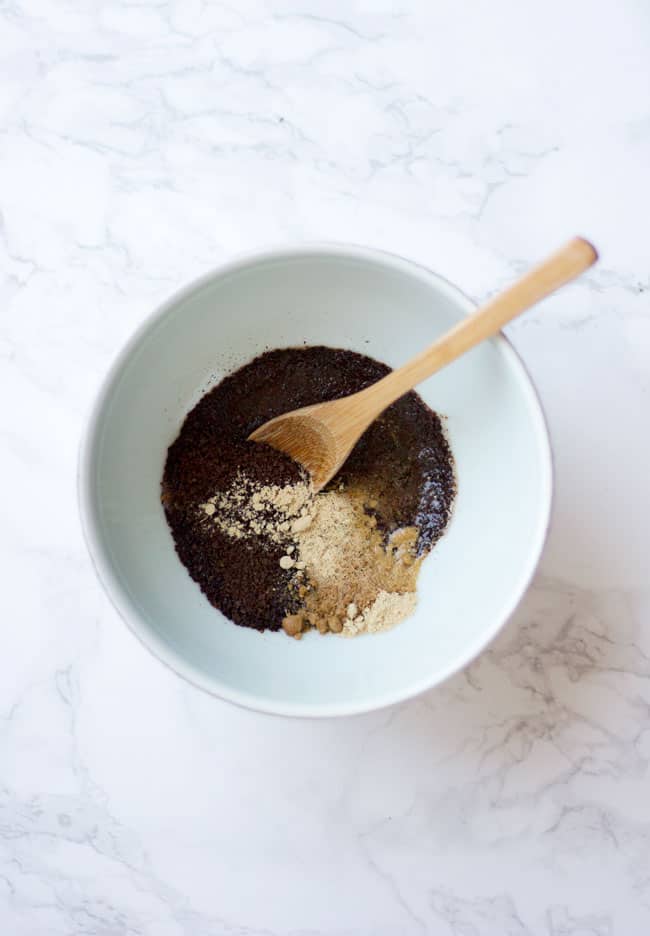 Combine the melted coconut oil with the green tea in a small saucepan and simmer over low heat for 30 minutes. Remove from heat and let cool for 20 minutes. Using a fine-mesh strainer, strain the tea leaves from the oil and discard them. Combine the oil with the coffee grounds and ginger. Mix well. Spoon the mixture into ice cube trays and freeze for 15 minutes or until solid. To make these as mess-free as possible, I recommend using them in the shower and rinsing thoroughly. The oil shouldn't harm your shower drain as long as you're using warm/hot water.
Note: To ensure your scrub cubes hold their shape, store them in a plastic bag in the refrigerator or freezer. They should keep for several months.
113