I've learned how I spend my time during the first hour of my day greatly impacts my attitudes and feelings for the rest of the day. For a long time, I had a habit of starting my day first grabbing my cell phone and checking emails or hopping on social media. After months and months of starting my day by filling up my mind with everyone else's thoughts, opinions, and requests, I began feeling anxious and was constantly comparing myself to others. Like so many women, the early morning hours are often the only "me" time I truly get. I realized if I wanted to have a more calm, mindful demeanor throughout the day, I should start my day in a more calm, mindful way.
I ditched the screen first thing AM, and cultivated a low-fuss morning routine that leaves me feeling more calm and energized than ever. Here are some helpful morning habits to bring more mindfulness to your day.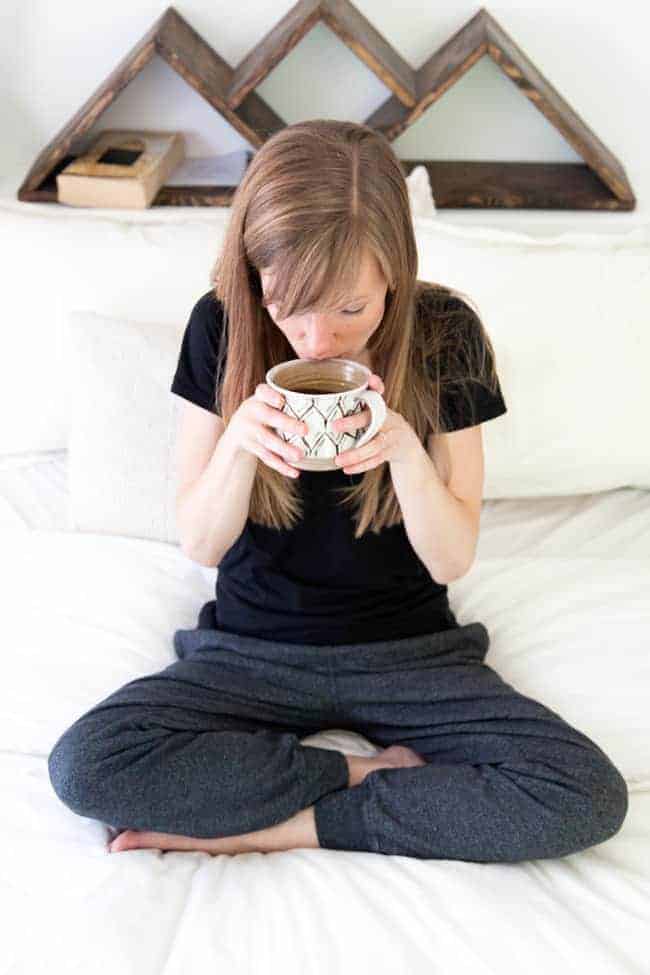 Express Gratitude
What are you grateful for? No one's life is perfect, but even during challenging times we can all find small aspects of our life to express gratitude over. Try starting your day by writing down or acknowledging three things you are grateful for. Expressing gratitude helps increase feelings of confidence and happiness, and helps reduce feelings of overwhelm and comparison. Beginning with an attitude of gratitude can have a positive effect on your entire day.
Meditate
If you're looking to start a meditation practice, consider incorporating it into your morning routine. It can be hard to find a quiet moment later in the day, and meditation can be effective even when done in short sessions. Benefits of meditation include helping you feel more focused and calm, and doing so in the morning can help you feel more at ease throughout the rest of your day.
Visualize
If you have ever taken a yoga class, you have probably been told by an instructor to set an intention at the beginning of your practice. How often do you set an intention for your day before diving into it? Try taking a few moments to set an intention for your day, and visualizing how you would like your day to flow.
Make Your Bed
Turns out mom was right–making your bed in the morning can have a lasting positive impact on your day. By successfully completing such a small task, you feel an immediate sense of accomplishment which will follow you all day long.
Hydrate
Love coffee in the morning? I do too, but try not to have it first-thing. Caffeine can be dehydrating, which can leave you feeling sluggish and reaching for not-so-healthy choices later on. To help your digestion run smoothly and fight off feelings of fatigue, drink a glass of water before reaching for your favorite caffeinated beverage. I love starting the day with a glass of lemon water before enjoying my morning coffee.
Move
Getting in some sort of exercise early in the day is one of the best things you can do for your body. Exercising before the day gets started helps you get moving before life gets in the way, and the later it gets the easier it becomes to blow it off. Even if a full-on gym session first thing in the morning isn't your style, just five minutes of yoga, stretching, or bodyweight exercises can help energize you for the rest of the day.
Nourish
The saying "breakfast is the most important meal of the day" has been repeated time and time again for good reason. Putting good, nutritious food in your body early sets you up for good nutrition throughout the day. Having a balanced breakfast with good sources of protein, healthy fat, and complex carbohydrates will leave you feeling satisfied until lunch and can help you power through the afternoon slump.
1