Gone are the days when you would finger-paint a card under the supervision of your school teacher and hand it over to mom for Mother's Day. These days, you're probably looking to spoil her with a gift she can actually enjoy. Kitchen appliances need not apply!
If you need some inspiration and ideas, we've got just the thing: 14 Mother's Day gifts to pamper her!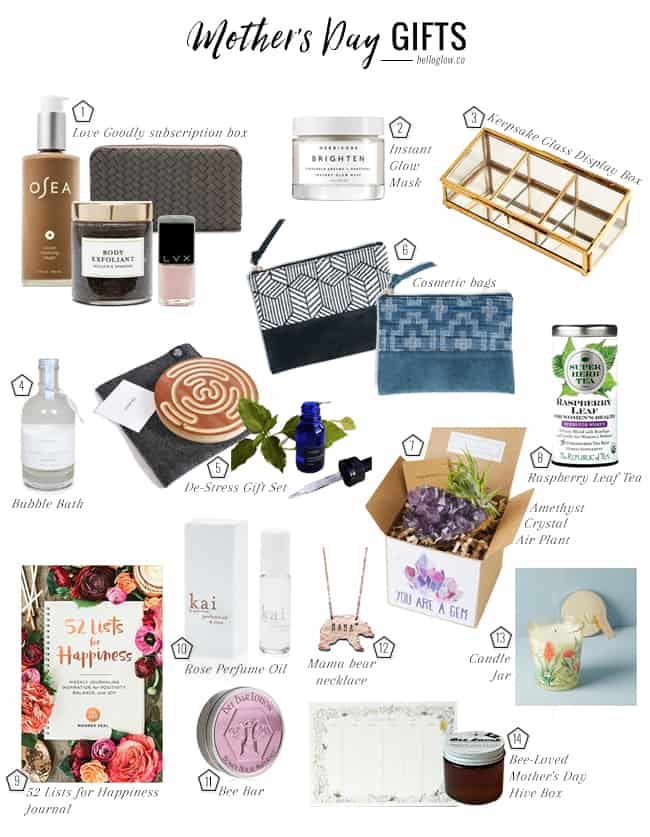 1. LOVE GOODLY Subscription Box // Eco-friendly, vegan, & cruelty-free products delivered every other month straight to her doorstep. Use the code LOVEGLOW to get an amazing fruit-pigmented lipstick from 100% Pure in Poppy, retail value $29, when you subscribe, bringing the value of the first box to $154!
2. Herbivore Instant Glow Mask // A brightening mask featuring pineapple enzymes and gemstone to naturally illuminate, smooth, and exfoliate skin for an instant glow.
3. Keepsake Glass Display Box // A glass keepsake box for all her little trinkets and treasures. Hinged lid for storing anything from jewelry to crystals.
4. Mer Sea & Co. Sirène Bubble Bath // Chamomile bubble bath warmed by coconut and cloves, and rounded out with traces of amber and sandalwood–so relaxing!
5. De-Stress Gift Set // The set includes a Unwind Labryinth, Cheer Winter Restorative Tincture and one blind-debossed Peace card with gold edging.
6. Kina Cosmetic Bag // This small pouch can be used as a travel organizer, coin purse or a cosmetic bag. A perfect gift, it's sure to light up her face as she reaches in for her lipstick.
7. Amethyst Crystal Air Plant // Tell your mom what a gem she is with this beautiful amethyst crystal air plant garden!
8. The Republic of Tea Raspberry Leaf Tea // Every mom appreciates a little me-time and a warm cup of tea–and raspberry leaf tea has been used for centuries to boost women's health.
9. 52 Lists for Happiness Journal // This beautiful hardcover journal with 52 listing prompts encourages reflection and investment in oneself.
10. Kai Rose Perfume Oil // Rose absolute and gardenia combine to create an intoxicating rollerball perfume oil that's perfect for tucking into a purse.
11. Honey House Naturals Bee Bar // A solid bar of waterless lotion, meaning more natural moisture delivered straight to the skin.
12. Mama Bear Necklace // A handmade, personalized copper necklace to celebrate your mama bear.
13. Spring's Eden Candle Jar // Lovely spring scent in a lovely spring jar with floral motifs.
14. Bee-Loved Mother's Day Hive Box // Gift Mom with a jar of raw honey, pure beeswax candle, beeswax-based beauty product, bee-themed day planner pad and special artisanal sweet treat.
2