Sometimes we love a product so much, we can't keep it to ourselves. You know that feeling, right? Here are a few things that are so essential, we just need to share: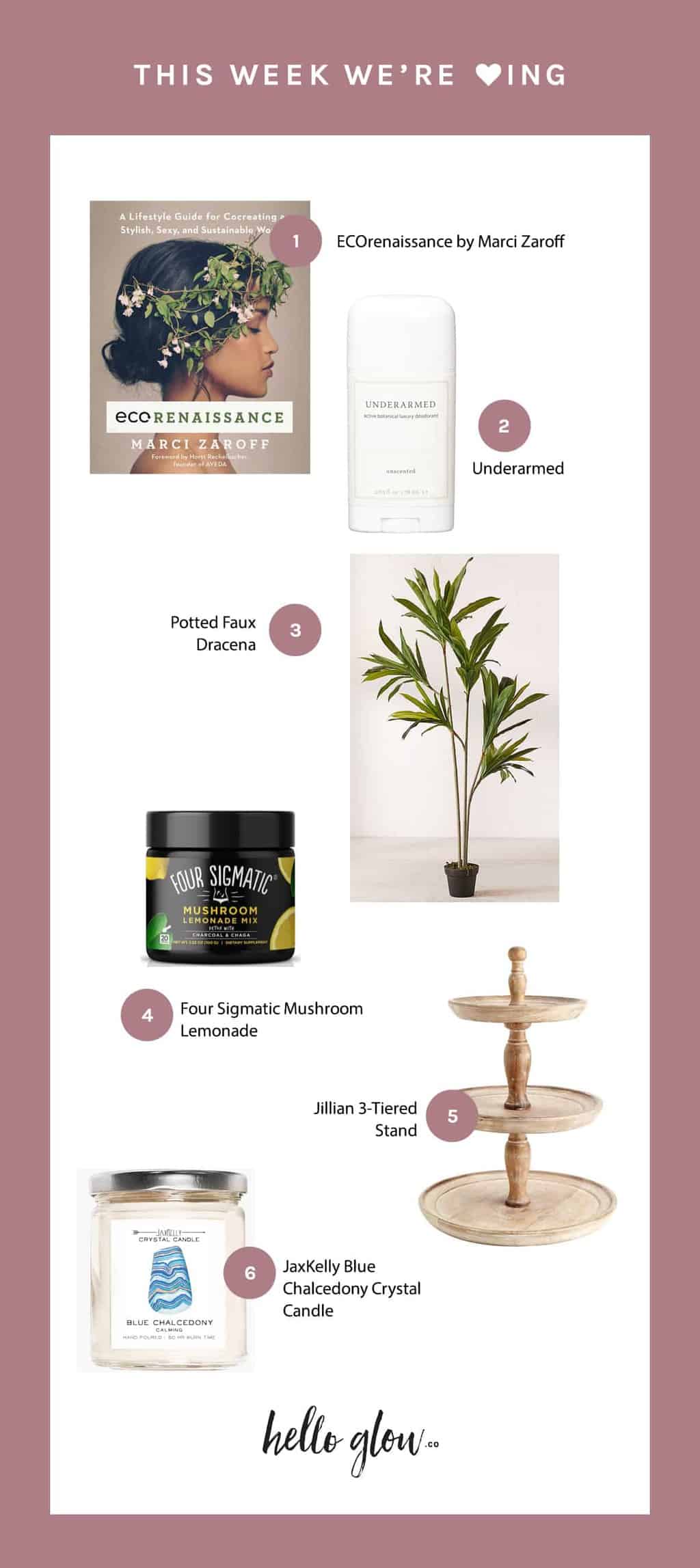 ECOrenaissance: A Lifestyle Guide for Cocreating a Stylish, Sexy, and Sustainable World // Marci Zaroff has a "yes, and" approach to sustainable living that's a welcome relief. She hasn't sacrificed the creature comforts of high fashion and delicious food for hemp shirts and granola and doesn't want you to either. With more than 20 years of experience in eco innovation, Zaroff has put together a judgment-free, immensely valuable guide to greening every part of your life, from work to wellness. Her advice and resources help you smart choices that bring more – value, flavor, joy – to your life instead of leaving you feeling deprived.
Underarmed // This small deodorant brand has earned tons of good Amazon reviews and made its way onto several 'natural deodorants that actually work' lists. When it arrived I discovered that it's made in small batches by a family in Nashville (yay, Nashville!). The deodorant comes with a mini guide on how to transition to non-aluminum deodorant that includes some really helpful troubleshooting tips and a personal email address if you have any problems. And, yes, the deodorant does actually work!
Dracena 5' Potted Faux Tree // It's probably not a news flash, but plants are expensive! Add in a pretty planter and some potting soil and that home decor just got pricey. And then there's the stress of keeping them alive. Plant guilt is real! So I'm a new convert to the occasional fake plant. Especially tall ones. It's easier to plunk down money for a plant that I can put in a dark room without feeling like a terrible person and that I won't have to toss in three months.
Four Sigmatic Mushroom Lemonade with Charcoal & Chaga // I'll admit, this stuff looks pretty scary. (I live in fear that I'll spill the jar of black powder every time I open it.) The taste, however, is surprisingly good. Who knew drinking charcoal and chaga could taste like lemonade?! As to why you might want to drink a tall glass of black lemonade, well, you're getting a tasty, sugar-free beverage and loading up on chaga mushroom's antioxidants and activated charcoal's digestion and detox support. Win win!
Jillian 3 Tiered Stand // I love this stand so, so much. I randomly got a Ballard Design catalog in the mail and must have flipped through it and folded down the page it was on. The the hubby stealthily ordered it for me for our anniversary (aww!). It's the perfect size for a counter fruit and veggie stand. Everything in the Jillian line is calling my name; I need all the things in white washed wood.
JaxKelly Blue Chalcedony Crystal Candle // Now a candle needs to do more than just smell good; it needs to emit good vibes and have a surprise inside. This jasmine-scented soy wax candle radiates calming energy from the Blue Chalcedony crystal that's hidden in its depths. A total bonus you'll find after 50 hours of calming candle time. And if you'd rather wear your healing stones, JaxKelly has gorgeously delicate gemstone jewelry. Different crystals promote different moods so try peach quartz for inner peace or amethyst for spiritual growth and healing.
Disclosure: Some of these products were sent to Hello Glow to review, others are things we've bought ourselves, but everything here is something we totally love.
5