The amount of skincare tools and gadgets available on the market can be overwhelming. And let's be honest–most of them don't live up to the hype. That's where my hands-on research as an esthetician can help; I experiment so you don't have to! I've rounded up my favorite tried-and-true skincare tools below.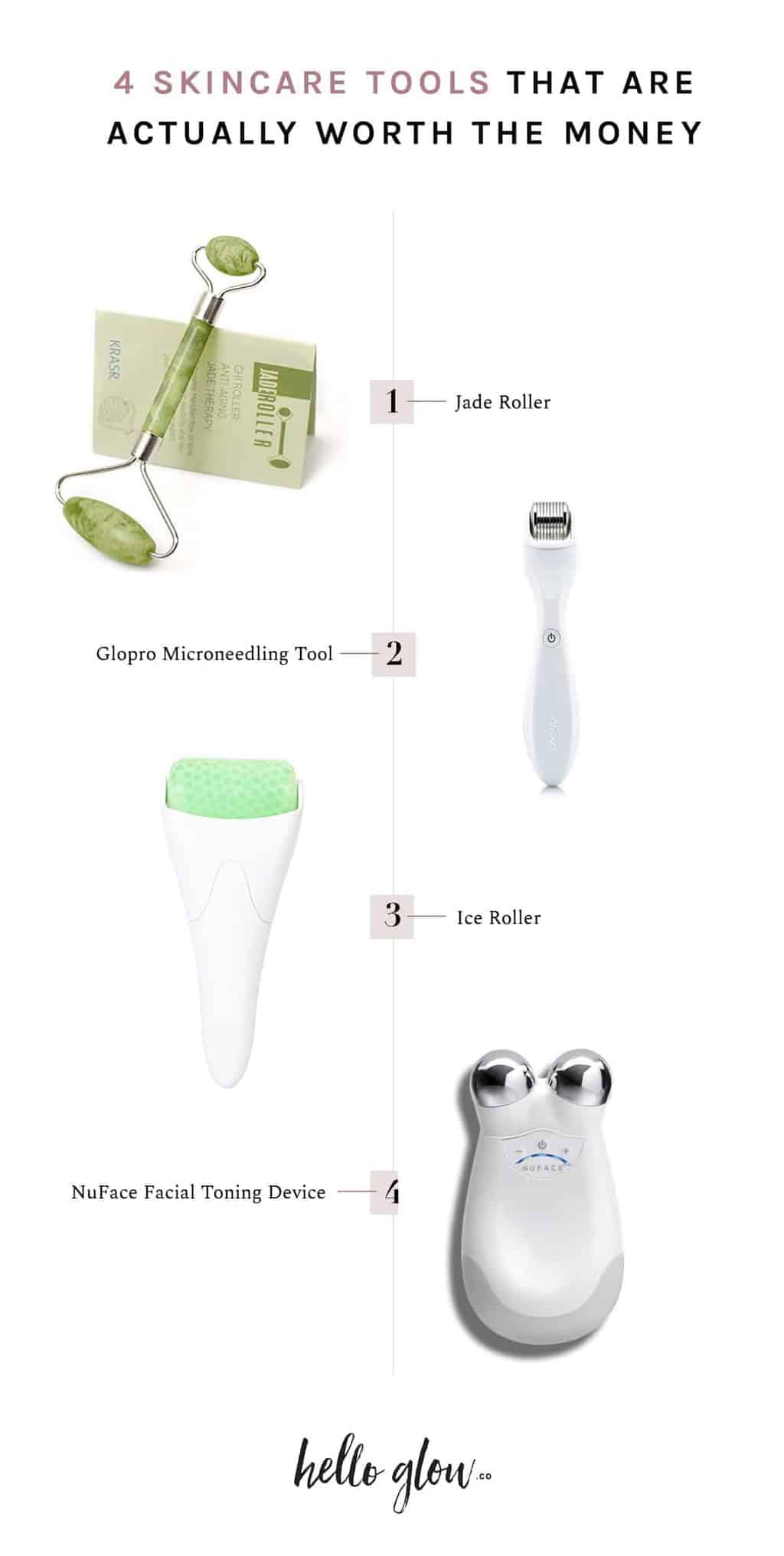 4 Must-Have Skincare Tools
Jade Roller // This is a tool for every face, and it does more than just look cute in Instagram photos. The cool jade depuffs and tightens skin, while the gentle massage action of rolling promotes lymphatic drainage of toxins.
After applying a serum, gently roll up and outward on the cheeks, forehead and chin. Use the smaller side gently under the eyes and down the sides of the nose. They're also great for gently rolling over the top of a sheet mask, helping you to get the most out of it's ingredients.
Remember—you don't need heaps of pressure for this to work, just a gentle roll does the job. For a super refreshing facial massage, pop it in the fridge a few minutes before using.
Just don't forget to give it a thorough clean before and after using so that it doesn't turn into a germ-spreading tool! Get more tips on using a jade roller here.
GloPRO Microneedling Regeneration Tool // Investigation of the GloPRO was a top priority for me last year after I read a ton of great reviews. Similar to a micro-needler or derma-roller, the GloPRO uses patented technology that provides visible results without the discomfort of a typical roller. I can attest to its effectiveness and painlessness.
The GloPRO can be used daily, promoting the skin to regenerate and allowing better penetration of products. This is a desert island pick for me. Unlike anything else on this list, this microneedling tool is the only one that actually improves penetration of products into the skin, helping you get more out of your skincare.
Some of my favorite products to use with this are hydrating serums—my skin has literally never looked smoother or more glowing!
Ice Roller // Ideal for calming irritated skin, alleviating sunburns, or easing migraines, this ice roller is legit! It really does everything, and I love that it's a no-fuss, utilitarian skin tool. It should be kept in the freezer; use it to tighten pores, stimulate collagen and reduce swelling.
This roller ideally is used in the morning before starting your skincare routine (is there anyone that doesn't wake up puffy in the morning?), and can be used at the onset of headaches, too. I have relied heavily on my ice roller when I imbibed a little too much the night before, and it was a total lifesaver. I've even used it to roll on itchy mosquito bites!
Plus at that price, you can afford to have an ice roller for your face and one for your body. Just don't mix 'em up!
NuFace Facial Toning Device // Micro-currents have been researched and studied in the skincare world for decades. This device brings them straight from the esthetician's office straight to your bathroom counter!
These toning devices aren't going anywhere because of their success rates. Seriously, these are award-winning devices that shouldn't be taken lightly or scoffed at.
The micro-currents these tools deliver have anti-aging benefits, stimulating elastin and collagen. It doesn't just help to smooth away wrinkles, it can help to improve facial contours for firm skin that doesn't sag. Sign me up!
The NuFace toning device is best utilized daily and can take about 3-5 minutes to use. This particular one is a favorite because of its attachment choices, which really help get into every problem area for younger-looking skin.
This post was medically reviewed by Dr. Jennifer Haley, a board-certified dermatologist with extensive experience in medical, cosmetic and surgical dermatology. Learn more about Hello Glow's medical review board here. As always, this is not personal medical advice and we recommend that you talk with your doctor.
362