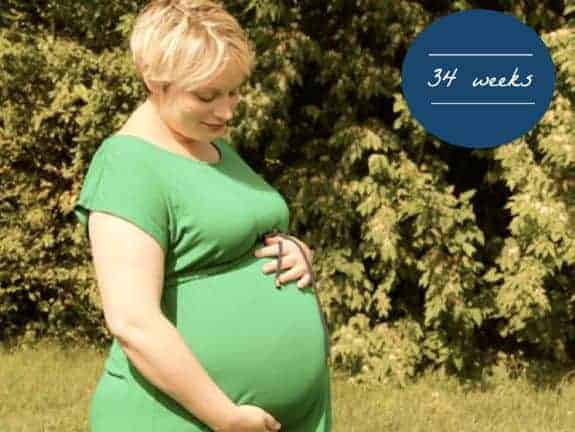 Well, hello, 34 weeks. I said on Twitter last week that I felt like I'd swallowed a watermelon so maybe green isn't the best color choice? Certain clothes (like this dress) make the belly look even bigger! I get lots of 'Oh, you must be due any day!' which is definitely on the list of what not to say to a pregnant lady.
This will probably be the last belly appearance (it's kind of embarrassing) so I'm taking the opportunity to share a few maternity fashion tips I've learned over the course of three pregnancies.
1. Go for quality versus quantity.
I make this mistake every time. When you're staring at the 5 shirts you've worn over and over for the past 34 weeks, you're going to choose what feels good. Soft, natural fabrics grow better with the belly and wouldn't you know they hold up so much longer. My impulse Target and Old Navy purchases tend to get holes after two washes and shrink way too much.
Gap Maternity has been great for jeans and t-shirts. My best discovery this time around was Isabella Oliver for beautiful dresses and work wear. And I just learned about the HATCH Collection. Wow, I'll take one of everything, thanks.
2. Work your pre-pregnancy closet – to a point.
Yes, you can usually get away with wearing your pre-pregnancy pants for most of the first trimester if you use a Belly Band or something like it. But just like there's no gold medal for delivering naturally, there is no point in putting off the maternity plunge. I had to drag my sister to the maternity store only for her to marvel at the comfort and joy of an elastic waist.
And please don't wear yoga pants for 40 weeks or non-maternity tops that let your belly hang out. Shudder.
3. Find a silhouette that works for you and rock it all the time.
A stylish friend who was pregnant over the winter wore leggings, tunics and boots pretty much every day. And guess what, she always looked amazing. You may be one of the lucky tall, thin girls who looks awesome in skinny jeans. I'm not so I stick with boyfriend jeans with a bright top and comfy flats. Now that the weather is warmer I highly recommend maxi dresses.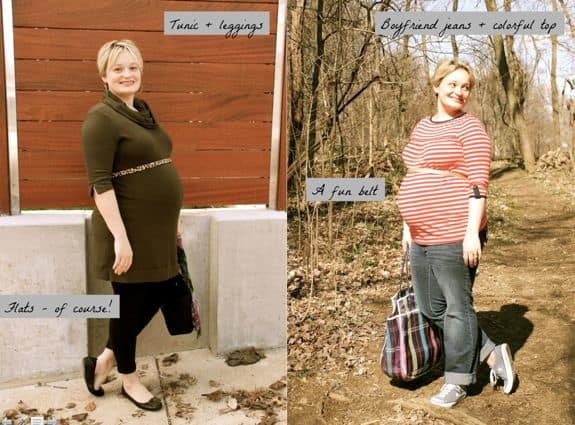 4. Don't buy your entire wardrobe all at once.
Trust me, you will get bored and feel compelled to buy more. Trying on maternity clothes will at some point feel much like the horror of buying a swimsuit but I still recommend staggering purchases throughout the pregnancy so you can enjoy new things without going overboard. Plus, what fits at 20 weeks may not feel so good at 35 weeks.
5. Have fun with accessories.
Pregnancy is the perfect time to use accessories to embrace trends. I tend to wear more jewelry and make-up to change up my looks. Rock colorful scarves, stack up an arm party, find animal print flats – this will help with wardrobe fatigue.
Going back to tip #2, mine your pre-pregger closet for things you can wear throughout:
Accessories

Cardigans

Belts (you might have to rig them a bit)

Shoes
6. Don't neglect your undergarments.
The pregnancy boob phenomenon is no lie. So get resized or buy a bra expander. And if you're clueless like I was, don't go nuts and buy 5 new bras in your first trimester, especially if you plan to breastfeed. You can also find maternity underwear that fits really comfortably below the belly.
What have you learned about pregnancy style? What tips do you have?

0