I don't get to Whole Foods that often, but when I do it's like being a kid in a candy store. I could browse and wander the beauty aisles for hours. But a certain grabby toddler reaching for expensive skin care potions keeps my visits brief.
For natural beauty, you don't need much anyway – coconut oil can probably take care of what you need, right? Here are my natural beauty essentials – some get used in DIYs (Castile for body wash and hand soap) and some just poured into the tub at night (ah, Epsom salt!).
My Natural Beauty Essentials
A recent discovery that works wonders on bruises! Fast pain relief of sore muscles, swelling, stiffness & bruising.
To Use: Rub on sore muscles after a hardcore workout or when you wake up with a stiff back.
Virgin coconut oil that's unrefined and free of bleach or deodorizer. A sweet and smooth flavor that adds an exotic touch to your food or beauty recipes.
To use: 9 Beauty Uses for Coconut Oil
A fresh-smelling, gentle astringent that cleanses and refreshes the skin with a delightful lemon essence. Cleanse, tone and soothe the skin with a simple application.
To use: 13 Brilliant Uses for Witch Hazel
Old fashioned skin lotion and protectant, made only with pure, natural rosewater and glycerin.
To use: 13 Beautiful Uses for Rosewater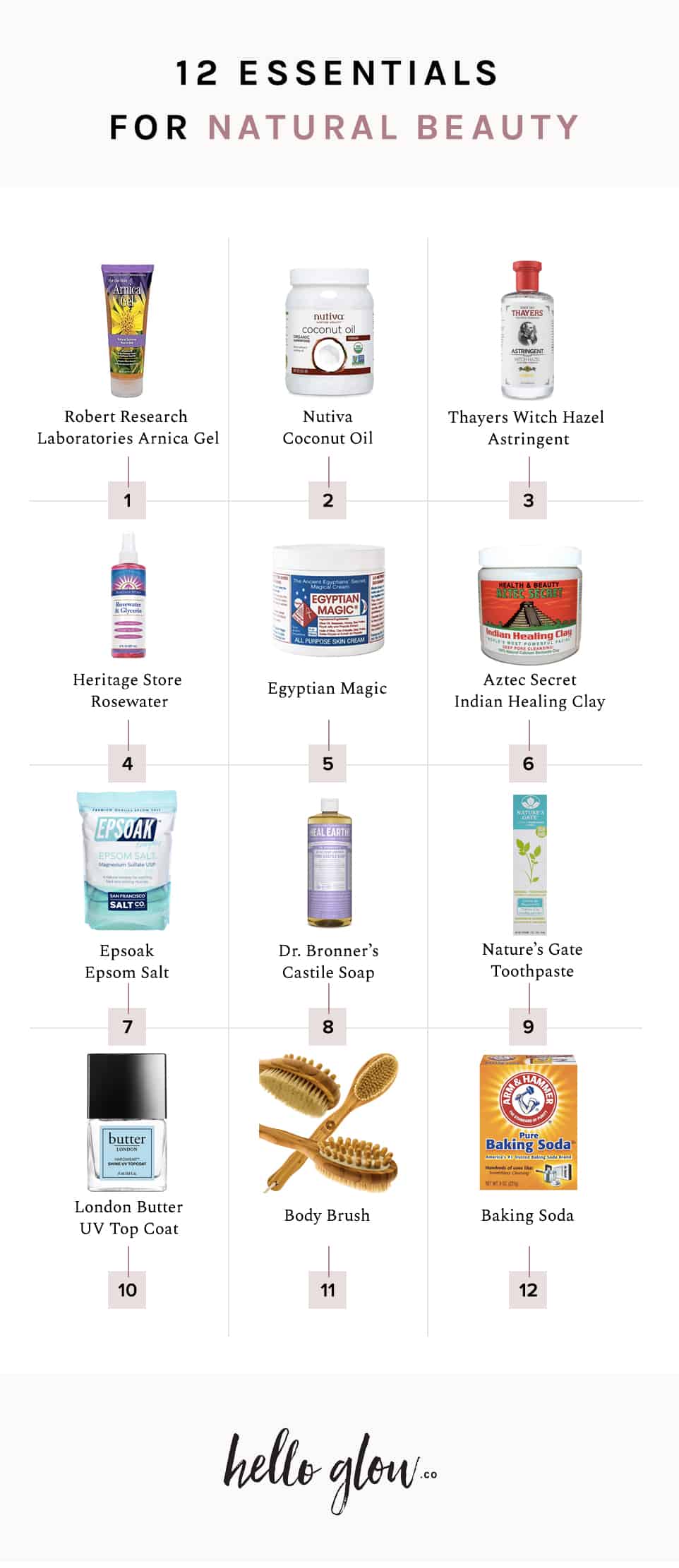 All purpose salve made with olive oil, bee pollen, honey and propolis.
To use: Universally, from chapped lips to dry elbows, from sun relief to freshly shaved legs.
The "world's most powerful facial" cleans the pores in depth and is free of fragrances or animal products.
To use: 5 Homemade Clay Face Mask Recipes
A classic bathroom cabinet, for both internal and external use, including minor bruising, sprains or constipation.
To use: Healing Epsom Salt Bath Soak
Made with organic and vegan ingredients, smooth and moisturizing, natural, packed in a recycled recipient.
To use: DIY Foaming Honey Hand Soap + 6 More Uses for Castile Soap
Peppermint toothpaste made in the USA, with natural strengthening component of teeth that helps remove plaque.
To use: Brush your teeth twice a day, adding a DIY teeth whitening treatment every so often.
Help prevent nail polish chipping or smudging, with added UV protection that also helps prevent color fading.
To use: For brilliant results, use lacquer with Butter London topcoats, which will protect nails and make your manicure last longer.
Use a dry brush before showering to exfoliate and get your lymphatic system moving, which helps your body metabolize and get rid of toxins lingering inside. Not to mention it helps with cellulite!
To use: Dry Brushing 101: 8 Things You Need To Know
This humble kitchen ingredient can be used from head to toe, and it's probably the most affordable item from my DIY supplies.
To use: 12 Beauty Uses for Baking Soda
What are your natural beauty must-haves?
13