I have been plagued by dry skin for most of my life. There are only a few weeks each spring and fall–and the infrequent times when I'm somewhere humid–that my skin isn't prone to flaking, peeling, itching, and cracking. Luckily, there are dozens of natural dry skin remedies for your face and body. And guess what? They really work!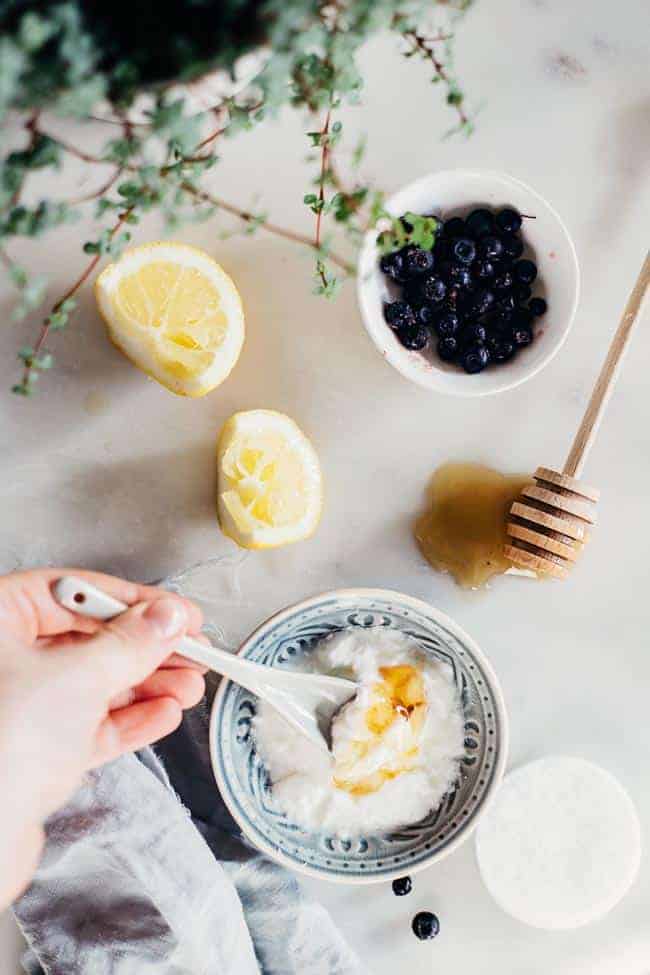 Nix Dry Skin on Your Face
You show your face to the world. Keeping it properly moisturized and hydrated will help you have the glowing, beautiful skin you've always dreamed of. You don't have to look much further than your kitchen for some of the best facial care ingredients.
Greek yogurt is a fantastic moisturizer for your face–in addition to being healthy and delicious! Thanks to lactic acid, probiotics, and calcium, a simple mask can leave you with glowing skin. Here are four more ways to use Greek yogurt to nourish your skin and fight acne.
Baking soda is a great, gentle exfoliator. Use a little bit of baking soda plus water or milk, or add a little to your cleanser to create a paste. Gently massage over your face using a circular motion and rinse with warm water. Removing dead skin cells will help moisturizer penetrate your skin better, boosting its hydration.
Coconut oil can be used in countless ways and if you're looking for a cheap moisturizer for sensitive skin, it doesn't get much easier than slathering some coconut oil from your kitchen pantry onto your face.
Raw honey is great for cleansing the face without drying out your skin. But note that it's best if it's raw because of the amazing antibacterial and probiotic properties raw honey has, in addition to its moisturizing power.
Witch hazel and rose water is one of the best toners for your face–and it really is nothing more than those two ingredients! As a side note, if you're not keeping your witch hazel in the fridge, why not? It's cool and refreshing and perfect for tightening up your face after cleansing. Rose water has vitamin C, an antioxidant that is great for skin.
Sugar–brown or white–makes an effective gentle scrub for your lips. Check out this sweet scrub for chapped winter lips.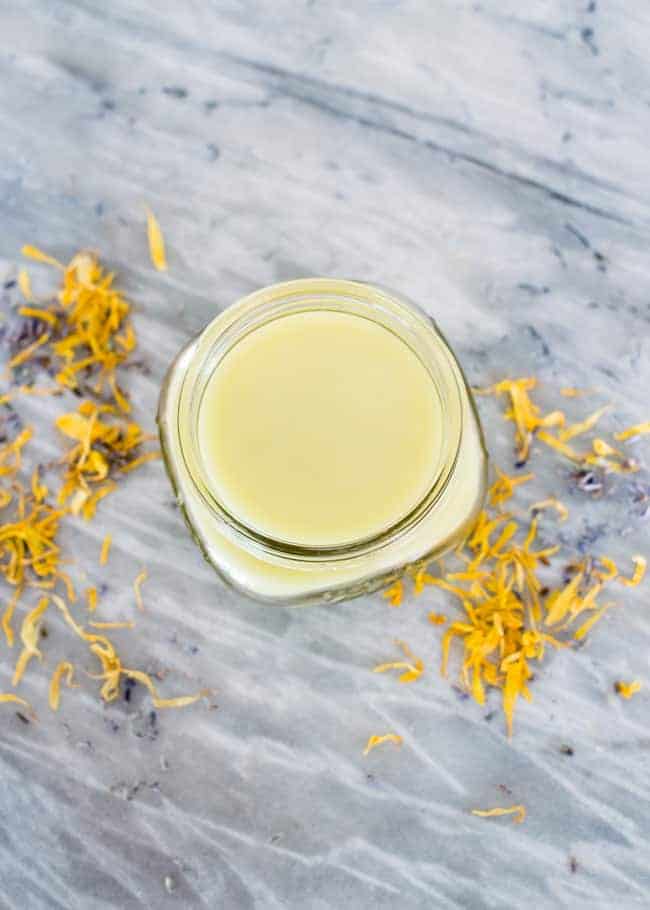 Nix Dry Hands
I don't know about you, but it seems like my hands take the worst beating of all during the winter months. Between washing dishes, folding laundry, being exposed to the cold air, and just keeping up with my daily tasks, my hands can become painfully chapped with cracks and sores developing on my knuckles and fingers. Ouch! The remedies below really help.
Olive oil helps lock in moisture on damp hands. When you're cooking, pour a little olive oil between your palms and rub it all over your hands. Remove the excess with a soft towel. This works even better if you do it after washing dishes.
Sugar + lemon are used in this at home manicure to gently exfoliate dry skin in preparation for moisturizing.
Mashed potatoes–yes, seriously! It may sound crazy, but cook a potato and mash it well with some milk and olive oil. Let the mixture cool slightly, then place your hand in the potatoes for 10-15 minutes. Wash gently and pat dry.
Honey is a natural humectant, which helps increase moisture in the skin, reducing dryness, even after being washed off. Try this Rich Honey Hand Balm.
Lavender and calendula are two herbs that calm inflammation and redness on sore hands. I always have a little packet of these dried flowers in my cupboard. This Lavender Calendula Healing Hand Salve (pictured above) is hands-down (ha!) the best salve I've ever used to not only combat dryness, but also to heal cracks or sores. It contains a combination of coconut and olive oils, dried lavender and calendula (soothing and healing), as well as beeswax (for moisture retention), and shea butter (ultra moisturizing).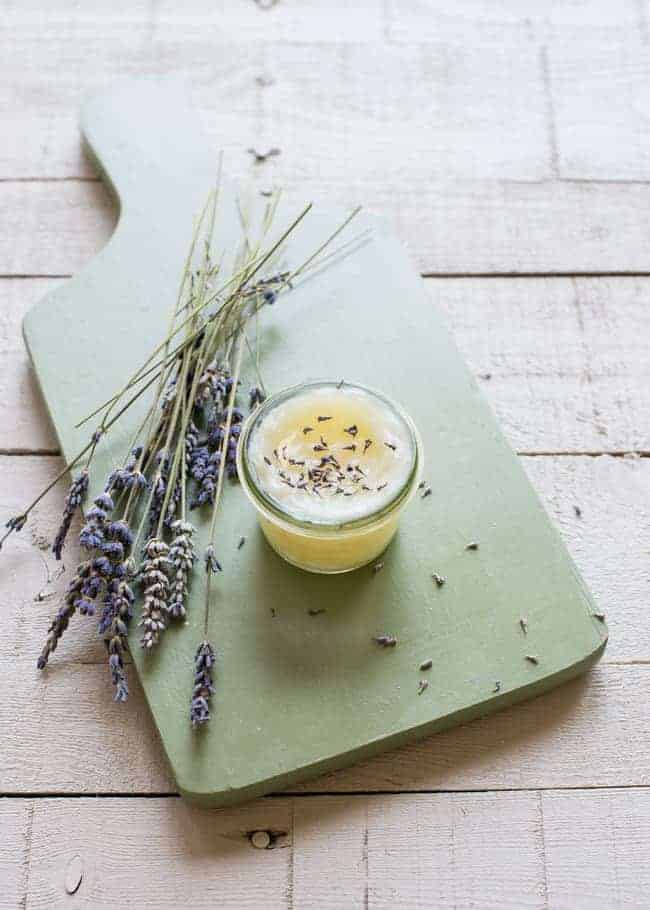 Nix Dry Feet
During the cold weather our feet hide in socks, slippers, and boots. It's easy to forget that our tootsies still need care even when they aren't sporting strappy sandals. Luckily, we can employ the same home remedies to our feet in the winter that we do in the summer.
Coconut oil to the rescue again! Similar to the lavender salve above, our DIY Healing Balm is another must-make recipe. It's a little thicker, making it perfect for rubbing onto heels if there are cracks, or to prevent them from forming in the first place.
Bananas are awesome for softening your skin, particularly the feet. Make a Banana Foot Mask with a little honey and let it sit on your feet, then remove any hard calluses or rough patches with a pumice stone.
Olive oil + sugar + honey + lemon is magic as a scrub for dry feet.
Epsom salts are great for reducing inflammation and softening up any dry skin. Try this healing soak.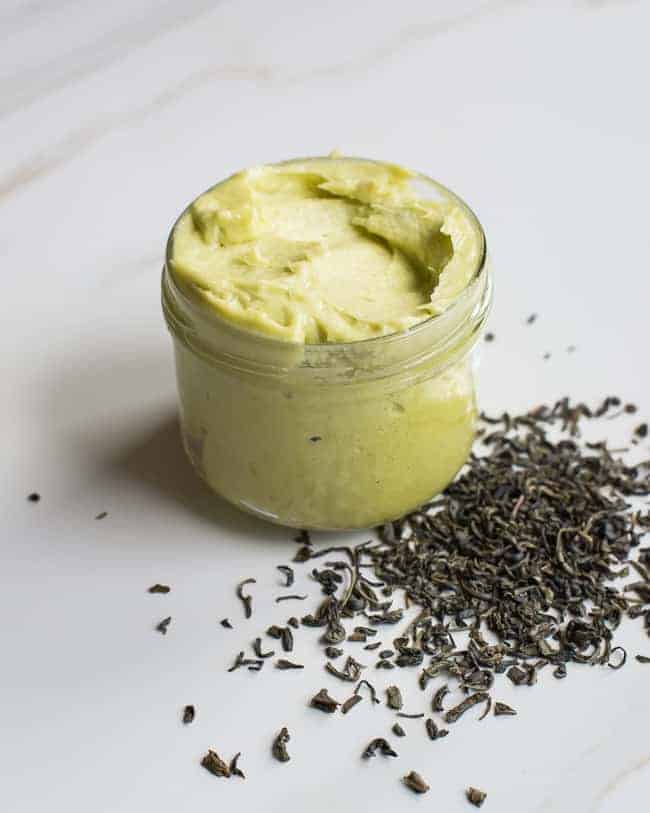 Nix Dry Skin on Your Body
The skin is the largest organ we have and it's responsible for a lot of the natural detoxing we do. It's important to keep all of our skin, not just our face, hands, and feet, healthy and glowing. Your skin may not see much light during the winter when you're all bundled up, so it can be easy to forget to moisturize, especially if you're like me and go straight from the shower to the quickest clothes you can find. (Did I mention I hate winter?)
Dry brushing is an awesome home remedy that doesn't require much more than a little time and dedication, and a nice brush–natural bristles, preferably. Why is this important? Well, once or twice daily brushing helps exfoliate your whole body and improves circulation. I definitely notice the invigorating effects of dry brushing and it also helps my skin absorb moisturizers better.
Coconut oil–oh my goodness, we can't love coconut oil more than we do. But in case you need an extra reason to love coconut oil, it really is one of the best natural moisturizers out there. It's quickly absorbed into your skin to keep it soft and supple, without clogging pores. Just plain coconut oil is all you need, but we also recommend trying our Whipped Coconut + Green Tea Moisturizer. So easy, yet so luxurious!
Ground rice is a very gentle, natural exfoliator. Use it as part of a scrub or combine with body wash.
Oats are something I use on a daily basis for breakfast…and for skin care! A lot of store-bought lotions and moisturizers contain oats because they are soothing for dry skin. You can add ground oats to a warm bath and soak up the soothing properties that help combat irritated and itchy skin.
Oats are also another great exfoliator. I absolutely love our Vanilla Sugar Cookie Body Scrub recipe. I keep a jar of it in my shower and use it a few times a week from my face all the way down to my toes. The sugar and oats are great for exfoliating without being too harsh, and the almond oil moisturizes. Combined with the heat and steam from the shower, it's a spa experience at home.
Milk baths are a tried-and-true home remedy for soft skin going back centuries. The lactic acid in milk helps soften the skin, plus it has exfoliation benefits. You can use fresh or dry milk. Keep a jar of milk bath soak (rose and chocolate are both great!) in your bathroom for whenever you need it.
What are your go-to natural dry skin remedies?
34