Sometimes we love a product so much, we can't keep it to ourselves. You know that feeling, right? Here are a few things that are so essential, we just need to share: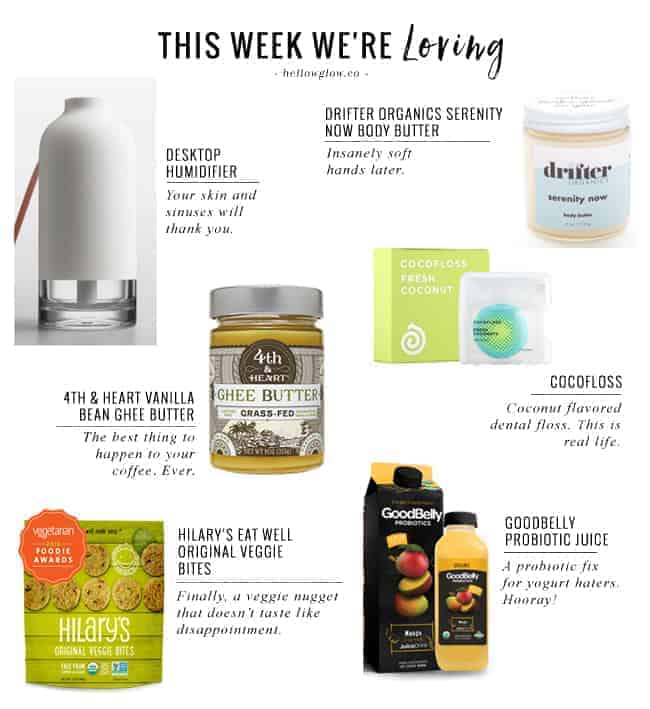 USB Desktop Humidifier // I love fall, but my skin and my sinuses do not. Does anyone else get constant headaches from the dry air? Or is it just me? I'm currently coveting this USB humidifier, which plugs right into the computer while you work. You know you're officially an adult when the shiny new toy you want is a humidifier, right?
Drifter Organics Serenity Now Body Butter // An array of essential oils and natural moisturizers (shea butter! jojoba oil!) help this body butter work wonders on those annoying dry patches of skin that are an unfortunate side effect of the cooler weather. I have a huge stash of lotions and body butters and this is the one I grab when my eczema is acting up.
4th & Heart Grass-Fed Vanilla Bean Ghee Butter // I never thought I'd be able to drink coffee without loads of syrup, but when I gave up sugar, this ghee became my go-to (along with a tablespoon of MCT oil). It's also amazing for frying up apple slices. Add some cinnamon, sprinkle with hemp seeds and chopped nuts and it's like a grain-free, sugar-free apple crumble. Yes yes!
Cocofloss // You've upgraded your cookware to avoid chemicals, but did you know those same non-stick coatings could be in your dental floss? No bueno. Cocofloss is made without the bad stuff and it seems to be…grippier? Since it doesn't slide through teeth so easily, it seems to do a better job grabbing gunk. (TMI?) And it comes in flavors like Coconut, Blood Orange, Strawberry, and Mint! Natural floss FTW.
Hilary's Original Veggie Bites // We're renovating our kitchen and won't have a sink for 4-6 weeks. Sigh. So I've been stocking up on foods that require minimal prep and minimal dishwashing and these bites are one of the few things that everyone in the family loves. Baked in the oven, they're crispy and perfect, not like those sad, soggy veggie nuggets that fall apart when you try dipping them in sauce.
GoodBelly JuiceDrink // I want to like yogurt so much, but I just can't, guys. But this juice makes it easy to get my probiotic fix without holding my nose and forcing myself to eat yogurt—super important for getting the immune system humming in time for cold season. Also: mango! So tasty.
1