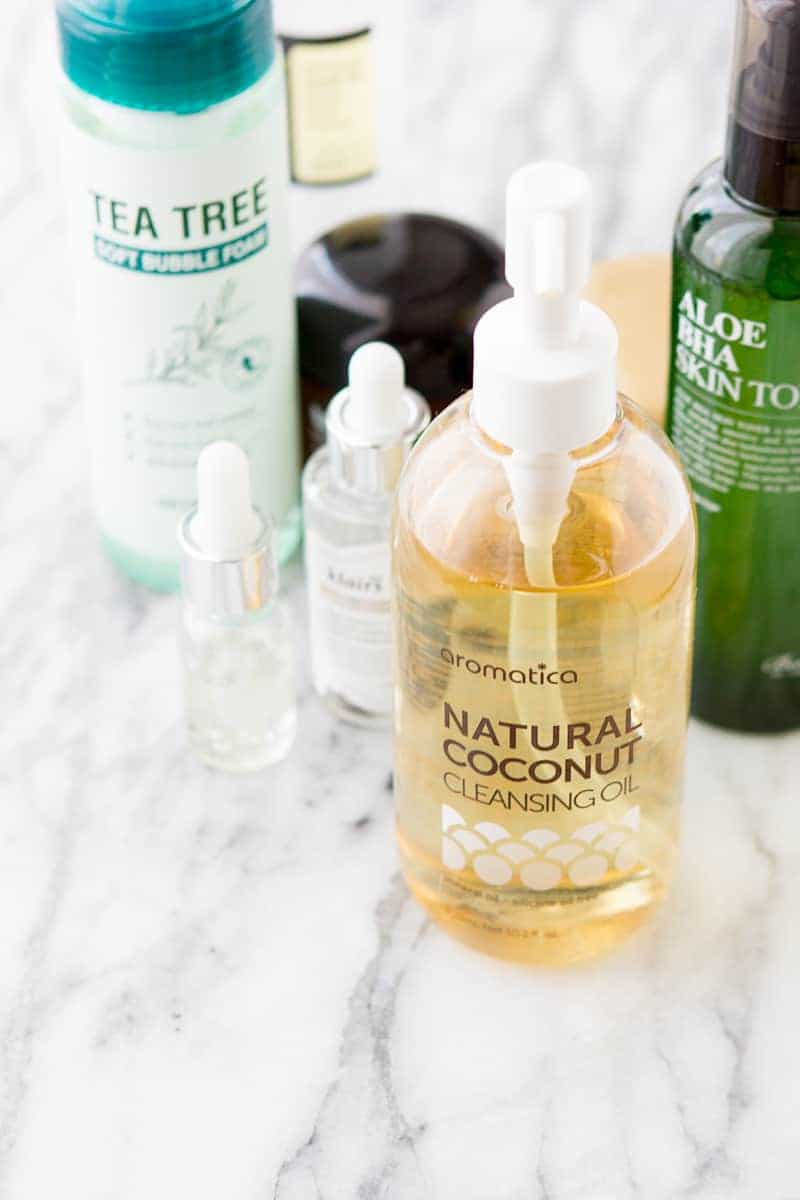 I've written before about my intense love affair (escandalo!) with Korean skincare products. They're just so good and as someone who's a bit of a product junkie, I love that shopping K-beauty products always leads to finding something new and innovative—so many of the skincare products that are trending in the US now have been K-beauty staples for years.
My other skincare fixation is natural products, free of phthalates and parabens. Can my K-beauty and natural skincare obsessions coexist? Lucky for me, the answer is YES! Korean skincare brands have been embracing natural ingredients for a long time and online shopping makes it a cinch to find them.
Our Favorite Natural Korean Skincare Products
My absolute favorite source for natural Korean skincare products is Glow Recipe, which carefully curates their lineup to include only natural products, free of harsh ingredients.
Sephora now carries some Korean skincare products, many of which are natural, and Soko Glam and Peach + Lily have great selections too, although not all of the brands they carry are natural. And of course, there's always Amazon!
Not sure where to start? Here are some popular natural Korean skincare products, from cleansers to sheet masks.
Natural Cleansers
Blithe Anti-Polluaging Himalayan Pink Salt Cleansing Water // If you're into the whole micellar water cleanser thing, you will love this cleanser. Himalayan salt and botanical extracts defend the skin from pollution and aging, while hydrating at the same time.
Make p:rem Black Cleaning Foam // Black Peat Moss Water helps clarify congested, troubled skin, while radish root ferment and glycerin seal in moisture, making this an awesome choice for anyone who struggles with breakouts and dryness at the same time.
Aromatica Natural Coconut Cleansing Oil // I totally relish ending the day by washing my face with this cleansing oil. Is that weird? Probably. But it cleans my skin like nothing else and it feels so soft afterwards.
Natural Toners
Whamisa Olive Leaf Mist // You know how everyone is all about fermented foods lately? This is fermented skincare! Olive, green tea extract, and aloe vera help calm sensitive skin.
Earth's Recipe Energy Boosting Toner // This toner is aging skin's BFF, with collagen to firm and tone, anti-wrinkle ingredients to smooth things out, and bean ferment and yam to soothe tired skin.
Aromatica Tea Tree Balancing Toner // Oily and acne-prone skin will love this toner, with tea tree leaf extract to kill bacteria and chamomile to calm redness and irritation.
Natural Eye Treatments
Belif Moisturizing & Firming Eye Cream // Natural oils help restore hydration and elasticity to the under-eye area without heaviness.
Wish Formula Panda Eye Essence Mask // These are $2.50 and they are so completely worth it. Fermented honey essence, licorice and mistletoe extracts fade dark circles, while soybean extract plumps and firms.
Cremorlab Wrinkle-Off Eye Cream // Cremorlab products are made with T.E.N. thermal water, which delivers concentrated minerals directly to the skin. Bonus: this doubles as a primer for eye shadow too.
Natural Essences + Serums
Blithe Crystal Iceplant Pressed Serum // Pressed serum is like a hybrid of serum and moisturizer and I love using it as part of my nighttime routine. This one is perfect for combination skin, shrinking pores, smoothing out uneven texture, and moisturizing dry spots.
YURI PIBU Artichoke Power Essence // Artichoke leaf extract helps moisturize, restore elasticity, and reduce the appearance of pores.
Huxley Oil Essence // Nourish aging skin with this antioxidant-packed essence, made with hydrating Sahara cactus seed oil.
Natural Moisturizers
Huxley Anti-Gravity Cream // Anti-gravity? Yes! Whip aging skin into shape with this antioxidant-rich face cream.
LJH Probiotics Sleeping Cream // Use this as a moisturizer or an overnight sleeping mask pack. Either way, its probiotic content will neutralize free radicals and minimize pores.
belif The True Cream Aqua Bomb // This lightweight gel-cream works for every skin type, hydrating skin without clogging your pores.

Natural Sheet Masks
Whamisa Organic Fruits & Tomato Fermented Hydrogel Facial Mask // You'll love the super-hydrating effects of this gel face mask, made with lactobacillus.
Dr. Jart+ Pore Minimalist Black Charcoal Sheet Mask // This acne-fighting sheet mask is made with activated Korean charcoal to detoxify the skin and tighten pores.
LAPCOS Honey Sheet Mask // Honey extract soothes stressed complexions with its nourishing properties, while yellow flower tones and tightens with high levels of carotenoids.

Natural Face Masks
Blithe Soothing & Healing Green Tea Splash Mask // No time for a face mask? Pat this mask onto your face in the shower and get results in 15 seconds. Totally love this!
Daito Modeling Mask Collagen // This masks turns into rubber after it's applied I can't even begin to tell you how satisfying it is to peel one of these off of your face. Definitely worth buying for that alone.
MD's Pick Gold Radiance Water Rubber Face Mask // Another rubber mask! This one is packed with luxurious gold extract, which soothes and strengthens for a more revitalized complexion
44