I've reached that glorious age where I still suffer from breakouts, but I can also pull the skin up at my temples, look in the mirror and wonder how many pennies I'd have to save to afford a face lift. (Just kidding! Kind of! Not really!)
For some reason, I had fabulous skin when I was a teenager and it was when I reached my mid-20s that I started to be plagued by hormonal breakouts. To say I've tried everything to combat my skin woes would not be an understatement.
After many years of prescriptions, drugstore products, high-end skincare lines and everything in between, I gave up and started a simple routine of washing my face with manuka honey in the morning and coconut oil at night.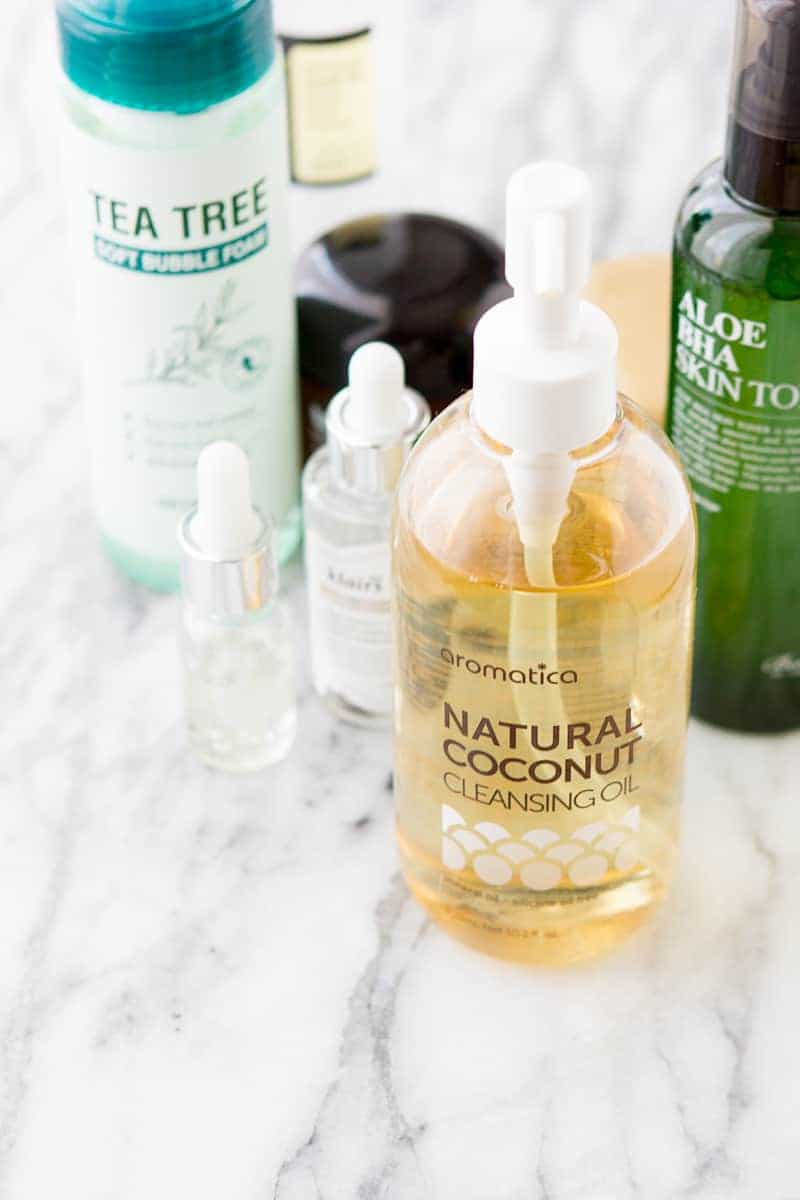 A 10-Step Korean Skincare Routine?
This worked better than the eleventy-billion products I used to employ, but things weren't quite right. I had dark circles under my eyes, I still had occasional breakouts, and my skin always seemed to be both dry and oily at the same time.
My esthetician recommended a pricey moisturizer and even using that twice a day didn't tame the dryness and irritation. But I just sort of felt like, welp, I guess this is the way things are! This is my skin!
And then I started hearing about Korean skincare and, specifically, the 10-step skincare routine. All those steps seemed completely ridic, especially after paring my routine down to honey, coconut oil and moisturizer. But I was intrigued and I decided to give it a try.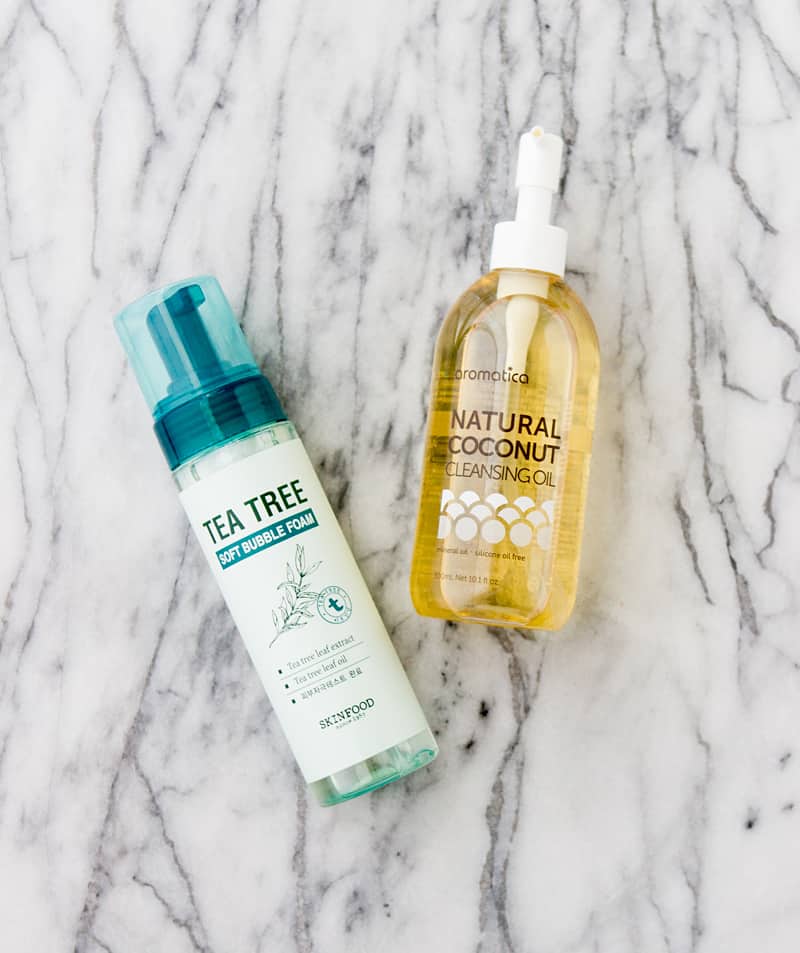 Our Favorite Natural Korean Skincare Products
Here's a rundown of how the Korean skincare system works, plus my favorite natural Korean skincare product picks, from cleansers to sheet masks.
Steps 1 & 2: Double Cleansing
First, I remove my eye makeup. Then I cleanse with an oil-based cleanser, followed with a water-based cleanser. I promise you, this is so worth it—I think the oil-based cleanser is my favorite part of the routine.
Double-cleansing makes sure every last bit of makeup and dirt is removed. (In the morning, you can use the water-based cleanser alone.)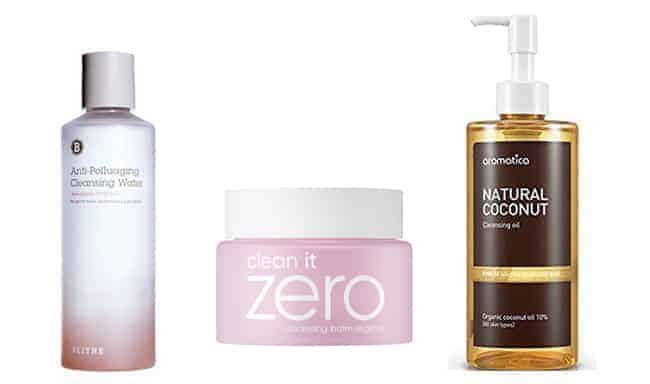 Natural Cleansers
Blithe Anti-Polluaging Himalayan Pink Salt Cleansing Water // If you're into the whole micellar water cleanser thing, you will love this cleanser. Himalayan salt and botanical extracts defend the skin from pollution and aging, while hydrating at the same time.
Banila Co Clean It Zero 3-in-1 Cleansing Balm // This hypoallergenic cleanser transforms from a sherbet-like balm texture into a smooth oil when applied to skin, removing both makeup and impurities in one step.
Aromatica Natural Coconut Cleansing Oil // I totally relish ending the day by washing my face with this cleansing oil. Is that weird? Probably. But it cleans my skin like nothing else and it feels so soft afterwards.
Neogen Green Tea Real Fresh Foam // A gentle foam cleanser that's the perfect second step after oil cleansing.
Step 3: Exfoliate
This step is only done 2-3 times a week, depending on your skin's needs. I've found that as I got into the groove of my new routine, I needed to exfoliate much less.
Skinfood Black Sugar Strawberry Wash Off Mask // This strawberry exfoliating mask tightens pores and cleanses the skin, and I can't begin to describe how good it smells.
Step 4: Toner
I always thought of toner as a way to get those last few traces of makeup off of my face, but Korean toners are meant to balance the skin's pH before proceeding with the rest of your routine.
Natural Toners
Whamisa Olive Leaf Mist // You know how everyone is all about fermented foods lately? This is fermented skincare! Olive, green tea extract, and aloe vera help calm sensitive skin.
Earth's Recipe Energy Boosting Toner // This toner is aging skin's BFF, with collagen to firm and tone, anti-wrinkle ingredients to smooth things out, and bean ferment and yam to soothe tired skin.
Aromatica Tea Tree Balancing Toner // Oily and acne-prone skin will love this toner, with tea tree leaf extract to kill bacteria and chamomile to calm redness and irritation.
AmorePacific Botanical Toner // This soothing toner uses bamboo sap to deliver softness, comfort, and moisture to the skin.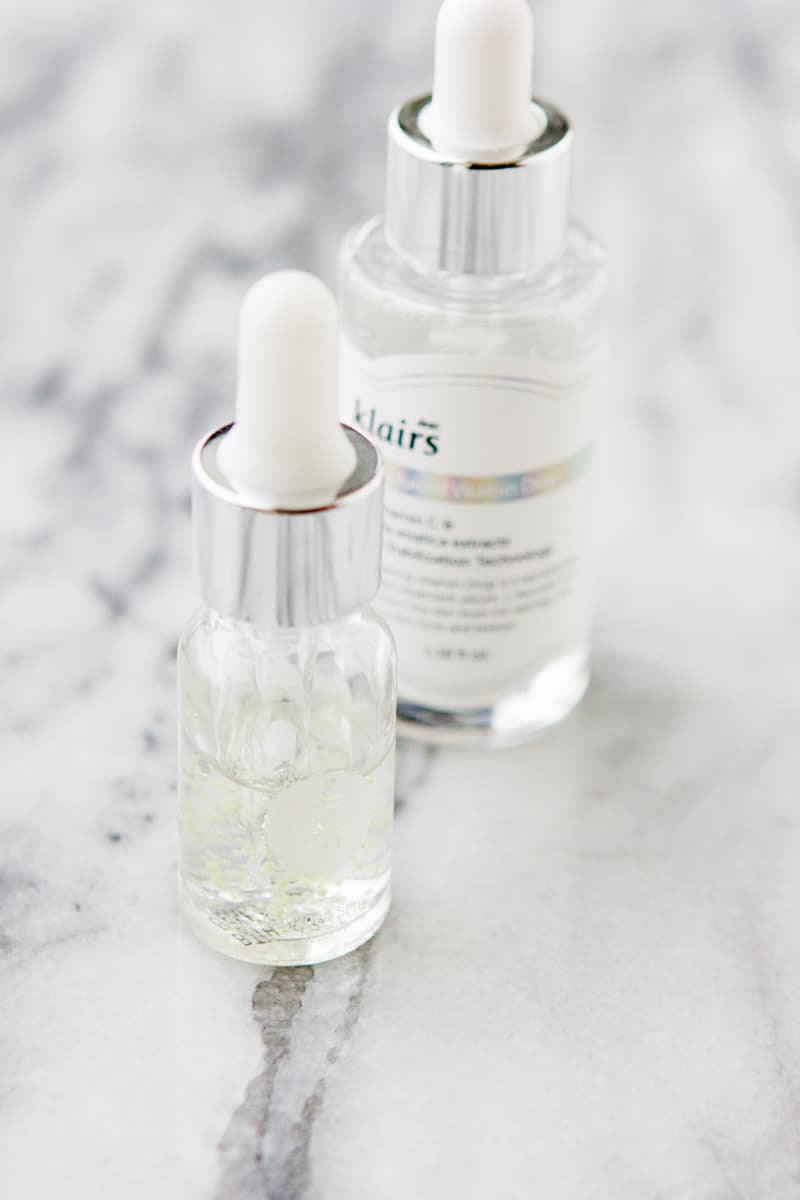 Step 5: Essence
This step is the one that was completely new to me. Essence?! The theory behind it is that by hydrating the skin with an essence, it can better absorb treatments in the next step.

Natural Essences + Serums
Blithe Crystal Iceplant Pressed Serum // Pressed serum is like a hybrid of serum and moisturizer and I love using it as part of my nighttime routine. This one is perfect for combination skin, shrinking pores, smoothing out uneven texture, and moisturizing dry spots.
Aromatica Rose Absolute First Serum // This anti-wrinkle, brightening serum is made with Bulgarian damask rose oil, which revitalizes the skin.
Huxley Oil Essence // Nourish aging skin with this antioxidant-packed essence, made with hydrating Sahara cactus seed oil.
May Coop Raw Sauce // This all in one combines toner, lotion, and essence in one to hydrate and nourish skin.
Step 6: Treatments
And here's where you attack all those skin problems! There are treatments for just about every skin issue you could possibly have and you can mix and match them to get the best results. For example, you could use a treatment to tackle enlarged pores and another to tame irritation.
AROMATICA Tea Tree Green Oil // The lightweight facial treatment is suitable for oily, acne-prone skin.
Skin Inc. Encapsulated Licorice Serum // Perfect for sensitive skin, this serum has licorice and green tea extracts to calm inflamed or irritated skin.
Be the Skin Botanical Pore Serum // A must-have for controlling oil production and minimizing pores.
Step 7: Eye Cream
Under my eyes is the first place where I started to see signs of aging—and signs of sleep deprivation thanks to the ever-present dark circles. I've tried so many eye creams before and the one below is the only one that's actually given me results. Miracles are possible, y'all.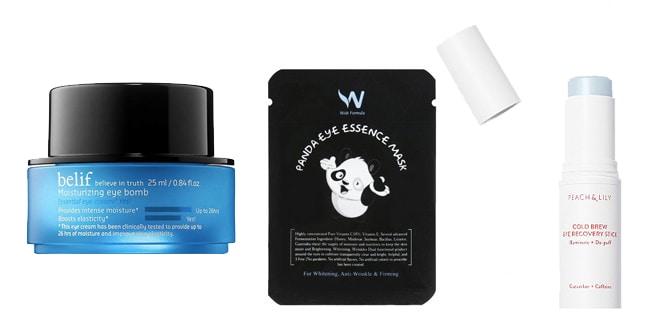 Natural Eye Treatments
Belif Moisturizing Eye Bomb // Natural oils help restore hydration and elasticity to the under-eye area without heaviness.
Wish Formula Panda Eye Essence Mask // These are super affordable and they are so completely worth it. Fermented honey essence, licorice and mistletoe extracts fade dark circles, while soybean extract plumps and firms.
Peach & Lily Cold Brew Eye Recovery Stick // Illuminate and de-puff with a natural stick, made with cucumber, kiwi, and green tea extracts.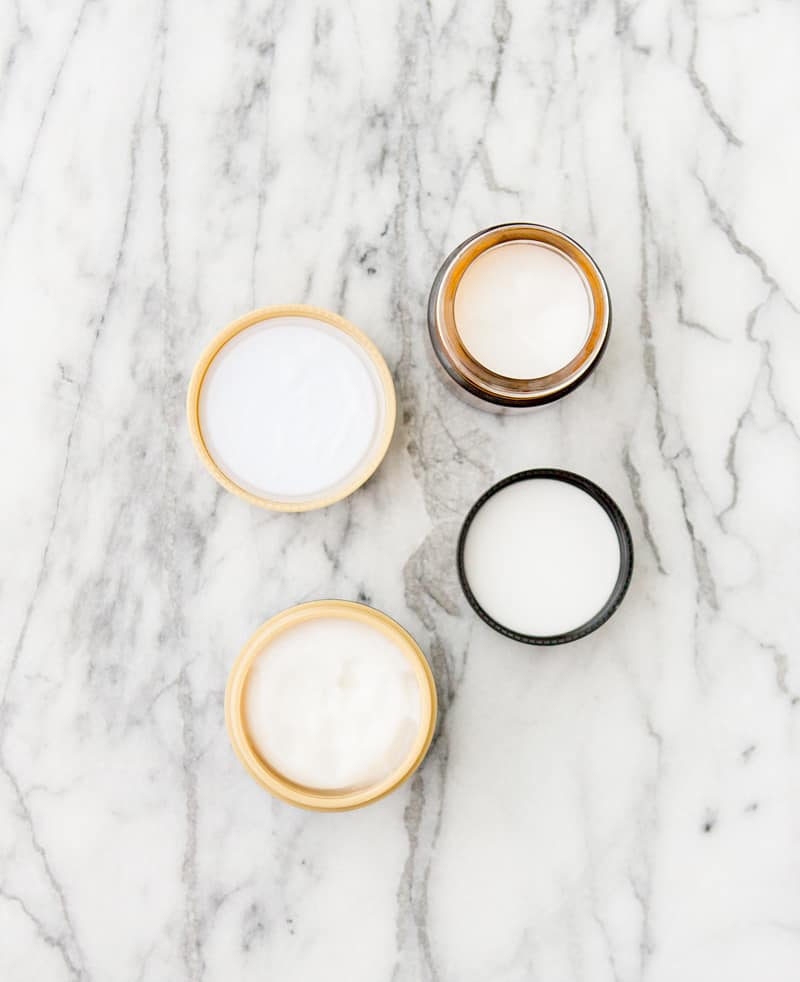 Step 8: Moisturizer
Now it's time to seal all that good stuff in! Pre-Korean skincare, I always felt like my moisturizer would have my face feeling hydrated for an hour or so after applying it, and then it would be back to dryness and that tight, itchy feeling. My Korean moisturizer works and for the first time, I have skin that's actually dewy, not dull and dried out or oily and shiny.

Natural Moisturizers
Huxley Anti-Gravity Cream // Anti-gravity? Yes! Whip aging skin into shape with this antioxidant-rich face cream.
AROMATICA Tea Tree Green Oil // The blend of tea tree oil, incense serrata oil, and Centella Asiatica extract helps soothe skin and balance the skin of sebum production.
belif The True Cream Aqua Bomb // This lightweight gel-cream works for every skin type, hydrating skin without clogging your pores.
SKINFOOD Avocado Rich Emulsion // With pure avocado extract, this rich emulsion hydrates and moisturizes the skin, providing it with necessary vitamins and minerals.
Aromatica Calendula Juicy Cream // Skip the water-based creams and try this natural version that's almost 50% Calendula extract, which is exceptional for calming skin.
Step 9: Sun Protection
Slather on that SPF! An important part of the Korean skincare routine is protecting your skin from sun damage. It's so much easier to keep that damage from happening in the first place than having to fix it later, right? (Obviously, you can skip this at night!)
Soft Finish Sun Milk SPF50+ // This high SPF milk is perfect for daily use, without leaving oily residue on your face.
Step 10: Masks & Sleep Packs
Like exfoliation, this is only done on an as-needed basis. I do sheet masks once or twice a week, but when the weather is cold, I use a sleep pack nightly. It's basically a very thick moisturizer that's applied before bedtime.

Natural Sheet Masks
Sweet Chef Beet Vitamin A Fresh Pressed Sheet Face Mask // This hydrating, anti-oxidant rich face mask is made with beets, for softer and visibly smoother skin, and Vitamin A, which helps minimize signs of aging for a youthful glow.
Dr. Jart+ Vital Hydra Solution Sheet Mask // Made of fine cellulose fiber, the lightweight, transparent mask allows pores to fully absorb essential nutrients and moisturizing ingredients, for ultimate hydration.
LAPCOS Honey Sheet Mask // Honey extract soothes stressed complexions with its nourishing properties, while yellow flower tones and tightens with high levels of carotenoids.

Natural Face Masks
Blithe Soothing & Healing Green Tea Splash Mask // No time for a face mask? Pat this mask onto your face in the shower and get results in 15 seconds. Totally love this!
Innisfree Volcanic Pore Clay Mask // Formulated from solidified lava caused by volcanic eruptions on the Jeju island, this clay mask absorbs impurities and sebum for clean, healthy skin.
Peach & Lily Overnight Star Sleeping Mask // This night cream is packed with antioxidants, peptides, and brightening ingredients that help you achieve maximum glow with minimum effort, while you sleep.
Erborian Bamboo Waterlock Mask // This unique aqua-gel mask is cooling and plumping, leaving you looking awake and refreshed.
Korean Skincare FAQ
That's a lot of work! Is it really worth it?
YES! My skin was better than it had been on my stripped down honey/coconut oil routine, but switching to the more complicated 10-step Korean skincare routine made it even better.
The fine lines on my forehead and under my eyes faded, along with my dark circles; breakouts were fewer and the ones I did get cleared up quickly; I didn't have dry, flaking skin on my cheeks, jawline and nose anymore.
I even found that some of my acne scars were less visible—I don't think this is permanent, but I attribute this to having plumper skin thanks to the hydrating essence and moisturizer.
And let me just add: it's really not as labor-intensive as it seems. I think it's added maybe 10 minutes to my bedtime routine and 5 minutes, if that, in the morning. I've found myself actually looking forward to it every evening—it's one of the rare moments of me-time I get in the day.
But how was it life-changing?
After I had my daughter, I had trouble justifying putting time, money and effort into myself and I kind of fell into a slump. My clothes didn't fit right anymore, I rarely had time to do my makeup or even dry my hair in the morning and I totally became the mom-in-yoga-pants stereotype.
I just didn't feel good about myself. Changing up my skincare routine was the catalyst for other changes—I bought new clothes for myself, I started waking up a little earlier so I'd have time to get ready in the morning, and I started eating better.
Where can I find natural korean skincare products?
My other skincare fixation is natural products, free of phthalates and parabens. Can my K-beauty and natural skincare obsessions coexist? Lucky for me, the answer is YES! Korean skincare brands have been embracing natural ingredients for a long time and online shopping makes it a cinch to find them.
My absolute favorite source for natural Korean skincare products is Glow Recipe, which carefully curates their lineup to include only natural products, free of harsh ingredients.
Sephora now carries some Korean skincare products, many of which are natural, and Soko Glam and Peach + Lily have great selections too, although not all of the brands they carry are natural. And of course, there's always Amazon!
82