Menstrual hygiene products have come a long way since 1933, when the first modern tampon was produced and marketed. In the 1980s, however, one particular brand of tampons were first linked with Toxic Shock Syndrome, the nightmarish disease described in fine print on every traditional box of tampons.
"Just switch to pads", one might say, and sure, that sounds easy enough. But just like regular tampons, pads are usually made from synthetic materials, often with fragrances that irritate the sensitive area they're used for. And let's not forget environmental concerns – the average woman uses and disposes of about 10,000 tampons or pads during her menstrual life cycle, all of which will end up in the landfill.
Luckily, more and more women are taking the natural route to a healthier menstrual cycle. Whether it's going back to basics with reusable pads and pain-relieving essential oils, or making use of the latest technology with period panties and menstrual cups, there are now plenty of options available.
Scroll down for some of our favorite natural period products and let us know what works best for you!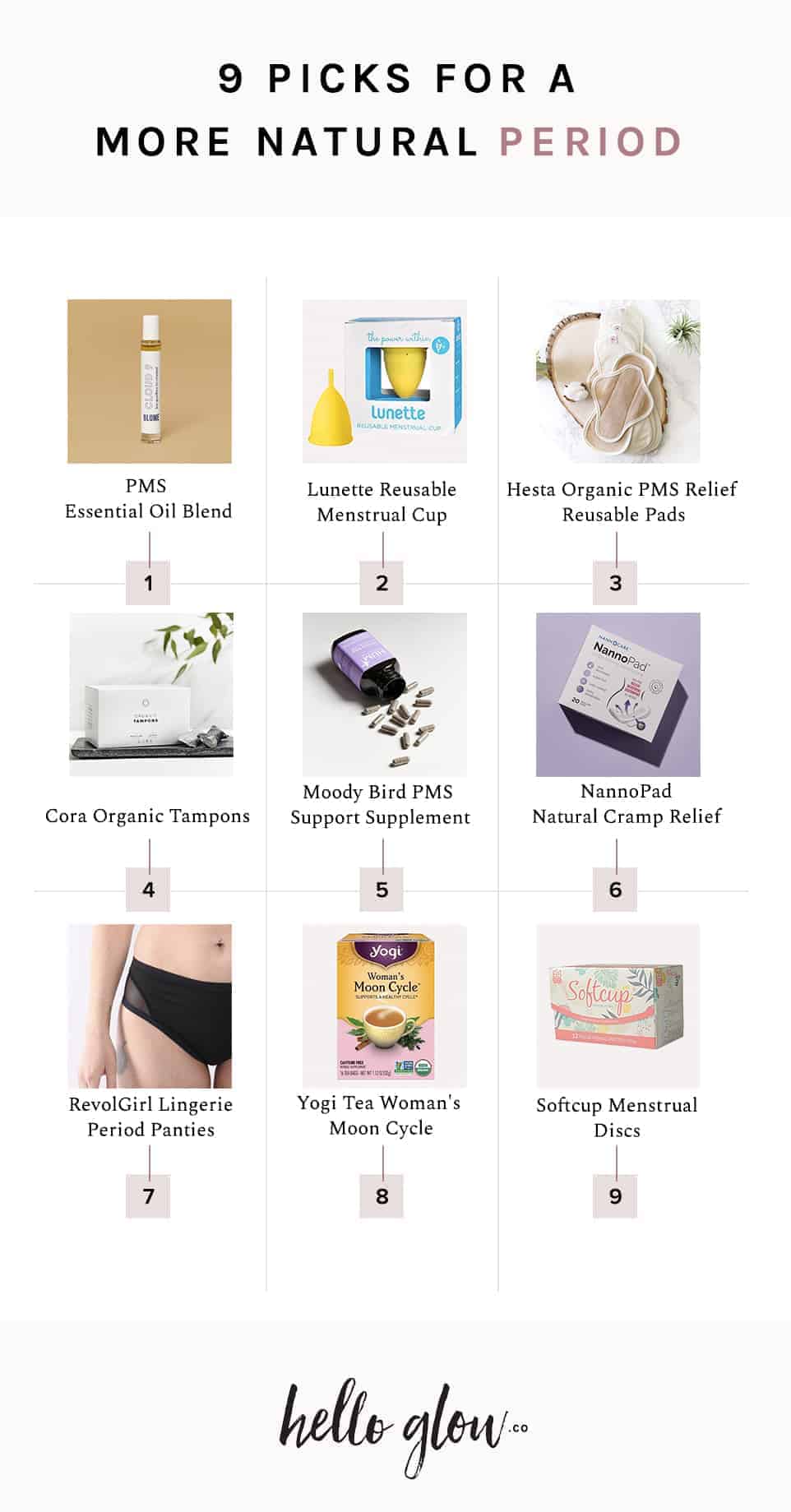 1. PMS Essential Oil Blend // Rather than taking Advil or Tylenol as soon as you feel those first PMS cramps, try this "Cloud 9" essential oil blend, formulated with soothing clary sage, geranium, and jojoba oil.
2. Lunette Reusable Menstrual Cup // A non-toxic and comfortable way to manage your period, the Lunette menstrual cup can be used for several years, saving not just money, but also the environment.
3. Hesta Organic PMS Relief Reusable Pads // Made from six layers of absorbing organic cotton, these reusable pads are ideal for sensitive skin, and they won't leave you with that guilty feeling you have when you throw out 5-6 disposable pads a day.
4. Cora Organic Tampons // If tampons are your number one choice, go for organic cotton! The ones from Cora are natural, highly absorbent, and with no scary hidden ingredients.
5. Moody Bird PMS Support Supplement // This plant-based dietary supplement acts as your monthly ally against PMS symptoms. It's vegan, and it's formulated with chaste berry tree and soothing dong quai.
6. NannoPad // The absorbent, yet breathable organic pads and pantyliners have the bonus of offering natural cramp relief and can be ordered subscription style to make sure you never run out!
7. RevolGirl Lingerie Period Panties // It doesn't get any easier than period panties! These beautifully-designed undies may not look it, but they can hold 2-3 tampons worth of absorption!
8. Yogi Tea Woman's Moon Cycle // During premenstrual days, drink plenty of this organic raspberry leaf tea to support a healthy cycle and easy PMS symptoms.
9. Softcup Menstrual Discs // The softcup offers up to 12 hours of protection, retaining 5 tampons worth of fluid before being disposed of. It's not linked to TSS and it's totally comfortable to wear.
This post was medically reviewed by Dr. Kimberly Langdon, M.D., a university-trained obstetrician/gynecologist with 19-years of clinical experience. Learn more about Hello Glow's medical review board here. As always, this is not personal medical advice and we recommend that you talk with your doctor.
28