It's safe to say that if you're cranky, achey, bloated and breaking out, PMS just might be the culprit. Studies on the topic vary, but it's thought that 80% of women suffer from at least one PMS symptom every month. In fact it's so common that we're often led to believe that PMS is normal—an inevitable part of our monthly cycles. And while we're told that we must turn to over-the-counter remedies to ease the pain, that's not always the case. PMS is sometimes a result of diet, lifestyle and environmental factors that trigger a hormonal imbalance. Here are nine ways to get your hormones in check and cure PMS, once and for all.
Natural PMS Remedies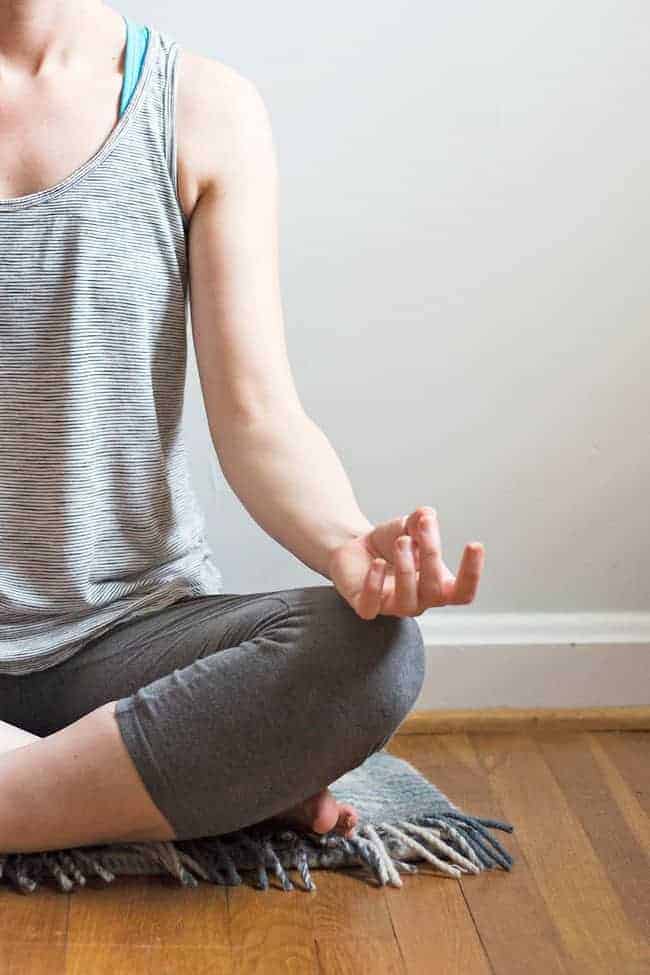 1. Clean up your diet
A lot of things can cause hormonal imbalances, but one of the main culprits is a poor diet—mainly one that's high in sugar, dairy products, alcohol, and caffeine. While it might seem like a lot, avoiding inflammatory foods and potential allergens may be the missing link when it comes to balancing your hormones once and for all. But don't stress about it (that's another PMS trigger!).
Dairy
Even if you don't have any problems digesting dairy, the hormones found in milk, yogurt, and cheese might be messing with your time of the month. If you have bad PMS symptoms, it may be worth giving up dairy for two weeks to a month to see if it makes a difference. (Read our guide to giving up dairy without missing it first, of course.)
If that seems like too big a commitment, make sure to stick to organic, whole-milk, hormone-free dairy whenever possible—or avoid it while you're PMSing/on your period. I know, what's a period without ice cream. Good thing you can make it with bananas!
Coffee & sugar
You might rely on these more than normal when you're stressed or having PMS, but while coffee drinks and sugar have short-term soothing benefits, the resulting crash will likely make you feel worse. Both can also disrupt your sleep and digestion, and keep your body from properly metabolizing the hormones it needs to at this time of the month.
Caffeine also constricts blood vessels, which can cause pain. If you absolutely need the caffeine, try to stick to minimal amounts of plain coffee or green tea. If sugar is your vice, opt for fruit whenever possible. Don't forget to chase every cup of coffee or tea with water, too—the fastest way to a headache is dehydration.
2. Workout
A good sweat session can fix almost anything, and PMS is no different. Regular aerobic exercise may help to ease PMS by increasing endorphins, the natural painkilling and mood-altering chemicals in your body. In addition, exercise increases the cleansing action of your lymph system, helping to rid your body of excess hormones. Aim for at least 30 minutes a day of light cardio or weightlifting to get your blood moving without stressing your thyroid or further disrupting your hormones.
A little dance, t'ai chi, swimming, yin yoga and other PMS-friendly workouts (even walking the dog) can boost your mood and make everything seem just…not as bad. YouTube has a ton of menstruation-specific yoga sequences if you're not up for a class. Try to stick to poses that support the pelvic area and lower back. You'll also likely sleep much better after getting some movement in your day.
3. Drink Herbal Tea
Vitamin B has long been recommended to help ease PMS symptoms, and red raspberry leaf just happens to be a rich source of B-complex vitamins–we like The Republic of Tea's Organic Raspberry Leaf Superherb Tea. The tannins in the tea also help to relax your muscles, soothe stomach aches and calm stressed nerves.
We all know a cup of herbal tea is one of the easiest ways to relax—which is key this time of the month. But many herbal teas, like raspberry leaf, feverfew, dong quai, chasteberry, and guelder rose (known as "cramp bark") can help you relax and ease PMS symptoms. I have a few friends who swear by Yogi's Woman's Moon Cycle tea. Soothing DIY turmeric tea will help you combat a bad mood and get to sleep.
4. Eat More Coconut Oil
Coconut oil is amazing for hormone health. It provides the necessary building blocks for hormone production, and can also reduce inflammation and help you lose weight. As an added bonus, it even has antimicrobial and antibacterial properties which may help boost your immune system.
5. Deal with Stress
Stress is a major player when it comes to hormonal imbalances. When you feel stressed, your body increases cortisol production. But in order to make more cortisol, your body first has to "steal" pregnenolone (a building block of estrogen and progesterone), leaving you depleted of sex hormones. To help combat stress, take a hot bath, get a massage, try yoga, learn deep breathing or incorporate meditation into your daily life.
6. Try Supplements
Rhodiola rosea is an herb that's been used for centuries to help cure hormone-related issues. It's said to help reduce fatigue, irritability, and depression that often come with PMS. And since Rhodiola is also an adaptogen, it can help lower cortisol production and encourage your body to better deal with stress.
Chasteberry, evening primrose oil, black cohosh, and dong quai supplements have all been linked to reduced PMS symptoms like anxiety, breast tenderness, irritability and bloating. I've had great luck with a supplement a naturopath prescribed me that includes maca root. There are many PMS-specific supplement blends out there as well. You'll need to take a supplement all month, and for more than one cycle, to notice a difference. (Make sure to check with a healthcare practitioner before adding any supplements into your routine, too.)
7. Take Fermented Cod Liver Oil
Fermented cod liver oil provides many of the necessary building blocks for hormone production including Vitamins A, D, and K. It is also a great source of Omega-3 fatty acids that help counterbalance the excessive Omega-6s found in our western diet. If you'd prefer, you can get your Omega-3s from a high-quality fish oil instead.
8. Incorporate Essential Oils
Clary sage oil helps naturally balance hormones while cypress oil improves circulation and can ease cramps. To use, rub 2-3 drops of oil on the lower abdomen, then apply a warm compress for 2-5 minutes.
9. Use Flax Seeds
Estrogen dominance is the most common form of hormone imbalance in women. Flax seeds contain lignans which help break down estrogens and remove them from the body. Eat one tablespoon of flax seeds daily during the first two weeks of your cycle to help decrease excess estrogen, and improve your estrogen-to-progesterone ratio.
10. Pass the Probiotics
Getting your gut in balance is key to balancing pretty much everything in our bodies, and your monthly cycle is no exception. The digestive system plays a role in how estrogen is metabolized, which greatly affects our periods (and how they manifest themselves).
Keep everything in tip-top shape—and avoid the digestive upset you might experience during your period anyway—with a non-dairy probiotic like coconut water kefir, kombucha, kimchi or fermented lemonade.
11. Turn Up the Heat
The hot water bottle or heating pad remedy has been around for ages, and that's because it works! A little bit of heat applied to your abdomen area increases blood flow to the uterus—a lack of which is what causes that awful "I just need to sit here doubled overall day" feeling.
You can also apply a heating pad to your back if you get lower back pain during PMS. While you shouldn't do a castor oil pack when you're menstruating (or when you're pregnant for that matter), doing them when you're not on your cycle can minimize cramps and other symptoms when your period does arrive. I found a few months of castor oil packs made my periods more regular, too!
12. Switch to Natural Feminine Care Products
Some women say they've seen a reduction in PMS symptoms like cramps within a few months of switching to more natural feminine hygiene products, like sea sponges, reusable pads or bleach-free tampons (get our guide here). While the evidence is anecdotal, it's worth a shot. And worth it to minimize exposure to the harmful chemicals that are in some traditional tampons.
13. Beat Bloating with Food
The water retention that comes with PMS is sometimes the worst since it can make you feel just "off" in general. (Seriously, what motivation is there to do yoga or eat healthier when you already feel like a blob!) The foods you eat right before and during your cycle—and the rest of the month, too—can minimize that. Minimize salt intake and increase water intake to combat water retention.
Make sure to avoid salty, spicy or highly processed foods as well as soy products, carbonation, fruit juices and beans, and stick to bloat-busting options like quinoa, parsley, grapes, pineapple, brown rice and sweet potatoes. Click here to get our 1-Day Bloat-Busting Menu, complete with recipes.
35