I'm a total sucker for getting packages in the mail. No wonder everyone crushes on the UPS man; it's hard not to love someone who brings gifts (and yes, toilet paper from AmazonPrime is totally a gift). I've tried out several beauty subscription boxes and here are my favorites.
Art of Organics Clean Beauty Box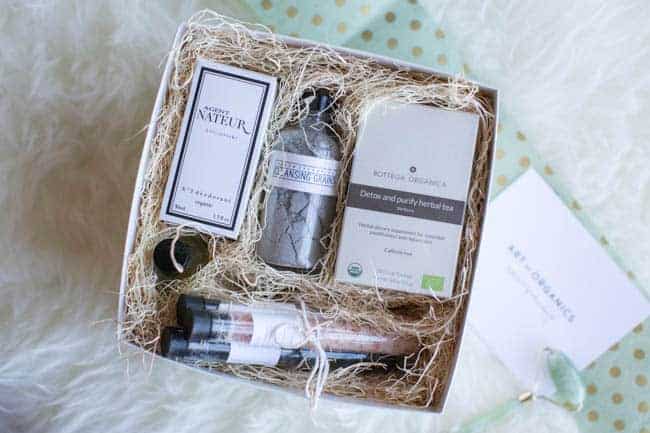 It was such a treat to open this gorgeously wrapped box – and the products inside did not disappoint. Each of the boxes contains carefully chosen organic, natural, non-toxic and cruelty-free products. My Detox box included Herbs + Oils bath salts, DnA Elements detox body oil, Agent Nateur deodorant, a jade roller, Bottega Oranics tea and Urban Organics cleansing grains.
Buy it: ArtofOrganics.com for $58/month. Gift boxes also available.
Love Goodly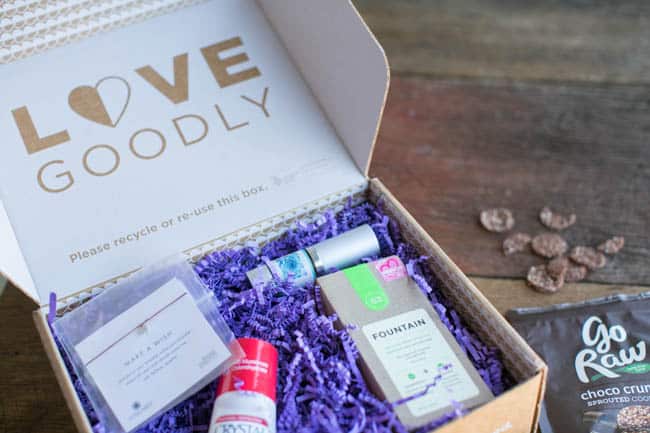 If a monthly box sounds too overwhelming (and it can be) try Love Goodly. Every other month you'll receive 5-7 full-size products and deluxe samples of the best nontoxic and cruelty free beauty and skincare, healthy snacks, wellness and eco style accessories. I love that the box thoughtfully goes beyond skincare to beautiful accessories and snacks. My box included a Crystal Essence deodorant (is the universe hinting at me?!), KINDri beauty oil, a small charm bracelet, Go Raw sprouted snacks and Fountain Super Green Molecule dietary supplement.
But it: LoveGoodly.com for $39.95/box
GoodBeing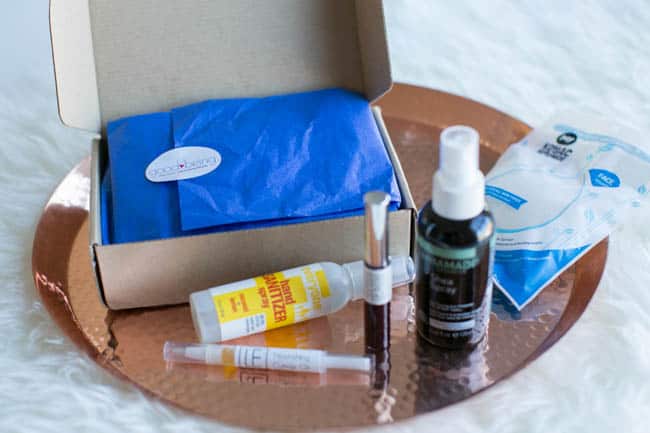 Goodbeing (formerly goodebox) is a premium discovery & trial service providing expertly curated, healthy beauty products, non-toxic cosmetics, natural wellness & sustainable, toxin-free living goods. The well-rounded box includes skincare, haircare and body products for a reasonable price. Each product felt like a discovery – something I hadn't seen or heard of before, which I love. My box included a My Konjac face sponge, Hamadi Organics shea spray, Bonnie lip gloss, Everyone hand sanitizer spray and Lillian Eve cuticle oil.
Buy it: Goodebox.com for $18-21/per box 
Handmade Beauty Box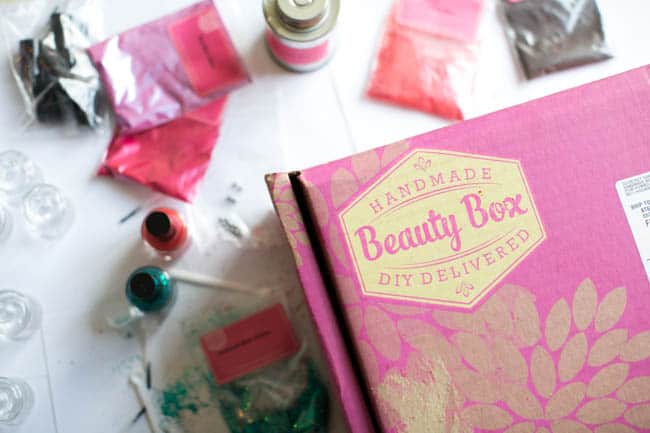 We tested out Handmade Beauty Box earlier this year and had a super fun time making our own nail polish. The complete do-it-yourself beauty projects in a box are easy to follow and a great value for the beginning crafter. Definitely recommended for the natural beauty lover who wants to make their own skincare and cosmetics without the hassle of sourcing ingredients.
Buy it: HandmadeBeautybox.com, $29-32/box
Make Your Own Box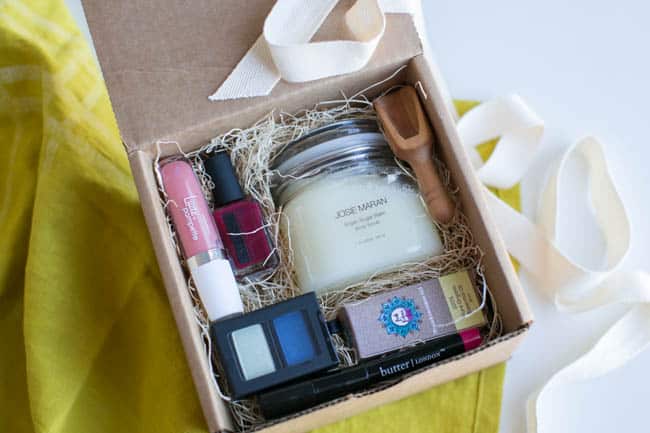 If you're shipping gifts, why not make your own box filled with beauty goodies? Here's a box filled with a few of my favorite products this year:
1