We're always on the lookout for new cookbooks to give us some dinnertime inspo. Who wants to eat the same few meals week after week?! It's better to have plenty of options–and we mean healthy options, of course. From beauty foods to modern baking, here are the latest healthy cookbooks you should consider adding to your collection: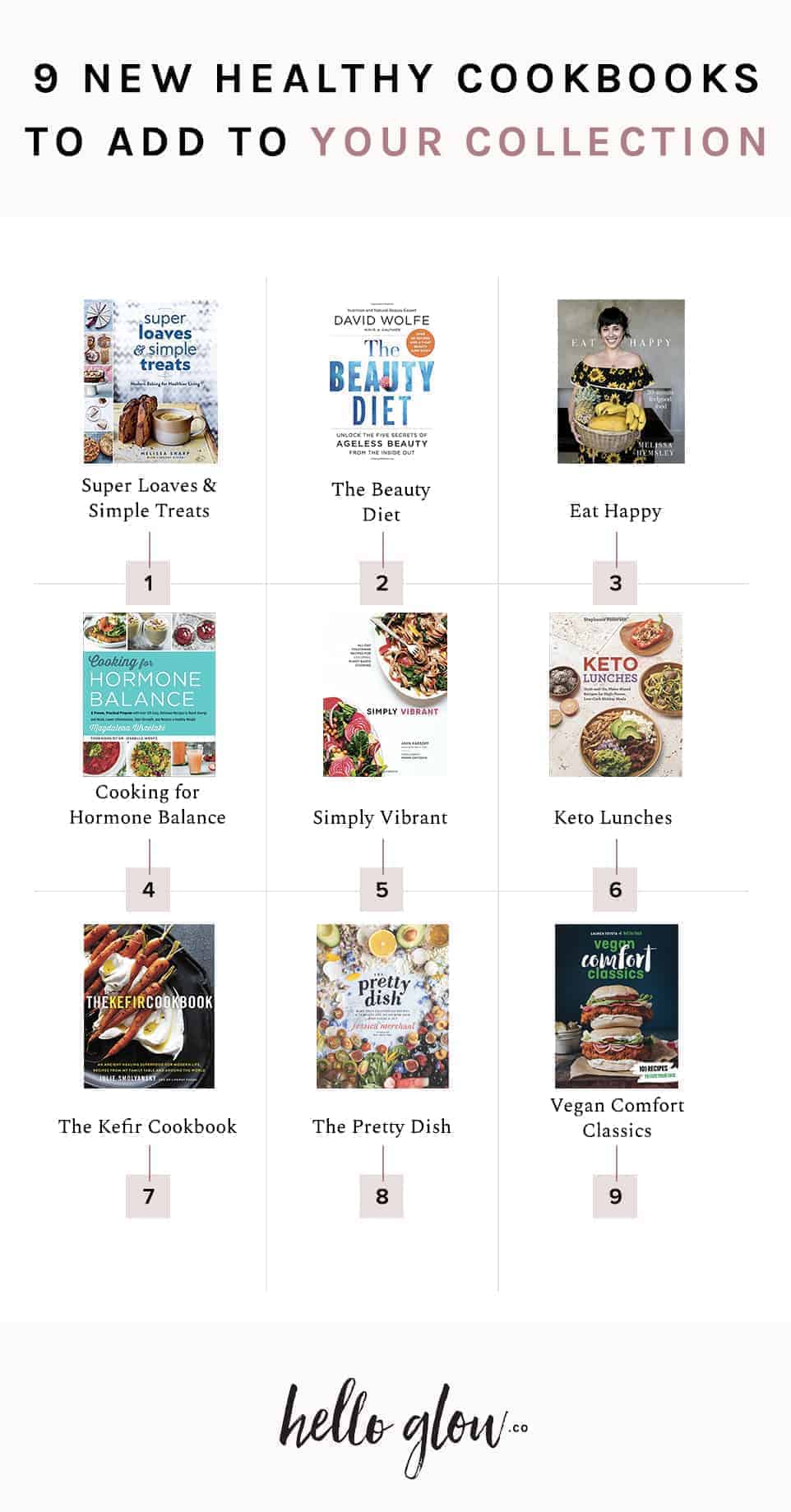 1. Super Loaves and Simple Treats: Modern Baking for Healthier Living by Melissa Sharp // If you thought baked goods can't be good for you, think again! This book collects spectacular recipes that you can enjoy guilt-free–like these quinoa brownies.
2. The Beauty Diet: Unlock the Five Secrets of Ageless Beauty from the Inside Out by David Wolfe // Nature's most powerful foods are the beauty products we've all been waiting for! These delicious recipes teach us how to achieve beauty from the inside out. 
3. Eat Happy: 30-minute Feelgood Food by Melissa Hemsley // This book will see you through each meal of the day, with quick and satisfying recipes made with healthy, real ingredients. 
4. Cooking for Hormone Balance by Magdalena Wszelaki // More than 125 tempting, nutrient-dense recipes for thyroid conditions, Hashimoto's, adrenal fatigue, menopause, endometriosis, fibroids, PMS, PCOS, and other hormonal imbalances.
5. Simply Vibrant by Anya Kassoff // Eat seasonal, clean and nourishing foods, and always make sure there's lots of color on your plate! This vegetarian cookbook is packed with vibrant recipes you'll adore.
6. Keto Lunches: Grab-and-Go, Make-Ahead Recipes for High-Power, Low-Carb Midday Meals by Stephanie Pederson // When you're eating keto, it can be challenging not to get in a food rut. This book, however, is filled with easy to make recipes that will keep your daily lunches on plan. 
7. The Kefir Cookbook: An Ancient Healing Superfood for Modern Life by Julie Smolyansky // If you have no idea how to include the Turkish tangy cultured milk in your daily routine, this book will help with over 100 ideas for getting your daily probiotic fix.
8. The Pretty Dish by Jessica Merchant // More than 150 healthy recipes, beauty DIYs, party ideas and menus to nourish the body inside and out.
9. Hot for Food Vegan Comfort Classics: 101 Recipes to Feed Your Face by Lauren Toyota // Sweet and saucy vegan recipes that are meant to comfort, so you'll never get bored with your plant-based diet. 
5