Henry is 16 months old today! And I'm feeling a little guilty because it can be such a bummer to be a second child. Poor Henry's nursery did not get nearly the same attention as his sister's. Heck, he was lucky to have a crib when he came along (and almost didn't). His room did double duty as a nursery/guest room for a while until his sister needed the bed for her new "big girl" status. Now his room is a little bereft. And girly looking. With lots and lots of brown.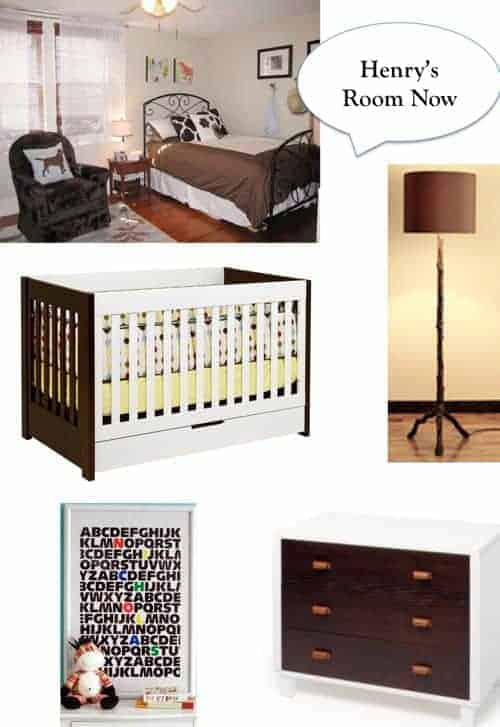 This picture was taken before the full size bed moved to Caroline's room. The room is plenty big – you can't even see the crib or dresser in the pic! Above are the items staying in the room: Crib, floor lamp, personalized name print, and dresser. I can't find a pic of our dresser anywhere. The one above mimics the look but not the size; ours is a full size dresser. The weird animal/bird purchases I made (I chalk them up to pregnancy hormones) are going bye-bye.
There seemed to be a common color theme in my inspiration photos – lime green, blue or turquoise, and white.
Poor Henry's room desperately needs color. For me this feels bold. What do you think?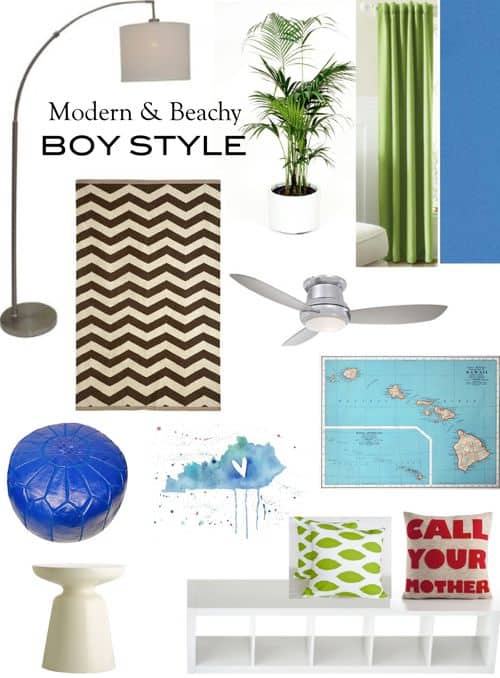 The room has a big double window so I'm planning to put up two curtain panels on each side – one green, one blue. And the shelving unit underneath. I'll probably have to find another lamp too now that he's too squirmy to actually use the dresser as a changing table.
Target
floor lamp, $69.99
West Elm zig zag rug
, $249 (the same one as in the inspiration photo) Home Depot fern, $13
J.C. Penney curtains
, $27.99 each
Minka Aire
fan, $299.95 – Ceiling fans seem to be so frowned upon in design but I wouldn't give mine up for the world. Hopefully I can find this cheaper.
Etsy Vintage Hawaii map
, $16
Etsy Kentucky Love print
, $20 – made by Henry's first babysitter, I couldn't resist.
Overstock pouf
, $191.99
West Elm side table
, $129
Ikea Expedit book case/window seat,
$59.99
Etsy Call Mom pillow
, $89 – This will go to college with him.
Etsy Green ikat pillows
, $22 Total: $1,271.88
0