My experience with baked granola bars has not been great. They usually all fall apart and end up too dry for my taste. That's where these chewy no-bake almond blueberry granola bars come in. They're incredibly quick and easy to make, relatively healthy and highly adaptable. And as a bonus, they're naturally gluten-free and vegan! Just be sure to buy gluten-free oats.
I've also included a tutorial on how to make your own almond butter. It's mindblowingly simple and so much cheaper than what you find at the store.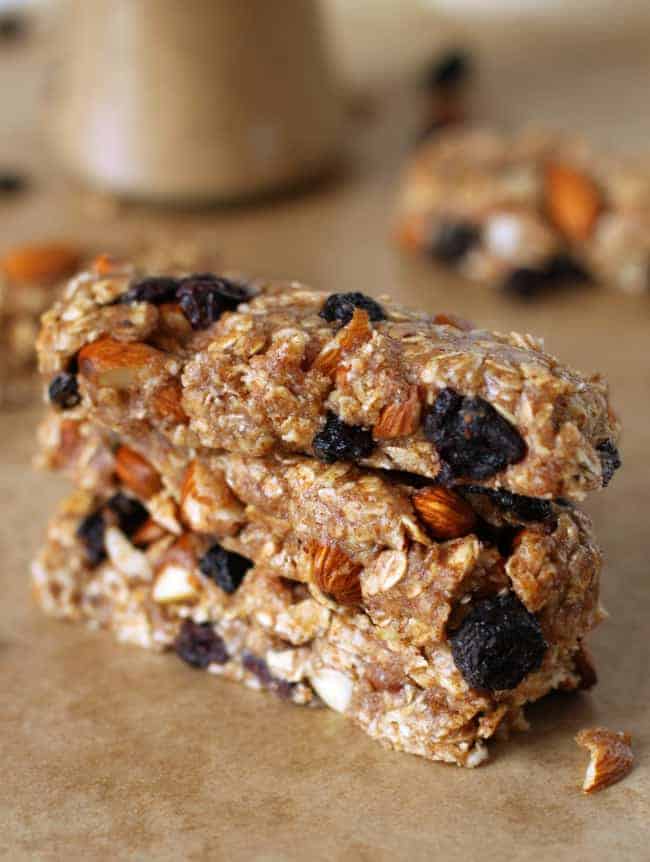 How to Make Your Own Almond Butter
Roast 2 cups of almonds at 350 degrees F for 10 minutes. You don't have to roast the almonds, but if you skip this step then it will take a lot longer to process the almonds. It once took me 25 minutes! So I find roasting absolutely worth the extra step.
Remove the almonds from the oven and let them rest for 5 minutes – any fewer and your food processor might overheat! If you wait longer however, they will take longer to process. Start processing the almonds at high power in the bowl of your food processor.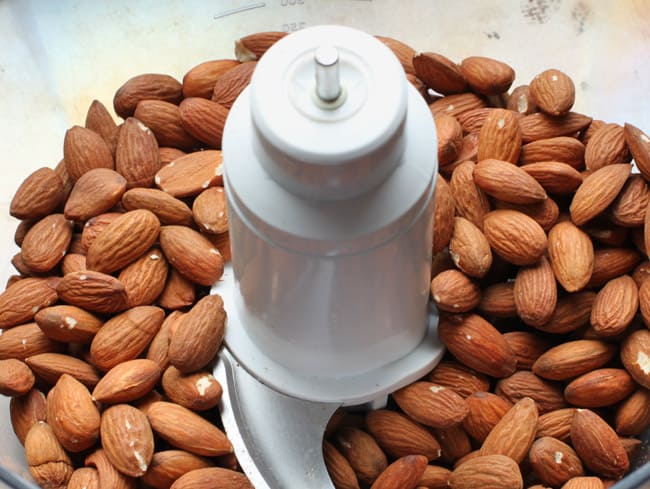 First it will look like this.
Then it will get clumpy.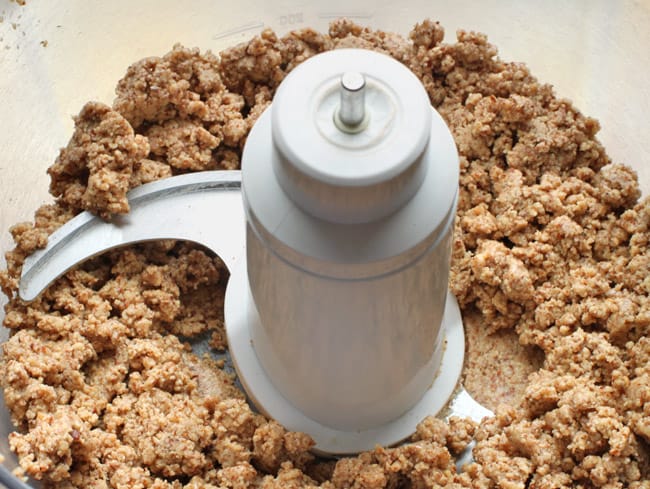 Be sure to scrape down the sides! If the almonds are collecting up against the side of the food processor bowl, try processing at medium instead of full power.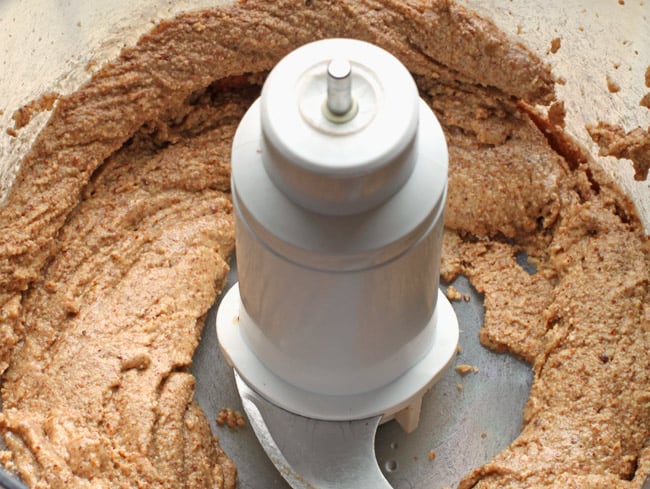 Then it will get smooth and runny. It takes my current food processor 5 minutes, but it took my old one about 10 minutes. Your may take longer, but don't give up and don't add oil. You do not need additional oil! The almond butter should be very runny when finished. Two cups of almonds yields about 1 1/4 cups of almond butter.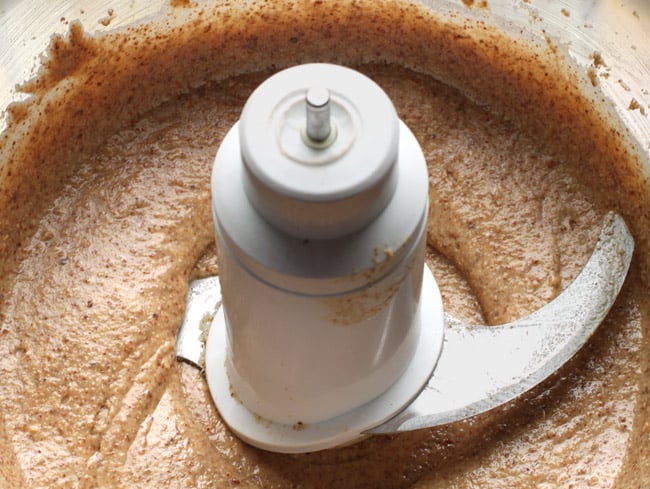 When the almond butter is ready, it's time for the no-bake granola bars!
No-Bake Almond Blueberry Granola Bars
In a medium bowl, stir together the following ingredients:
1 1/3 cups rolled oats
2/3 cup almond butter
1/4 cup maple syrup
2/3 cup dried blueberries (or another dried fruit)
2/3 cup chopped almonds (or another nut)
1/2 teaspoon cinnamon
If you don't like almond butter, then substitute another natural nut butter. If you don't like dried blueberries or almonds, pick different dried fruits and nuts. Just don't go crazy on the add-ins or you might have difficulties getting the granola bars to stay in one piece.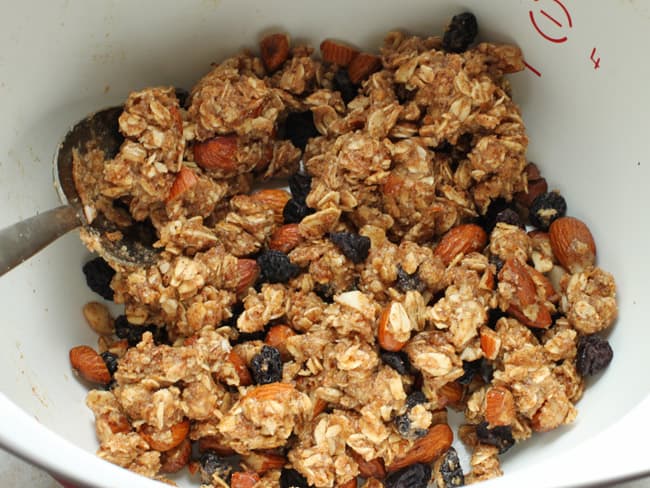 You can press the bars into a pan but I prefer to use a piece of parchment paper to control the thickness. You can also roll the mixture into balls. Refrigerate the bars for an hour, cut and enjoy. Store in an airtight container in the refrigerator for up to 2 weeks. Yields 10 bars.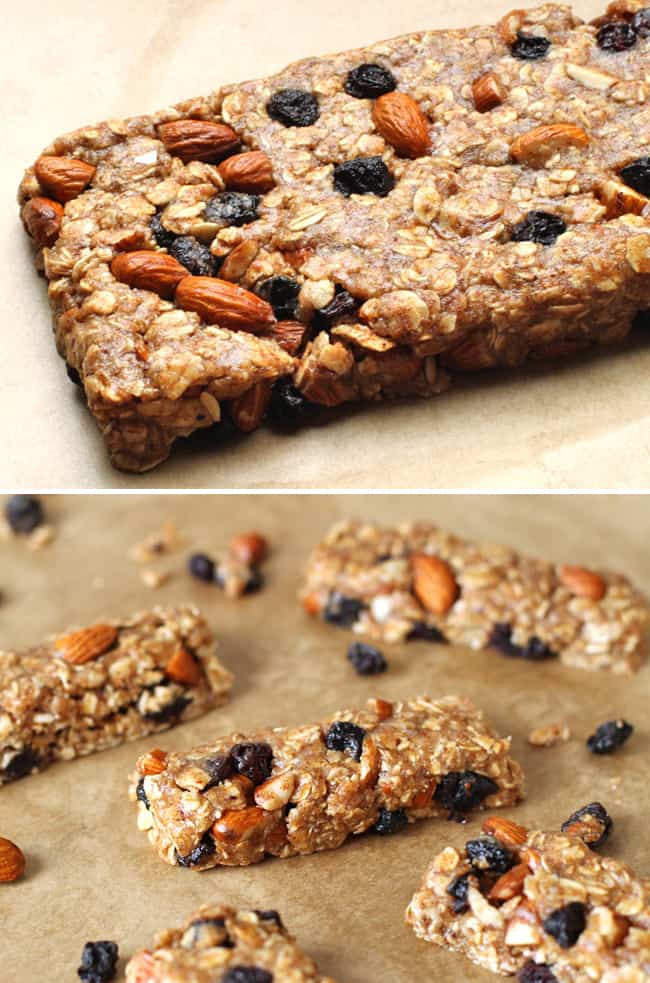 11