Eating lunch out can be tempting – I've been there many times. It's just so easy to hop on over to Chipotle and get a rice bowl. But with a little planning combined with a quick shopping trip and prep work on Sunday, you can have a week of healthy, filling lunches to rival anything you pick up at the corner cafe. And think of all that time and money you'll save NOT waiting in line!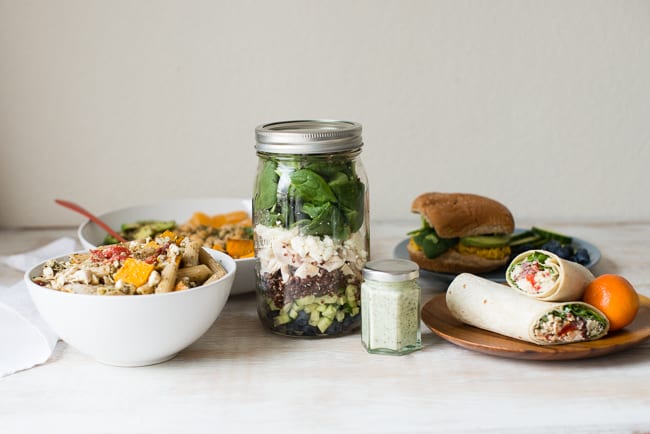 For these no-fail healthy lunch recipes, I added some of my very favorite ingredients that I always have on hand and included a variety of ways to enjoy them. These recipes can be modified to fit your personal taste – be creative and have fun with your lunch!
5 Days of Healthy Lunches
Here are our ingredients for the week – some may already be in your pantry.
Protein, nuts and dairy:
2 small chicken breasts (leftover rotisserie chicken is even easier!)
15-ounce can of chickpeas (1.5 cups cooked chickpeas) or white beans
8 ounces Greek yogurt
6-8 ounces crumbled feta
1 cup whole almonds
Produce:
1 small butternut squash
10 ounce bag of baby spinach
1 large lemon
4-5 clementines (some will be for snacks)
1 English cucumber
1 large avocado
One pint of organic blueberries (or another berry, 1 large or 2 small apples)
Condiments, Sauces, etc:
8 ounce tub prepared pesto
1 small jar (about 8 ounces) marinated artichoke hearts
1/2 cup sun-dried tomatoes
One roasted red pepper (can buy in jar or buy fresh and roast in oven)
1/2 cup or more assorted olives
Whole Grains:
1/2 cup uncooked quinoa (makes heaping 1 cup cooked, can substitute brown or wild rice)
1 large tortilla (whole wheat is best if you can find them!)
1 whole wheat roll or bread
2 ounces whole wheat pasta
Pantry items:
white wine vinegar
salt and pepper
curry powder
olive oil
chicken or veggie broth (optional)
Lunch Prep Plan:
Roast butternut squash: Preheat oven to 425 degrees. Peel and cube butternut squash. Toss with a little olive oil and season well with salt and pepper. Place on one of the baking sheets. Roast in oven for 20-25 minutes.
Roast chicken breasts: Season chicken with salt and pepper. Drizzle with a little olive oil. Place on one of the baking sheets. Roast for 15-20 minutes or until cooked through, and reaches an internal temperature of 160-165°F. (If using bone-in, skin-on chicken, it will take about 30-40 minutes, depending on size, to cook through.) Remove from oven and let cool slightly. Slice chicken and let cool completely.
Cook pasta and quinoa: Prepare separately, according to package directions. (Optional – use broth in place of water for quinoa for even more flavor.) Let cool completely.
Prepare vegetables and condiments: Wash and spin dry spinach. Rinse blueberries and let air dry completely. Wash cucumber and slice into rounds. Chop 1/2 cup of the artichoke hearts; reserve the rest for another use. Chop 1/2 cup of the olives and leave 4-5 whole; save the others for another use. Dice roasted red pepper. Chop 1/2 cup of the almonds; leave the rest whole for snacking. Juice the lemon into a small bowl. If sun-dried tomatoes are bought whole, chop or slice.
Prepare dressing: Combine 3 tablespoons Greek yogurt with 1 tablespoon of pesto. Set aside. Half will be for the salad jar dressing and half will be for the chicken salad.
Other tips: keep everything refrigerated or toss an ice pack into your lunch bag to keep things chilled. The pasta can be warmed up, but it's also good cold, as is the quinoa bowl.
Monday: Layered Salad Jar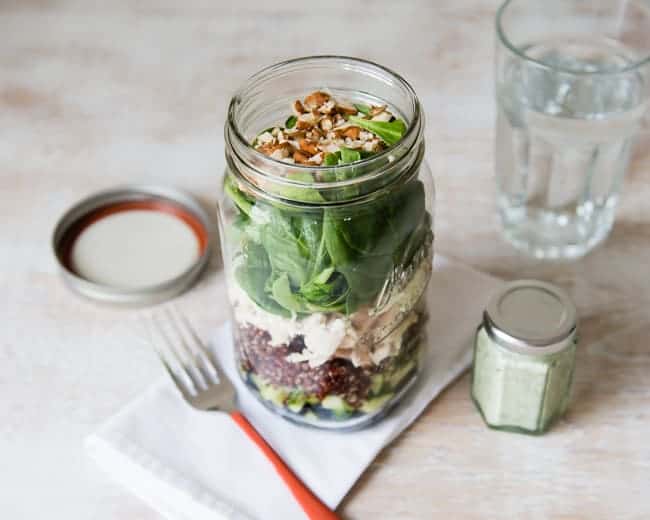 Layer the following salad jar ingredients in a quart-size mason jar with lid:
1/2 cup blueberries
1/2 cup sliced or diced cucumber
1/2 cup cooked quinoa
3/4 cup sliced cooked chicken
1 1/2 cups baby spinach
2 tablespoons chopped almonds
Dressing: 1 1/2 tablespoons Greek yogurt, 1/2 tablespoon pesto, 1 teaspoon fresh lemon juice, salt and pepper to taste. Store separately from salad.
Tuesday: Quinoa Bowl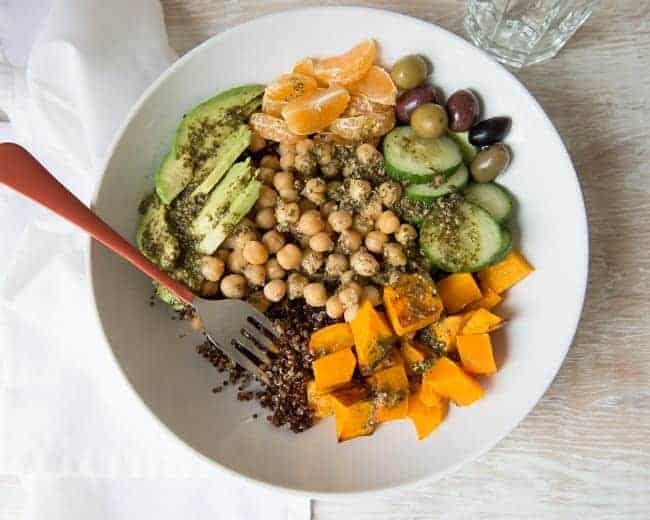 Combine the following in a large resealable bowl:
heaping 1/2 cup cooked quinoa
1/2 cup chickpeas
1/2 cup roasted butternut
cucumber slices
1 clementine (peeled and segmented)
6 whole olives
1/2 avocado (sliced and tossed with a little lemon juice to prevent browning)
Dressing: combine 1 tablespoon pesto with 1 tablespoon white wine vinegar and season with salt and pepper. Store separately in a small container.
Wednesday: Mashed Chickpea Sandwich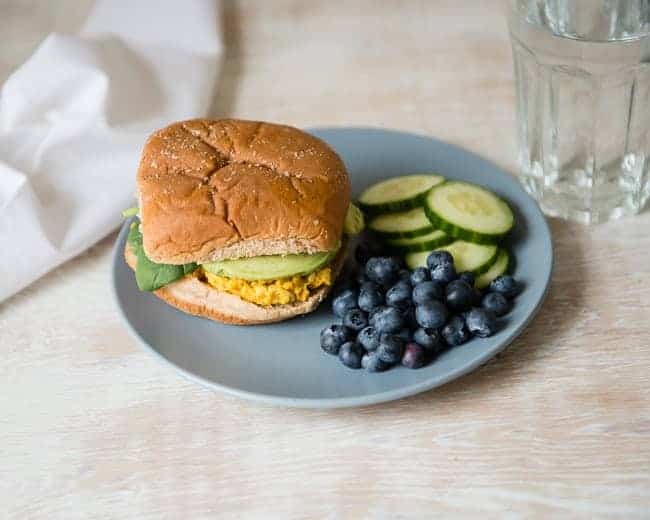 Mash 1/2 cup chickpeas with 1/4 cup roasted butternut squash. Stir in 1 tablespoon yogurt and 1/2 teaspoon of curry powder. Season with salt and pepper to taste. (If needed, add a little more yogurt – the mixture should hold together and not be runny.) Serve with 1/2 avocado (sliced and tossed with lemon juice to prevent browning), handful of baby spinach, remaining blueberries and 1/2 cup cucumber slices on side.
Thursday: Mediterranean Chicken Salad Wrap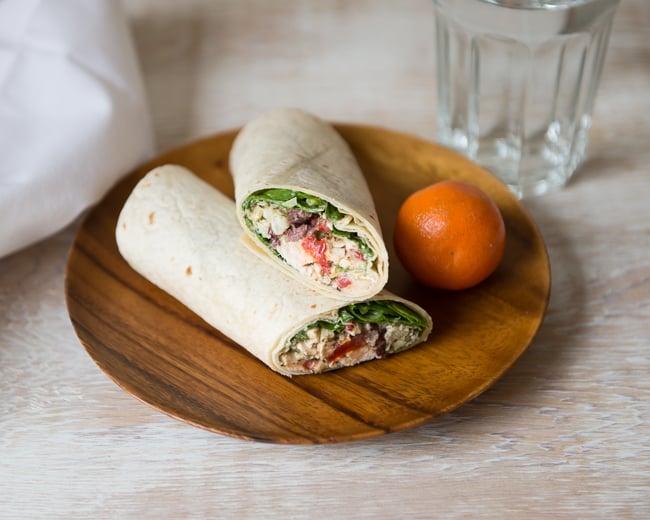 Roughly chop 1/2 cup sliced chicken and combine with 1 tablespoon each: chopped olives, sun-dried tomatoes, crumbled feta, red pepper, artichoke hearts, yogurt and pesto. Line tortilla with spinach leaves and spoon chicken salad into the center. Wrap as tightly as you can and wrap in plastic wrap. Serve with clementine.
Friday: Whole Wheat Pasta
In another resealable bowl, toss together cooked pasta with remaining chicken, butternut squash, sun-dried tomatoes, feta, olives, artichoke hearts and a big spoonful of pesto. Toss to combine.
6