While juicing shouldn't necessarily replace veggies and fruits in your diet, when you're on the go it's a heck of a lot more convenient to sip on something—versus working your way through a giant salad—to get the nutrients you need.
At-home juicing is great because it's fresh (store-bought juices are pasteurized, which destroys some of the nutrients), you know exactly where the veggies came from, you control the flavor, and it's way more affordable than an expensive juice-bar habit. Here's everything you need to know to get started on a juicing plan.
How to Create a No-Fail Juicing Plan
1. Choose a juicer
Like any kitchen gadget, it's hard to know which one to pick or how much money to invest. Consult a trusted source (Consumer Reports to the rescue!) for reviews and suggestions. There are pros and cons to all brands and types (see below). Many newbies opt to start with a small model and work their way up once they juice regularly. No matter how fancy you go, remember to factor in convenience: how long it takes to clean, how much storage space it takes up. You can also juice in a blender!
Slow vs centrifugal juicers
The two main types of juicers on the market are slow (masticating) and centrifugal. Masticating juicers squeeze or press the juice from the fruits and veggies by means of an auger. The food is slowly crushed in the auger and the juice runs out and is collected in a receptacle. Centrifugal juicers work in different way, similar to how a blender works. The produce is fed through a hole and into a chopper. The "puree" is then spun at high speeds and strained. It comes out the spout and into a pitcher.
Slow juicers extract more juice and nutrients than the centrifugal kind and less air is incorporated into the juice as it is extracted. That means less foam, which is a common complaint of beginning juicers. They are also a little quieter. Centrifugal juicers are quicker, and a little easier to clean. Slow juicers are the way to go if you want to juice leafy greens and wheatgrass. They do a much better job than centrifugal juicers in that regard. There is also less oxidation and juices from The biggest drawback to slow juicers is their price – anywhere from $300-400 and upwards of several thousand for a really good one. Centrifugal juicers are much more budget-friendly and I recommend starting with one to see how you like juicing before purchasing a more expensive slow juicer. (Though I really prefer the slow juicers.)
2. Choosing the Right Produce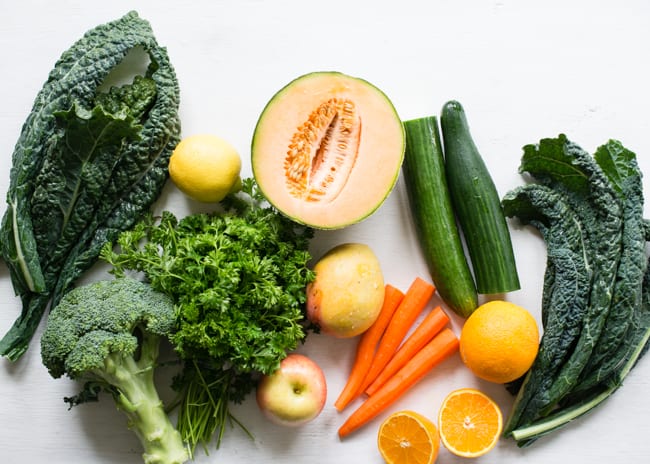 It might go without saying, but for maximum benefit and the best tasting juice, use ripe, organic (if that works with your budget) fresh produce. Once you start juicing regularly, you'll need to keep your fridge pretty stocked (you'd be surprised how many veggies it takes to make a few ounces of juice). Buy large bags of greens and carrots, or shop the farmers market if there's one near you. Whenever you go grocery shopping, make a separate juicing list and grab those items while you're out. If you've bought more veggies than you can juice, simply make the extras for dinner!
Higher-Yielding Produce
cucumbers
melon
citrus
tomatoes
beets
carrots
apples
celery
fennel
pears
ginger
broccoli stems
zucchini
sweet potatoes
pineapple
3. Prep Know how
Most veggies can be washed, cut and prepped a couple days in advance. Store pre-cut celery, carrots and other items that won't absorb too much water in a container with cold water to prolong their shelf life. Wait to cut more fragile/quick-to-brown things like cucumbers and apples until right before you juice. everything thoroughly, too!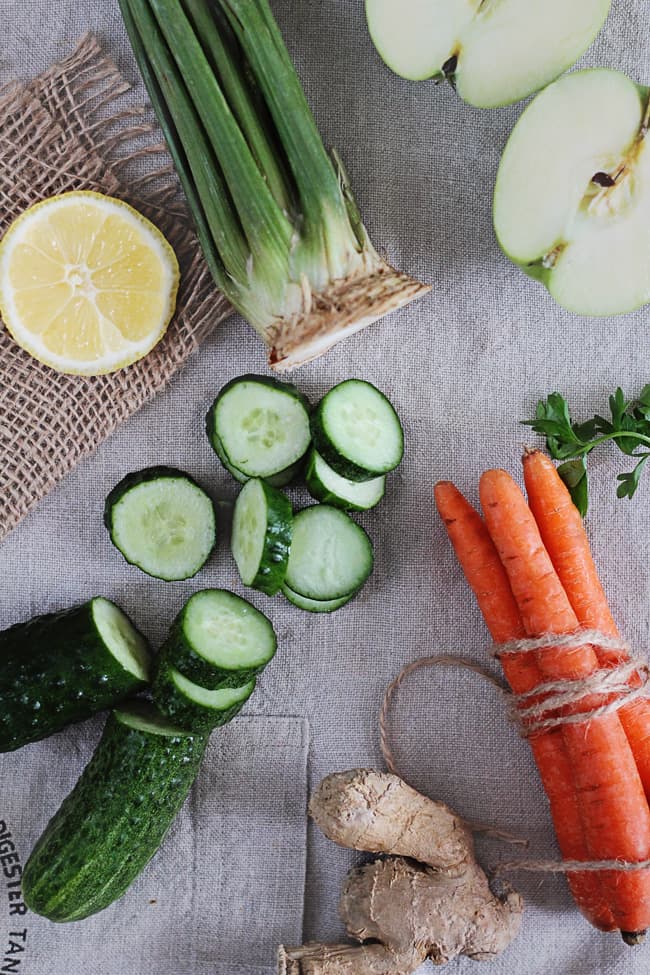 Most fruits and veggies can be juiced with skin, stems and leaves intact, but make sure to remove pits or anything that might be hard on your juicer before using. Follow the manufacturer directions and any tips they offer. Some juicers require chopping vegetables first (mostly for masticating juicers) and others can handle whole pieces of veggies and fruit. Celery can be particularly hard on masticating juicers because of the long, tough fibers. Add them last if that's a concern. Some juicers can't handle peels, so you might want to peel the produce first. Centrifugal juicer manufacturers may recommend different speeds depending on the hardness of a fruit or veggie. (Slower for softer like citrus, faster for harder like apples.)
4. Juicing nutrition
Juicing vs whole fruits and veggies
There are lots of claims that the body is better able to absorb nutrients from juice rather than the whole fruit or veggie. That's not necessarily true. It seems to have the same benefits whether you drink or eat it—keep in mind though, that if you're juicing you won't get the fiber of the food. With oranges, for example, a juice will net you all the vitamin C of the fruit, but all the sugar as well. But if you ate the fruit itself, you'd get the vitamin C and sugar, but also fiber. So in some cases it may be beneficial to eat the fruit.
Juicing vs smoothies
Juicing and making smoothies are not the same thing. There's really only one main difference: juicing separates out the fiber. That's it. The remaining juice is high in nutrients and calories, particularly if you use a lot of fruit. Smoothies are made from pureed whole fruits and vegetables with the fiber included. Because the fiber is still there, smoothies are more filling than juices.
5. Reduce Spoilage
Fresh juice can spoil quickly, so drink juice as quickly as you can after juicing—and while you're at it, just bite the bullet and clean the juicer right after using it! If you're using a slow/masticating juicer, the nutrients last longer. (You can juice once or twice a week and refrigerate the juice for a few days without lowering nutritional value.) Be extra careful to prevent contamination by using a clean cutting board, knife, and juicer.
6. What to do with Pulp?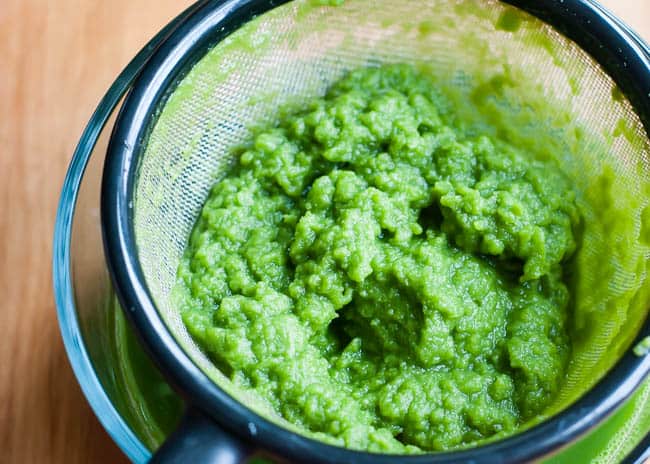 The "pulp" is what's leftover after the juice is extracted – mostly insoluble fiber. It comes out one side of the juicer into a special receptacle and the juice comes out another. The pulp should be fairly dry after the juice has been extracted. For juicer fruits and veggies, it might still retain a bit more liquid. You will be surprised how much pulp there is. And it might seem like a big waste.
Pulp is great to add to a compost pile or bin and add it to the garden. There are recipes for using the pulp to make dehydrated crackers, veggie dips (mix with yogurt, sour cream or cream cheese), cakes and other baked goods, etc. Just remember that most of the flavor from the veggies and fruit was extracted in the juice, so it won't be as strong. You can also make vegetable stock, which extracts the lasts bits of flavor. (Just remember that kale and broccoli pulp smell not-so-great, so you may not want to save it.)
7. Caring For a Juicer
If you're going to spend the money on a juicer, keep it clean and in good shape. Juicers will get stained and etched. It just happens. Gunk will also collect in the tiny crevices. Fill up a bowl with soapy water and use the brush that comes with the juicer to scrub the strainer clean. Don't put any of the parts in the dishwasher, as mineral deposits will build up. Periodically, clean every part of the juicer with a paste made of vinegar or lemon juice, baking soda and salt, which will clear out those mineral deposits.
Get started with 3 Superfood Cold-Fighting Juice Recipes, 3 Cold-Weather Juices and a Pear-Ginger-Spinach Detox Juice.
6